Top 10 Animal Encounters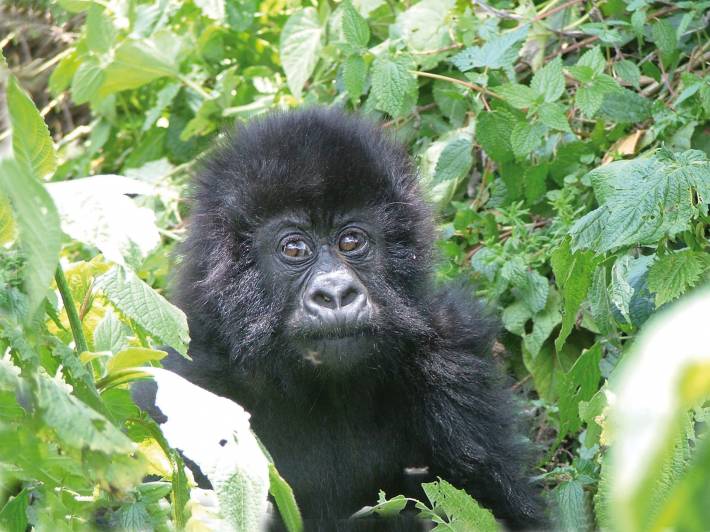 Coming face-to-face with the mountain dwellers...
Gorilla trekking in Uganda
Uganda, the 'Pearl of Africa', is full of adventure with wild Bwindi National Park, spectacular Lake Bunyonyi and half of the world's gorilla population, the lush forests holding approximately 460 mountain gorillas. The search for gorillas can be strenuous, the expert guides leading you through the dense jungle on a trek that could be one or possibly eight hours. However this unpredictable nature adds to the excitement of the animal encounter with nothing comparing to the thrill of emerging through the trees to find a troupe of gorillas. Spending an hour in the company of the peaceful but mighty gorillas is both exhilarating and tranquil. Gorilla permits are limited in numbers with only 10 issued per gorilla family each day to ensure their exposure to humans is limited and your experience has a wonderful atmosphere of seclusion.
Want to enjoy this experience? Explore our Uganda safari tours!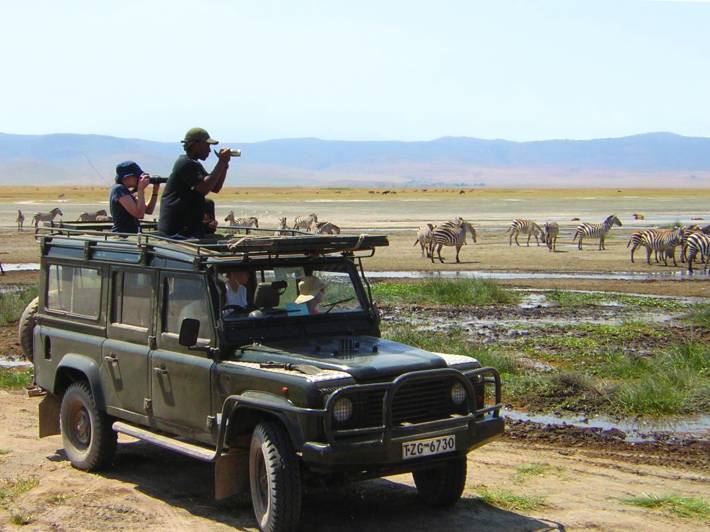 On safari in search of...
The Big Five across Africa
Spotting the Big Five on safari is the ultimate African wildlife experience, attracting animal fans to the plains of Africa time and time again. Elephant, leopard, rhino, buffalo and lion where nicknamed the Big Five as these were the hardest animals to hunt in the days of the 'great white hunter' in the 19th century. There are many countries and so many national parks in Africa where you can enjoy a Big Five safari, from South Africa's Kruger National Park to Namibia's Etosha National Park and Chobe National Park in Botswana, with no two animal sightings ever the same. Driving across the beautiful landscape, the expert guides will take you to close proximity of prides of yawning lions, herds of elephants playing and spraying each other around a waterhole, a gang of buffalo chomping on the long grass, a rhino and its calf wallowing in the mud, and a single elusive leopard hanging out in the branches of an acacia tree.
Want to enjoy this experience? Explore our Namibia safari tours, Zambia safari tours, Zimbabwe safari tours or South Africa safari tours!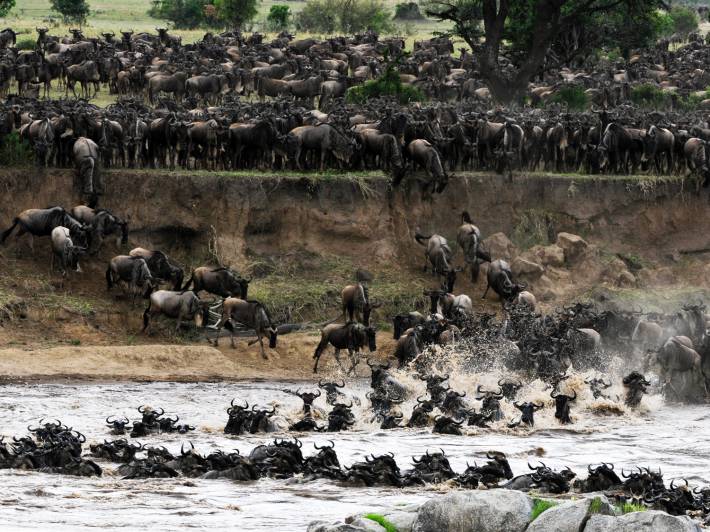 Nature's greatest spectacle...
The Wildebeest Migration in East Africa
For many years, hundreds of thousands of wildebeest and zebra have followed their natural instincts and journeyed across the vast plains of East Africa in one of the world's natural wonders known as the Great Wildebeest Migration. This colossal show is played out across two of Africa's epic wildlife areas - Tanzania's Serengeti National Park before entering Kenya's Masai Mara National Reserve. Although many aim to see the exhilarating crossing of the Grumeti River in Tanzania from June to mid July, this natural cycle of movement happens all year with many different and exciting stages to it. During this pilgrimage across 1,800 miles the wildebeest are faced with many adversities including the snapping jaws of crocodile and the hungry prides of lion following closely in their tracks in the hope of catching a weak stray. This thrilling predator versus prey interaction makes for incredible safari watching.
Want to enjoy this experience? Explore our Kenya safari tours and Tanzania safari tours!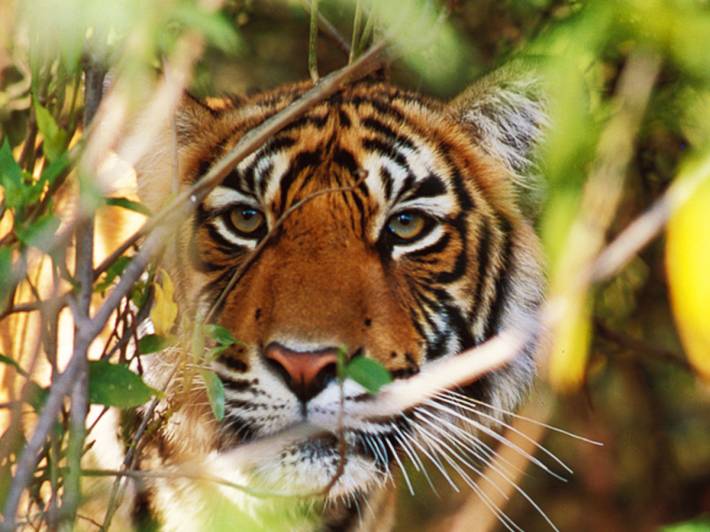 On the look out for Shere Khan...
Tiger safari in India
An important symbol of Indian tradition, Bengal tigers are fearless predators of the jungle. They live solitary lives, skilfully stalking their prey of deer and pig through the trees and pouncing on them with one quick and strong leap. Travel to Ranthambhore National Park, the former hunting ground of the Maharaja of Jaipur and the best place to spot wild tigers in Rajasthan. To increase your chances of spotting the black and orange stripes through the branches, venture into the national park for safaris in both the morning and afternoon. Although a tiger spot is the ultimate animal sighting there is plenty else to see including leopards, striped hyena, sambar deer and sloth bear. If you are lucky enough you may catch a tiger stretching and relaxing across the ancient temples of Ranthambhore Fort in the centre of the park.
Want to enjoy this experience? Explore our India tours!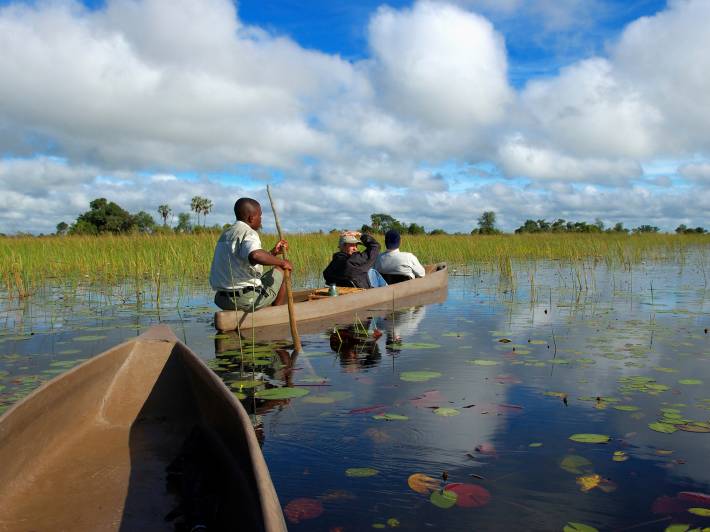 A vast watery wilderness...
Canoe safari in Okavango Delta
An ever-changing labyrinth of waterways and exotic islands, the Okavango Delta is an extraordinary landscape. The world's largest inland delta is also one of the greatest venues to watch African wildlife, the shifting water levels changing the animal activity throughout the year. This huge expanse of water in the north of Botswana is one of the few places you can enjoy a safari in a mokoro, a traditional dugout canoe steered through the water and reeds by the local guides. Journey into the heart of the delta, gliding over the water to see large numbers of elephant, buffalo and hippo gather around the lagoons and reed beds, the ever-watching predators of cheetah, lion, African wild dog and hyena adding to the watery drama.
Want to enjoy this experience? Explore our Botswana safari tours!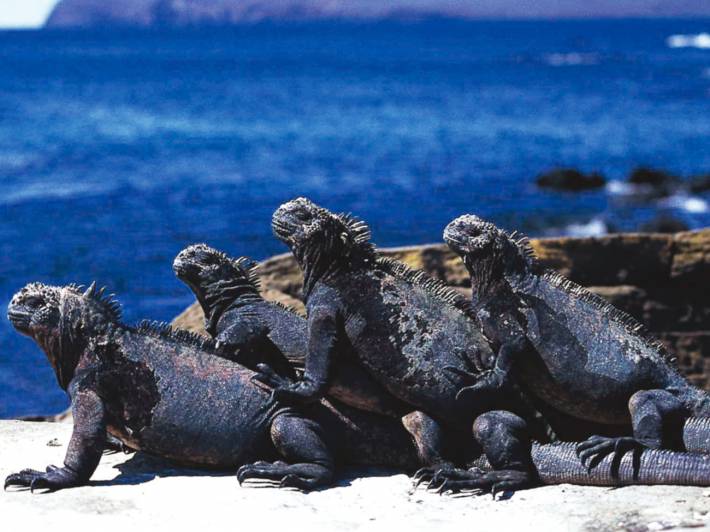 Darwin's Eden...
The Big 15 of the Galapagos Islands
The Galapagos Islands is an unrivalled wildlife haven, a collection of strange and bizarre species spread out across the volcanic archipelago in the Pacific Ocean. Darwin formulated his theory of evolution when confronted with the unique creatures of the other-worldly landscapes. A cruise is the best way to see this part of the world, hopping from island to island accompanied by an expert naturalist guide the animals completely unperturbed by your presence. Walk amongst the sun-bathing sea-lions relaxing on the beaches of Floreana Island the Galapagos albatross soaring overhead, watch the mesmerising blue-footed boobies flap their vibrant feet and the menacing marine iguanas crawl over the rocks on Espanola Island, and visit the Galapagos tortoise breeding centre on Santa Cruz Island.
Want to enjoy this experience? Explore our Galapagos Islands tours!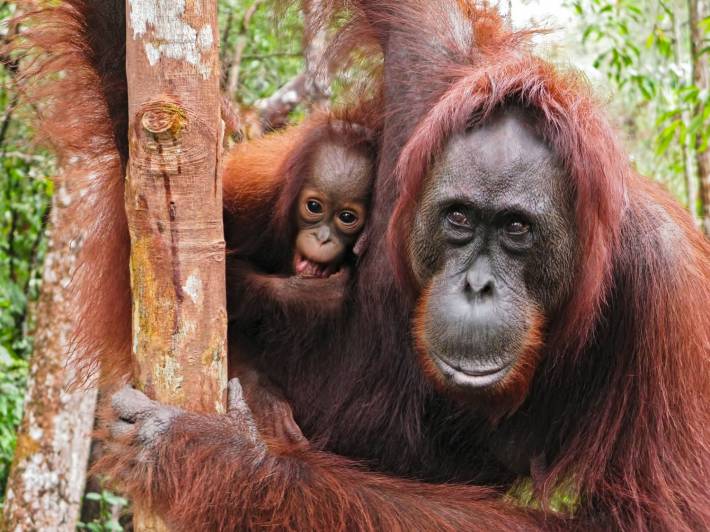 Asian great apes...
Orang-utans of Borneo
Only found in the verdant rainforest of Borneo and Sumatra, orang-utans are highly intelligent and close relatives of humans, the Malay word orang-utan meaning 'person of the forest'. Visit the world-famous Sepilok Orang-utan Rehabilitation Centre to learn about their work to return orphaned and rehabilitated orphans to the wild before taking a boat ride along the Lower Kinabatangan River and a nature walk through the mangrove rainforest, eyes peeled on the moving branches above. This largest tree-climbing mammal rarely travels along the ground. Watch as despite their big size they elegantly climb and clamber through the forest, stretching their enormous arm span of up to seven feet to move from one tree to the other. More solitary than other apes, listen out for the territorial rumbles and howls of the male orang-utans echo through the rainforest.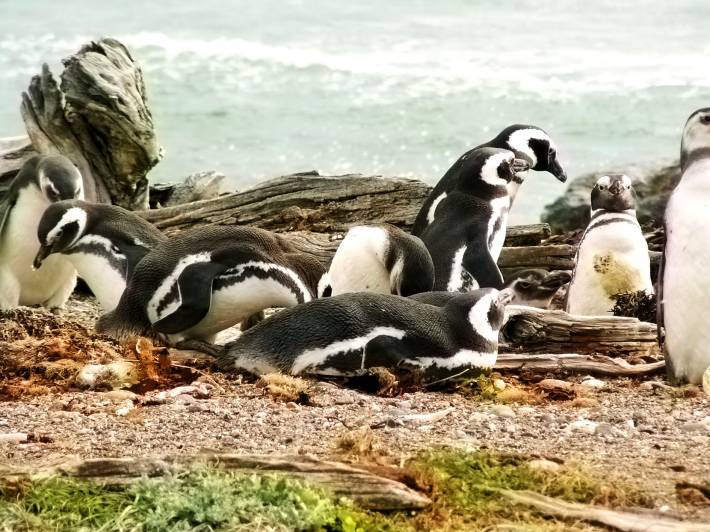 The southern hemisphere's famous flightless birds...
Penguins of Chile
Magellanic penguins are found in the rocky islands off the southern coast of South America. There are two places in the southern tip of Chile you can watch these tiny black and white birds - Punta Arenas and Magdalena Island both in the Strait of Magellan, a sea route separating South America mainland, and the islands of Tierra Del Fuego. Magdalena Island has been named a nature reserve due to its thriving numbers and importance as a breeding site for the flightless birds, home to over 120,000 of them between the mating months of September and March. A highly sociable bird, Magellanic penguins congregate together. Watch from beachfront hides in Punta Arenas, the capital city of Chile's southernmost region, as the penguin colonies swim ashore and waddle out of the water to their burrow homes in the low forest, grasslands and rocks.
Want to enjoy this experience? Explore our Chile tours!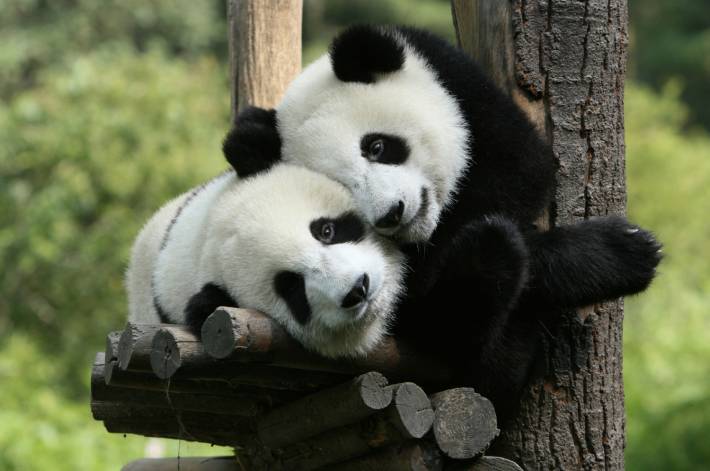 Rarest member of the bear family...
Pandas of China
China's national animal of the giant panda resides in the bamboo forests high in the west of the country and spend half of their day eating up to 12.5kgs of bamboo, climbing as high as 13,000 feet to snack on the woody grass. These cuddly creatures, with their rotund figures and sleepy black-ringed eyes, are talented tree-climbers and efficient swimmers. A peaceful docile animal, giant pandas are unfortunately critically endangered with only about 1000 left in the wild. Visit the Chengdu Research Base of Giant Panda Breeding, also known as Panda Base, to learn about work on panda conservation and development. Opened in 1987 they have successfully created a natural habitat across 200 hectares of land of wild bamboo forests, rugged caves and picturesque rivers for the pandas to enjoy and thrive in.
Want to enjoy this experience? Explore our China tours!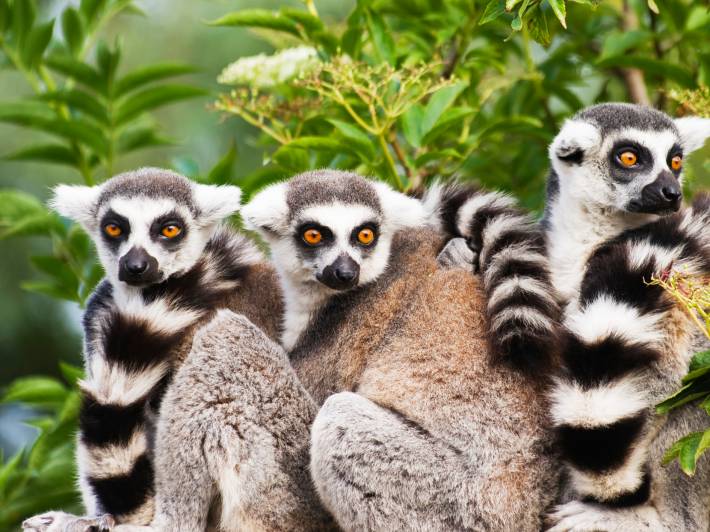 Famous primate residents...
Lemurs of Madagascar
Separated from Africa mainland some 165 million years ago, the wildlife of Madagascar is completely bizarre, wonderful and parts of it utterly unique to the islet. The perfect place for wildlife enthusiasts to go on holiday, most people instantly picture lemurs when they think of Madagascar who evolved on the island after its separation from Africa. With over 100 species there are many to see. Travel to the Andasibe-Mantadia National Park to hear the haunting whale-like song of the large Indri echo through the forest, head south to Isalo National Park the iconic ring-tailed lemur sitting in large groups amongst the trees, and journey to Tuléar to see the golden furred Verreaux's Sifaka dancing along the dusty pathways with its comical two legged hop. Other incredible and intriguing wildlife of Madagascar includes colourful chameleons, alien-looking geckos and powerful catlike fossa.
Tours featuring our top animal encounters
Iconic Experiences, Local Partners
On our Handpicked range we bring you the most iconic experiences in destinations where you'll join travellers from other travel brands on your tour, safari or sailing holiday. Collaborating with our carefully handpicked portfolio of local partners, these holidays represent exceptional value and there'll be plenty of cultural experiences shared with other like-minded travellers.
Group sizes and accommodation standards vary by destination where typical group size is 28 travellers and hotels, boats and safari lodges are of a 3-4 star standard.
Value and Adventure
Our Essentials range offers incredible experiences at a great price. You can squeeze the most out of your destination, without worrying about your wallet. As well as guided sightseeing of the key sites, there's free time to explore independently or take part in optional excursions so you can focus on doing just the things that suit you. We've given you the flexibility to eat where you want too, with few meals included so you can save your pennies and eat cheaply all trip or splurge the money you saved on your tour at a fancy restaurant; we won't judge!
The accommodation on these trips varies by destination. In Egypt, you will stay in comfortable 3-4 star accommodation, whilst in Japan, China and South Korea, we make use of budget-friendly hostels. Transport is by private air-conditioned vehicles, and we also make use of Asia's comprehensive public transport network. With a maximum group size of 40, our Essentials range brings like-minded travellers together for a once in a lifetime holiday. You can find more specific details about each of our Essentials tours on the relevant web page.
Unforgettable Journeys
With our Overlanding range, we give you amazing adventures, on and off-road, through Africa's most loved destinations. Travelling aboard large, purpose-built trucks, with all the equipment necessary for camping and cooking onboard, overlanding allows you to cover large distances and explore multiple countries in an affordable and fun way. As well as taking in key highlights, our Overland tours are able to get off the beaten track, getting under the skin of the countries you visit.
Whether it's going in search of the Big Five in Africa's flagship national parks, floating through the Okavango Delta in a mokoro, or scaling the Sossusvlei dunes in Namibia, spend your days enjoying a wide range of exciting activities and camp out each night under a blanket stars.
Group sizes tend to be a little larger on our overland Camping Safaris (with an average of 24), providing a social and fun travel experience with like-minded travellers. Group participation is all part of the experience, helping to set up camp, shop for local produce and cook meals, all creates great camaraderie.
Our Comfort Camping Safaris are slightly different. You won't need to lift a finger, as your experienced three-person crew sets up camp, prepares your meals and cleans up, so you can relax. In addition, you'll enjoy the comfort of a camp bed rather than a roll mat and travel in a small group (maximum size of 16) escorted by a licensed African guide.
All of our Overlanding tours include a local payment. As well as keeping up front costs down for you, it means that even more of your money stays within the local area. Cost-effective trips and great for the community; can't be bad!
Exciting Days, Comfortable Nights
Our Signature group tours place local interaction and authenticity at the heart of your travel experience.
For our Signature range, we maximize your days with excitement and then bring you home to specially selected accommodation with extra character, convenience and comfort, whether that's a five-star river boat on the Nile or a traditional Japanese Ryokan. Accommodation in this range features comfortable western standards, air-conditioning, WiFi and, where appropriate, a swimming pool.
On a Signature holiday, you'll be escorted throughout your trip by our qualified English-speaking local guides who'll show you all the must-see attractions and even the lesser-known sights.
To further add to that special touch, the group sizes in our Signature range are mid-sized: small enough to be intimate, but large enough that you can bond with new friends over common interests.
