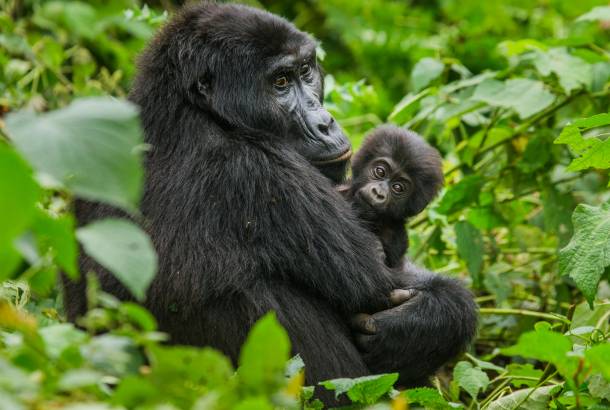 Mountain Gorilla Trekking
With a population of just over 1,000 individuals, mountain gorillas are one of the most endangered animals in the world. Although our closest living relatives, it is ironically man that poses the greatest threat to their survival. Civil war, poaching, habitat loss and human diseases all pose a threat to the survival of this iconic species.
However, the ever-growing number of tourists keen to see these great apes is proving to be an important factor in their conservation. Gorilla trekking is not only a wonderful experience allowing you to see these magnificent creatures in their natural habitat, but helps contribute towards their protection. Gorilla numbers have recovered from a low of just 620 animals in 1989, largely thanks to the protection afforded by tourism revenues - the gorillas are worth more to the local people and the governments of their host countries alive than they are dead.

Read on for more information about gorilla trekking in central Africa.
Where to see mountain gorillas
As their name implies, mountain gorillas inhabit forests high in the mountainous regions of central Africa. Their small population is split in two, with just over half living in the Virunga Mountains, bordering Uganda, Rwanda and the Democratic Republic of the Congo. The rest live in Uganda's Bwindi Impenetrable National Park.
We visit Volcanoes National Park in Rwanda, part of the Virunga Conservation Area, on our Gorilla Express Tour. We also offer the option of gorilla trekking in Uganda as part of our Overland Safaris. Our trek either takes place in Mgahinga Gorilla Park, also part of the Virunga Conservation Area, or Bwindi Impenetrable National Park. Treks can last between 45 minutes and 8 hours, it depends entirely on where the gorillas are at the time of your visit. The park rangers always know where the gorillas are, as they constantly monitor and protect the animals.
Best time to see mountain gorillas
Mountain gorillas can be seen year-round, therefore the best time for trekking is ultimately up to you. The dry seasons, from mid-December to February and from June to September, are considered the most comfortable times for trekking and the trails are in better condition.
However, there are some advantages of trekking in the wet seasons (March to May and October to December). During these months, gorillas tend to stick to the lower slopes as food is plentiful and temperatures are milder, therefore trekking times can be much shorter.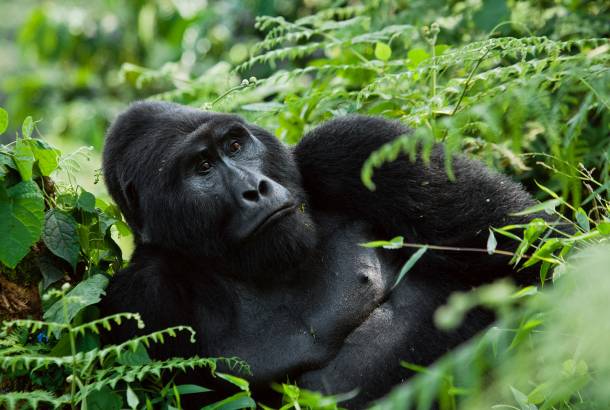 Gorilla permit costs
The cost and availability of gorilla permits varies by country and park, but approximate costs are USD $700 in Uganda, plus $105 bank transfer fees, and USD $1500 in Rwanda. These must be purchased prior to travel and are on a request basis. You'll also need to budget for visa fees (costs vary), transfer and a local service fee (approx USD $200 per vehicle) and any re-entry visas, which are payable locally. The government often increases the permit and transfer costs without notice, so budget for the highest amount to make sure you'll be able to partake in this wonderful experience.
The reason that the permits are so costly is because each park only issues 10 permits per gorilla family per day, to ensure that the gorillas' exposure to humans is limited. 100% of the permit cost is used by the government to help finance patrols that are instrumental in protecting these apes from poachers and their lethal snares. So it might be costly, but you'll get to see these great apes and you'll be helping to conserve their population for future generations.
On our African overland safaris, gorilla trekking is an optional activity and the cost of the permit must be paid prior to arrival. However, the cost of your transfer and local service fee is paid upon arrival. Please note that on our Gorilla Express lodge accommodated safari in Rwanda, these costs are included.
On The Go Tours are not in control of permit prices and cannot be held responsible for any increase in fees. If the political situation in this region changes, there's a chance the itinerary would be amended, and an alternative scenario advised prior to departure if possible.
Please note: Due to the limited availability of the trekking permits, we are unable to guarantee your permit upon receipt of payment. Should we be unable to obtain your permit, you will receive a full refund.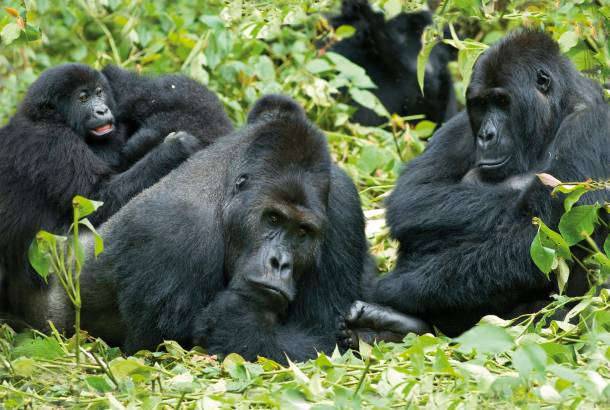 What to expect
To help you prepare for the once-in-a-lifetime experience of gorilla trekking, here's more detailed information about what you can expect.
The trek itself
The trek starts in the early morning and after border formalities you are transferred to a ranger's station where the trek commences. Your rangers will lead you through cultivated lands, then into dense rainforest and as close as is allowed to a gorilla family.
The rangers monitor the gorillas on a daily basis and have a fairly good idea of where they are. However, they are free roaming animals, and their sighting cannot be guaranteed. Trekking can take anywhere from 45 minutes to 8 hours and can be quite strenuous, so a reasonable level of fitness is required.
Time with the gorillas
To ensure the gorillas don't get too used to human presence, and because they share many of our genes and are able to catch our diseases, the maximum time permitted to spend with them is 1 hour. This is plenty of time to watch their activity and take photographs.
The rangers will be able to provide you with a background to the family you are visiting. Then, once your hour is up, you trek back out of the rainforest to your meeting point.
Important considerations
Those considering gorilla trekking should realise the demands and unpredictability of the areas visited. Often, the trek through thick, dense jungle can be somewhat strenuous and due to the nature of the gorillas and their habits, viewing cannot be guaranteed.
Although the groups of gorilla that are seen on jungle treks have been habituated, they have not been tamed and their behaviour is not demonstrably different from that of non-habituated groups. Nobody forces them to stay for the allotted hour, and they can fade into the forest as you appear, if they wish to do so. They are wild animals and will do as they please!
Further, as gorillas are extremely sensitive to human disease, the park authorities will not allow anyone they consider to be in poor health to visit the gorilla groups. Additionally, no children under 16 years of age are permitted to visit.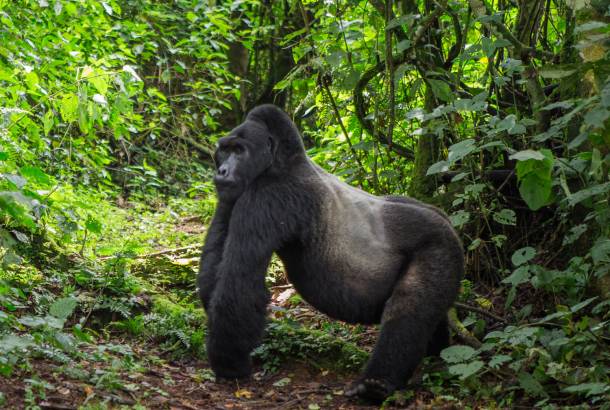 What to pack
Most people taking part in a gorilla trek take a small daypack to carry their water supply, food and camera equipment. Here are some other items we recommend packing for your gorilla trekking experience.
Comfortable hiking/walking boots: As you'll most likely be trekking for a few hours to reach the gorillas, a good pair of boots is essential.
Trousers and a long-sleeved shirt: You'll be 'bushwhacking' into a misty rainforest, so wear trousers and a long-sleeved shirt to protect yourself from the thick undergrowth and nettles.
Gloves: A pair of gloves will protect your hands when grabbing branches and vines, particularly a tough pair of gardening gloves.
Light rain jacket: Even if you're visiting during the dry season, it's a good idea to pack a light rain jacket. These tropical forests can be damp and rainfall can appear as if by magic and give you a good soaking.
See Also
For further help planning your gorilla trek in Uganda take a look through our handy Travel Guide resources:
Best Time to Visit
- Uganda's climate and seasons
Tourist Visas
- what you need to know for entering Uganda
Top Travel Tips
- information about vaccinations, food and money