Kenya Safaris and Tours & Package Trips
Find the Big Five and meet Masai warriors with our range of Kenya safari tours and package trips. Book today!
Kenya is spectacular. The Great Rift Valley. Mighty Mount Kenya. The Masai Mara National Reserve and its stunning savannah plains. Lake Nakuru National Park and its flock of pink flamingos. A pristine Indian Ocean coast. Kenya's premier game reserve, the Masai Mara - gets its name from the Masai tribespeople and the Mara River which divides it. Famous for its remarkable population of game, the annual Great Migration of the wildebeest between August and October each year provides fascination. The Masai Mara National Reserve is perhaps most famous for its lions, though all the other members of the Big Five roam the reserve too.
Kenya is a classic African safari destination with incredible safari opportunities and many highlights. This is why we offer a range of travel styles, from adventurous overland camping trips to lodge accommodated safaris and tailor-made Kenya packages. Whichever adventure you are after, browse our range of Kenya safari tours today.
Kenya Overland Camping & Accommodated Safaris
Our Kenya overland camping safaris offer the most affordable and authentic way to enjoy a safari. Travelling aboard an overland truck, carrying everything you need for your adventure with you, as you cross the Rift Valley, visiting the Masai Mara on some safaris before exploring neighbouring Tanzania and beyond. Everyone in the group helps out pitching tents, cooking and cleaning on these small group Kenya tours and you'll sleep in twin tents under the stars. Fully escorted by a professional crew of two including a guide. For those who prefer not to camp, we offer an accommodated upgrade. On our accommodated overland safaris you'll travel with those on the camping trip but staying in budget twin-share accommodation at the campsites, rather than in tents.

If you're after something a little more luxury in Kenya, then scroll down to find our lodge safaris.
Kenya Lodge Safaris
If camping isn't your thing, you may prefer one of our small group lodge safaris. There's no cooking or sleeping in tents on these trips. Your accommodation will be in comfortable and luxury lodges and permanent tented camps within the Masai Mara National Reserve and other wildlife parks. The majority of meals will be provided and these tours are fully escorted by a professional guide. As well as lots of included game drives in a purpose-built safari vehicle, these small group tours also include visits to other attractions in Kenya and Tanzania, including the Daphne Sheldrick Centre, which is a rhino and elephant orphanage.
Private Kenya Safaris & Trips
If you like the idea of travelling privately to East Africa, with just your friends and family instead of a group, then our private Kenya tours are a good option. You'll still get all the same amazing sightseeing and safari experience in the Masai Mara National Reserve, Lake Nakuru National Park and elsewhere. And you will still get the services of professional guides and drivers, just without the group! These tours can be booked off the shelf, with your preferred standard of accommodation - no frills or luxury, you choose! Simply get in touch with our Reservations team to discuss your enquiry.
Explore more countries like Kenya
Frequently asked questions about our Kenya safaris & package tours
Will I explore the Masai Mara National Reserve on my Kenya safari?
The Masai Mara National Reserve is Kenya's premier wildlife destination, forming part of the giant Serengeti ecosystem with neighbouring Tanzania. It's home to all of the Big Five (lions, leopards, elephants, rhinos, and buffalo) and countless other native species.

All of our Kenya safari tours explore the reserve. If you book an overland camping safari, you will spend two nights in the Mara, with lots of included game drives in the reserve. Whilst our lodge tours stay here for three nights - plenty of time to spot lots of wildlife!
What other national parks will I visit as part of my Kenya package?
We know that the majority of travellers come to Kenya for the wildlife, which is why we take in many of the country's best national parks and game reserves on safari across our trips.

As well as the Masai Mara National Reserve, travellers on our overland camping tours in Kenya will visit Lake Nakuru National Park and Lake Naivasha. And with our private tours, you can also visit Samburu National Reserve and Amboseli National Park, which is in the shadow of Mount Kilimanjaro.

Remember, that with our overland camping tours, you can visit multiple countries across eastern and southern Africa. So from Kenya, you could visit the wildlife reserves like Chobe in Botswana, or Kruger in South Africa, the choice is yours!

If there is somewhere in particular that you would like to visit on safari then don't hesitate to reach out to our Reservations team, who can help you to find the perfect trip!
Will I see the Big Five on your Kenya tours and safaris?
The Big Five are the five African species most sought after by travellers on a Kenya safari. They are African lions, leopards, elephants, rhinos, and buffalo.

We give our travellers the best chance possible to spot the Big Five on their Kenya tour, with numerous included game drives in the country's main national parks and reserves. All of the Big Five reside in the Masai Mara National Reserve. Amboseli National Park is an elephant hotspot and Lake Nakuru National Park is a sanctuary for white and black rhinos, as well as copious birdlife including pink flamingos. Other rare species such as African wild dogs, can also be seen in many of these locations.

Of course, no wildlife encounters can be guaranteed when you visit Kenya, as wild animals are unpredictable. Leopards in particular are hard to spot, because they are well camouflaged and mostly nocturnal. But you are sure to see some incredible wildlife, and you never know, you may be able to tick off all five on your Kenya tour!
When is the best time to go to Kenya?
The dry seasons from January - March and July - October are when vegetation is sparser and wildlife easier to spot as it gathers around the fewer available watering holes.

The Great Migration is generally present in the Masai Mara National Reserve from July until early November, making this the best time of year to visit for wildlife. But there is no truly bad time of year for a Kenya holiday. High wildlife densities in the Masai Mara National Reserve mean you're sure to see great wildlife all year round.

For more information check out our guide to the best time to visit the country.
What do I need to pack for my camping safari?
If travelling on one of our camping tours, we recommend you read our guide to overland camping safaris. You can also see a detailed packing list in the Trip Notes for each tour.

Some of the important items to remember are: sleeping bag, travel pillow, towel, Mosquito spray (with active DEET ingredient), your own personal first aid kit, torch, antibacterial wipes, a photocopy of your passport data, and your Yellow Fever Vaccination Certificate.
What is the local payment for on your camping safaris?
The local payment is a cost per person that needs to be paid in US Dollars cash only. It is this payment that in part covers the park fees and other inclusions such as meals as detailed on each tour page. The local payment also covers your arrival transfer and first night's accommodation.

Please note that due to exchange rate fluctuations in the US dollar, the local payment amount may be subject to changes. This payment will be collected by your tour leader at the Welcome Meeting on day 1 of your escorted tour. Our Reservations team can give you more information about the local payment, the cost of which can be found on each tour page.
How big are the groups on your Kenya safari tours?
On our overland Kenya safari tours, the maximum group size is 30, and these tours depart with a minimum of 4 passengers.

On our Handpicked small group lodge tours, the group sizes are much smaller, with a maximum group size of 6. These tours depart with a minimum of two passengers.
Will I be escorted by a tour guide on my Kenya trip?
If you join one of our Kenya camping safari tours, you will be escorted by a qualified tour leader who will act as your guide, as well as a driver and cook.

If you choose to visit Kenya on one of our lodge accommodated tours, you will be fully escorted by an experienced local guide, who will also act as your driver.
Is Kenya a safe destination for travellers from the LGBTQ+ community?
According to the 2022 LGBTQ+ Travel Safety Index, Kenya scores an F rating for LGBTQ+ traveller safety, ranking 169th out of 203 countries.

Same sex marriage is not legal, and there are no legal protections for workers based on their sexual orientation. 26 – 50% of consulted citizens consider Kenya a good place to live for gay and lesbian people. In Kenya, homosexual intercourse between males is punishable with 14 years in prison, and homosexual acts between males earn 5 years in prison.

This does not mean members of the LGBTQ+ community shouldn't visit Kenya, but precautions should be taken when travelling. As long as you use common sense, travelling in Kenya shouldn't be a problem.

The LGBTQ+ Travel Safety Index is designed to provide a good overall picture of attitudes towards the LGBTQ+ community in each country and may not reflect the experience of foreign travellers to the country.
Is the tap water safe to drink in Kenya?
The tap water in Nairobi and other big cities is supposedly safe to drink in Kenya. However, we wouldn't want any of our travellers to risk getting sick, which is why we recommend sticking to filtered and bottled water for drinking. In more rural areas, the tap water is certainly not safe for consumption.
I heard that there is a strict plastic bag ban in Kenya?
You heard correct. Single use plastic bags were banned in Kenya in 2017, to help reduce pollution and conserve Kenya's incredible environment. Travellers arriving at any airport in Kenya can face heavy fines for bringing plastic bags into the country. This includes plastic bags in both your checked luggage and carry-on luggage, as well as duty free plastic bags.

We strongly recommend avoiding packing any plastic bags in your luggage before flying to Kenya. You should also remove any items purchased at departure airports from their bags before boarding. Double check your luggage before disembarking in Kenya and leave any plastic bags on the plane.
As a solo traveller will I have to pay more for my Kenya package?
On our overland camping tours, solo travellers will be matched up with another solo traveller of the same sex, with whom they will share a tent. If there is no other solo traveller of the same sex on the tour, you will have a tent to yourself at no extra cost.

On our Handpicked lodge tours, a single supplement applies for solo travellers. The cost of this can be seen on the tour page for each trip.
What is the current travel advice for Kenya?
As a UK-based company, we follow the latest up to date advice from the Foreign and Commonwealth Office (FCDO). You can see the latest travel advice and local laws here.
KENYA: A YEAR-ROUND SAFARI DESTINATION
Kenya is a fantastic safari destination at any time of year with world-famous national parks boasting an incredible array of wildlife and brief wet seasons. The Masai Mara is home to the Big Five and witnesses the Great Migration that follows a year-long cycle. So there's always something of interest taking place on the savanna. Even when the rains come there's still strong wildlife viewing thanks to thinner crowds and a steady animal population in other national parks.
The Best of our Kenya Trips
With scenery that perfectly captures the essence of Africa and a host of national parks and wildlife reserves presenting phenomenal safari opportunities and a glimpse of traditional tribal cultures, Kenya has some superb highlights that you'll find on our safari trips. Here is our pick of the country's best destinations to visit on your Kenya adventure, from the Masai Mara Game Reserve to Nairobi National Park!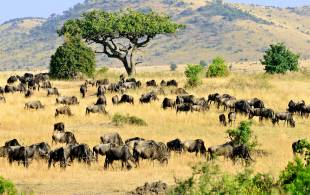 Masai Mara National Reserve
Meet the red-robed Masai warriors and go in search of the Big Five with game drives across the grassy plains of the Masai Mara National Reserve. Part of the Serengeti ecosystem, it's the best place for a safari in Kenya, with departures running throughout the famed Great Wildebeest Migration.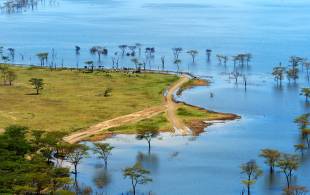 Lake Nakuru National Park
Home to abundant wildlife including healthy populations of both white and black rhinos, Lake Nakuru National Park is one of the country's best when it comes to game drives. See the famous soda lake which lends the park its name, home to large concentrations of pink flamingos. Lake Nakuru is part of the Great Rift Valley and is located not far from Mount Kenya, with spectacular scenery throughout.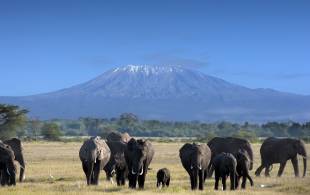 Amboseli National Park
Marvel at the snow-capped peak of Mount Kilimanjaro, Africa's tallest mountain. It towers over landscapes filled with hundreds of large-tusked elephants as well as giraffe, zebra and lion. It's the perfect setting for a wildlife safari!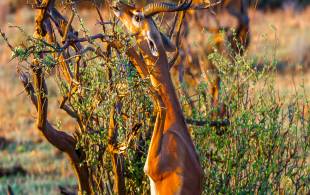 Samburu National Reserve
Watch out for the unique Grevy's zebra or Beisa Oryx on safari through the dry grasslands of the Samburu National Reserve, home to a staggering number and variety of iconic species.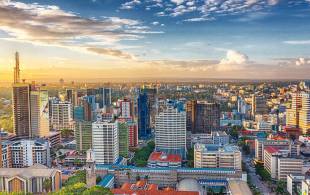 Nairobi
The Kenyan capital and the start point of many of our Kenya tours, Nairobi city is an increasingly modern destination, with great hotels, bars and restaurants. It's the perfect place to spend a few days before your safari, and even has its own national park - Nairobi National Park is home to rhinos, cheetah, lions and giraffe.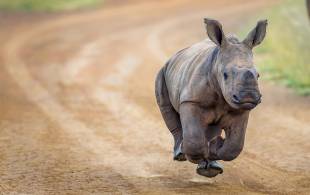 Daphne Sheldrick Centre
A wildlife sanctuary and elephant orphanage, the Daphne Sheldrick Centre does incredible work and we are pleased to visit on many of our Kenya tours to support their work. Meet playful baby animals being given a second chance in life at this rhino and elephant orphanage, and watch keepers feed and play with them.