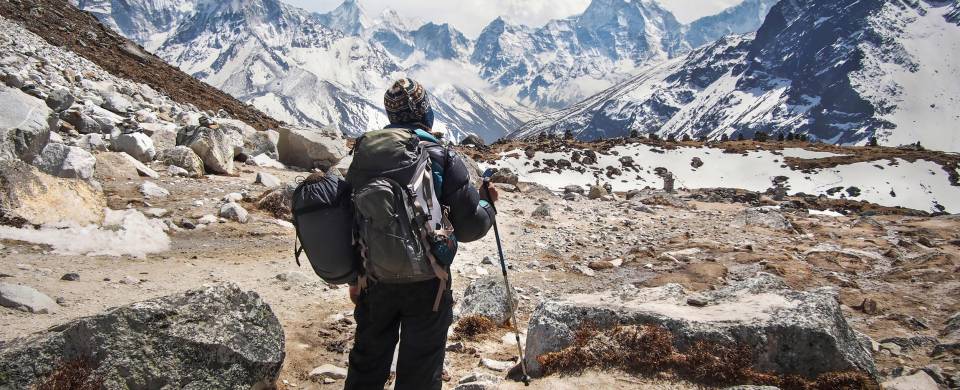 Trips and Tours to Everest Base Camp
About Everest Base Camp
The mighty Mount Everest straddles the border of Nepal and Tibet, towering at 8850m, it is the highest mountain in the world, with wind speeds sometimes exceeding 400 km/h at its peak. Everest is over 60 million years old and has an almost spiritual status, known to the Nepalis as Sagarmatha (goddess of the sky) and the Tibetans as Chomolungma (goddess of universe). While few people make it to the summit of this incredible natural phenomenon, Everest Base Camp presents itself as a much more achievable, though still challenging target.
Read More
On 29th May 1953 Sir Edmund Hillary (New Zealand) and Tenzing Norgay (Nepal) were the first to reach Everest's summit. Since then, Everest has become a Mecca for mountaineers of all nationalities, with around 6,000 attempting to follow in Hillary's footsteps to reach the summit, but only 2,250 making it. Trekking to Everest Base Camp is hugely popular; ascending through awesome panoramic landscapes to reach the camp at 5200m. Hiring a porter to assist with your baggage is highly recommended and provides crucial employment for locals.
Unfortunately the views of Everest from the base camp are limited, so most trekkers in Nepal take the short but steep hike up Kala Pattar, (5545m) where the views are unsurpassable. During the trek you will pass through a range of landscapes as well as the Namche Bazaar, various villages, magnificent monasteries and the Kosi River. With so many different things to see, even your acclimatisation days will be thoroughly fascinating.