Botswana Safari Trips & Tours
Discover spectacular scenery and wonderful wildlife with a camping or lodge Botswana safari package to one of Africa's most underrated destinations.
Botswana glows in brilliant natural beauty. A dream holiday destination like no other. Highlights include the labyrinth of lush waterways in the Okavango Delta (best explored by mokoro, a traditional canoe) and the wonderful wildlife in Chobe National Park and Moremi Game Reserve. The endless stretches of the Kalahari Desert and the shimmering salt pans of the Makgadikgadi.
Sparsely populated. Home to enormous elephant herds and fascinating tribes. Here you can meet the Bushmen, thought to be one of the oldest cultures in the world, whose lifestyle has remained largely unchanged since the Middle Stone Age. And you can cruise the Chobe River, dodging large but graceful hippos and snapping crocodiles.
Our Botswana trips drop you into the heart of this refreshingly untouched destination. Experience it for yourself on our overland camping safaris or luxury lodge safaris. So what are you waiting for? Start planning your Botswana safari today!
Botswana Overland Safaris
Overlanding is the ideal way to discover Botswana, from the beautiful Okavango Delta to wildlife rich Chobe National Park. Not to mention other destinations in east and southern Africa, including Kenya, Tanzania, Namibia and South Africa. Travelling overland in a hardy truck, you'll enjoy game drives through national parks, meet local tribespeople, and stop for incredible excursions such as a cruise on the Chobe River. By night you'll set up a tented camp, sharing cooking duties between the group and your experienced two-person safari team. Settle down for the night in the African bush, accompanied by the trumpeting of an elephant, the twisted laugh of a hyena, and the thundering roar of a lion. On the majority of tours we offer an accommodated upgrade. On these tours you'll still travel with those on the camping safari and participate in camp duties, but you'll stay in budget twin-share accommodation at the campsites, rather than in tents.
Botswana Comfort Camping Safaris
Our comfort camping safaris are ideal for the over 40s and also welcome families with children aged 10 and over. On these overland safaris you won't need to lift a finger, as your experienced three-person crew sets up camp, prepares your meals and cleans up, so you can relax. In addition, you'll enjoy the comfort of a camp bed rather than a roll mat and travel in a small group (maximum size of 16) escorted by a licensed African guide.
Botswana Lodge Safaris
We know that camping isn't for everyone. If you'd rather enjoy a more glamorous Botswana safari, then our lodge tours could be perfect for you. Groups tend to be smaller and you'll stay in some of the country's best lodges, permanent tented camps, and chalets. There are loads of included activities including a mokoro canoe ride at the Okavango Delta, game drives in Moremi Game Reserve, and a river cruise in Chobe National Park. These tours are fully escorted by an experienced local guide, who will also act as your driver. Our lodge safaris range from just under a week in length up to three weeks, with tours also taking in the highlights of other destinations such as South Africa, Namibia, and Zimbabwe. Don't hesitate to contact our team if you'd like more information, or to get a holiday booked in!
Explore more countries like Botswana
Frequently asked questions about our Botswana trips and safaris
Which national parks will I visit with my Botswana package?
Sparsely populated Botswana is home to some of Africa's most intact ecosystems and richest safari destinations. Depending on which Botswana safari tour you book, you'll get to explore Chobe National Park in search of the Big Five, by land, and by Chobe River cruise.

Other highlights on our Botswana safari tours include Moremi Game Reserve and the important wetland known as the Okavango Delta. And many of our trips also visit the barren white salt pans of the Makgadikgadi.
Will I see the Big Five on your Botswana safari tours?
The Big Five are the five species most sought after by travellers on a Botswana safari. They are lions, leopards, African elephants, rhinos, and buffalo.

We give our travellers the best chance possible to spot the Big Five on their Botswana safari tours. We include game drives and boat cruises in Chobe National Park, which is one of the country's premier safari destinations. And we visit the Okavango Delta. Both of these Botswana highlights are home to the Big Five.

Botswana's Okavango Delta is one of the most diverse destinations in Africa, home to all manner of exotic wildlife including a rich tapestry of rare bird life. And Botswana's wider wildlife-rich landscapes and national parks are home to all manner of rare African species, from wild dogs to cheetahs and the Kalahari black-maned lion!

Of course, no wildlife encounters can be guaranteed, as wild animals are unpredictable. Leopards in particular are hard to spot, because they are well camouflaged and mostly nocturnal. But you are sure to see some incredible wildlife, and you never know, you may be able to tick off all five on your Botswana tour!
When is the best time to visit Botswana?
April - October is the dry season in Botswana, which is generally considered the best time to visit as the weather is dry and warm. Water levels in the Okavango Delta are also at their highest at this time of year, perfect for exploring by mokoro canoe.

For a more detailed breakdown of when to book your Botswana safari, check out our guide on when to visit.
What do I need to pack for my camping safari to Botswana?
If travelling on one of our overland Botswana holidays, we recommend you read our guide to overland camping safaris. You can also see a detailed packing list in the Trip Notes for each tour.

Some of the important items to remember on your African safari are: sleeping bag, travel pillow, towel, Mosquito spray (with active DEET ingredient - especially important at the Okavango Delta!), your own personal first aid kit, torch, antibacterial wipes, a photocopy of your passport data, and your Yellow Fever Vaccination Certificate.

Please note that on our comfort camping safaris, camp bed, mattress, sleeping bag and pillow are provided.
What is the local payment for on your camping safaris?
The local payment is a cost per person that needs to be paid in US Dollars cash only. It is this payment that in part covers the park fees and other inclusions such as meals as detailed on each tour page. The local payment also covers your arrival transfer and first night's accommodation.

Our comfort camping safaris also have a small local payment, to be paid in South African rand or USD (check each tour for details) at the start of your trip.

Please note that due to exchange rate fluctuations in the US dollar, the local payment amount may be subject to changes. This payment will be collected by your tour leader at the Welcome Meeting on day 1 of your escorted tour. Our Reservations team can give you more information about the local payment, the cost of which can be found on each tour page. Please note that a per person local payment also applies to some of our Botswana lodge safaris.
How big are the groups on your Botswana safaris?
On our Botswana overland safaris, the maximum group size is 30, and these trips depart with a minimum of 4 passengers. Our comfort camping safaris have smaller groups, with a maximum size of 16.

Group sizes are smaller on our lodge safaris, with a maximum size of 7 - 16 depending on the tour, and departing with between 2 - 4 passengers depending on the tour.
Will I have a tour guide on my Botswana safari?
On our overland safaris in Botswana and other African destinations, you will be escorted by a three-person crew comprised of a qualified tour leader who will act as your guide, as well as a driver and cook. On our comfort camping tours you will be escorted by a three-person team including a qualified African guide.

On our lodge accommodated safaris, you will be fully escorted by an experienced local guide, who will also act as your driver. You have fewer staff accompanying you on our accommodated safaris but the groups are a lot smaller, so there are actually more guides and staff per person travelling on these trips.
Is Botswana a safe destination for travellers from the LGBTQ+ community?
According to the 2022 LGBTQ+ Travel Safety Index, Botswana scores a D+ rating for LGBTQ+ traveller safety, ranking 73rd out of 203 countries.

Although same sex marriage is not legal, there are legal protections for workers based on their sexual orientation, and 26 – 50% of consulted citizens consider Botswana a good place to live for gay and lesbian people. There are no legal punishments for same sex relations.

The LGBTQ+ Travel Safety Index is designed to provide a good overall picture of attitudes towards the LGBTQ+ community in each country and may not reflect the experience of foreign travellers to the country.
Is the tap water safe to drink?
Travellers are often surprised to hear that the tap water in Botswana is officially safe to drink. However, we advise caution here. The water is heavily chlorinated and there is always a risk of stomach upsets, so our advice is not to risk it during your visit unless you are desperate!

Stick to filtered and bottled water during your holiday. It is readily available in most destinations: in hotels, restaurants, and safari camps.
As a solo traveller will I have to pay more for my Botswana package?
On our overland Botswana trips (excluding comfort camping), solo travellers will be matched up with another solo traveller of the same sex, with whom they will share a tent. If there is no other solo traveller of the same sex on the tour, you will have a tent to yourself at no extra cost.

If you book a Handpicked Botswana lodge safari, a single supplement applies per person for solo travellers. The cost of this per person can be seen on the tour page for each trip.
What is the current travel advice for Botswana?
As a United Kingdom-based company, we follow the latest up to date travel advice from the Foreign and Commonwealth Office (FCDO) for all of our destinations. You can see the latest travel advice and local laws for Botswana here.
GO WILD IN CHOBE NATIONAL PARK ON A BOTSWANA SAFARI
Home to one of the largest concentrations of game in Africa, Chobe National Park is one of Botswana's most popular and rewarding wildlife destinations. Located in the north just an hour's drive from Victoria Falls, highlights of the park include large lion prides and the park's enormous elephant population. These animals are characterised by their short tusks due to brittle ivory. As well as ample wildlife spotting opportunities, the Chobe River also offers the chance to enjoy your Botswana safari from the water's surface.
The Best of our Botswana trips
From arid desert landscapes to sublime inland waterways and abundant wildlife, Botswana is home to an amazing wealth of natural beauty with plenty of national parks and other destinations offering incredible safari experiences. Here are some of the country's top destinations and highlights of a Botswana safari, including the Okavango Delta, Chobe National Park and Moremi Game Reserve.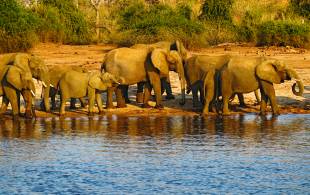 Chobe National Park
Go in search of Botswana's resident wildlife with a game drive across one of its main highlights. Chobe was the country's first national park and at 11,700 sq km, it's the perfect place to spot the Big Five on safari and cruise the Chobe River in search of hippos and giant elephant herds.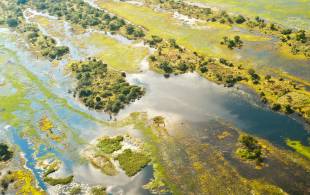 Okavango Delta
Enjoy a leisurely mokoro canoe ride on the lily-strewn canals of the Okavango Delta, the world's largest inland river delta and one of Botswana's main highlights. The delta supports an incredible variety of wildlife including rhino and cheetah.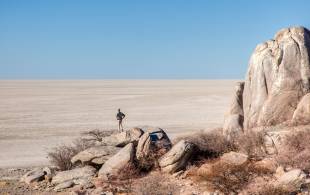 Makgadikgadi Pans National Park
One of Botswana's more unique destinations. Take a guided trip through ancient groves and learn all about the local ecology, geology and unique biology of one of the world's largest salt pans on an adventure at the Makgadikgadi Pans National Park.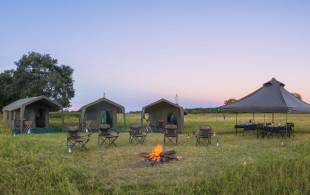 Moremi Game Reserve
Explore the western side of the Moremi Game Reserve on morning and afternoon game drives with the chance to spot buffalo, giraffe, lion, leopard and plenty of bird species. Moremi Game Reserve juts into the Okavango Delta and is also a stronghold for rare African wild dogs.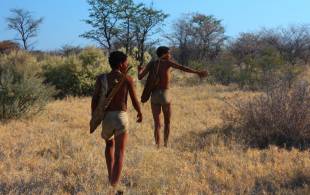 Ghanzi
Often known as the 'Capital of the Kalahari Desert', Ghanzi is an important cattle-producing area for Botswana and is also home to the San Bushmen. Travellers on our camping safaris can meet these traditional tribespeople, or why not take a walking tour?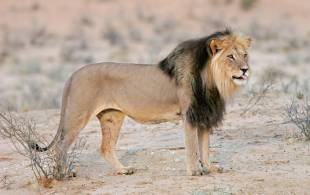 Kgalagadi Transfrontier Park
Shared with neighbouring South Africa, Kgalagadi Transfrontier Park is one of the more lesser-explored destinations in Botswana, covering 15,000 square miles of Kalahari Desert. It's a precious stronghold for lion prides, with more than 500 animals thought to live in several prides. Male Kalahari lions also have beautiful black manes.