It's no secret that Thailand boasts tropical beaches and jungle-clad islands but travellers will soon discover there's a whole lot more to this old favourite.
With idyllic islands, palm-fringed beaches and mouth-watering cuisine, it's little wonder that Thailand is such a popular travel destination. It's also home to one of the most visited cities in all of Asia, the raucous and exhilarating capital of Bangkok where contrasts abound as skyscrapers tower over golden pagodas and ramshackle stilt houses. Add to this emerald hills, gleaming temples, ancient ruins and a population of smiling people ready to welcome you to their beloved country and you should start to understand the appeal.
Read More
Join one of our award-winning group tours of Southeast Asia which end in the bustling Thai capital of Bangkok, then plan your own Thailand adventure with the help of our handy travel guide.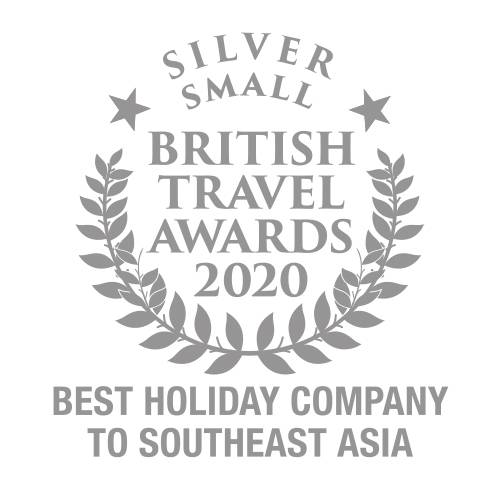 Thailand Day Tours and Excursions
Whether you're visiting the pulsating capital of Bangkok, venturing to Chiang Mai in north for outdoor fun or heading straight to the idyllic islands of Koh Samui and Phuket for time on the beach, we also offer a range of day tours in Thailand.
Thailand tour reviews
Scoring an average traveller rating of 5 out of 5 based on 3 recent reviews — See All Thailand Reviews
"
Booked this tour originally just for the Lantern Festival, but it really offered so much more!! The lanterns were a dream experience, so much better than we could have imagined! The floating hotel is a once in a lifetime experience, and the stunning waterfalls at Erawan were a major highlight! Will definitely book another tour with On The Go, their guide Mhor was hilarious and constantly going over and above for us, and the group of people was one of the best I have experienced on a tour! I will be back!"
Kirsty H
• Submitted 26 Nov 2019
"
The tour - I would highly recommend Time for if you would like a taster of the history, culture and beauty of Thailand in the northern region and the 'countryside' around Bangkok.
The highlights of the trip included a fun cooking class in Chang Mai (run by a fantastic couple) and a night on a jungle raft in the River Kwai.
The group was small and very friendly. I really liked having a small group!
Our guide Tui was fantastic. She was friendly, accommodating and looked after the group. Tui went above and beyond her role.
I would definitely book another tour with On the Go. "
Sania Dar
• Submitted 30 Mar 2019
"
Fantastic tour. I had such an amazing time. Our guide was truly fantastic, always going the extra mile to give us an authentic feel of the country (we would jump into tuk tuks to get to local restaurants, she would give us advice on local dishes, places to see and was always full of very interesting facts about the Thailand).
Group size (12) was perfect, we had the freedom to quickly go places without relying on a big bus. It gave us spontaneity and the possibility to discover small local restaurants and delicacies. I truly believe the small group size, and the fact that we all had the same expectations and desires for the tour added even more value to the experience.
Absolutely everything was perfect (visits, boat rides, food, accommodation, nature, sightseeing...), and the Yi Peng festivities were breathtaking.
Hard to find anything to improve on,if I had to: the visit to the hill tribes village lacked some contextual info. We were all nervous about getting a "human zoo" feeling and wanted to understand more about the place, the people living in the village and their lives in our modern world.
Also, a quick warning about the train ride: it is virtually impossible to get any sleep as the lights are extremely bright for some reason. Other than those little details, everything was absolutely perfect. Thank you so much, I will definitely book with you again in the future!
PS : I can't stress enough how amazing our tour guide Nui was :)"
Sonia
• Submitted 14 Dec 2018
Recent Travel Articles on Thailand
Read All
Highlights of Thailand
With a bustling capital, endless pristine beaches and temples galore, there's plenty to see in Thailand. Some attractions have the edge however, and that's why we recommend these destinations to anyone taking a trip to Thailand: