PRIVATE TOUR: Explore Cairo's best loved sights, relax and unwind with our great 4 day break. Explore the Grand Egyptian Museum and the priceless funerary treasures of King Tutankhamun, including his legendary solid gold death mask, the famous pyramids and the iconic Sphinx at Giza Plateau.
Trip Highlights
Marvel at the legendary Pyramids of Giza and the iconic Sphinx on the Giza Plateau
See the mummies of ancient Egyptian kings and queens at the National Museum of Egyptian Civilization
Tour the Grand Egyptian Museum which houses the world famous collection of King Tutankhamun, including his gold funerary mask
Free day to independently explore, opt to see the Step Pyramid of Saqqara, visit Khan el Khalili Markets or simple spend the day relaxing by the hotel pool
Included
Breakfast daily
Guided tour of the Pyramids and Sphinx at Giza
Guided sightseeing on day 2 conducted by an English speaking Egyptian tour guide, qualified in Egyptology
All relevant transfers and transportation in private air-conditioned vehicles
3 nights SUPERIOR hotel. STANDARD and DELUXE hotel options are also available upon request. Accommodation rating – See Trip Notes for details
Guided tour of the Grand Egyptian Museum and the Royal Mummies' Hall at the National Museum of Egyptian Civilization
An airport arrival transfer on day 1 and a departure transfer on day 4
Not Included
International flights and visa
Entrance Fees: USD$60-70pp, paid in local currency
Tipping and tip for your guide. We recommend you allow USD$20 per traveller per day of guiding for your guide, though ultimately tipping is an entirely personal gesture.
Welcome to Egypt and the start of your city stay! Arrival Cairo and included transfer to your hotel. The remainder of today is at your leisure to relax or explore Cairo your way. Consider sailing on a traditional felucca on the Nile at sunset, or the sound and light show this evening (booked and paid for locally)
Overnight: Cairo
Cairo
This morning enjoy a guided tour of the legendary Pyramids of Giza and the iconic Sphinx. Sole survivors from the ancient Greek-listed Seven Wonders of the World, the pyramids are the planet's oldest tourist attraction! Gaze in awe at Cheops (Khufu) - the largest of the three great pyramids. Constructed from over 2.5 million limestone blocks it is thought to have taken more than 20 years to construct. Whilst here, you can opt to enter the inside one of the pyramids, subject to opening. Not built for the purpose of accommodating curious travellers, a visit inside one of the pyramids is hot, humid and not recommended for those that are claustrophobic! For a real Arabian experience, perhaps opt to hire a camel for a trot across the sands of Giza and grab that iconic photo of the 3 pyramids (your guide can help you arrange this locally).

Next stop is the Grand Egyptian Museum, which houses a giant exhibition containing the treasures of King Tutankhamun. In this incredible 490,000 sq.m complex many of the exhibits are being displayed for the first time and artefacts have been brought together from across Egypt and the world. After your guided tour of the museum, end the day with a visit to the National Museum of Egyptian Civilization where you can see the mummies of ancient Egyptian kings and queens which are displayed in the Royal Mummies' Hall. This incredible hall contains 20 mummies in total including King Ramses II. Some are so well preserved that you can still see hair on their heads and fingernails. This evening consider heading out to dinner at one of the restaurants that offer fantastic views of Cairo and the Nile. Ask your guide for some recommendations!

Please Note: the Grand Egyptian Museum is scheduled to open in late 2024, though an official opening date has yet to be released. If travelling prior to the opening of the new facility we'll visit the Egyptian Museum instead.
Overnight: Cairo | Breakfast
Free day to enjoy Cairo your way. Perhaps enjoy an optional Cairo city tour or a visit to the first pyramid ever built - Zhoser's Step Pyramid at Saqqara. You could also head over to National Museum of Egyptian Civilization to visit the fascinating Royal Mummies' Hall, where the mummies of ancient Egyptian kings and queens are on display. If you already have something in mind that you would like to pre book, let your consultant know so we can arrange this in advance.
Overnight: Cairo | Breakfast
After breakfast, hotel check out and included onward transfer to airport. Should you wish to book another night to explore more of the city, please enquire.

For information about visas, top travel tips and much more, take a look through our travel guide.
Breakfast
Upgrade your stay!
With our 5 star Pyramid City break.
Enjoy a luxury city stay in a city that never ceases to amaze. Sleeping by the foot of the Giza Pyramids in the deluxe 5 star Le Meridien Pyramids. A fabulous long weekend with the must see sights and free time to enjoy the city your way or to simply relax.
The hotels listed below are ones which we frequently use on this tour. We reserve the right to substitute these hotels to ones of a similar standard.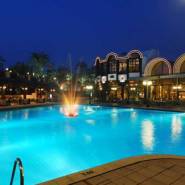 Oasis Hotel, Cairo
Just a stone's throw from the Pyramids, the Oasis Hotel is a classic Egyptian hotel with beautiful expansive gardens. Rooms are very spacious with comfortable beds and fantastic en suite facilities. Wi-Fi is available and the buffet breakfast offers a good spread. In the evening the outdoor pool and fountains are lit up making the restaurant and bar the perfect place to spend an evening sipping on a cold glass of beer.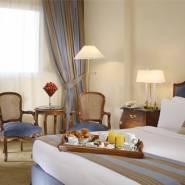 Sonesta Hotel Cairo, Cairo
The Sonesta Hotel & Casino is a sophisticated and luxurious hotel offering spacious, en-suit rooms with opulent furnishings. Enjoy a cocktail at the poolside bar or indulge in a relaxing massage or Turkish steam bath at the full-service spa. With 5 restaurants located within the hotel you'll be spoilt for choice over dining options.
Reviews
Travellers have rated this tour as 5 out of 5 based on 2 recent reviews
"
I had a great time!! My tour guides Sherif and Amon were very helpful and knowledgeable. Thank you!"
Manuel Israel
• Submitted 28 Jul 2017
Tour





Guide





Country





"
I highly recommend a personalised tour, and would definitely ask for Waleed Zayan as he is awesome! He is so knowledgeable and such a nice person.
When I arrived at the airport and was greeted by someone from On The Go Tours, who helped me get my luggage and take me through passport control, that made me feel at ease about being in a country that I had never travelled to. When we went outside and he introduced me to the rep, I was a little confused as to what was happening with the changeover of people, but as soon as we were in the car and Amir gave me an envelope which had my itinerary inside and we spoke about what I would be doing and some optional extra tours, I was less confused haha!
The next morning when my guide (Waleed) met me in the reception area, he ran through the schedule for the day and then we hopped in the van and the first stop were the amazing pyramids! On the way he asked if I specifically wanted to do or see anything and I said I wanted to get some papyrus (not the fake stuff they sell to you on the street) so he made sure we went to a proper place throughout the day. I really like that it is so personalised that way, rather than being part of a big tour group like 30 people and missing out on the things that you want to do or things you want to see.
The two days that I was on tour with Waleed were wonderful. He knew all the answers to the questions that I asked, which made me have faith in On The Go Tours as a reputable tour company.
When it was time to go home, the driver and the rep (Amir) met me at my hotel and took me to the airport, then Amir introduced me to someone else from On The Go Tours who took me to the ticket counter and through passport control etc. I felt so much more comfortable having someone with me just in case there were any language barriers.
I was very impressed with the fact that I was really looked after from the moment I arrived until the moment that I was back at the airport to fly to my next destination.
When it comes to feeling safe etc in Egypt, I didn't feel unsafe at any point in time. I think that being with a tour guide, or part of a larger organised tour group would be the safest way to travel around. I didn't walk the streets on my own, I did however go one night with Waleed to a local area, where I was the only tourist and there were hundreds of local people around, yet I wasn't bothered by anyone, nor did I really feel out of place, other than not wearing a hijab and being a different colour of course, but I respected their culture nonetheless.
Overall, I loved my experience and couldn't fault a thing. I really want to travel to Egypt again and will definitely consider On The Go for my next trip, wherever in the world that might be!"
Christine Clark
• Submitted 09 Nov 2016
Tour





Guide





Country





"
Hi Mark
James and I returned home on Sunday from our trip to Egypt.
Although I have been to Cairo and the Mena House 3 times before, I was still fairly nervous about taking my 7 year old son there on my own.
I needn't have worried. Big Mina met us at the airport, and took us to the hotel - he even checked us in.
Our guide, Ahmed, was fantastic. He managed to pitch the tour at James level perfectly.
For 1.5 days James was enthralled. So much so, at some point on the holiday I promised him we would go to the Valley of the Kings. He has not let me forget that!
I didn't get a chance to fill in Big Minas customer satisfaction survey at the airport - so can you please pass on my thanks, and let him know the whole trip was excellent.... thank you.
If you could also let me know if you do a trip for 3 or 4 days in Luxor followed by 7 days in the Red Sea.
We would need a guide for the Luxor sites, it would be for 2 adults and 2 children - a 5 and an 8 year old.
Thank you again Mark, we both had a wonderful trip
Clair "
Clair Clarke
• Submitted 18 Mar 2010
At a Glance
Range
Trip Type
Starts
Cairo
Ends
Cairo
Departs
Any day of the year
Group Size
Min 2 / Max 24
Hotel Rating
Our rating: Superior
Tour Guide
Yes - for all included sightseeing
Meals
Breakfast: 3
Countries
Minimum Age
5 yrs, accompanied by an adult
Arr. Transfer
Yes
Dep. Transfer
Yes
Tour Add-ons
Enhance your trip with these amazing added extras and add-ons
"
I had a great time!! My tour guides Sherif and Amon were very helpful and knowledgeable. Thank you!"
Manuel Israel
OTG000016
Cairo City Stay - 4 days
Middle East & North Africa
Private
Middle East & North Africa
false
0
Egypt
https://www.onthegotours.com/ca/Egypt/Cairo-City-Stay-4-days
https://www.onthegotours.com/repository/CairoCitystayBoltonEgypt--47981241700216_crop_flip_300_300_f2f2f2_center-center.jpg
Short_Stays