Take in the best of ancient Egypt, from the Pyramids of Giza to the exquisite temple of Dendera and Luxor's tomb strewn Valley of the Kings, combined with three days of blissful Red Sea relaxation by the beach in Hurghada.
Trip Highlights
Cairo - Marvel at the legendary Pyramids of Giza and explore the Necropolis of Saqqara
Luxor - Roam around the colossal Temple of Karnak and take an optional tour of the beautifully illuminated Luxor Temple at night
Dendera - Explore the beautifully preserved Temple of Hathor, with its exquisitely decorated ceiling
Cairo - Uncover the treasures of King Tutankhamun at the Grand Egyptian Museum and see the mummies of powerful pharaohs at the National Museum of Civilization
Luxor West Bank - Discover exquisite tombs at the Valley of the Kings, see the towering Colossi of Memnon and explore the beautiful Temple of Queen Hatshepsut
Hurghada - Spend three nights at the Red Sea. Relax by the beach, swim and opt to snorkel or scuba dive in the clear coastal waters
Included
Breakfast daily
1 overnight train from Cairo to Luxor (Private 2 berth sleeper cabin)
Airport arrival and departure transfer on day 1 and day 11
All relevant transfer and transportation in private modern air-conditioned vehicles
9 nights 4-5 star hotels
Touring - Cairo, Giza, Saqqara, Luxor, Dendera and Hurghada
Services of an Egyptian tour guide degree qualified in Egyptology
3 days in Hurghada - Red Sea coastal stay
Not Included
International flights and visa
Entrance Fees: USD$90-110pp, paid in local currency
Tip for your tour guide. We recommend you allow USD$5-7 per day, per traveller. Tipping your guide is an entirely personal gesture
Tipping Kitty: USD$40-60pp, paid in local currency

Sunday. Welcome to Egypt! Upon arrival at Cairo airport you will be met and transferred to your hotel. The rest of the day is free to relax or those arriving early can opt to join an optional Backstreets of Cairo tour which departs the hotel at 10am. At 7pm this evening meet your guide and the rest of the group at a Welcome Meeting.

Note: If you would like to extend your stay we offer an Alexandria Day Trip on the Saturday before your tour starts or on the final day and can arrange pre/post tour accommodation upon request.
Overnight: Cairo
Cairo
Today see the incredible pyramids and the iconic Sphinx at The Giza Plateau. Perhaps opt to ride a camel. Later we travel to Saqqara, to explore the myriad of tombs and temples at the site and see Zhoser's step pyramid - constructed by Imhotep, the pharaoh's chief architect in 2700 BC.
Overnight: Cairo | Breakfast
Grand Egyptian Museum
Cairo - Luxor. We take a guided tour of the vast new Grand Egyptian Museum in Giza this morning. In this incredible 490,000 sq.m complex we'll discover a mind-boggling array of relics and antiquities from almost every period of ancient Egyptian history, including the treasures of King Tutankhamun. Then we head over to National Museum of Egyptian Civilization to see the mummies of ancient Egyptian kings and queens on display in the Royal Mummies' Hall. Returning to the hotel there's time to relax by the pool before we board the night train to Luxor this evening.

Please Note: the Grand Egyptian Museum is scheduled to open in late 2022, though an official opening date has yet to be released. If travelling prior to the opening of the new facility we'll visit the Egyptian Museum instead.
Overnight: Sleeper Train | Breakfast
We arrive into Luxor this morning and drive to Dendera which is one of Egypt's best preserved temple complexes, located 60km north of Luxor. This vast complex covers 40,000 square meters and its temples, chapels and shrines were gradually built over thousands of years. Dendera's crowning glory is the 2000 year old Temple of Hathor with its exquisitely decorated ceiling. After our guided tour of this incredible site we return to Luxor where the afternoon if free to spend at leisure. Take a stroll around town or enjoy a refreshing swim in the pool and soak up the sunshine.

This evening there is an optional visit to view the beautiful Temple of Luxor at night. Book and pay locally.
Overnight: Luxor | Breakfast
Luxor & Dendera
4000 year-old Luxor is ancient Egypt at its very best and this morning we tour the West Bank. Our first stop is the famous Valley of the Kings, which is home to many beautifully decorated pharaohs' tombs. After exploring this incredible site we travel on to visit the beautiful limestone, colonnaded Temple of Hatshepsut, who was one of only three Egyptian ruling queens. We'll also see the imposing 18m-high Colossi of Memnon, which are all that remains of the temple of the hedonistic Amenophis III.

Returning to the hotel at around midday there's time to have lunch and relax by the pool before we visit the colossal Temple of Karnak later this afternoon. More than a temple, Karnak is a spectacular complex of sanctuaries, pylons, chapels, halls and obelisks, all dedicated to the Theban gods and to the greater glory of Egypt's Middle and New Kingdom rulers.
Overnight: Luxor | Breakfast
Today is free for you to spend at leisure in Luxor. Relax and soak up the sunshine by the hotel pool or explore Luxor on foot, following the waterside corniche and maybe stopping for drink and a bite to eat at one of the many Nile side cafes and tea houses. Alternatively, there is an optional tour of the Luxor Museum that can be booked locally. The Luxor Museum is located on the corniche and contains a fascinating array of Egyptian antiquities.
Overnight: Luxor | Breakfast
Luxor - Hurghada. Departing Luxor we head east to Hurghada on the beautiful Red Sea Riviera for three days by the beach. The next two days are free for you to explore Hurghada or simply relax. There's an optional day trip to Giftun Island for swimming and snorkelling, which can be booked locally.

Hurghada is one of the most popular Red Sea resorts. Hotels and expanded infrastructure provide holidaymakers with excellent aquatic facilities for sail boarding, yachting, deep-sea fishing, SCUBA diving and snorkeling and Hurghada's central location provides a gateway to prime offshore reefs, which are some of the finest in the world. Hurghada also has plenty of restaurants and late night bars for evening entertainment.
Overnight: Hurghada | Breakfast x 3
Hurghada - Cairo. This morning we depart Hurghada and drive back to Cairo. The rest of the day is free for you to relax by the pool, independently explore or perhaps opt to visit the famous Khan el Khalili bazaar to buy some souvenirs.
Overnight: Cairo | Breakfast
Wednesday. Hotel check out and included onward transfer to airport.
Breakfast
The hotels listed below are ones which we frequently use on this tour. We reserve the right to substitute these hotels to ones of a similar standard.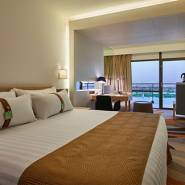 Holiday Inn Cairo Maadi, Cairo
Overlooking the Nile and offering distant views of the Great Pyramids of Giza, this Holiday Inn provides the perfect location for your stay in Cairo. Each guestroom features a balcony (not Nile View as standard) and is well-equipped with modern amenities including free WiFi. Evenings can be spent enjoying international or Egyptian cuisine and unwinding with a cocktail at one of the hotel's bars. Thanks to the friendly hotel staff, you'll soon feel at home. And with panoramic views of the city from the rooftop lounge and pool, there's no better place to base yourself for exploring Egypt's ancient wonders.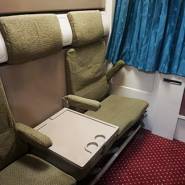 Sleeper Train, Cairo
When travelling on an overnight train in Egypt, sleeper carriages offer the highest level of comfort. Cabins are equipped with two beds (one above the other), a basin, electric points and air conditioning. Freshly laundered bedding is provided and in the early evening an attendant will come round and make up your bed for you. The carriages have toilets at each end and there is a club car which serves snacks and beverages. In the morning a very basic breakfast is provided.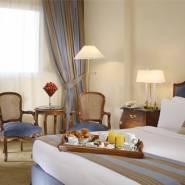 Sonesta Hotel Cairo, Cairo
The Sonesta Hotel & Casino is a sophisticated and luxurious hotel offering spacious, en-suit rooms with opulent furnishings. Enjoy a cocktail at the poolside bar or indulge in a relaxing massage or Turkish steam bath at the full-service spa. With 5 restaurants located within the hotel you'll be spoilt for choice over dining options.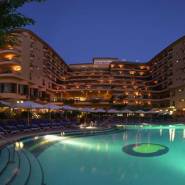 Steigenberger Nile Palace, Luxor
The Steigenburger Nile Palace is a grand hotel and stylishly furnished, with many rooms overlooking the Nile River. The hotel has a health club with massage rooms, sauna, steam room and fitness room, and a tennis court on the roof, not to mention a riverside pool. Its four restaurants offer a choice between Nubian, Lebanese, Italian, and Thai cuisine.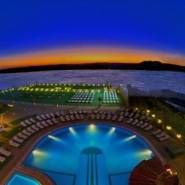 Sonesta St. George Hotel, Luxor
An elegant and luxurious classical hotel, the Sonesta's sophistication will ensure you a comfortable stay. The hotel has a sweeping terrace with fantastic views of the Nile, a grand entrance of polished marble and handsomely appointed furnishings with exquisite detail and a beautiful health spa. All its rooms offer views of the city or the river, complemented by a wide range of restaurants and cafes. Just minutes away you will find the temples at Luxor and Karnak, home to two of ancient Egypt's most famed sanctuaries.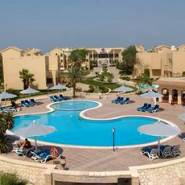 Swiss Inn Resort Hurghada, Hurghada
Set in tropical gardens, the Swiss Inn Resort makes for a comfortable and relaxing stay. The property is equipped with large swimming pools and a private beach. All rooms have a balcony or terrace with views of the garden, pools or sea. Guests can work out in the onsite fitness centre, get active at the watersports centre, enjoy a game of tennis or simply relax with a drink in one of the many bars or lounges.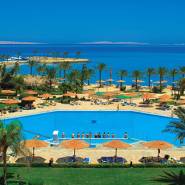 Continental Hotel, Hurghada
Tucked into Hurghada Bay, right on its scenic promenade, the Continental is a delightful beachfront resort boasting fantastic terraced rooms (many with seaviews) and excellent facilities. Watersports are in abundance here with swimming pools, scuba diving and snorkelling all readily available. A leisure club offers a sauna and spa treatments to relax after the day's activities. You can also wine and dine at one of the many great restaurants and bars.
"
Egypt was incredibly brilliant, lived up to the hype but in a way that was surprising.
What I mean is that using the pyramids and king tut as the main selling points for Egypt is a massive undersell, so many more sites far more glorious such as Karnak temple and valley of the kings for example.
Medo was an extraordinary guide who was incredibly passionate about Egypt and its history, displaying abundant knowledge on this ancient civilization as well as being very resourceful with our time and how to use it.
I have strongly recommended Egypt to everyone I know back home in Adelaide, Australia. "
Brett Craddock
• Submitted 25 Nov 2019
Tour





Guide





Country





"
Go Go Go Amazing - Go Go Go is the Mantra!
Medo is an excellent tour guide and really went above and beyond for our group! Top notch guy and so passionate about his country and the history of Egypt. This tour could easily be a university class in Ancient Egyptian History. Loved our group and it was a fabulous tour!
Arrival/Departure in Cairo - Outstanding service upon arrival at Cairo Airport. We were ushered through customs/immigration at a very quick pace and had a private driver take us to the Holiday Inn. Most thankful for this service as we had culture shock upon landing. Also our departure shuttle and assistance at the airport was also very helpful
Drivers: Super grateful to have special drivers throughout the trip in the chaotic traffic chaos especially in Cairo!
We had a fabulous trip! Thanks so much Medo!"
Felix Irwin
• Submitted 25 Nov 2019
Tour





Guide





Country





"
Our Tour Guide Medo was absolutely amazing he looked after us the whole trip, his knowledge of the country is outstanding. Every one involved with the tour were amazing they were all friendly and helpful right from the moment we landed we were looked after and on our departure..Thank you Medo and On The Go Tours for an amazing trip ."
Diane Thirkell
• Submitted 15 Nov 2019
Tour





Guide





Country





"
When we booked this tour back in February we really weren't sure what we were signing up for. The tour blurb sounded too good to be true, particularly for the money we paid. We thought it was cool that our tour guide was an Egyptologist but we didn't set our expectations too high. So of course we were blown away when we met Medo. We chose to do the day tour to Alexandria and although there were only two of us, Medo's energy was unwavering and his passion for his country was incredible. We instantly knew that the next 2 weeks would be amazing. The next day we did the back streets of Cairo tour and then started the Egypt Unplugged tour the following day. Medo taught us so much about Egypt's ancient and modern history, more than I could have learnt in any history class. He took us to the best local restaurants and his recommendations for extra activities such as the snorkelling were always spot on. When the Hilton in Hurghada couldn't figure out our bookings, Medo stood at the reception desk for 10 hours to make sure our group was taken care of. I can wholeheartedly say that his enthusiasm, work ethic and his love for his country made my trip what it was. I have never felt safer overseas than I did in Egypt. Since returning home I have been telling anyone who will listen that this trip with On The Go is a must. I can't wait to return and have my fingers crossed that I'm lucky enough to have Medo as my tour guide again next time. Can I give 6 stars?!"
Bianca Barnes
• Submitted 13 Nov 2019
Tour





Guide





Country





"
The Egypt unplugged tour was an amazing experience and all the sights just exceeded my expectations but Medo and on the go tours truly made the experience exceptional with their kindness, passion and dedication. Medo was so knowledgeable and it was just inspiring to see the passion he has for Egypt, thank you Medo. I would highly recommend on the go tours. "
Vicky Thirkell
• Submitted 11 Nov 2019
Tour





Guide





Country





"
The tour was absolutely fantastic and is the best way to see Egypt. For the first half of the tour (Cairo to Luxor), Sherif informed the group of so many facts and stories about the sights we saw. He was patient and also took us to restaurants which he recommended. I also felt very safe at all times.
I enjoyed the train ride to Luxor, it was a great experience. Ramadan and Sherif both made the group aware of what souvenirs to buy, advising us of the fake things that people sell. "
Sharon Sylvan
• Submitted 26 Jun 2019
Tour





Guide





Country





"
Medo was an absolutely incredible tour guide. From the start I felt safe and secure. Medo also Isabella made it so much fun! Medo knows his country inside out and explained all the incredible sights with such passion. There was so much packed in, it was really "On the Go" but worth it. The Cairo market,wow. Great bus drivers too! Would highly recommend this! Ending at the Red Sea and then the museum it was epic. "
Neale Billings
• Submitted 30 Apr 2019
Tour





Guide





Country





"
In all my travels over the 30 years in the travel business my experience was absolutely amazing , and have never felt this way about a destination but truly want to go back to Egypt to explore more , We were made to feel so safe and fun at the same time was our guide Medo.
His wealth of knowledge was amazing and kept us fascinated to here all the history and a true storey teller that kept us hanging onto his words.
I will sell On the go tours with confidence knowing that ther is such amazing people like Medo to look after our mutual clientele .
Again, I cannot state that I have traveled to many places around the world and this was the highlight of my career. I will be counting my days to return to Egypt . From seeing the Pyramids to The Valley of the kings and ending by relaxing on the beaches of the Red Sea .
Thank you to Medo for caring for us and making this a trip we will net forget . "
Lisa Billings
• Submitted 29 Apr 2019
Tour





Guide





Country





"
Our guide Medo was amazing. Very knowledgeable and humorous. Egyptian people love when you are enjoying yourself and having a good time overall.
Medo made the trip easy. He had really good points on how we can get the most out of the day trips like waking up a little bit earlier to catch the temples before the sites became too busy. We always had a choice of where we wanted to eat or what activities we all would like to do as a group. I can't say enough good things about Medo and this tour."
Andrea Tiwari
• Submitted 27 Apr 2019
Tour





Guide





Country





"
We had a fabulous time on our tour to Egypt last month. We were unsure on what to expect and were excited because Egypt is once again becoming a destination which is seeing an influx of travellers.
The tour was excellent and have to mention our guide Medo. I'm sure everyone on our tour will agree his passion and knowledge really made the tour. He always made sure we were well looked after.
After this trip I will definitely recommend On The Go Tours. "
Jacqueline Losier
• Submitted 27 Apr 2019
Tour





Guide





Country





In Brief
Range
Trip Type
Starts
Cairo
Ends
Cairo
Departs
Sundays
Group Size
Min 4 / Max 24
Hotel Rating
4 - 5 star
Tour Guide
Yes, escorted by a tour guide
Meals
Breakfast: 10
Visiting
Cairo, Luxor, Hurghada, Pyramids of Giza
Countries
Tour Add-ons
Enhance your trip with these amazing added extras and add-ons
"
Egypt was incredibly brilliant, lived up to the hype but in a way that was surprising.
What I mean is that using the pyramids and king tut as the main selling points for Egypt is a massive undersell, so many more sites far more glorious such as Karnak temple and valley of the kings for example.
Medo was an extraordinary guide who was incredibly passionate about Egypt and its history, displaying abundant knowledge on this ancient civilization as well as being very resourceful with our time and how to use it.
I have strongly recommended Egypt to everyone I know back home in Adelaide, Australia. "
Brett Craddock
OTG002181
Egypt Uncovered - 11 days
Middle East & North Africa
Signature
Middle East & North Africa
false
0
Egypt
https://www.onthegotours.com/ca/Egypt/Egypt-Uncovered-11-days
https://www.onthegotours.com/repository/Colourful-marina-in-Hurghada--Egypt-Tours--On-The-Go-Tours-284201454340092_crop_flip_300_300_f2f2f2_center-center.jpg
Group_Tours