Cambodia Tours & Holidays
Captivating Cambodia. Home to dense jungle, palm-fringed beaches, and the iconic Angkor Wat. Experience it all for yourself with an award-winning group tour.
A true Southeast Asian adventure, Cambodia is a must for curious travellers. Whether you're roaming the ruins of ancient civilizations or enjoying the lively nightlife of Siem Reap, you'll fall in love with a country that never stops.
Visit Cambodia and be moved by its tragic past, inspired by its spectacular beauty, and captivated by its archaeological sites. The jewel in Cambodia's crown is undoubtedly the Angkor Temple Complex and iconic Angkor Wat, one of the great wonders of the world and the highlight of our tours to Cambodia. And with wild jungles and national parks, pristine beaches and offshore islands, beautiful temples and vibrant cities, Cambodia has so much more to offer.
Our escorted tours dive straight into the heart of the action. From bustling night markets to lavish temples, our local guides know the real Cambodia. They'll masterfully uncover the country's tragic history and expertly lead you around the streets of Phnom Penh.
We win British Travel Awards for a reason - with our insider knowledge, we'll turn your Cambodia tour into a once-in-a-lifetime adventure. From start to finish, we'll take care of the details, and handpick experiences that stay with you for a lifetime.
Cambodia Group Tours
Many travellers to Cambodia like to combine their trip with neighbouring countries such as Vietnam and Laos. We offer all these possibilities, plus we have a 6-day standalone Cambodia tour if you would prefer. We also have several tours which end in Bangkok, perfect if you're going on to explore more of Thailand. All of our Cambodia tours take in the capital, Phnom Penh, and the majestic Angkor temple complex, with a minimum of three nights in Siem Reap.

Browse our full range of Cambodia holidays below and do not hesitate to contact our team today if you'd like some more information.
Cambodia Private Tours
Our private Cambodia tours are a great option for those who don't want to travel in a group, but still want the organization of a tour, and the services of our expert tour guides. The itineraries you can see below can be booked off the shelf, or customized into your own bespoke tailor-made holiday. From Phnom Penh to the ancient temples of Angkor, where do you want to go? Simply get in touch with our Reservations team today to start planning your Cambodia holiday!
Cambodia tour reviews
Scoring an average traveller rating of 4.83 out of 5 based on 6 recent reviews — See All Cambodia Reviews
"
Everything we bargained for and more.
Everyone in our group commented on what an happy group ours was but for me this was all down to our guide Hung.To bring our group together the way he did was commendable,especially as we were all from different back grounds & nationalities.
The organisation was second to none and effortless for the group who really didn't lift a finger, I suspect Hung worked even harder when out of the groups sight especially with the situation of Covid 19. "
Kevin
• Submitted 1 Apr 2020
"
Amazing insight into Laos & Vietnam culture, country, people, food & history. Tour was cut short due to Covid 19 so we never made it to Cambodia. However the one thing to stand out during the holiday was the quality, professionalism and enthusiasm of our guide in Vietnam Mr Hung Do.
This was our second OTG tour in two years during which we experienced several guides and Mr Hung Do stands head and shoulders above the others. Unfortunately our holiday will always be remembered for the Virus, but right until we had to leave Mr Hung Do put his customers first and went out of his way to ensure our holiday was disrupted as little as possible.
I am a person who will always complain given half a chance, but on this occasion Mr Hung Do saved the day and I sincerely hope he and his family remain safe and well so that we can complete the tour with him when this is all over. "
Alan
• Submitted 31 Mar 2020
"
Fantastic worry-free tour
The tour was well thought out and the pace was perfect with just enough free time. All the hotels were in good locations so exploring was easy. The historic sites and activities were a good mix and delivered a sense of the country. "
Peter Parachnowitsch
• Submitted 26 Mar 2020
Frequently asked questions about our touring holidays in Cambodia
Will I see Angkor Wat on your trips?
Angkor Wat is Cambodia's main attraction, and you won't miss a thing on our Cambodia holidays.

All of our group tours spend a minimum of three nights in Siem Reap, close to the Angkor Complex. We visit Angkor Wat on a guided tour and there is an optional excursion to return at sunrise, a popular time to see the temple bathed in the morning sunlight.

We also discover the other temples of Angkor, including the Bayon Temple and Ta Prohm.
When is the best time to visit Cambodia?
November - May is the dry season in Cambodia, with warm, dry days and little rainfall. This is the best season to visit Cambodia.

You can find more information with our handy guide about when to visit Cambodia.
Will I have a tour guide?
Our Cambodia holidays are escorted tours, meaning you'll have one of our local, English-speaking tour guides with you every step of the way. They'll be able to fill you in on the history of sites such as the temples of Angkor, point out the best places to eat and shop, and help you feel safe and secure on tour. You'll still have free time at points during the tour for you to go and see other sites independently, or to relax in the hotel!
How big are the groups on your Cambodia trips?
As with all of our Signature tours, the maximum group size on our Cambodia tours is 24, and they depart with a minimum of 4 passengers.
What is the standard of accommodation?
We stay in great quality 4-star hotels in central locations both in Phnom Penh and Siem Reap. On the web page for each tour, you will find a tab with information about the hotels we regularly use on tour.
What is the current travel advice for Cambodia?
As a UK-based company, we follow the latest up to date advice from the Foreign and Commonwealth Office (FCDO). You can see the latest travel advice for Cambodia here.
Why do you plant trees in Cambodia?
On our Cambodia trips, travellers will have the chance to take part in our tree planting initiative. We plant native species consisting mainly of fruit trees. These trees suck carbon from the air, helping to fight against climate change. They are also good for biodiversity, and local Cambodian people can eat and sell the fruit. Plus it's a great experience for our travellers, who can see some of the real Cambodia. A win all around!
How do I make sure I am respectful when visiting temples?
There are some local laws and customs to be aware of when visiting temples in Cambodia. You should read the code of conduct for visiting Angkor, though your tour guide will be able to help you ensure you are dressed and behaving appropriately.

When entering temples in Cambodia it is expected that you remove your shoes. Women should wear a long skirt or trousers if they know they will be visiting a temple, although long skirts can usually be borrowed at most temples.

It is not acceptable to touch somebody on the head in Cambodia as it is the highest point of the body and therefore considered the most important and holy. On the flipside, feet are the lowest part of the body and gesturing with them will often be considered both disrespectful and disgusting.

In the main tourist destinations, bad etiquette will normally be forgiven with no harm done, but it is worth memorizing these customs to show respect. And it is important to follow local laws to avoid getting into trouble.
Is Cambodia a safe destination for travellers from the LGBTQ+ community?
According to the 2022 LGBTQ+ Travel Safety Index, Cambodia scores a D+ rating for LGBTQ+ traveller safety, ranking 75th out of 203 countries.

Same sex marriage is not legal, and there are no constitutional or worker protections based on sexual orientation. 26 - 50% of consulted citizens consider Cambodia a good place to live for gay and lesbian people, and there are no legal punishments for same sex relations. Most trips for LGBTQ+ travellers to Cambodia are trouble-free.

The LGBTQ+ Travel Safety Index is designed to provide a good overall picture of attitudes towards the LGBTQ+ community in each country and may not reflect the experience of foreign travellers to the country.
Can I drink the tap water?
We don't recommend drinking tap water in Cambodia, as there is a risk of stomach upsets. You should stick to filtered and bottled water, and avoid ice in soft and alcoholic drinks. Also, be wary of eating salads that have been washed at the tap.
Will I learn about the Khmer Rouge?
Led by the communist tyrant Pol Pot, the Khmer Rouge regime ruled Cambodia from 1975 - 1979. In just four years, between 1.5 - 2 million mostly innocent Cambodians were killed, in one of history's most horrific genocides. This represented a quarter of the entire population of Cambodia. It was only stopped when neighbouring Vietnam invaded Cambodia in 1978 and toppled the dictatorship.

The country has emerged from the horrors of this past, but it is important when visiting Cambodia to acknowledge the country's difficult past. On our tours, we visit Tuol Sleng in Phnom Penh, a former secondary school turned prison under the Khmer Rouge. Approximately 20,000 people passed through Tuol Sleng under the regime and just seven were alive to be liberated when it fell. It's now the Tuol Sleng Genocide Museum, teaching visitors the story of this horrific chapter of Cambodian history. And we see some of the Killing Fields, where victims of genocide were buried.
An Adventure Without the Admin
Adventure without limitations. Travel without hassle. With On The Go Tours, the time-consuming details and logistics are taken care of for you. We fill each day of your trip with authentic experiences; so all you need to focus on is making memories with like-minded travellers.

And all of our group tours come with ATOL and ABTA financial protection. So when you book with us, you can relax - from start to finish.
The Best of Cambodia
Teeming with ancient ruins, rural rice paddies, golden beaches and vibrant cities, Cambodia is a country packed full of contrasts. And with our award-winning tours, you'll discover all of its secrets. Here are the unmissable highlights for you to explore on your Cambodia tour, from legendary Angkor Wat to the stilted houses of Tonle Sap Lake.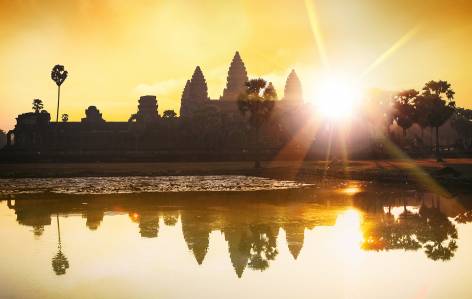 Angkor Wat
It's the largest religious monument in the world and is so important in Cambodia that it appears on the country's national flag. Angkor Wat is a special place, especially when visited at sunrise. Lose yourself in this sprawling complex and admire the incredible bas reliefs that Angkor Wat is so famous for.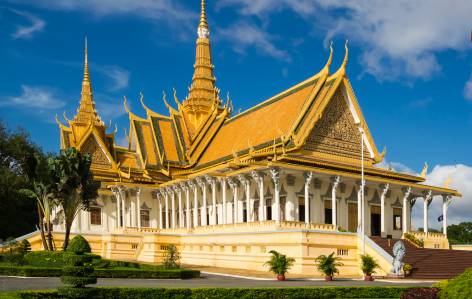 Phnom Penh
The capital of Cambodia is a rapidly emerging city, located at the junction of the Tonle Sap River and the mighty Mekong River. Highlights of Phnom Penh include the stunning Silver Pagoda and the Royal Palace. Travellers on our Cambodia tours will also confront the sobering history of the Khmer Rouge regime, with visits to Tuol Sleng prison and the Killing Fields.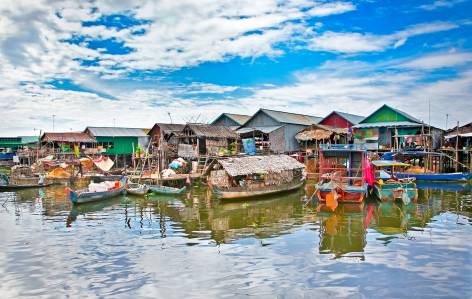 Tonlé Sap Lake
Tonlé Sap is the largest freshwater lake in Southeast Asia and is a lifeline for millions of people in Cambodia and other Asian countries. Designated a Biosphere Reserve by UNESCO, it is known for its biodiversity, yet is threatened by over-exploitation and climate change. On our tours, enjoy a boat trip on the lake and see some of the stilted houses built on the floodplain by local people.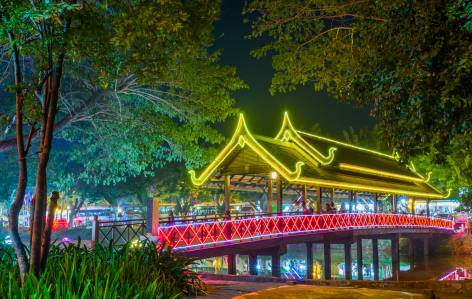 Siem Reap
A great base for exploring the temples of Angkor, Siem Reap is Cambodia's second city, known for its French and Chinese colonial architecture, old market, and vibrant nightlife, popular with travellers of all ages. We spend a minimum of three nights here on our Cambodia trips.