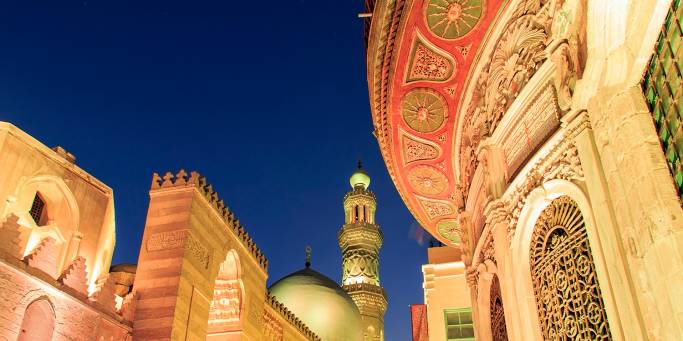 Discover some of Cairo's most fascinating neighbourhoods and get off the beaten track on this Backstreets of Cairo tour. Stroll through the bustling Downtown and explore the beautiful mosques and monuments of Islamic Cairo's spectacular El Moez Street, before bartering for goods at Khan el Khalili Bazaar. Then learn about the life of the Zabbaleen waste pickers before visiting the famous Cave Church of St Simon.

Departing our hotel at 10am we drive to Tahrir Square in the heart of the capital, which became the hub of Egypt's revolution in January 2011. We'll gain a fascinating insight into the revolution from our guide before stopping nearby to set out on foot for a stroll through Downtown Cairo, taking in local sites of interest such as Talaat Harb Square with its famous statue and the historic Groppi Cafe. Meeting our vehicle again we travel to Islamic Cairo for a walking tour of El Moez Street and the bustling Khan El Khalili area. El Moez street is one of Cairo's oldest streets and it has one of the greatest concentrations of medieval architectural treasures in the Islamic world. There are many exquisite mosques and monuments on El Moez Street and on our tour we visit El Hakim, one of Cairo's largest mosques and the sprawling Sultan Qalawun complex, which includes a madrasa, a hospital and a mausoleum. We'll also visit Bayt Al-Suhaymi, a 17th century Egyptian mansion and the famous gate of Bab al-Futuh. After a refreshing glass of sugar cane juice we'll continue our adventure, navigating the bustling streets of the famous Khan el Khalili bazaar, where you can barter for souvenirs. Here we take a break for you to have lunch, shop and soak up the atmosphere of this vibrant souk.

This afternoon we drive to one of the poorest neighbourhoods in the capital, inhabited by the Zabbaleen community who make their living from recycling 80% of the city's rubbish. Here our guide will explain about the work and lives of the Zabbaleen, who are thought to be some of the world's most efficient recyclers. The Zabbaleen are Coptic Christians and the most remarkable sight in this area is the beautiful rock cut Monastery of St. Simon the Tanner and its famous Cave Church. Carved out of the mountainside, the Cave Church of St Simon is thought to be the largest church in the Middle East, seating over 17,000 worshippers in a large amphitheatre. After a guided tour of this incredible site and taking in the wonderful views of the capital we'll return to our hotel, arriving at approximately 5pm.
| Prices | Dates | Price/Person | Single Supp. |
| --- | --- | --- | --- |
| Backstreets of Cairo | All Dates | €115.00 | - |
Additional Information
Departs: 10am on day 1 of all Egypt group tours, except Alexandria & Ancient Egypt where it is offered on day 4. Not offered on Family or Teenager tours.
Note: flights need to arrive into Cairo before 07.30am on day 1. Pre tour accommodation is advised.
Runs with a minimum of 4 people
Is this trip right for you? Travelling through the Zabbaleen district can be unsettling and therefore not suitable for everyone. You will see mountains of recycling and rubbish and living conditions very differnet from those in the west. If you would prefer not proceed with this part of the tour, you can opt to stay at Khan el Khalili market and make your own way back to the hotel as and when you choose, however you will then miss the Monastery of St Simeon's, as the only road to the monastery is through the Zabbaleen community.
What's Included
Transportation – a mix of walking and private vehicle
Guided sightseeing throughout by a licensed Egyptian tour guide
Entrance fees
Snacks along the way
Highlights
El Moez street - explore one of the oldest streets in Cairo, noted by the United Nations as having the greatest concentration of medieval architectural treasures in all the Islamic world
Khan el Khalili market - navigate the chaotic streets of the Khan el-Khalili bazaar and barter for souvenirs
Tahrir Square – see the site of the Egyptian revolution, hear your guide's personal account of the revolution and its impact on Egyptians today
Garbage City - learn about the recycling initiatives and the lifestyle of the Zabbaleen community who live in this deprived area of the city
The Cave Church of St. Simon - visit the famous church which is carved into the mountainside and admire wonderful views of the capital