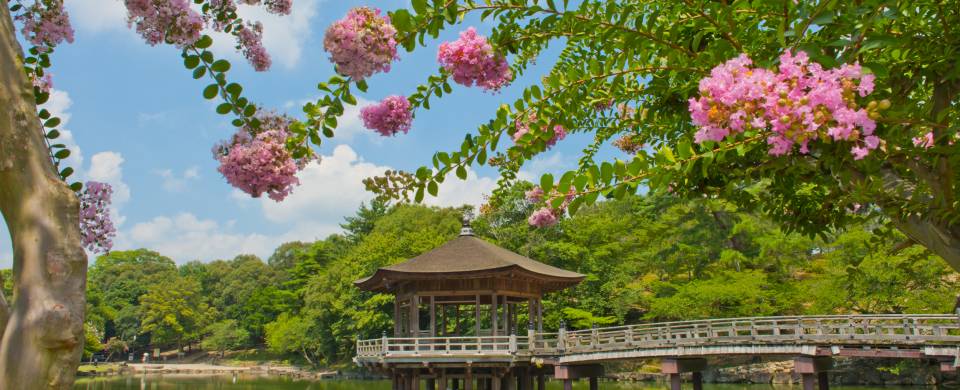 Trips and Tours to Nara
About Nara
As Japan's first permanent capital, the city of Nara is one of the country's most culturally-rich destinations with eight UNESCO World Heritage Sites and a startling wealth of Buddhist and Shinto temples and shrines. Against a backdrop of low-lying wooded mountains, Nara is rather scenic, pleasantly relaxed and surprisingly compact with the main places of interest located within a relatively easy distance of one another. Located just a 40 minute train journey from Kyoto, Nara can be visited on a day's excursion though with high-quality accommodation suiting all budgets it's worth considering spending a night to enjoy the town at leisure.
Read More
Nara's centrepiece is the Todaiji Temple, one of Japan's most historically significant temples. Constructed in 752 the temple served as the head of all provincial Buddhist temples in Japan and gained immense power. The main hall of the temple houses the famed Daibutsu, a spectacularly large bronze statue of Buddha flanked by two Bodhisattvas. Todaiji's main hall also claims the title of being the world's largest wooden building.
The monumental temple presides over Nara Park, which is also home to the celebrated shrine of Kasuga Taisha, the five story pagoda of Kofukuji Temple and the Nara National Museum, which displays Japanese Buddhist art. The park is also home to a sizable population of cute and pesky deer. Tame enough to eat from your hands when offered treats that have been purchased from numerous stalls around the park, these deer roam freely within the park and have long been considered sacred.