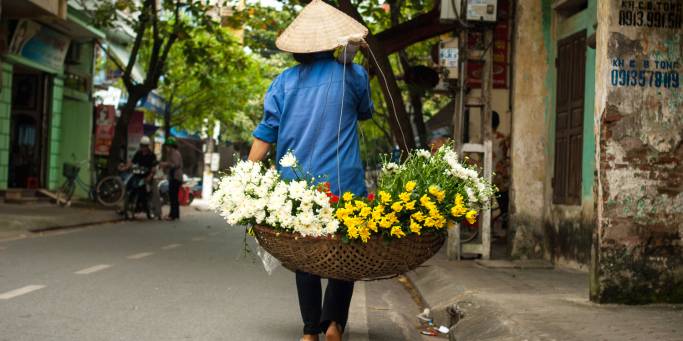 Get off the beaten track with a backstreets tour of Hanoi before your main tour of Vietnam begins. Travelling by various modes of transport including a taxi-motorbike, explore the quaint districts of Cho Buoi, Hoang Hoa Tham and Vinh Phuc. Have a delicious local lunch before visiting the Temple of Literature and the infamous Hanoi Hilton. Ending the day with a refreshing roadside beer overlooking the Soviet Friendship Palace.
Our adventure starts at 8am with a taxi ride from the hotel to a well-known street market northwest of the city which sells giant trees and plants. From here we stroll along the sidewalks, following an urban trail through the backstreets to the quaint district of Vinh Phuc. After exploring this wonderful neighbourhood, we stop for refreshments at a very unique coffee shop tucked away down a narrow alley. Then it's time for an exhilarating local experience, riding pillion on taxi-motorbikes through a maze of tiny streets and along the shore of beautiful Ho Tay Lake. Our 2-wheeled taxi's drop us off for a tasty lunch of Vietnamese street food, in the yard of a former film studio.
In the afternoon, we walk past Ho Chi Minh's Mausoleum (exterior only), where 'Uncle Ho' has laid since 1975 and learn all about the great man himself, who is regarded as the father of the nation. Continuing on, we stroll down Hung Vuong Avenue to explore the complex of the beautiful Temple of Literature, which was Vietnam's first university.
Then we jump aboard a public bus to travel to the infamous Hanoi Hilton (or Hoa Lo Prison as it is locally known). Here we have some time to explore this fascinating building, which was home to former US Senator and military officer John Mccain, who was shot down over Hanoi in 1967 and held here during his 5 and half years as prisoner of war. After learning about the horrors of the past we end our adventure with a relaxing bia hoi (beer) on a sidewalk facing the Soviet Friendship Palace, before taking a taxi back to the hotel.
This add-on is a day excursion that can be added to any group tour departing from Hanoi on a Saturday and it can also be booked in conjunction with our group tours that start in Vientiane.
| Prices | Dates | Price/Person | Single Supp. |
| --- | --- | --- | --- |
| Backstreets of Hanoi - 1 Day | All Dates | €85.00 | - |
Additional Information
Departs: Saturdays from our group tour hotel in Hanoi
Starts: 8am Ends: approx 5pm
Requires a minimum of 2 people to run
Pre tour accommodation can be booked upon request
Please note: If you would prefer not to travel by taxi-motorbike, please inform your guide and a taxi will be provided at no extra cost. Please ensure your travel insurer provides cover for this activity.
What's Included
Local lunch in a former film studio
Escorted by an English-speaking guide
Guided walk the street markets and backstreets of Hanoi
Guided tours of Hao Lo Prison & The Temple of literature
Entrance fees
Some fun local modes of transportation
Available On: