New Zealand Tours & Trips
New Zealand. The Land of the Long White Cloud. Middle Earth. A land of Maori traditions and jaw dropping natural wonders. See it all with On The Go Tours.
From quintessentially English Christchurch to beachside Auckland. From the beautiful Bay of Islands to rugged Mount Cook. New Zealand is a land of extremes, and with our small group tours, you can take in the best of this destination from top to bottom.
Our New Zealand tours range in length from 10 days to 23, covering the best of both the North Island and the South Island. Fully escorted by a local guide, staying in well-located 4-star hotels and packed with incredible experiences, our New Zealand packages have everything you need to discover the country.
With guided tours of all the main cities and an array of optional activities to suit you, these trips are the best way to discover this most otherworldly of destinations. Whether it's a tour of Bilbo Baggins' Hobbit-hole or a helicopter ride over Fox Glacier, you'll come away from New Zealand with memories to last a lifetime.
New Zealand Group Tours
Our New Zealand group tours cover the North Island and the South Island. Embracing Maori cultural traditions, seeing the sights and discovering incredible natural wonders, you'll travel in a small group of just 16 travellers, fully escorted by an expert local guide. Staying in great quality 4-star hotels and with lots of included activities, you'll uncover the best of New Zealand.
Explore more countries like New Zealand
Frequently asked questions about our New Zealand tours
I want to visit both the North Island and South Island, can I do this on your tours?
You can! We have 11 New Zealand itineraries to choose from, ranging in length from 10 days to 23. The majority of tours cover both the North and South Islands, with either a Cook Strait ferry or an included flight taking you from north to south.

Our shorter itineraries also include trips to just the North and South islands, perfect if you're short on time or have already visited one part of the country and just want to explore the other!
When is the best time to visit New Zealand?
New Zealand can be visited year-round, but the summer months from December - February are the country's peak season, characterized by warm temperatures and little rainfall - perfect for sightseeing! There's more detail in our guide on when to visit.
What transport do you use in New Zealand?
We travel across New Zealand in private, air-conditioned mini-buses and mini-vans. There are sailing experiences too, including a ferry across the Cook Straight, a cruise on Milford Sound and a sailing trip in Abel Tasman National Park. Some tours also include internal flights - these are in economy class and are clearly labelled on our itineraries.
How big are your New Zealand tour groups and what is the age of your travellers?
All of our departures in New Zealand are guaranteed, so you can book with confidence! And the maximum group size is 16, so we can promise you an intimate small group experience.

The average age on our New Zealand trips is around 60, but there are no upper age restrictions and plenty of younger people join us on tour too. Children under 18 are unfortunately not permitted to travel on our New Zealand tours.
Will I be escorted by a tour guide?
Yes - in New Zealand we offer escorted tours. Your English-speaking local tour leader will travel on the minibus with you and will act as the tour guide for your trip.
What is the accommodation like on these New Zealand trips?
We use a selection of well-located 4-star hotels with plenty of amenities in New Zealand. You can find a summary of the hotels we typically use on each tour page, though we do reserve the right to substitute these for another hotel of a similar standard should the need arise.
Is New Zealand a safe destination for travellers from the LGBTQ+ community?
According to the 2023 LGBTQ+ Travel Safety Index, New Zealand scores an A- rating for LGBTQ+ traveller safety, ranking 24th out of 203 countries.

Same sex marriage is legal, and there are constitutional and worker protections in place for people of all sexual orientations. Hate crimes against members of the LGBTQ+ community are criminalized and 76 - 100% of consulted citizens consider New Zealand a good place to live for gay and lesbian people. There are no legal punishments for same sex relations. Most trips for LGBTQ+ travellers to New Zealand are trouble-free.

The LGBTQ+ Travel Safety Index is designed to provide a good overall picture of attitudes towards the LGBTQ+ community in each country and may not reflect the experience of foreign travellers to the country.
Can I drink the tap water?
The tap water in New Zealand is high quality and safe to drink. We recommend bringing a reusable water bottle on tour. This will save you money and help to reduce your environmental footprint - a win all round!
What is the currency in New Zealand?
The currency of New Zealand is the New Zealand Dollar (NZD). Check OANDA for current exchange rates.
What is the current travel advice for New Zealand?
As a UK-based company, we follow the latest up to date advice from the Foreign and Commonwealth Office (FCDO). You can see the latest travel advice for your New Zealand trip
here.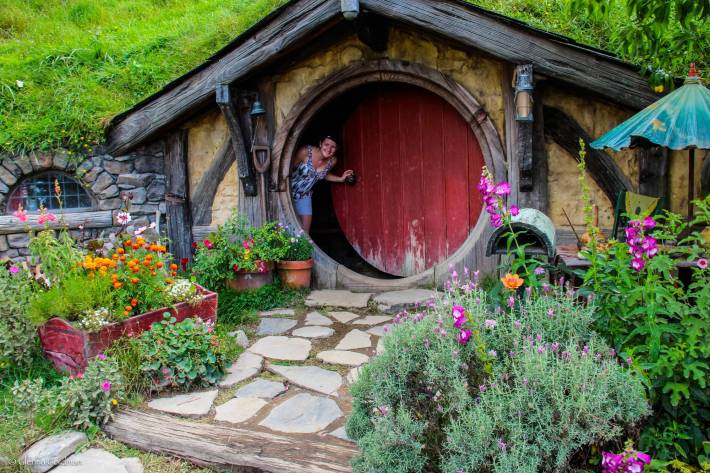 'I don't want any adventures, thank you. Not Today.'
Sorry Bilbo, but we have to disagree!

On many of our New Zealand tours, you have the option to visit Hobbiton, home to Bilbo Baggins in the blockbuster 'Lord of the Rings' trilogy. Visit Bilbo's Hobbit-hole, the Green Dragon Inn and many other filming locations from the series. This activity is included in our tour packages, but for those with no interest in Lord of the Rings, an included visit to the Waimangu Volcanic Valley is offered instead.

Recommended tour: Enchanting New Zealand →
The Best of New Zealand
New Zealand is a land of extremes, home to glistening lakes, rumbling volcanoes, towering peaks and ancient glaciers. The country's cities are mostly coastal and all ooze charm, from Christchurch to Wellington and New Zealand. It's difficult to choose the top highlights, but we've given it a go. These are the best places to visit on our New Zealand tours.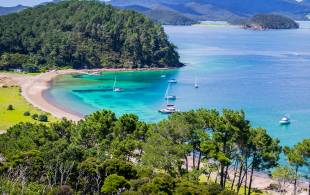 Bay of Islands
Nestled in New Zealand's north, the Bay of Islands is a captivating haven of 144 idyllic islands, each adorned with pristine beaches and clear waters. Visitors flock to this maritime gem for an array of activities, from scenic cruises to snorkelling, kayaking, and fishing. Historical significance abounds with a visit to the Waitangi Treaty Grounds, where the historic 1840 treaty between the British Crown and Maori chiefs was signed. Nature enthusiasts revel in the diverse wildlife, from dolphin watching to exploring the lush surroundings. Additionally, cultural experiences offer an insight into Maori heritage through traditional performances and rituals.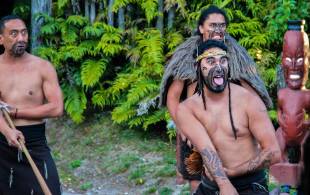 Rotorua
Rotorua is a geothermal wonderland renowned for its unique features and cultural richness. It entices visitors with erupting geysers, bubbling mud pools, and steaming vents, showcasing the Earth's raw power. The area's geothermal activity allows for relaxing hot spring baths and therapeutic spa treatments. Cultural encounters flourish in Rotorua, offering insights into the Maori heritage through traditional performances, villages, and historical sites like Te Puia, preserving Maori arts and crafts. Adventure seekers find a haven in Rotorua with thrilling activities such as ziplining, mountain biking, and exploring the surrounding lakes and forests.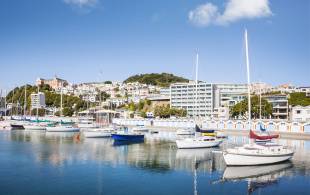 Wellington
The vibrant capital of New Zealand captivates visitors with its charm, culture, and stunning landscapes. Nestled between a sparkling harbour and lush green hills, this compact city offers an array of experiences. Cultural enthusiasts revel in the city's artistic vibe, exploring Te Papa Tongarewa, the national museum, and enjoying the bustling arts scene, galleries, and theatres. Culinary delights abound in Wellington, with a thriving food and coffee culture, showcasing diverse cuisines in its many eateries and vibrant markets. The city's picturesque surroundings offer outdoor adventures like hiking, cycling, and exploring the rugged coastline.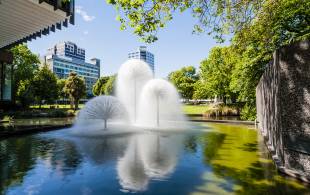 Christchurch
Quintessentially English Christchurch, nestled on the eastern coast of New Zealand's South Island, is a city of resilience and revival, having recovered from a series of devastating earthquakes in 2011. Known as the "Garden City", Christchurch boasts picturesque gardens, parks, and the serene Avon River winding through the heart of the city, with punting a popular activity. The Christchurch Botanic Gardens offer a peaceful retreat, while the iconic Christchurch Cathedral and the historic tram provide glimpses into the city's past.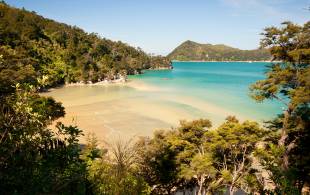 Abel Tasman National Park
Abel Tasman National Park is located at the north end of New Zealand's South Island. It's an enchanting coastal paradise revered for its golden beaches, crystal-clear waters, and lush native bush. Visitors are drawn to its pristine beauty, offering a plethora of outdoor activities such as kayaking along the picturesque coastline, hiking through native forests along the renowned Abel Tasman Coast Track, and discovering hidden coves with tranquil beaches accessible only by boat. This coastal gem allows for a serene escape, embracing nature with opportunities for wildlife spotting, birdwatching, and unwinding in the peaceful surroundings.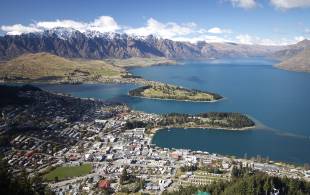 Queenstown
Located on the shores of Lake Wakatipu in New Zealand's South Island, Queenstown is a popular resort town and playground for adventure seekers. The region offers an array of thrilling activities, including bungee jumping, skydiving, jet boating, and skiing in the nearby mountain ranges. The stunning landscapes of the Remarkables and Southern Alps provide a picturesque backdrop for outdoor adventures like hiking, mountain biking, and exploring the surrounding lakes and valleys. Beyond its adrenaline-pumping activities, Queenstown boasts a lively dining scene, vibrant nightlife, and boutique shopping experiences.