Packed full of raw natural beauty and mind-blowing animals, Tanzania is a safari paradise. Hop on an On The Go safari to access the sensational Serengeti. Look forward to monumental mountains, vast volcanoes, wonderful wild plains and more.
If you think of Africa and picture never-ending plains teeming with large beasts and big cats lazing under lone acacia trees then it's likely you're imagining Tanzania, the quintessential safari destination. The vast savanna of the Serengeti is world-famous and every year plays host to the annual migration of wildebeest, zebra and gazelle in search of fresh grazing.
Read More
The nearby Ngorongoro Crater is totally unique and practically untouched even after millions of years with some of the earliest human remains found in the Olduvai Gorge, one of the world's most important prehistoric sites. Today over 120 different tribal peoples call Tanzania home, each with their distinct traditions, dress and language. If this wasn't enough to lure you then off the coast lies the pristine tropical islands of the Zanzibar archipelago, the ideal end to any safari adventure.
Choose from our selection of overland camping expeditions travelling by truck or opt for a more intimate experience on a small group lodge-accommodated safari or tailor-made holiday that take in Tanzania's top spots.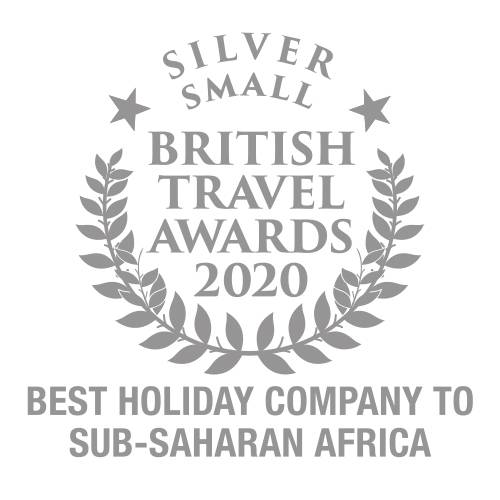 Tanzania Overland Camping Safaris
Tanzania Lodge Accommodated Safaris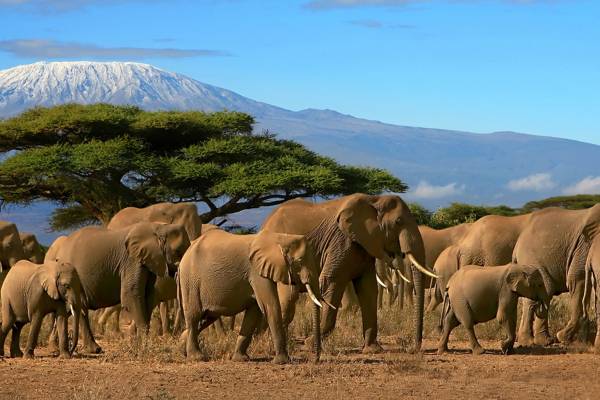 Let our expert tailor-made team put together the perfect itinerary to get the most out of terrific Tanzania.
From looking for the Big Five on safari in the Serengeti, relaxing on the beaches of Zanzibar and Pemba or even climbing to the lofty heights of Kilimanjaro – we've got it all covered. Let us know what you want to see and do and we'll do the rest, providing our top picks of lodges and hotels for your budget and taste.
Recent Travel Articles on Africa
Read All
Safari and Beach
The dream holiday combination
From the vast plains of the Serengeti and incredible natural amphitheatre of the Ngorongoro Crater where the Big Five (and more) roam, Tanzania is one of Africa's top safari destinations. The tropical paradise of the Zanzibar archipelago off the coast provides another superb option for a wildlife and beach holiday combination for sun, sea and safari.
Highlights of our Tanzania safaris
Tanzania offers everything you could possibly ask of a safari destination. Nature-filled national parks. Wondrous wildlife. Blissful beaches. Monumental mountains. And astonishing ancient cultures. Here are the highlights you can look forward to on one of our safari trips.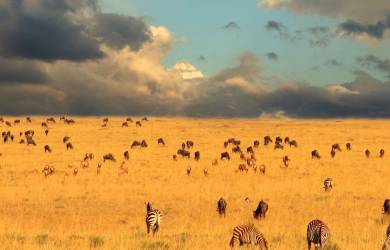 Travel across the vast grassy plains of the famed Serengeti on a game drive in search of the Big Five and witness the various cycles of East Africa's Great Wildebeest Migration.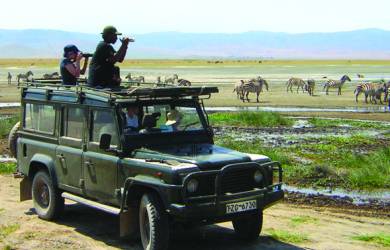 Head into the ancient volcanic caldera of the Ngorongoro Crater, home to an unparalleled concentration of wildlife including one of the densest populations of Masai lion.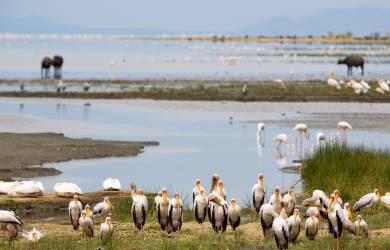 Admire what Ernest Hemingway described as the 'loveliest lake in Africa' with a game drive around the shallow, alkaline waters of Lake Manyara where candy-coloured flamingos congregate.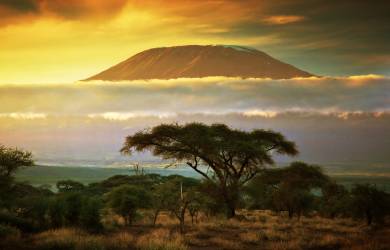 Take on the challenge of Mount Kilimanjaro, standing at a height of 5,896-metres and the highest mountain in Africa, comprised of three volcanic cones with various hiking routes.
Unforgettable Journeys
With our Overlanding range, we give you amazing adventures, on and off-road, through Africa's most loved destinations. Travelling aboard large, purpose-built trucks, with all the equipment necessary for camping and cooking onboard, overlanding allows you to cover large distances and explore multiple countries in an affordable and fun way. As well as taking in key highlights, our Overland tours are able to get off the beaten track, getting under the skin of the countries you visit.
Whether it's going in search of the Big Five in Africa's flagship national parks, floating through the Okavango Delta in a mokoro, or scaling the Sossusvlei dunes in Namibia, spend your days enjoying a wide range of exciting activities and camp out each night under a blanket stars.
Group sizes tend to be a little larger on our Overlanding tours (with an average of 24), providing a social and fun travel experience with like-minded travellers. Group participation is all part of the experience, helping to set up camp, shop for local produce and cook meals, all creates great camaraderie.
Our Overlanding tours include a local payment. As well as keeping up front costs down for you, it means that even more of your money stays within the local area. Cost-effective trips and great for the community; can't be bad!
Trek and Sightsee
Our Active range brings you thrilling trekking holidays to some of the world's most popular destinations. Whether it's trekking to the Lost City of Petra in Jordan or climbing Mount Kilimanjaro in Tanzania, you'll get to explore more of your chosen destination than just the standard highlights. You'll need a good level of fitness and an intrepid spirit for all of our private and group tour treks.
While trekking, the accommodation you'll be staying in reflects the off-the-beaten track nature of these trips with simple tea houses, wild & fixed camping, homestays, and local guest houses.
Iconic Experiences, Local Partners
On our Handpicked range we bring you the most iconic experiences in destinations where you'll join travellers from other travel brands on your tour, safari or sailing holiday. Collaborating with our carefully handpicked portfolio of local partners, these holidays represent exceptional value and there'll be plenty of cultural experiences shared with other like-minded travellers.
Group sizes and accommodation standards vary by destination where typical group size is 28 travellers and hotels, boats and safari lodges are of a 3-4 star standard.
Tailored To Suit You
On our Tailor-made trips, we give you the flexibility and choice to do things just the way you want, all alongside the great service we're famous for.
Whether you're travelling solo, with a partner, family, extended family or as group of friends we'll customise your arrangements to suit your exact needs and budget. Our Tailor-made trips are designed for your needs and you don't have to join other travellers like you would on a group tour. Just tell us what you'd like to see and when you'd like to go, and we'll design the perfect holiday for you.
The Tailor-made itineraries we've suggested are designed to give you an idea of what you could do with us, they can be booked as they are, or adapted to suit you. If you'd like to change any aspect of the trips you see, please get in touch. If you aren't quite sure of what you want to do, that's no problem either! One of our experienced travel consultants can make suggestions then together you can tweak until it's the perfect fit.
