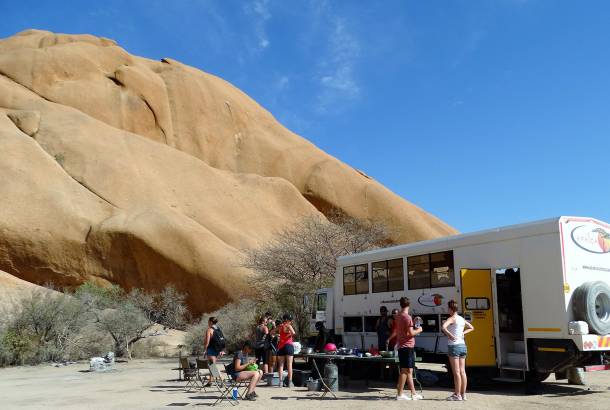 What is overlanding?
Every year hundreds of overland trucks make the journey across Africa between Kenya and South Africa on what has become one of the most popular and well-established overland routes in the world. Overland trucks are large, modified vehicles that can seat approximately 16 - 30 travellers (depending on the trip!), plus crew, and carry all the equipment necessary for camping and cooking on a trip that can last from one week to several months. By using these vehicles, which are capable of travelling long distances, and by camping, costs are considerably cheaper than a luxury safari that utilises flights and luxury lodges.
The wildlife experiences you will have in the game parks and reserves are no different than those you'd have on a luxury safari. In fact, with lots of pairs of eyes peeled for a glimpse of an elusive leopard or a camouflaged African wild dog, you may have a far more rewarding wildlife experience from the back of an overland truck than on a smaller safari.
Then there is the added excitement of sleeping under the African sky with the far off roar of the lion. The beauty is that you can share all these travelling experiences with like-minded travellers, many of whom will leave as friends. Camping under the stars, cooking and washing up together, hiking, diving, abseiling, white-water rafting and sharing the odd cold beer or ten - it may not be a luxury holiday, but it's undoubtedly a lot of fun.
Is overlanding for me?
If you're the adventurous type who'd rather spend a night camping in the African bush than luxuriating in a boutique hotel, then overlanding is for you. With overlanding you experience Africa first-hand - buying and cooking food from markets and then sharing a drink with villagers in a local bar. It's perfect for people travelling as a group of friends, a couple or alone. Most things are done as a group and chores are shared, so everyone works and plays together.
If you're a first-time traveller, joining an overland tour still gives you that sense of adventure, but a professional safari crew of two or three and the companionship of the group, means you'll always have backup. Finally, thanks to the purpose-built trucks, most trips get well away from the usual safari circuits and you get to see Africa away from the armies of pop-up minibuses seen in the more popular game parks. If you're looking for a trip that goes beyond a mere holiday and gives you the opportunity to make a lot of new friends and see a lot of new places in a relatively short time, then overlanding is for you!
What will the group profile be?
The average age on our Overland Camping Safaris is 30 - 50 years, however we welcome any adventurous travellers who are keen to explore with us! You will need to have a reasonable level of fitness, enjoy camping and have a good sense of adventure. Our overland trips attract a varied mix of solo travellers, couples and groups of friends from around the world. The group size is dependent upon season or time of the year and the expedition itself, but is generally around 16. As our Overland Camping Safaris are modular, new travellers will join the group at different points along the way, so there is plenty of opportunity to make new friends!
Given the nature of African safaris, we are unable to accept travellers aged 80 or above. Our overland camping safaris are active so you need to have a reasonable level of fitness and be active to enjoy the trip. For more mature travellers we highly recommend our Lodge Accommodated Safaris which provide a much higher level of comfort than our Overland Camping Safaris.
On our Overland Camping Safaris you will be required to put up & take down your own tent each day, help out with cooking & cleaning duties and you will experience long and often bumpy journeys. You will also need to be able to climb the ladder steps to get on & off the overland trucks. Passengers over 70 years are required to have a medical certificate and complete a Tour Suitability form before the booking can be confirmed.
What does it involve?
Each overland truck is completely self-sufficient, carrying everything you could possibly need during your adventure. The trucks each have a fully equipped kitchen (food, cutlery, pots and pans and a gas stove). Chores such as cleaning, washing up and helping the crew to shop for supplies and prepare food are shared amongst all passengers, so you have to be prepared to roll up your sleeves and muck in.

Despite this, you'll still have plenty of free time to relax and enjoy some sightseeing or wildlife spotting. There are sightseeing activities and game drives included in our itineraries, as well as plenty of free time for you to spend at leisure. In some destinations we'll be able to dine at local restaurants as well, to give us all a night off cooking!
What conditions can I expect?
Where once overland groups would camp in the bush each night, today there are a wide range of great campsites catering for overlanders and the vehicles, with activities, bars, restaurants and excellent facilities, often including a swimming pool. Our trips spend the night in a secure campsite every night (with one or two exceptions). There are a handful of campsites that may not have a shower or a beer available, though most have running water. Sometimes conditions can be challenging – it may be dusty or rainy, it can get exceedingly hot or very cold – so come prepared for the respective season you're travelling in and you'll have little to worry about. You can find information about the campsites and accommodation we use on each tour page.
Africa is a vast continent and distances between the highlights we visit can be big. Some of the drives will be long and there are a few patches where the roads range from lightly bumpy to almost impassable. Long driving distances usually require an early start, so expect to marvel at an array of breathtaking African sunrises during your journey. There may be a few hiccups in the itinerary when a bridge is washed away or there's a mechanical emergency. But, none of these will spoil your trip if you approach them with the flexible attitude and a good sense of humour.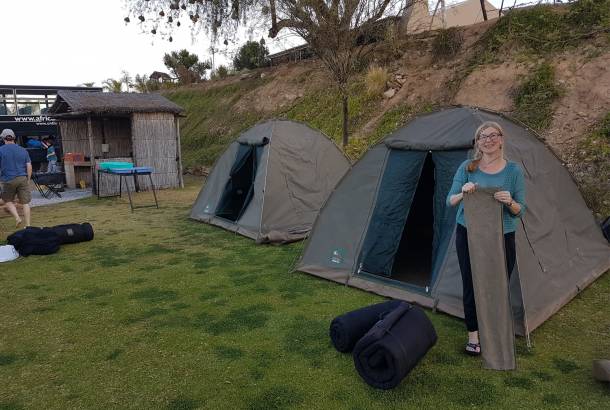 Camping
On our trips we use two man dome tents with mosquito nets over the door and window areas, a sewn in ground sheet and a separate flysheet, which you share with a fellow traveller. If you're a camping novice, rest assured, the tents are very easy to put up and your trip leader will give you a demonstration. You will have to provide your own sleeping bag and remember a small pillow is always great for extra comfort. There is also the option to camp under the stars instead of in your tent on some occasions, just check with your Trip Leader to see when it is possible to do so.
Tents have a rain cover that is designed to aid the flow of rain water from the tent sides to the ground. These are really effective, but please keep in mind that when camping in the rain one can still expect some dampness and the occasional leak. Our tents are maintained regularly to avoid leaks and each vehicle is equipped with a couple of spares to swap out any tents that may be damaged.
We camp in set campsites along our routes that specifically cater for overland passengers. Bear in mind many of the campsites in Africa can be very basic and have a great rustic "under African skies" feel. Campsites in Southern Africa generally have better facilities than their East African counterparts and almost all campsites have a facility to wash some laundry (hand washing). Some have flush toilets, some don't. Some have a vibey bar, some don't. Most have electricity points to charge your phone and camera batteries. Some nights we may bush camp - this means you are camping without ablution facilities and not at a built up campsite, but being out under the African skies surrounded by her sounds makes this all worthwhile.
Recommended Overland Camping Safaris
Overlanding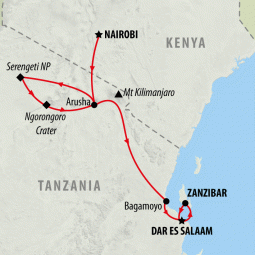 10 days FROM £1,765
Overlanding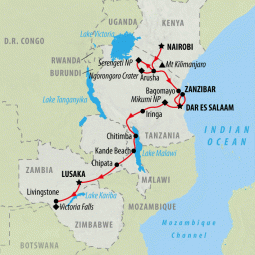 21 days FROM £2,225
Overlanding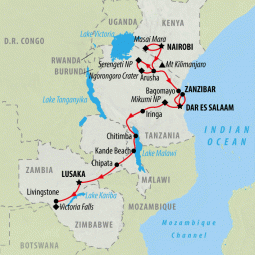 24 days FROM £2,495
Accommodated
If you're looking for an amazing safari adventure that discovers some of the most incredible landscapes in Africa but are not keen on the idea of camping, then perhaps our Accommodated tours are for you. These run alongside our camping trips, visiting the same sights and staying at the same places - the only difference is that if you pay the upgrade fee, you will stay in simple chalet accommodation rather than camping. Some of this accommodation is ensuite, and some make use of shared facilities. You can find our accommodated safaris on our website, or can get in touch with our team to find out more. On each tour page, you can find information regarding the accommodation we typically use, though this is subject to change at our discretion.
Recommended Overland Accommodated Safaris
Overlanding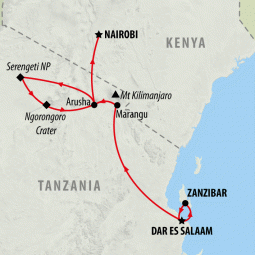 11 days FROM £1,975
Overlanding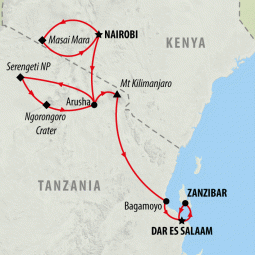 13 days FROM £1,975
Overlanding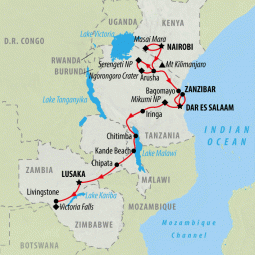 24 days FROM £3,085
Comfort Camping
We also offer some Comfort Camping safaris in Southern Africa. These tours are a nice compromise if you don't have the budget for a lodge safari, but don't fancy sleeping on the ground. You will stay in tents, but sleep in a camp bed rather than on the floor. And instead of having to erect your tent, cook, and carry out camp chores, your three-man safari crew will do this for you, so you can focus on relaxing and enjoying your tour. The maximum group size on our Comfort Camping Safaris is 16.
Recommended Comfort Camping Safaris
Overlanding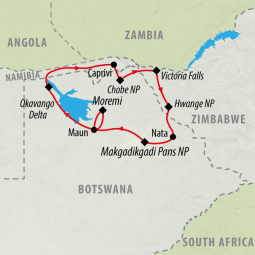 13 days FROM £2,355
Overlanding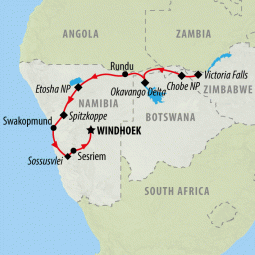 14 days FROM £2,635
Overlanding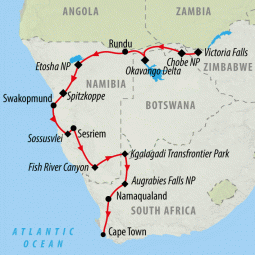 20 days FROM £2,695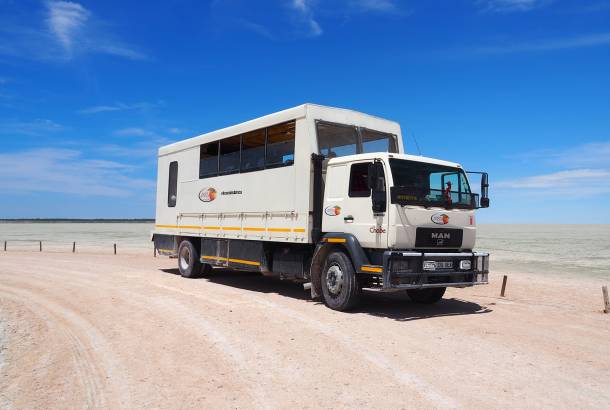 Our Expedition vehicles
Our overland vehicles are custom built converted trucks that have seating space for our passengers and a storage areas for luggage and all trip equipment. The trucks seat between 20-30 passengers, depending on the tour you book. Most seats are forward facing, though some models have a combination of forward, backward and some inward facing seats with tables. There is no air-conditioning on board, instead vehicles have sliding glass windows, and the seating area is raised, providing a great advantage for game viewing and photography. Seats are cushioned and there is storage space for personal items like cameras, snacks and day packs in the seating area.
The storage sections are separate to the seating area and are located underneath the main passenger compartment. There is a specific kitchen area with slide out tables for food preparation, all the cutlery, crockery, cooled storage and supplies; and a separate area for storing chairs, tents and other equipment. The main luggage storage is located toward the back of the vehicle and as space is limited, we do request travellers bring soft-pack luggage between 15-20kg to ease the packing process.
All the vehicles are equipped with water tanks, long range fuel tanks and are mechanically maintained on the ground between trips. Additionally, our drivers are trained to attend to any minor mechanical problems that may be experienced along the way and as such it is rare for a trip to be delayed due to mechanical breakdown.
Our Crew
Our trips are fully escorted by 2 - 3 crew members, including a driver and Tour Leader. Your crew are generally Kenyan, Zimbabwean, Namibian or South African. They have a wealth of experience and are more than happy to share it with you. Your trip leader is generally African, European or Australasian. They have travelled through Africa, either independently or as a passenger. Most of our crew have been on the road for a number of years and have vast experience in running successful trips throughout the route we travel. NB: Your trip leader is not a "Tour Guide" in the normal sense. They are not experts in all aspects of the culture, history and wildlife of each area. They are employed to ensure the smooth running of your trip. That said, all of our crew have a passion for Africa and have acquired much knowledge of each area, which they'll happily share. In some places, such as the Serengeti National Park, specialist local guides will join you for your excursion to help you get even more from your visit.
Due to circumstances beyond our control, like impassable roads or group safety, it may be necessary to make alterations to the planned itinerary. If this is necessary, the trip leader will discuss the problem with the group and alter the itinerary accordingly. The trip leader will obviously consider the wishes of the group, but there may be occasions where they have to make an unpopular decision. In ALL matters relating to the trip's running, the trip leader's decision will be final.
Ablutions
The majority of campsites and accommodations we use in Eastern and Southern Africa will have either long drop or flushing toilets and showers. However, on the road things are a bit different. There is no toilet or rest room aboard the truck. We will make stops to use the facilities, mainly in the form of service stations - don't expect sparkling clean toilet facilities here! In emergencies, or if we are on a long drive in a remote area, it's back to basics. Toilet paper is kept aboard the truck, along with a shovel. Also keep a personal supply of toilet paper in your daypack. Dispose of waste by digging a small hole and burying everything. At campsites, there will be an ablutions block with toilets and showers. Rural or remote campsites may only offer one or two facilities. Expect 'longdrop' toilets in remote locations. Water is a precious commodity in many, many parts of Africa. If showering, turn off the water whilst soaping up.
Luggage
Pack all your gear in a rucksack/backpack for this type of trip. Bring also a daypack, to keep personal items such as your camera, water bottle, reading books and medication to hand. Your rucksack/backpack must not have an exterior frame. Only the soft, flexible variety is permitted. Leave your suitcase at home, they're simply not practical.
Travelling with Children
Our Overland Camping and Overland Accommodated Safaris are suitable for travellers that are 18 or over. However, children aged 10 and over are welcome on our Comfort Camping Safaris, as long as they are accompanied by an adult.

On our Lodge Accommodated Safaris, we accept children aged 10 and over on a request basis, as some lodges have restrictions regarding children. Certain exceptions apply as not all lodges accept children and not all activities are suitable for children.