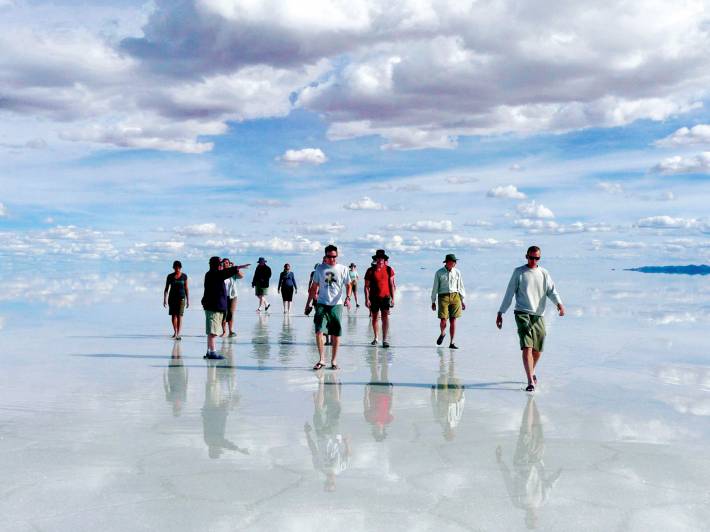 Our pick #1
Uyuni Salt Flats
Piercing blue skies contrast with blinding white salt as you drive across the flat lakebed. The area's unusual landscape of mountains, active volcanoes, and geysers is like nowhere on earth. Salar de Uyuni is the world's largest salt flat at over 12,000 km² and is located in southwest Bolivia. It is the remains of an ancient salt lake and is estimated to contain 10 billion tonnes of salt! At certain times of year the rain causes an icy lake to form above it, and the reflections are literally incredible to look at, especially at sunset, making it difficult to tell where sky stops and ground begins.
Another must see is nearby Laguna Colorada a large red lagoon whose colour is the result of algae & plankton growth in the mineral-rich waters, and Laguna Verde a lake that owes its striking blue-green colour to high concentrations of lead, sulphur, copper and other minerals. You can see numerous geysers, boiling mud pools, thermal baths and Licancabúr volcano in the area.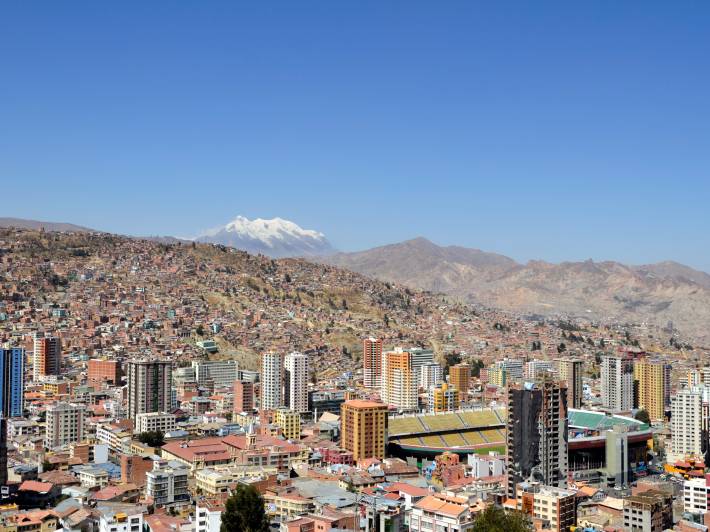 Our pick #2
La Paz
Your first sight of La Paz is guaranteed to take your breath away. At a well-publicised altitude of 3660 metres, it's one of the world's highest cities. The imposing Mount Illimani looms in the background whilst below lies a valley full of sensational surprises. Buildings cling to the sides of the canyon that the city was built in and spill spectacularly downwards. Sprawling shanty towns give way to affluent high-rise apartments as the city's central tree-lined thoroughfare runs through the downtown core. Here you'll find grand government buildings, impressive museums, and vibrant markets, including the Witches' Market where you can pick up anything from dried frogs to llama foetuses for Aymara rituals. The city has a burgeoning international cuisine and night life, and is best savoured over time.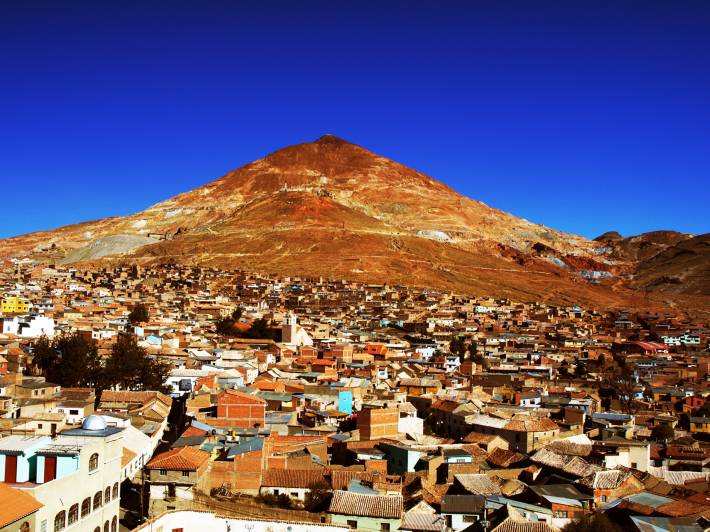 Our pick #3
Potosi
The city of Potosi with its grand churches, ornate colonial architecture and friendly locals is a real delight, but this is not what really brings visitors here. Founded in 1545 by the Spanish conquistadors, Potosi's story is wholly tied to the silver ore discovered here. The city was once one of South America's largest and wealthiest and the mines of the Cerro Rico are the richest mines in all of world history. A visit to Potosi isn't complete without a trip to one of the cooperative mines that are still in operation today. Here you'll see that working conditions have changed very little since colonial times and get the chance to meet the miners that work in these extreme conditions. Visit the Miner's Market where you can buy gifts for the miners before heading into the warren of mines where these men spend their working hours.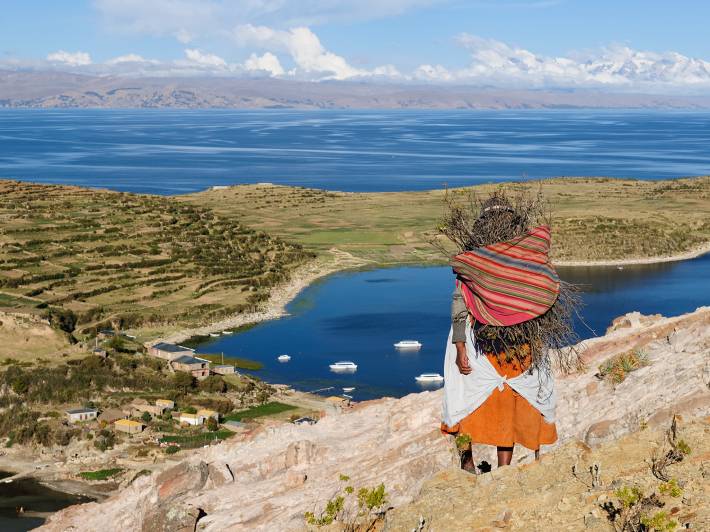 Our pick #4
Lake Titicaca
Although more commonly associated with Peru, the highest navigable lake in the world is actually split almost in half by the border between the two countries. Surrounded by dramatic mountain scenery and located not far from La Paz, no trip to Bolivia would be complete without a visit to Lake Titicaca. The whitewashed town of Copacabana on the Bolivian shore is a wonderful place to visit. It's also a popular pilgrimage site for those coming to be blessed by the 6th century Dark Virgin of the Lake.
Our pick #5
Sucre
Known as the White City thanks to its array of whitewashed churches and other buildings, Sucre is one of South America's prettiest destinations. The historic city centre is UNESCO-listed, and travellers can delve into a rich history of Incas, Spanish colonialists, and unimaginable wealth. But it is architecture that really earnt Sucre its reputation, and buildings you won't want to miss include Casa de la Libertad, Catedral Metropolitana, Convento de San Felipe Neri, and Universidad San Francisco Xavier.
See Also
To help you plan your Bolivian adventure, here are some more handy travel resources.
Best Time to Visit
- climate and weather in Bolivia
Tourist Visas
- details on visa procurement
Top Travel Tips
- vacciniations, food, tipping and more