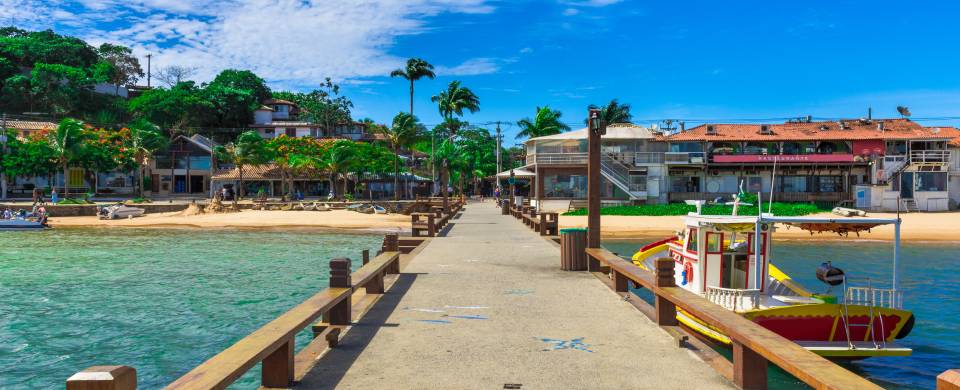 Trips and Tours to Amacao Dos Buzios
About Amacao Dos Buzios
Amacao Dos Buzios is undoubtedly one of Brazil's finest beach holiday destinations. Dozens of pristine beaches stretch out from the mainland until they meet the crystal clear sea. Originally the resting place for pirates from Europe, Amacao Dos Buzios, or Buzios as it's referred to by the masses, transformed over time into a quaint fishing village. While nowadays it is inundated with sun-seekers, surfers and sand-lovers, it still retains a lot of its charm from former days. There are also clear remnants of Portuguese influence throughout the town such as the winding cobbled streets, giving Buzios the nickname "the St. Tropez of Brazil".
Read More
Naturally, given its waterfront location, the majority of activities on offer involve getting acquainted with the water and, possibly, the creatures within it. Boat tours are one of the most popular options as they give visitors the chance to get more familiar with the layout of the coastline and enable them to find more remote beaches, which they can then explore in more depth on following days. For more active travellers, there are some excellent snorkelling and scuba diving spots where a range of marine life can be observed.
In the evenings Rua das Pedras is the perfect spot for a delicious meal or a casual drink, depending on your fancy. It stretches just over half a kilometre and is filled with gourmet bistros, cocktail bars, stylish boutiques and nightclubs. It doesn't take much to realise why Buzios has gained such popularity with natives and foreigners alike nor why it is a hotspot for celebrities from around the world.