About the boat
The stylish and comfortable Ocean Albatros features 94 comfortable staterooms with an ocean view and most with their own balcony. It offers two restaurants, two bars, a boutique, a fitness & spa centre, an observation lounge, and two observation decks. The Ocean Albatros also houses a sauna with picturesque views of the ship's surroundings meaning you can relax in the heat of the sauna whilst watching the marine life moving past.
The ship has a team of climatologists, marine biologists, and expedition leaders that you can learn from and will guide your tour. The ships Green Initiative Program has led to it having more than a 50% lower carbon footprint than other expedition vessels.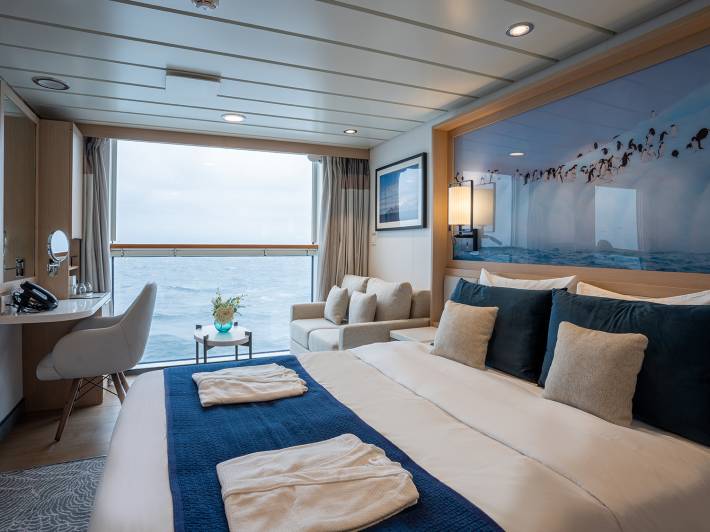 Your cabin
The Ocean Albatros offer cabins ranging from standard staterooms to premium and family suites. All cabins offer a private bathroom, ocean views (many with a balcony), and a comfortable living space. With safety boxes, a television, power outlets, a hairdryer, slippers, bathrobes, and toiletries, every cabin includes all you could need for a comfortable Arctic adventure.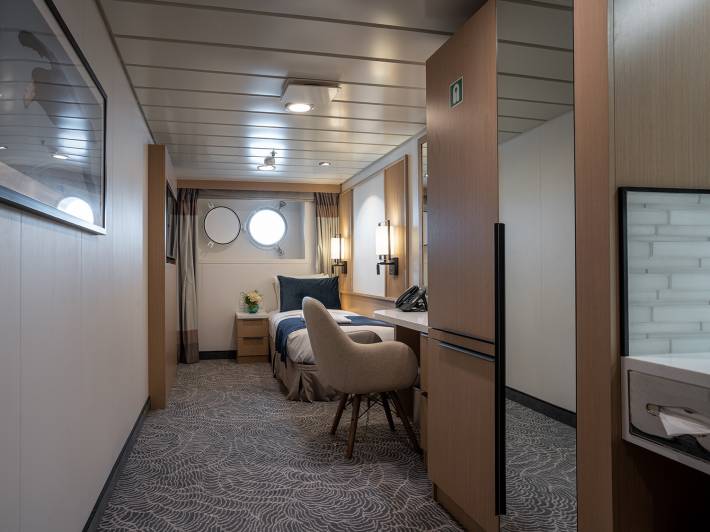 Category G Stateroom
Located on Deck 3 this standard single stateroom features a porthole with ocean views, a double bed, reading light, a sitting chair, and a private bathroom.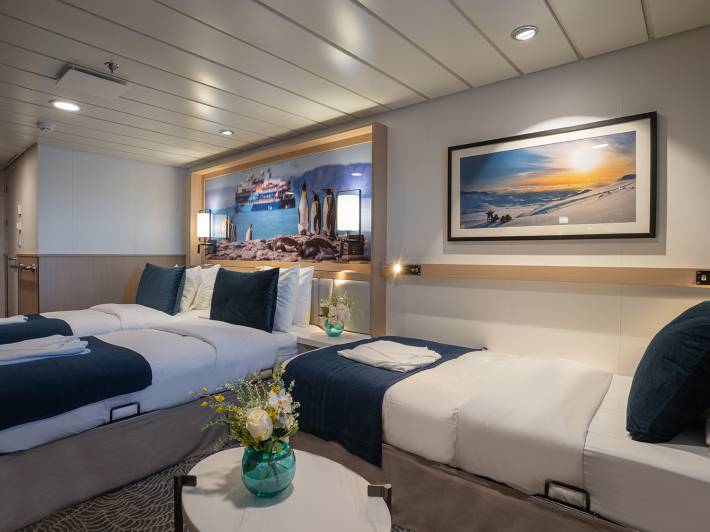 Category F Stateroom
On Deck 3 there are two Triple Staterooms with a porthole and an en-suite. They normally feature a twin bed however a double can be accommodated upon request.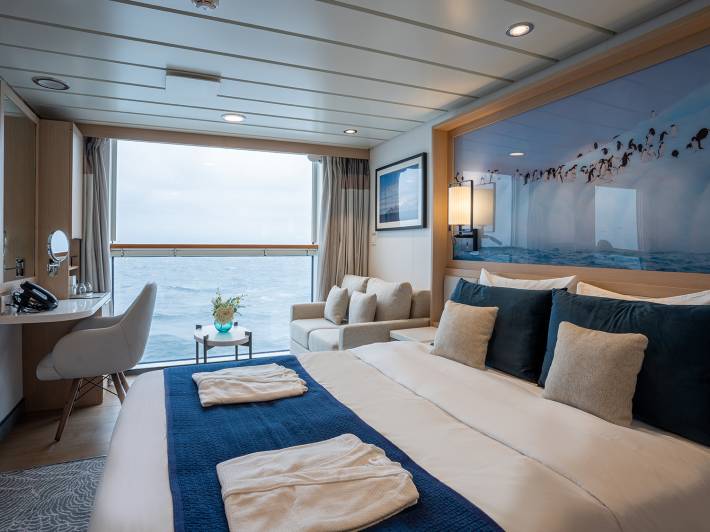 Category E Stateroom
All French Balcony Staterooms are located on Deck 7 and feature a balcony, a double bed, floor-to-ceiling windows, and a bathroom.
Category D Stateroom
The Category D Staterooms are located on the 3rd and 4th deck and have either a double bed or two single beds and an en-suite bathroom.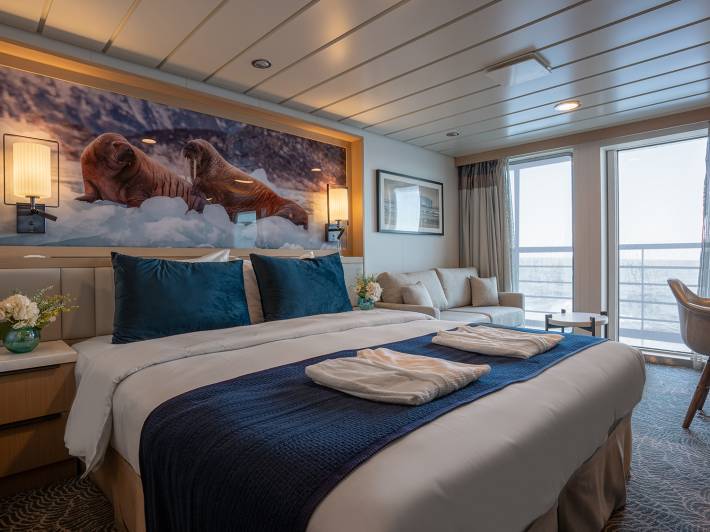 Category C Stateroom
The most common stateroom on this ship are the Balcony Staterooms on the 4th and 6th deck. This stateroom features a balcony, a double or two single beds, an en-suite, and many include a separate seating area with a television.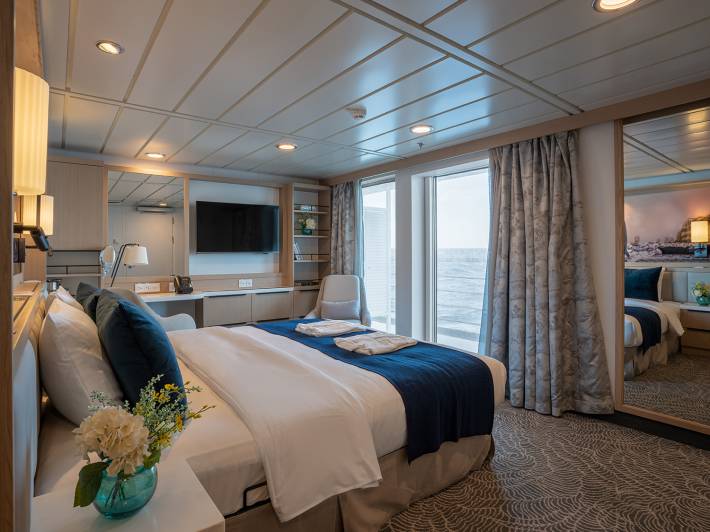 Category B Suite
This ship has 6 Balcony Suites on the 4th and 6th deck. These suites feature a double or twin beds, a bathroom, and a large balcony. Two of these suites are larger and have HCP facilities including a larger bathroom and easy-access doorways.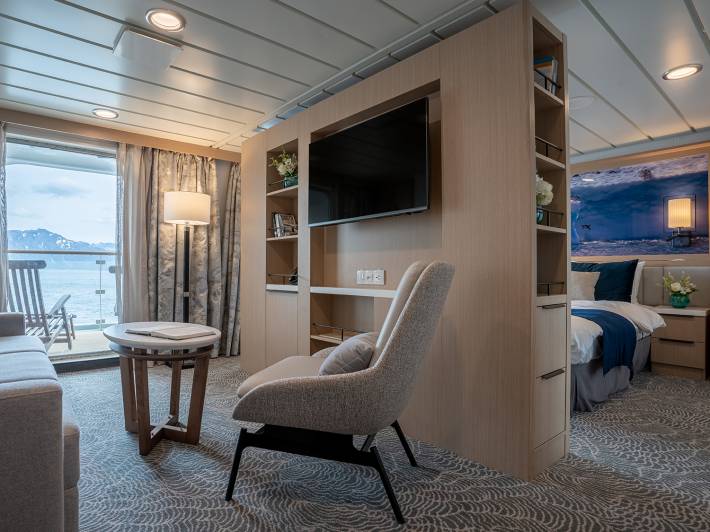 Category A Suite
The 4 Junior Suites on the Ocean Albatros feature a double or twin beds, a sofa bed, a seating area, a large bathroom, and a private balcony which offers stunning views from the 7th deck.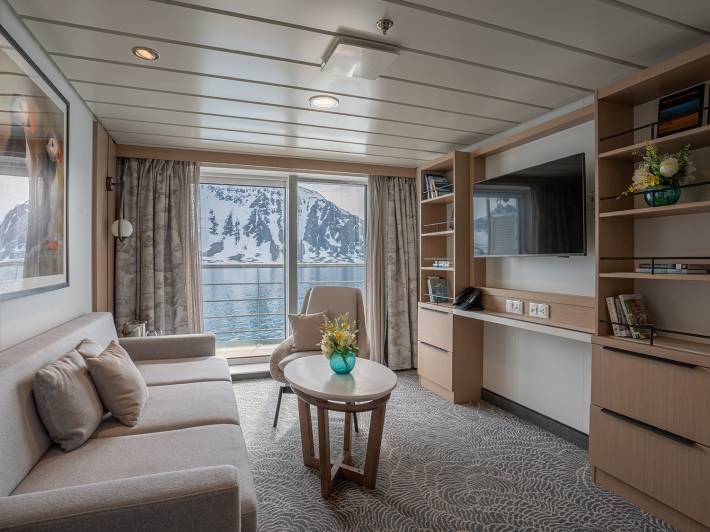 Premium Suite
The Premium Suite is the second largest cabin on the Ocean Albatros. Situated on the 4th deck, this two-bedroom suite features a double or twin beds, a sofa bed, a seating area, a large bathroom, and a private balcony.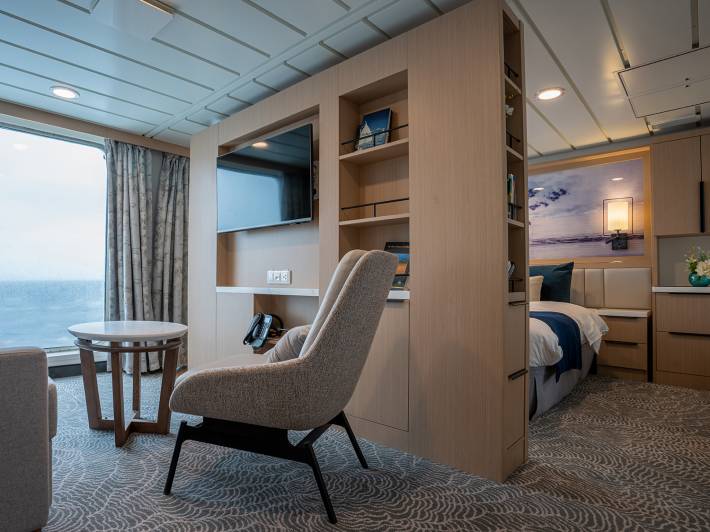 Family Suite
The Family Suite features two connecting French Balcony Suites with two double beds and a sofa bed. On Deck 7 it offers fantastic views from its private balcony, a place to relax in its comfortable seating area and a private en-suite bathroom.
Your meals
All meals on board will be freshly prepared by an onboard team of chefs with the choice of two restaurants which offer a number of different meat, fish, and vegetarian options. Complimentary tea and coffee is available throughout the day and complimentary house wine, beer, and soda is available at dinner. When not at dinner, wine, beer, and soda is available at an additional cost.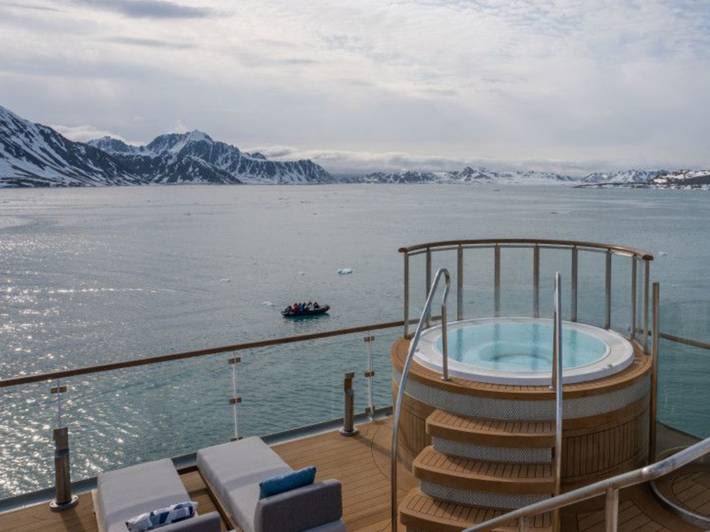 Activities on board
Our team of experienced lecturers will provide daily presentations, guide shore excursions, and be available to address any questions you may have. You can enjoy a variety of informative films in the observation lounge, look through our well-stocked library filled with interesting books and board games. Additionally, you can enjoy the comfort of the ship, whether that is wine-tasting, relaxing in the hot tub and sauna, or enjoying a massage in the spa.
Each evening during your expedition, your expedition leader will provide an overview of the upcoming day's program. This will include essential information about the following day's activities, events, landing schedules, meal times, and lecture topics.
Payments on board
Upon embarkation, you will be provided with your individual cruise card, which should always be kept with you. This card serves as a multi-purpose tool onboard, functioning as a payment method for all on board expenses (excluding the onboard shop), a key for access, and an identification card. Any purchases made onboard, such as those at the bar, for telephone services, or laundry, will be billed to your on-board account.
To activate your personal cruise card account, most major credit cards are accepted, including Visa, MasterCard, and American Express. Alternatively, you can deposit cash in either US dollars or euros (with an exchange rate applicable for US dollars to euros). At the conclusion of the voyage, your account will be settled using the payment methods mentioned above.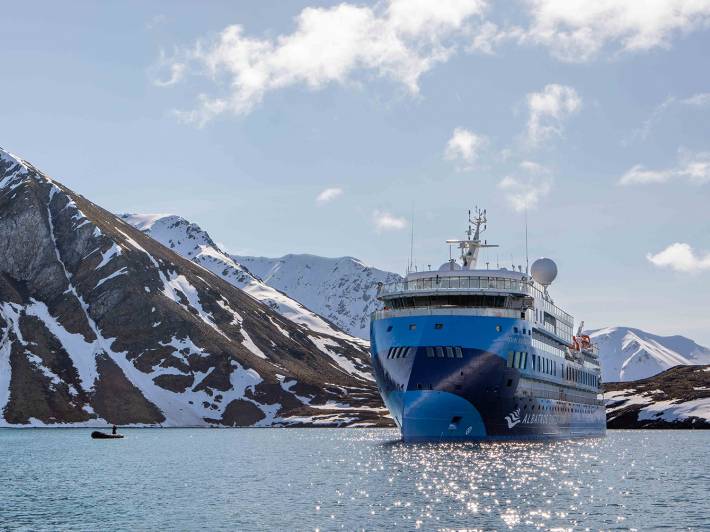 Shore Excursions
The Ocean Albatros has its own fleet of Zodiac boats which are manoeuvred by expert drivers. Not only are they sturdy and extremely versatile, allowing landings at otherwise inaccessible locations, but they are also easy to board and disembark from the ship's mudroom.
For more detailed information on the Ocean Albatros and life on board, please see the bottom of the trip notes for your Greenland Expedition Cruise.