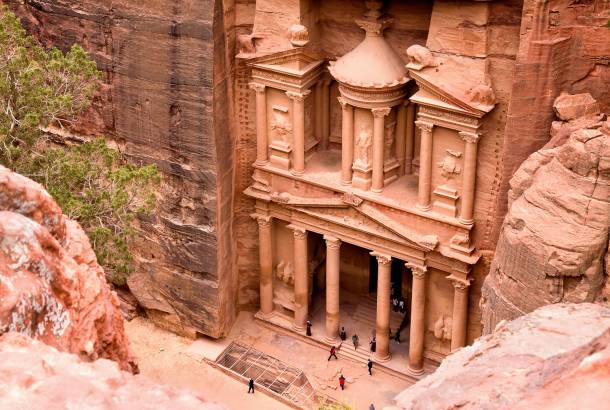 Travelling to Jordan and in need of a little advice? Want to know the local etiquette on tipping and bargaining, or interested to find out more about the food? Here you'll find loads of handy travel tips to ensure you're fully prepared for visiting Jordan.
What vaccinations do I need for Jordan?
You should seek medical advice from your local health practitioner before travelling to Jordan and ensure that you receive the appropriate vaccinations. As a guide Tetanus, Diphtheria and Hepatitis A are strongly recommended. For more information on health advice for Jordan, check out the NHS Fit to Travel page or the CDC Traveler's Health page.
Is it safe to drink tap water in Jordan?
The tap water in Jordan is not considered safe to drink. We strongly recommend that you only drink bottled mineral water, which is readily available in shops, hotels and restaurants across the country.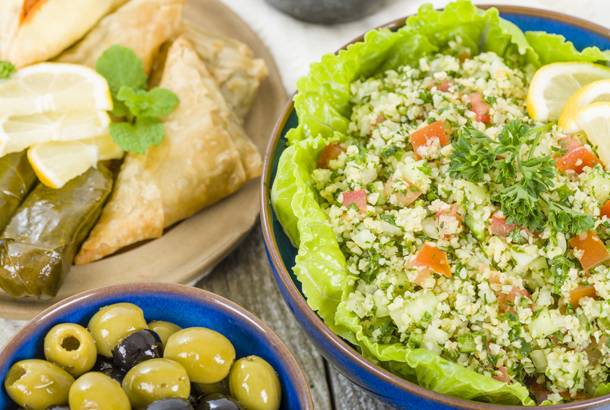 What's the food like in Jordan?
When it comes to eating in Jordan, ditch the knife and fork and grab yourself some flatbread instead. This ubiquitous baked good is used for dipping, scooping and mopping as you dig into the wonders of Jordanian cuisine. Mezze is one of the kings of the dinner table in this country. This spread consists of several small plates of different foods, usually including hummus, olives, falafel, kibbeh (mince meat covered in bulgur and fried), salad, babba ghanoush, tabouleh, yoghurt and more.
Jordan's national dish is Mansaf, lamb cooked in fermented yoghurt and served with rice or bulgur. Another meat-based delicacy is Zarb, slow-cooked lamb or chicken with vegetables and spices, traditionally made by burying the pot and the oven in the sands in the desert, although nowadays it tends to be made in a kitchen. Either way, the taste is sublime.
For dessert, many Jordanians feast on a sweet, syrupy treat like baklava, which can be found in abundance in pastry shops and cafes. Alternatively, tuck in to some Majool dates or knafeh, which is made using semolina and baked cheese and looks like a large orange disk.
Safe eating while travelling in Jordan
Food in Jordan is usually well-prepared and safe to eat but be wary when eating cold meat platters and cheese as Jordan is a hot country and if they have been left out for a while in the heat, they might make you unwell. If food is hot, make sure it is piping hot and avoid eating anything that might have been washed in tap water. Naturally, if a restaurant is crowded, it means it is popular and will probably serve good quality, safe food. On the other hand, if an eatery is abnormally empty or looks run down it's best to give it a miss and go elsewhere.
Is it standard to tip in Jordan?
Tipping in Jordan isn't mandatory and is not as widespread as in other destinations, but it is always appreciated! A good way to tip in Jordan is to leave approximately 10% of your bill in restaurants. USD $2 per day is an approximate amount to leave bellhops, porters and hotel maids. Taxi drivers will not expect tips but they will always appreciate it if you round up your bill, it will make a great difference to them. You might also want to tip your tour guide if they have done a good job. A normal amount would be about USD $2-3 per person.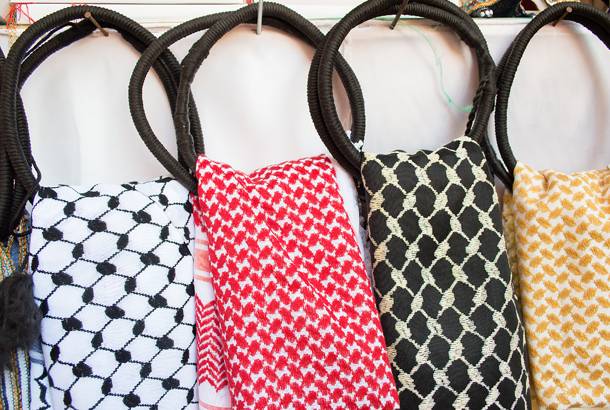 What is good to shop for in Jordan?
There are dozens of different souvenirs worth picking up during your stay in Jordan. A traditional red and white Jordanian headscarf is an excellent purchase and has a practical application as it will keep the sand out of your eyes if you venture into the desert. Products containing Dead Sea minerals are also popular among travellers as they will leave your skin feeling fresh and rejuvenated and even, allegedly, cure a range of various ailments. For foodies, there is a vast array of spices and gastronomic delights that can be taken home, such as olives, Majool dates and sumac.
Silver jewellery is widely available throughout the country as well and can be customised. Many visitors choose to get their name or a significant word translated into Arabic to then wear as a necklace. Look out for high-quality artefacts including rugs, paintings, embroidery and woven items produced by local Jordanian women under the auspices of the Noor-Al Hussein Foundation and the Queen Alia Fund. A popular form of ceramic ware is 'Jerusalem Pottery'. Platters are highly decorated with biblical-inspired designs including fish, peacocks, grapes and goblets of wine. Known as Hebron glass, colourful handmade glassware in brilliant colours is also a nice buy.
Is bargaining acceptable in Jordan?
This really depends on where you are trying to bargain! In restaurants, hotels, and when travelling on public transport, prices are fixed and it would be considered rude to haggle. On the other hand, market stalls, street vendors and even some tour operators will be willing to negotiate a price with you, particularly if you are buying in bulk. So it's always worth giving it a go.
Is it safe for a single woman to travel in Jordan?
While it is safe for women to travel alone to Jordan, you should expect to be looked at. Staring is not considered rude in Jordan and Western women are still considered vaguely exotic. Jordan is a predominantly Islamic country and its people adhere to many traditional views, including the dominance of men. Women are expected to cover up and, in more rural areas, to sit in separate areas from men in restaurants and on public transport. If the hassling becomes overwhelming, a firm and polite 'no' should do the trick. Alternatively, wearing a ring and saying you have a husband is usually an adequate deterrent. Remember to dress appropriately and respect the culture and customs of the country and take extra care when out alone at night.
What is the duty free allowance for Jordan?
The following goods may be brought into Jordan by people 18 years of age and older without incurring customs duty:
200 cigarettes, 25 cigars or 200g of tobacco
1 litre of alcoholic drinks
One or two opened bottles of perfume
Gifts up to the value of USD $281
The following are banned from being imported into Jordan: narcotics, firearms and ammunition, and pornography.
What is the currency in Jordan?
The currency of Jordan is the Jordanian Dinar. Check OANDA for the latest exchange rates.
Pound Sterling, US Dollars, Euro and other major currencies can be exchanged in Jordan. Exchange facilities are available at various bureau de changes, and banks in major towns have ATMs. It's advisable to request bank notes in smaller denominations, as it can sometimes be hard to get change from large notes and smaller notes are handy for smaller purchases and gratuities.
Traveller's Cheques are not recommended as they're often difficult to exchange and incur high fees.
What do things cost in Jordan?
You may find this surprising, but Jordan is a much more expensive country than neighbouring Egypt, and prices are more comparable to Western democracies. For example, an inexpensive meal from a cheap restaurant or street food vendor will usually cost around USD $5-10 while a three course meal with drinks at a fancy eatery could set you back up to about USD $50. A double room in a nice, mid-range hotel will normally come to around USD $70 and renting a car will probably cost roughly USD $35 per day, depending on the car. It is quite hard to get around Jordan by public transport so car hire is recommended. Daily living could cost anything from USD $50-150 per day, according to your budget.
What sort of plugs do I need for Jordan and what is the voltage?
Standard voltage is 220 volts. Primary sockets require the European, two pronged variety. We recommend that you pack a universal travel adaptor. You will need to bring a voltage converter and plug adaptor in order to use U.S. appliances.
Is WiFi widely available in Jordan?
Whilst internet coverage can be a bit patchy in remote areas, you are likely to find reliable WiFi in most restaurants, hotels, shopping malls, bars and cafes in Jordan's towns and cities.
What time zone is Jordan on?
Jordan is 2 hours ahead of Greenwich Meantime (GMT). From the last Sunday in March to the last Sunday in October Jordan observes Daylight Saving and is 3 hours ahead of GMT.
Travelling during public holidays
Ramadan - what to expect
One of the pillars of Islam requires Muslims to fast during the Holy Month of Ramadan, the month which commemorates the divine gift of the Koran to the Prophet Mohammed. From sunrise to sunset, those who fast must refrain from eating, drinking and smoking. There are good and bad aspects of visiting the country during Ramadan. On the bright side, people hit the streets after the sunset "breakfast" ready to sing, play cards, enjoy some of the special musical and theatrical entertainments and just generally have fun. Shops re-open until the wee hours, and many hotels create special Ramadan Tents where they offer traditional holiday snacks and drinks, live entertainment, water pipes, backgammon boards, card games and the like. It's fun, and a great festival atmosphere.
The other side of the coin is that many aspects of "business as usual" don't apply during the month. Banks and offices all have shorter working hours, some restaurants close for the entire month, and about an hour before sunset the roads and streets will be full of people racing to buy last-minute supplies and get home in time for Al Iftar. If you plan to visit during Ramadan, you should understand that the touring day will be shortened. There will still be plenty of restaurants open and serving lunch, especially in the tourist areas, but it would be very bad manners to eat, drink or smoke in the sight of passers-by.
Do remember, if you visit during Ramadan, that your dress should be a bit more circumspect than usual. Some women who do not normally cover their heads do so during Ramadan, and often feel that make-up, perfume and other "vanities of the flesh" should be given up during this month.
The precise dates of Ramadan varies from year to year. Ramadan lasts for about a month and is dependent on the lunar cycle and the Islamic lunar calendar. The precise dates of Ramadan varies from year to year. Ramadan lasts for about a month and is dependent on the lunar cycle and the Islamic lunar calendar.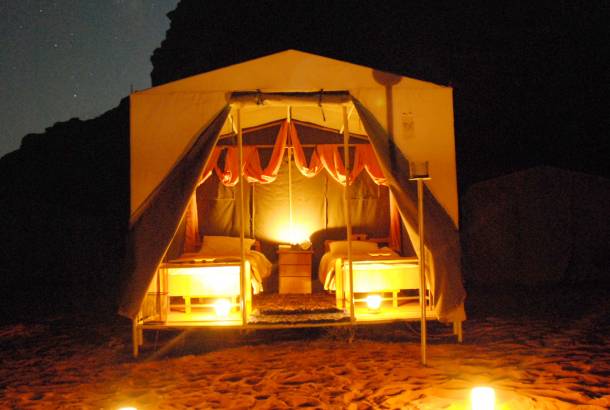 Camping in Wadi Rum
On our group tours in Jordan we include a night in Wadi Rum at a Bedouin desert camp, where camping is the best way for us to experience the beautiful desert landscape. You can choose to spend the night camping under the stars or bedding down in our comfortable permanent tents with twin beds and linen provided, although you may want to bring your own sleeping bag liner. If visiting in winter (Nov - Mar) it can be very cold at night in the desert and you may wish to bring your own sleeping bag for warmth. There are environmentally friendly shared bathroom facilities with hot and cold running water, toilets and a shower. Our communal tent furnished with small tables and cushioned seating area, is the place to gather at night where we enjoy a hearty Jordanian meal and some traditional Bedouin music.