Spend two incredible nights in Petra's lost city, camp under the stars in Mars-like Wadi Rum, relax in the otherworldly Dead Sea and explore the Siq Trail of Wadi Mujib in six adventure-filled days.
Trip Highlights
Two nights in Petra - Discover the UNESCO-listed Nabataean city that was all but lost to the modern world until its rediscovery in 1812
Dead Sea - Float in the warm, buoyant mineral-rich waters
Mt Nebo - Take in one of the most sacred sites in Jordan with views across the Promised Land
Umm ar-Rasas - Step into the ancient city which was an important stop on the caravan route between east and west
Amman - Explore this Ancient hilltop citadel, with its fascinating Archaeological Museum and the bustling souqs
Wadi Rum - Admire vast red desert landscape with rolling dunes and dramatic rock formations
Shobak Crusader Castle - Admire the castle, perched dramatically on a hill top
Madaba - Wander the Christian market town, Church of St George and Jordan's finest Byzantine mosaics
Wadi Mujib - Trek the Siq Trail of Wadi Mujib Biosphere Reserve
Included
Breakfast daily and 1 dinner
1 night Wadi Rum deluxe desert camp
Dead Sea - Free time to swim and detox
Escorted by a licensed Jordanian tour guide and English speaking specialist guides at some local sights
All relevant transfers and transportation in private modern air-conditioned vehicles
4 nights 4 star hotels
Wadi Rum - 4x4 desert safari through the sand dunes
Touring - Amman, Dead Sea, Petra, Wadi Rum, Shobak, Umm ar-Rasas and Mt Nebo
Airport arrival transfer on day 1 and departure transfer is offered on day 6 at 04:00, 07:00 and 12:00 only
Not Included
International flights and visa (see Trip Notes for further information about visas)
Entrance Fees: USD$120-140pp, paid in local currency
Tip for your tour guide. We recommend you allow USD$5-7 per day, per traveller. Tipping your guide is an entirely personal gesture
Tipping Kitty: USD$40-50pp, paid in local currency

Sunday. Welcome to Jordan and the start of an amazing adventure. Arrive in Amman and enjoy an included transfer to our hotel. The remainder of today is at your leisure.
Overnight: Amman
Amman
Amman - Madaba - Mount Nebo - Umm ar Rasas - Petra. Today we tour the citadel and Archaeological Museum of Amman, before we take a walk through the bustling local souk to enjoy typical Jordanian street treats of falafel and hummus at the country's most popular local street stand. As the pictures on the wall will prove, the unglamorous food stand was a great favourite of the late King Hussein.

Leaving Amman we stop first at Mt. Nebo, the site from which Moses saw the Promised Land. Having led the Israelites for 40 years through the wilderness, Moses finally saw them from this breathtaking vantage point. This amazing panorama includes the Jordan River Valley, the Dead Sea, Jericho and the spires and domes of the Mt. of Olives and Bethlehem on the Judean hills just across the wide valley. Later, we visit Madaba en route to Petra where we see the Church of St George, the Madaba Archaeological Park, Apostles Church and Madaba Museum.

Our next port of call is Um ar-Rasas, one of Jordan's World Heritage sites and once an important stop on the busy caravan routes. The impressive mosaic floor of the St. Stephen Church features medallions commemorating all the early Christian pilgrimage sites of the region, and the extensive ruins also include one of the area's earliest Stylite towers, where a Byzantine hermit lived atop the tower and preached to the pilgrimage visitors.

Our final stop of the day is Petra. Consider doing the Petra by Night excursion (payable locally) for a tantalizing candlelight stroll through Petra's Siq…. a romantic preview of things to come.
Overnight: Petra | Breakfast
Mt Nebo & the Promised Lands
We begin the day with a walk through the mysterious mile-long Siq, the narrow gorge with towering sandstone walls leads into the ancient capital city of the Nabatean trading empire. Explore the Khazneh (the temple of Indiana Jones fame), Theatre, colonnaded street and museum. After lunch, we climb to ad-Deir (the Monastery), Petra's largest carved façade.

This evening, why not try your hand at our Petra Kitchen Add-on to join fellow travellers for a cuisine course at the local Petra Kitchen, where you help prepare a memorable Jordanian feast.
Overnight: Petra | Breakfast
Petra - Wadi Rum. This morning we have the opportunity to join our guide for a return visit to Petra along the "secret way" of al-Madras (trail closed until 01 Sept 2022 for maintenance. We still have the opportunity to return to Petra), with visits to the High Place of Sacrifice and Wadi Farasa. At lunchtime, we stop at the Wadi Musa souk to pick up delicious shawarma sandwiches or fruit and veggie snacks from the local produce souk before making the scenic drive to Wadi Rum. A vast, silent landscape of ancient riverbeds, pastel coloured stretches of sandy desert and amazing rock formations known as jebels that rise from the desert floor, the deserts cape of Wadi Rum represents some of the most stunning countryside on our planet.

This desert is home to the once nomadic Bedouin people who would roam the desert tending to their flocks of goats. Most Bedouins now are village based although they still rely on goats to provide milk, yoghurt and cheese. Quite often Bedouins will return for a period of the year to their original nomadic lifestyle. Boarding 4 x 4 jeeps, we take a safari through the sand dunes, getting up close and personal to the surrounding scenery of Wadi Rum. We enjoy a magical evening under the brilliant stars of the desert night sky, including a scrumptious traditional Jordanian dinner.
Overnight: Wadi Rum | Breakfast, Dinner
Wadi Rum desertscape
Wadi Rum - Shobak – Wadi Mujib - Dead Sea. After breakfast at the campsite, we head north along the Desert Highway to visit Shobak Castle, which is perched dramatically on a hill top and was built by the Crusader King Baldwin I in 1115. After exploring the castle we descend some 1300 meters to the Dead Sea, the lowest point on the earth's surface. More than 400 meters below sea level, the mineral-rich Dead Sea is the world's original health and beauty spa. Drift out and bob in the waters and slap on some of the famous black Dead Sea mud to give your skin an invigorating boost.

For departures between April and October we head up the King's Highway to Wadi Mujib. Here, we embark on a moderate–paced two hour trek along the Siq Trail. Measuring 500 metres in depth and spanning 4 kilometres across, the impressive Wadi Mujib is one of Jordan's most remarkable natural features. This dramatic canyon features sheer rocky walls and sparkling waterways that range from puddle height to depths that are perfect for swimming (chest height or deeper) depending on the rainfall. When the water level is high you should be prepared for having to climb up ladders, clamber across boulders and be happy to wade through water. The canyon is just one feature of the Mujib Biosphere Reserve, the lowest nature reserve in the world, home to a surprising diversity of wildlife and plant species. For those not interested in taking the full hike, you can walk part of it or wait by the Visitor Centre till the group returns. After our trek we make our way to the Dead Sea.
Overnight: Dead Sea | Breakfast
Friday. Dead Sea - Amman Airport. Hotel check out and included onward transfer to Amman Airport. Departure transfers are offered at 04:00, 07:00 and 12:00 on day 6. If you would like a departure transfer at any other time or a transfer with post tour accommodation this can be arranged for an additional cost, please enquire.

Consider extending your holiday and take an inspirational journey to the revered Holy Land and visit some of Israel's best known historical and sacred sights on our 4-day Add-on of Jerusalem and beyond.
Breakfast
Passage to Petra Meteor Shower departure - 08 August 2022
Combine this tour with the amazing celestial spectacle of the Perseids Meteor shower! The Perseids meteor shower is a spectacular celestial light show that has mystified and amazed sky watchers for nearly 2000 years. The night sky is lit up by often over 60 meteors per hour! You can witness the incredible meteor shower from our desert camp in Wadi Rum, where you can spend two incredible nights star-gazing when the meteor shower is at its peak. Please see the Trip Notes for details of the amended itinerary.

Other tours that are present for Perseids meteor shower:
Perseid's Meteor Shower - departing 08 AUG 2022

For information about visas, top travel tips and much more, take a look through our travel guide.
The hotels listed below are ones which we frequently use on this tour. We reserve the right to substitute these hotels to ones of a similar standard.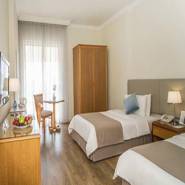 Al-Qasr Metropole, Amman
Recently refurbished, the Al Qasr Metropole is a modern and chic boutique hotel. Guest rooms are beautifully furnished and include free Wi-Fi connection and luxury en suite facilities. All guests at the Al Qasr gain free access to the on site Fitness First gym as well as a complimentary breakfast. The rooftop restaurant has fantastic panoramic views of Amman and is a great place to spend the evening. The hotel is well located in Shmeisani, one of Amman's most prestigious neighbourhoods.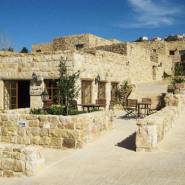 Old Village Resort, Petra
Located above Wadi Mousa, Old Village Resort has a wonderfully traditional feel about it with open stonework and original architecture. Rooms are full of character, some with delightful archways and all directly accessed from the outside. The hotel boasts an indoor swimming pool and sauna and beautiful views of the surrounding mountains. For dinner why not dine al fresco at the restaurant overlooking the mountains. Well located in forested wadis facing Petra's mountains.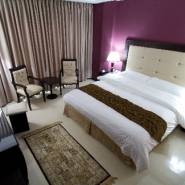 Petra Moon Hotel, Petra
Just 300 ft from the entrance gate to Petra, the Petra Moon hotel features spacious rooms with private balconies and flat-screen TVs. It also has a roof garden with a seasonal outdoor pool. The soundproofed rooms and suites at Petra Moon come with satellite channels, a DVD player and extra-long beds. Each has air conditioning and a private bathroom. The hotel's restaurant serves a delicious selection of international meals in both buffet-style and a la carte.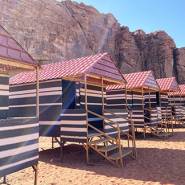 Rainbow Camp, Wadi Rum
A row of permanent tents in the desert make up the popular Rainbow Camp. Inside the tents are comfortable camp beds and warm bedding. Showers and toilets are close by and are cleaned thoroughly every day. Guests can relax in the communal area which is adorned with colourful rugs and cushions. The food at Rainbow Camp always gets rave reviews. Taking an evening stroll around the beautiful surroundings is a great way to work up an appetite before dinner. This accommodation is well located in the heart of Wadi Rum.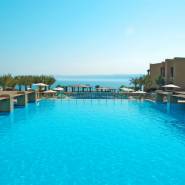 Holiday Inn Resort, Dead Sea
Graced with interconnecting palm fringed swimming pools leading to the Dead Sea, the Holiday Inn is an Arabesque style hotel. Guest rooms are elegantly furnished and benefit from complimentary high speed internet. The hotel also has an on site fitness centre and a fine choice of Spa facilities. The 24 hour sleek bar is the perfect place for a tipple at any time of the day or night. The accommodation is located on the shores of the world famous Dead Sea.
"
Hassle free, informative guide, great pace to the itinerary. "
Andrew Seddon
• Submitted 20 Mar 2020
Tour





Guide





Country





"
Excellent care from sales team and on tour. The detailed itinerary and notes were very helpful. "
Anne Berrie
• Submitted 01 Dec 2019
Tour





Guide





Country





"
What an amazing tour we had. We met with Ali at the airport who took us smoothly through Customs and then with a driver drove us to our hotel which was lovely. We met with Mahmoud the following day and he was a great source of information on all of the tour sites that we visited. Petra was amazing at night and even more so during the day. There was much more to see and Mahmoud made sure we had lunch and did all that we wanted to do. We packed a lot in to 6 day tour and Mahmoud was a great guide, everything was easy going and we were well fed and educated.Thank you for organising such a great short visit of Jordan and we would not hesitate in organising another tour with On the Go Tours in the future ."
Denise Giordimaina
• Submitted 08 May 2019
Tour





Guide





Country





"
A very well organized and enjoyable tour managed by our guide Mohammed Hamadeen who was thoroughly professional, courteous, knowledgeable and amusing. Petra of course was inspiring and mind boggling!"
Patrick Calleja
• Submitted 02 Jan 2019
Tour





Guide





Country





"
I think this trip was fantastic. It was so much more than I expected. Our tour guide was great, so knowledgeable and accommodating on all our changes, questions and indecisiveness. Encouraged us all beyond what was needed, went the extra mile for all of us.
This trip will be recommended and has already been recommended to friends already
What is needed is the level of fitness to be stated on the tour documentation somewhere.
Not that it is a problem as one can decide if they want to the activities or not, therefore not a hindrance at all. Good to go again = I loved it!"
Mirto Mavris
• Submitted 30 Nov 2018
Tour





Guide





Country





"
Passage to Petra was such a great tour and our tour guide, Mahmoud, was a huge part of our wonderful experience. He is so upbeat, knowledgeable, and passionate - learning from him was a highlight of the tour. All of the destinations were absolutely worth the time, but i think that my favourite part was the Wadi Rum trip because it was just so gorgeous.
I truly enjoyed Petra as well as it was a day full of physical activity - hiking all around. The hike on day 2 at Petra was my favorite part of touring Petra - there were fewer people, no horses, camels, donkeys, etc. It was quiet and gorgeous and the views were amazing. Overall, this was an awesome trip - Thanks to On The Go and to Mahmoud!"
Suzanne Hebert
• Submitted 05 Oct 2018
Tour





Guide





Country





"
This tour was great to see the highlights of Jordan. It was my first solo trip and it was an amazing experience and got to meet great people in the tour. Our tour guide Mahmoud was amazing and always made sure that we had fun. Get ready for a lot of hiking for long hours but the spectacular views make the hike all worth it. I would recommend to try not to fly out too early on the last day of the tour (6th day) so you can enjoy a bit more time in the dead sea or take a day tour to the baptism site. On the 5th day of the tour you only get to enjoy 2 hours in the dead sea after the afternoon hike on the cannon."
G Rodrig
• Submitted 24 Sep 2018
Tour





Guide





Country





"
Truly made my entire experience in Jordan. I will recommend this tour to everyone now beck in Australia. I have never had a more knowledgeable, genuine and caring guide in all of my travel experiences. "
Sarah Nunn
• Submitted 22 Jun 2018
Tour





Guide





Country





"
Myself and my friend booked a tour 'Passage to Petra' with On the Go through Flight Center. This was our first time in Jordan and I did not know much about the country. The whole organisation of the tour was excellent. I didn't have to worry about a single thing.
Rami is the best tour guide I've ever met. He told us so much history, but he is also fun and easy going. He is very considerate to everyone in the group and takes care about all. Rami took us to amazing places in Petra, told us so much about the culture and the country. I am very happy that Rami was out tour guide on this trip! Thank you."
Olga Parkes
• Submitted 12 May 2018
Tour





Guide





Country





"
Mohammed was an enthusiastic and extremely knowledgeable guide who made the whole trip a fantastic experience - I can't recommend him highly enough. Thank you"
Philippa Lacey
• Submitted 09 Apr 2018
Tour





Guide





Country





In Brief
Range
Trip Type
Starts
Amman
Ends
Amman
Departs
Sundays
Group Size
Min 4 / Max 24
Hotel Rating
4 star hotels & 1 night deluxe desert camp in Wadi Rum
Tour Guide
Yes - escorted by a tour guide
Meals
Breakfast: 5, Dinner: 1
Visiting
Amman, Petra, Wadi Rum, Dead Sea, Madaba
Countries
Tour Add-ons
Enhance your trip with these amazing added extras and add-ons
"
Hassle free, informative guide, great pace to the itinerary. "
Andrew Seddon
OTG000590
Passage to Petra - 6 days
Middle East & North Africa
Signature
Middle East & North Africa
false
10
Jordan
https://www.onthegotours.com/uk/Jordan/Passage-to-Petra-6-days
https://www.onthegotours.com/repository/Walking-down-the-Siq--Jordan-Tours--On-The-Go-Tours-242371411552450_crop_flip_300_300_f2f2f2_center-center.jpg
Group_Tours