Travel to the vast red desert landscape with rolling dunes and dramatic rock formations and camp under a blanket of stars in Wadi Rum, discover the lost city of Petra and explore a Crusader Castle, the ancient Roman city of Jerash and Jordan's finest Byzantine mosaics in Madaba.
Trip Highlights
Two nights in Petra - Discover the fabled UNESCO-listed Nabataean City that was all but lost to the modern world until its rediscovery in 1812
Umm Qais - Visit a Roman Decapolis city, once a cultural centre, home to poets and great philosophers
Wadi Mujib - Trek the Siq Trail of Wadi Mujib Biosphere Reserve
Jerash - See the ruins of the ancient Roman city, which at over 2000 years old is still surprisingly well-preserved
Mt Nebo - Explore one of the most sacred sites in Jordan with views across the Promised Land
Amman - Explore this ancient hilltop citadel, with its fascinating Archaeological Museum and the bustling souqs
Wadi Rum - Admire the vast red desert landscape with rolling dunes and dramatic rock formations
Shobak Crusader Castle - Take in this magnificent castle, perched dramatically on a hill top
Dead Sea - Float in warm, buoyant mineral-rich waters
Umm ar-Rasas - Step into an ancient city which is an important stop on the caravan route between east and west
Madaba - See a Christian market town, the Church of St George and Jordan's finest Byzantine mosaics
Included
Breakfast daily and 2 dinners
1 night Wadi Rum deluxe desert camp
Dead Sea - Free time to swim and detox
Escorted by a licensed Jordanian tour guide and English speaking specialist guides at some local sights
All relevant transfers and transportation in private modern air-conditioned vehicles
6 nights 4 star hotels
Wadi Rum - 4x4 desert safari through the sand dunes
Touring - Amman, Jerash, Umm Qais, Dead Sea, Petra, Wadi Rum, Shobak, Umm ar-Rasas, Mt Nebo and Madaba
Airport arrival transfer on day 1 and departure transfer is offered on day 8 at 23:00 (day 7), 04:00, 07:00, 09:00, 12:00 and 16:00 only
Not Included
International flights and visa (see Trip Notes for further information about visas)
Entrance Fees: USD$140-160pp, paid in local currency
Tip for your tour guide. We recommend you allow USD$5-7 per day, per traveller. Tipping your guide is an entirely personal gesture
Tipping Kitty: USD$40-60pp, paid in local currency

Saturday. Welcome to Jordan and the start of an amazing adventure. Arrive in Amman and enjoy an included transfer to our hotel where you spend the night. The remoainder of today is at your leisure to independantly explore.
Overnight: Amman
Amman
Ancient cities & Roman ruins
Amman - Jerash - Umm Qais - Amman. Heading north, we visit Jerash, the Graeco-Roman city known as the 'Pompeii of the East'. Built over 2,000 years ago, Jerash is widely regarded as the best-preserved city of the Decapolis, a confederation of 10 Roman cities dating from the 1st century! We explore the site taking in the colonnaded street, amphitheatre, nymphaeum, forum and more before continuing to Umm Qais (Gadara), a dramatic black-basalt Roman city of the Decapolis with panoramic views over the Sea of Galilee and the Golan Heights. Later this evening, we head out for a meal and a stroll along Rainbow Street to experience modern Amman with its hip bars, rooftop restaurants, art studios and bookshops.
Overnight: Amman | Breakfast, Dinner
Amman - Madaba - Mount Nebo - Umm ar Rasas - Petra. Today we tour the citadel and Archaeological Museum of Amman, before we take a walk through the bustling local souk to enjoy typical Jordanian street treats of falafel and hummus at the country's most popular local street stand. As the pictures on the wall will prove, the unglamorous food stand was a great favourite of the late King Hussein.

Leaving Amman, we stop first at Mt. Nebo, the site from which Moses saw the Promised Land. Having led the Israelites for 40 years through the wilderness, Moses finally saw them from this breathtaking vantage point. This amazing panorama includes the Jordan River Valley, the Dead Sea, Jericho and the spires and domes of the Mt. of Olives and Bethlehem on the Judean hills just across the wide valley. Later, we visit Madaba en route to Petra where we see the Church of St George, the Madaba Archaeological Park, Apostles Church and Madaba Museum.

Our next port of call is Umm ar-Rasas, one of Jordan's World Heritage sites and once an important stop on the once busy caravan routes. The impressive mosaic floor of the St. Stephen Church features medallions commemorating all the early Christian pilgrimage sites of the region, and the extensive ruins also include one of the area's earliest Stylite towers, where a Byzantine hermit lived atop the tower and preached to the pilgrimage visitors. Our final stop of the day is Petra. Consider doing a Petra by Night excursion (payable locally) for a tantalizing candlelight stroll through Petra's Siq….a romantic preview of things to come.
Overnight: Petra | Breakfast
Mt Nebo & Umm ar Rasas
Chief among Jordan's many archaeological riches is the UNESCO World Heritage Site of the Rose City of Petra. The city was first settled around 6th century BC by the Nabataean tribe from Western Arabia. Rediscovered in 1812, it remains on the list for many travellers to visit. We access the hidden archaeological treasures of the Rose City on our walk through a narrow, deep siq, where the rocks finally give way to reveal the famous facade of Al-Khazneh (The Treasury). It's also possible to ride a horse through the Siq. Continuing our walk, we'll go on to explore sections of this fantastic once-lost city which is full of tombs, temples, an impressive amphitheatre and a Roman colonnaded street. The intrepid can ascend the hundreds of rock-cut steps to Ad-Deir, better known as the Monastery. Ad-Deir has a similar facade to that of the Treasury, but is far bigger and the views from the nearby cliff-tops are splendid. Want to learn how to cook Middle Eastern food? Consider our Petra Kitchen Add-on tonight!
Overnight: Petra | Breakfast
Petra - Wadi Rum. There is a chance to revisit Petra this morning before our afternoon drive to Wadi Rum. A vast, silent landscape of ancient riverbeds, pastel coloured stretches of sandy desert and amazing rock formations known as jebels that rise from the desert floor, awaits. Boarding our 4x4 jeeps, we take an exhilarating desert safari across the sand dunes, taking in the breathtaking scenery of Wadi Rum and tonight, we enjoy a Jordanian dinner at our camp.
Overnight: Wadi Rum | Breakfast, Dinner
Wadi Rum Desert
Wadi Rum - Shobak – Wadi Mujib - Dead Sea. After breakfast at our campsite, we head north along the Desert Highway to visit Shobak Castle, which is perched dramatically on a hill top and was built by the Crusader king Baldwin I in 1115. After exploring the castle we descend some 1300 meters to the Dead Sea, the lowest point on the earth's surface. More than 400 meters below sea level, the mineral-rich Dead Sea is the world's original health and beauty spa. Drift out and bob in the waters and slap on some of the famous black Dead Sea mud to give your skin an invigorating boost.

For departures between April and October we head up the King's Highway to Wadi Mujib and embark on a moderate–paced two hour trek along the Siq Trail. Measuring 500 metres in depth and spanning 4kms across, the impressive Wadi Mujib is one of Jordan's most remarkable natural landscapes. This dramatic canyon features sheer rocky walls and sparkling waterways that range from puddle height to depths that are perfect for swimming (chest height or deeper) depending on the rainfall. When the water level is high you should be prepared for having to climb up ladders, clamber across boulders and be happy to wade through water. The canyon is just one feature of the Mujib Biosphere Reserve, the lowest nature reserve in the world, home to a surprising diversity of wildlife and plant species. For those not interested in taking the full hike, you can walk part of it or wait by the Visitor Centre until the group returns. After our trek we make our way to the Dead Sea.
Overnight: Dead Sea | Breakfast
The lowest point on the earth's surface at more than 400m below sea level, the Dead Sea is a natural phenomenon and high on most travellers' bucket lists. Lucky for us, we have the whole day to spend here, whiling away the time bobbing in its mineral-rich buoyant waters and lathering up with a detoxifying mud bath. Later today, there is an optional visit to the Ma'in hot springs (a series of waterfalls and hot springs) and a sacred baptism site where Jesus Christ is thought to have been baptised (payable locally).
Overnight: Dead Sea | Breakfast
Saturday. Dead Sea - Amman Airport. Hotel check out and included onward transfer to the airport in Amman. Departure transfers are offered on day 8 at 23:00 (evening of day 7), 04:00, 07:00, 09:00, 12:00 and 16:00. If you would like a departure transfer at any other time or a transfer with post tour accommodation this can be arranged at an additional cost, please enquire.

Keen to tick Israel of your bucket list? Why not combine this tour with the must see sights in Israel and travel on our Road to Jerusalem - 11 day tour?
Breakfast
Totally Jordan Perseids Meteor Shower departing 08 Aug 2022
Combine this tour with the amazing celestial spectacle of the Perseids Meteor shower? This magical event has mystified and amazed viewers for almost 2000 years. Our special Totally Jordan meteor departure starting 08 August 2022 includes a spellbinding night of stargazing, when the meteor shower is at its peak at our desert camp in Wadi Rum.

Other tours that are present for the Perseids meteor shower:
Passage to Petra - departing 09 AUG 2022

For information about visas, top travel tips and much more, take a look through our travel guide.
The hotels listed below are ones which we frequently use on this tour. We reserve the right to substitute these hotels to ones of a similar standard.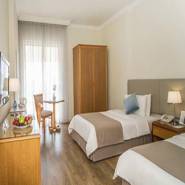 Al-Qasr Metropole, Amman
Recently refurbished, the Al Qasr Metropole is a modern and chic boutique hotel. Guest rooms are beautifully furnished and include free Wi-Fi connection and luxury en suite facilities. All guests at the Al Qasr gain free access to the on site Fitness First gym as well as a complimentary breakfast. The rooftop restaurant has fantastic panoramic views of Amman and is a great place to spend the evening. The hotel is well located in Shmeisani, one of Amman's most prestigious neighbourhoods.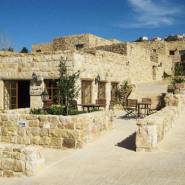 Old Village Resort, Petra
Located above Wadi Mousa, Old Village Resort has a wonderfully traditional feel about it with open stonework and original architecture. Rooms are full of character, some with delightful archways and all directly accessed from the outside. The hotel boasts an indoor swimming pool and sauna and beautiful views of the surrounding mountains. For dinner why not dine al fresco at the restaurant overlooking the mountains. Well located in forested wadis facing Petra's mountains.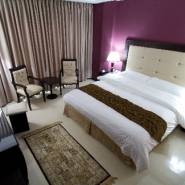 Petra Moon Hotel, Petra
Just 300 ft from the entrance gate to Petra, the Petra Moon hotel features spacious rooms with private balconies and flat-screen TVs. It also has a roof garden with a seasonal outdoor pool. The soundproofed rooms and suites at Petra Moon come with satellite channels, a DVD player and extra-long beds. Each has air conditioning and a private bathroom. The hotel's restaurant serves a delicious selection of international meals in both buffet-style and a la carte.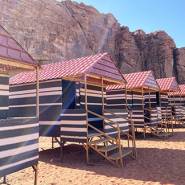 Rainbow Camp, Wadi Rum
A row of permanent tents in the desert make up the popular Rainbow Camp. Inside the tents are comfortable camp beds and warm bedding. Showers and toilets are close by and are cleaned thoroughly every day. Guests can relax in the communal area which is adorned with colourful rugs and cushions. The food at Rainbow Camp always gets rave reviews. Taking an evening stroll around the beautiful surroundings is a great way to work up an appetite before dinner. This accommodation is well located in the heart of Wadi Rum.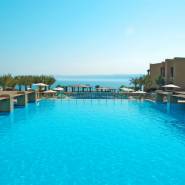 Holiday Inn Resort, Dead Sea
Graced with interconnecting palm fringed swimming pools leading to the Dead Sea, the Holiday Inn is an Arabesque style hotel. Guest rooms are elegantly furnished and benefit from complimentary high speed internet. The hotel also has an on site fitness centre and a fine choice of Spa facilities. The 24 hour sleek bar is the perfect place for a tipple at any time of the day or night. The accommodation is located on the shores of the world famous Dead Sea.
"
I cannot describe how wonderful this trip was..but I am going to try! Everything was perfect, the hotels (including the tent at Wadi Rum), the transport, the food. I mainly went to Jordan to see Petra but I ended up enjoying every single place we visited, it's unbelievable the history that this country has and how welcoming and kind Jordanians are. The time we spent in the desert, especially at night, was fascinating, and the trekking trail at Wadi Mujib is a must do if you have at least an average level of fitness. I would also recommend to do the optional tour to the Baptism of Jesus site and the hot spring.
What made this trip even more special was our guide, Mahmoud: his passion for his country, along with his excellent English, knowledge, sharp sense of humour, and caring for our needs, was one of the best highlights of Jordan.
Expect to walk quite a lot and, if your level of fitness is below average, you may consider skipping some tours or use horse/donkey rides in Petra. However, if you can make it, I can ensure that this trip is worth every single effort. "
ANGELA DI NUZZO
• Submitted 28 May 2022
Tour





Guide





Country





"
We loved Jordan and know that our trip was made all the more enjoyable due to the exceptional attention to detail of Mohammed. His timing was always spot on and we managed to enjoy all the highlights without compromise. The hotels were great, the food well planned, the only disappointment was the Wadi Rum experience that left a little bit to be desired with my bedding smelling of bad odour.
The trip was chosen to precede our Egypt tour. The itinerary was great, except we would have liked the opportunity to visit Aqaba, unfortunately it does not appear on the itineraries at the moment."
Leonie Chung
• Submitted 27 Oct 2019
Tour





Guide





Country





"
For us, the highlights of our Totally Jordan tour were Petra and Wadi Rum. We felt we were given enough time in each place, although because of some earlier rain we were unable to do the hike at Wadi Rum. Our guide, Mohammed, made the whole tour really enjoyable. He gave us the right balance of humour, history and practical information as well as taking good care of a member of the group who suffered a minor injury. The hotels we stayed in were fine and staying at a 5 star hotel at the Dead Sea was a relaxing way to unwind and finish the trip. "
Sally Gould
• Submitted 17 May 2019
Tour





Guide





Country





"
Jordan and Petra in particular has been on my bucket list to visit and I have finally made to this land In March this year.
Highlights of the trip were trekking through the gorges of Petra, first vision of the Treasury , 4WD through the desert outback of Wadi Rum and sunset in Wadi Rum desert. The tour group was well organised and managed by Mohammed. His knowledge and leadership skills are outstanding and On the Go is lucky to have such a dedicated and passionate employee to represent Jordan and its people. "
Vicki Bojanic
• Submitted 14 Apr 2019
Tour





Guide





Country





"
First of all Muhannad was amazing! His love and passion for his country is evident. His knowledge just blew my mind. He answered all my questions with such ease. He is funny and handled our group of different ages and needs with such ease. He is a natural at his job.If anyone in the group needed something he made sure we got it.
As for the tour and Jordan I had the most amazing time! The highlight was the morning hike with Muhammad in Petra. I have never been on a organised tour and I must say it blew my expectations. The food, hotels, camping in Wadi Puma and floating in the Dead Sea was all spectacular.
Thanks On the Go, I look forward to my trip to India in December."
Karin McCallum
• Submitted 27 Mar 2019
Tour





Guide





Country





"
A fantastic holiday. Our tour guide Mohammed was so knowledgeable and his English was so clear. He made the holiday for me. He kept the group together and was extremely attentive to all our needs. The tour was varied and interesting. The hotels were all really clean and comfortable. The food at the hotels was excellent and the dinners our guide Mohammed took us to were very good value and extremely tasty."
Susan Brougham
• Submitted 12 Mar 2019
Tour





Guide





Country





"
Our guide, Mohammed Hamadeen, was excellent having a good knowledge of the sites and the history thereof. Mohammed's English was good and easy to understand. Minor criticisms of the tour would be the picking up arrangements after evening optional tours which never quite seemed to work reliably - often leaving clients seeking their own way back to their accommodation.
It would have been useful in the Petra at night option to have been told beforehand that the site would (eventually) be fully illuminated if you stayed through the caterwauling to the bitter end. We decided to leave just before as we couldn't take photos/video in the light available and assumed that this situation would not change!
The pools at the the Holiday Inn on the Dead Sea need to have a lot more properly covered sunbeds. Both me and my wife got sunburn on the last day because of lack of cover.
Nonetheless, this was one of the best short holidays we have had and I would heartily recommend this tour and look forward to using On The Go Tours again at sometime in the future."
Nicholas Brougham
• Submitted 11 Mar 2019
Tour





Guide





Country





"
Excellent. I think he has just won the 2018 best tour guide. I do think the program should include something else on the way to the Dead Sea when Wadi Mujib is not running. Either hot springs, john the baptism site or the Dead Sea museum (my personal preference as I did it on my own)"
Anne Abbott
• Submitted 11 Mar 2019
Tour





Guide





Country





"
It was an awesome tour, thoroughly enjoyed myself. Petra was definitely the highlight of the tour, did not realize Petra park was so big with so much more to see. Mahmoud was very accommodating and his knowledge on Jordan and it's sites made the tour so much more fun. "
Wayne Naidoo
• Submitted 11 Mar 2019
Tour





Guide





Country





"
What a great way to see the best that Jordan has to offer. Jerash was one of the real highlights along with Petra and the night at Wadi Rum. What made the tour even better was our guide Mohammed. He was full of information and made sure everyone in our group of 12 was looked after. His sense of humour was infectious and nothing was too much trouble. We also had the service of a great driver who, like Mohammed, went out of this way to make sure the our trip was memorable. Can't recommend On The Go Tours more highly."
Colin Chung
• Submitted 03 Mar 2019
Tour





Guide





Country





In Brief
Range
Trip Type
Starts
Amman
Ends
Amman
Departs
Saturdays
Group Size
Min 4 / Max 24
Hotel Rating
4 star hotels & 1 night deluxe desert camp in Wadi Rum
Tour Guide
Yes - escorted by a tour guide
Meals
Breakfast: 7, Dinner: 2
Visiting
Amman, Petra, Wadi Rum, Dead Sea
Countries
Tour Add-ons
Enhance your trip with these amazing added extras and add-ons
"
We loved Jordan and know that our trip was made all the more enjoyable due to the exceptional attention to detail of Mohammed. His timing was always spot on and we managed to enjoy all the highlights without compromise. The hotels were great, the food well planned, the only disappointment was the Wadi Rum experience that left a little bit to be desired with my bedding smelling of bad odour.
The trip was chosen to precede our Egypt tour. The itinerary was great, except we would have liked the opportunity to visit Aqaba, unfortunately it does not appear on the itineraries at the moment."
Leonie Chung
OTG000201
Totally Jordan - 8 Days
Middle East & North Africa
Signature
Middle East & North Africa
false
10
Jordan
https://www.onthegotours.com/uk/Jordan/Totally-Jordan-8-Days
https://www.onthegotours.com/repository/Petra-Treasury-from-above--Jordan-Tours--On-The-Go-Tours-copy-269681443192204_crop_flip_300_300_f2f2f2_center-center.jpg
Group_Tours