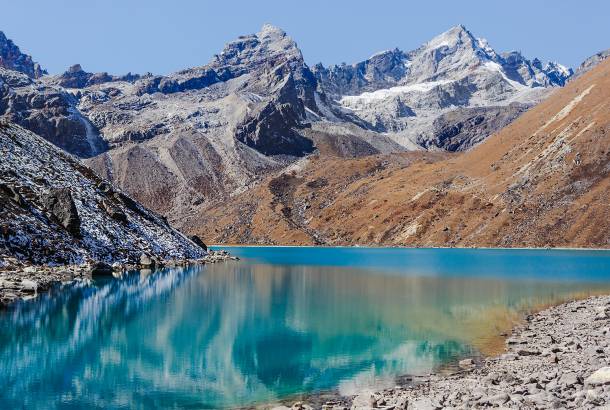 If it's your first time trekking in Nepal, there's no doubt a host of questions you have regarding the sort of accommodation you'll be staying in, what the food will be like and how fit you'll need to be. We're here to help with our guide to trekking the Annapurna range and you can find plenty more useful info on travelling to Nepal with our top travel tips.
Trekking Accommodation
Whilst trekking, accommodation options are limited so please do not expect the Ritz. We use simple family run lodges, with a large sociable central dining area. Rooms are on a twin share basis and the majority of the lodges that we use have en suite bathroom facilities. While hot water is offered at most lodges, they do rely upon solar power and therefore it cannot always be guaranteed. WiFi is also available at the majority of lodges. If you need to charge the battery of your camera or mobile phone etc, the lodges usually charge a small fee.
It is important to understand that when you are trekking you will be away from civilization and the comforts of home. Nepal trekking is adventure travel! Despite the lack of facilities, these lodges certainly have a rustic charm. Most are blessed with spectacular views and being family run operations, offer a great insight into the daily life of the Himalayan people.
Trekking meals
On our tours all of your meals are included whilst you're trekking. Meals at the lodges are normally vegetarian and staple foods include rice, vegetable curry, dal soup, noodles, pasta, dumplings, fries and stew. Dessert is not provided, although it's usually possible to purchase chocolate bars, biscuits and sweets at the lodges. At each meal you'll be given a cup of tea or coffee and you can purchase additional drinks from the lodges of porters.
During the trek mineral water is readily available to purchase and the cost ranges from Rs.50-350 per litre depending on the altitude (the higher you are, the more things cost). Alternatively you can refill a bottle at lodges and water stations by paying a nominal fee of Rs.20-50 and use purification tablets to make it safe for consumption. We recommend that you do this to help protect the environment by reducing the use of plastic bottles and it is also more cost effective.
Health & Fitness
Nepal offers some of the best trekking in the world, with stunning scenery and magnificent mountain ranges. You don't need to be an athlete to undertake our Himalayan treks; you simply require a good level of fitness, gained from regular exercise and a sense of adventure! Greater fitness will allow you to adjust with ease, leaving you to enjoy yourself and your surroundings. We suggest you begin a fitness program at least 3 months before departure. Take part in regular activities such as cycling, swimming, jogging, tennis, walking and bush walking.
Whilst you are trekking the porters will carry your rucksack (up to a maximum of 15kg) and all the heavy gear. You'll just need to carry a small day pack for your water, camera and essentials - the lighter, the better.
Our Annapurna Panorama tour is a perfect introduction to trekking, reaching a maximum height of 2830m, trekking at a relatively easy pace, with plenty of sightseeing and lodge accommodation. You'll be trekking on average for 4 – 6 hours a day.
Altitude Sickness
Contrary to popular belief, altitude sickness is not related to your level of fitness. It can affect anyone, and stems from the body's failure to adapt to high altitudes, most often of more than 2,000 metres. The best way to avoid altitude sickness is to ascend and descend slowly, allowing your body to adapt to the new altitude. If you do get sick then it is important to descend to a lower altitude as quickly as possible, which will usually help you to feel better. Common symptoms of altitude sickness include headaches, nausea, irregular breathing, insomnia and the swelling of fingers and glands. Our Nepal trekking tours are designed to ensure there is plenty of time for adequate acclimatisation and cases of altitude sickness are therefore rare.
Travel Insurance
You do not need specialist travel insurance but not all insurers will cover trekking above 2,000m as standard. There is often a supplement to be covered at higher altitudes so it is important to check the policy details carefully. On our Annapurna Panorama trek you need travel insurance that will cover you for trekking up to 3,000m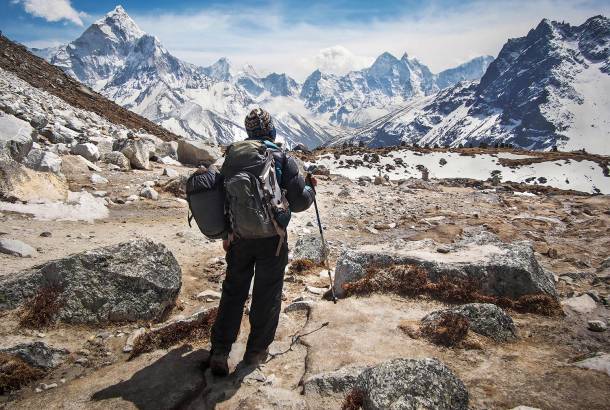 The best time for Nepal trekking
June to September - Summer is monsoon season in Nepal and it rains almost every day, mostly in the evenings; the scenery is lush and green but trails become very muddy. For this reason we do not offer trekking during these months and don't recommend travelling at this time of year.
October to November - Autumn is the most popular time to trek when it is cooler with clear skies. This means visibility is at its best - perfect for photographing those dramatic mountains.
December to February - Winter months tend to be mild in the daytime with brilliant sunshine, but foggy in the mornings and can become very cold at night. January is the coldest month of the year.
March to May - Spring is very warm with occasional showers but as long as you don't mind the heat it is a good time to trek. May is the hottest month of the year.
In the mountain regions, daytime hiking temperatures generally range from 10 to 21 degrees Celsius. Night time temperatures tend to drop down to between 4 to 12 degrees Celsius but can be colder at higher altitudes. We schedule our trips to attempt to coincide with the best weather conditions but we cannot be held accountable for the unpredictability of Mother Nature. For that reason, it's important to pack appropriate gear.
What to pack
It is best to pack light and to bring clothes that can be layered for warmth. There are plenty of traders selling clothes and trekking equipment at very cheap prices in Nepal, so there is no need to worry about not packing enough.
Please note that the luggage allowance on domestic flights in Nepal is only 15kg including your hand baggage. Porters on the trek will carry bags up to a maximum of 15kg also so it is essential that you travel light.
Every trekker will carry their own day bag, which can be as heavy as you as like. However, for obvious reasons we suggest you don't overload yourself, as this will make trekking harder.
Below is a list of the items we recommend you bring with you on your Nepal trekking holiday:
Holdall/kitbag, max size 100 litre, with a separate day pack (definitely no suitcases)
A high quality sleeping bag - (lodges do not always provide adequate bedding)
First aid kit - remember plasters for damaged feet
Water purification tablets, iodine and water bottle
Torch, batteries and pocket knife
Sewing kit
Laundry soap
Compass and guidebook
Travel towel
Toiletries, sunscreen and lip balm (SPF +15)
Wet wipes are very handy for a quick freshen up
Camera and charger/batteries
Insect repellent
A padlock
Light/medium weight walking boots/shoes (well worn in)
Camp shoes
Socks (polypropylene)
A down or fibre filled jacket
A good water/wind proof jacket or poncho with a hood
Loose fitting lightweight trousers and shorts
Thick woollen jumper/sweater
T-shirts
Swimwear
Sun hat and sun glasses
Gloves and a warm hat
Plus all of the usual essentials