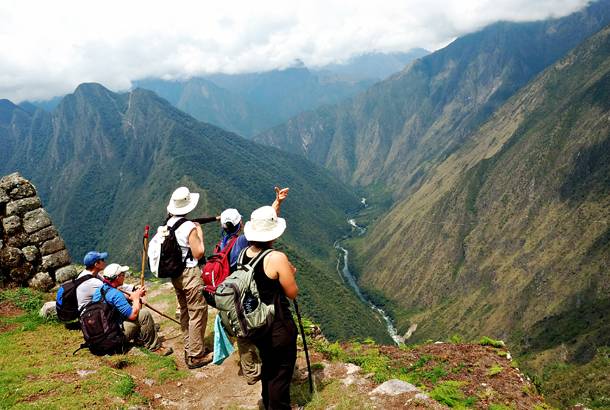 What to Pack for the Inca Trail Trek
The Inca Trail trek is a trip of a lifetime. With four days of hiking at altitude and nights spent camping, it's an experience that requires a fair bit of planning to make sure it's as a comfortable and enjoyable experience as possible. To help we've put together an Inca Trail Packing List with essential items to get you through it and items that we recommend.
What to pack in your day bag
Every trekker will carry their own day bag, which can be as heavy as you as like but ideally it should be as light, with only the equipment and miscellaneous items that you'll need during the day, which should include the following:
Day bag - This is the bag that you will carry yourself during the trek to contain essential items that you will need access to throughout the day. It should be large enough to carry all your essential items but not so big that you fill it with extra weight - anything around 20 litres is a good idea. A bag with pockets and compartment will be useful as will one with a waterproof cover. You may prefer one with back air vents for added comfort or with built-in camel hydration pack for easy access to water.
Passport - Your Inca Trail permits are confirmed with your passport details and you must carry your passport with you during the trek. A photocopy is not sufficient and we recommend you bring a plastic cover to protect it from water and dirt.
Walking boots - You'll be walking across varied terrain in your boots for three-four whole days so your boots need to be well worn-in to ensure they are as comfortable as possible during the trek. They should be waterproof, provide ankle support and have decent grip. The most important thing is that you have worn them prior to the trek and know they won't cause you any trouble.
Waterproof outer clothing - A plastic poncho is a great way of keeping your upper body and day bag dry or you may prefer to bring a waterproof (and windproof) jacket and trousers.
Plastic bags - These should be used to wrap up your belongings to make sure they stay dry and to ensure any liquids in your bag do not accidentally spill over the other items. Spare bags can also be used for collecting rubbish during the trek.
Toilet paper - Squat toilets can be found along the Inca Trail, however, toilet paper is not provided so bring your own.
Hand sanitizer - Keeps your hands clean after toilet stops.
Wet wipes - These can be used to clean your hands, face and belongings in case they get dirty.
Water bottle - It's important to stay well hydrated when at high altitude aiming to drink 2 litres of water a day so bring a large water bottle with you or a hydration bladder that can be stored in your bag.
Headgear - A lot of heat can be lost through your head so bring a warm beanie to wear when cold and a sun hat or baseball cap to wear during the day when the sun's out. You may also wish to bring a bandanna to wear around your neck to protect against sunburn. A bandanna also doubles as a handkerchief and flannel.
Gloves and thick socks - It's best to avoid cold hands and feet with warm gloves and thermal socks. Ideally your socks should be well padded around the toes and heel to keep you warm and comfortable in your boots, minimising rubbing of your skin at the same time. Aim for mid-calf or knee length socks to keep your lower legs as warm as possible.
Sunglasses - Don't underestimate the strength of the sun at high altitudes and bring a good quality pair of sunglasses that block the worse of the UV and make enjoying the scenery far more pleasurably.
Personal medication kit - This should include Bandaids, blister plasters, rehydration sachets, high factor sunscreen, tropical strength insect repellent and paracetamol and pills for diarrhea (Imodium) in case of altitude sickness symptoms. A lip balm with SPF in it is also a good idea.
Camera and spare batteries and memory cards - You won't want to miss out on the incredible photo opportunities present along the trail and with few electrical points during the trek, make sure you have enough life in your batteries to get you through the three/four days. It's also wise to carry your camera in a padded, water-resistant pouch to protect it. Take your chargers with you and consider taking a portable battery powered charger.
Walking poles - The undulating terrain can be a tough job on your knees and walking poles can reduce the impact on your joints so are worth bringing.
Snacks - High protein energy bars made mostly from nuts are the best snack to eat during the day to keep your energy levels high.
Cash - Small denominations for tipping and access to toilets.
What to pack in your duffel bag
Before your Inca Trail trek you'll be given a duffel bag in which you can pack up to 5kg of your own personal stuff to be carried by the team of porters, while on the Lares Trek you can have 6kg of gear that will be carried by mules. In this bag it's best to pack heavier stuff that you won't need during the day but will need when you reach camp, which should include:
Sleeping bag - A sleeping bag is required as you will be camping at night. We recommend a four season (or -10) for the winter months with a three season (or -4/-5) bag suitable for the rest of the year.
Sleep sheet/sleeping bag liner - These can be used to add extra warmth to a sleeping bag and provide comfort if you plan to hire a sleeping bag locally rather than bringing your own.
Inflatable pillow - If you like the comfort of something soft under your head at night, bring a small inflatable pillow.
Trekking sandals - After a long day trekking in your boots it can be blissful taking them off when you first get to camp so it's a good idea to take lightweight trekking sandals that will air your feet but still allow you to wear socks for warmth.
Small travel towel - There will be the chance of a shower on day 3 of the trek so bring a small travel towel, which folds down to next to nothing and can also be used to wash your face in the evenings/mornings. It's also advisable to bring travel-size bottles of shower wash and shampoo.
Clothing - We recommend bringing fleece pyjamas to wear at night or long thermal underwear which can also be worn during the day for added warmth. It's best to bring layers so you have more control over your personal temperature with trousers that can zip off to shorts, shirts that can be opened at the front as well as t-shirts and a fleece jumper. The best materials are wool and quick-drying polyester - denim and cotton absorb moisture so are best avoided. As well as the clothes you begin the trek in, you'll want at least one or two sets of clean clothes.
Swimwear - There are a number of hot springs in Aguas Calientes, which are the perfect antedote to three/four days of trekking, so bring some bathers and a pair of flipflops/thongs/jandals, also useful for a shower on day.
Torch and/or headlamp - There are no lights in the toilets so you'll need your own source of light if you want to see what you're doing! Bringing an extra set of batteries is advisable. Headlamps are preferable as you can use it hands-free.
Top Tip: If you don't fancy taking all this with you to Peru, there are a number of outdoor adventure stores in Cusco selling big brands like North Face and Columbia where you can pick up clothing and trekking equipment. Alternatively, there are also dozens of places where you can rent quality gear for very reasonable prices including walking poles, thermal gloves and down jackets so you can add the last few bits you need once in Cusco and return them after the trek.
Top Brands for Trekking Equipment
There are many companies out there selling hiking boots, walking poles and the like, but our team have travelled far and wide, and after years of various experiences across the globe have a few brands that they always rely on.
North Face - This global brand stocks everything you could possibly need for a trekking trip from sturdy walking boots to sleeping bags, thermal underwear to backpacks.
Karrimor - For our British travellers Karrimor is another get option with excellent footwear, clothing and trekking equipment.
Kathmandu - Founded in New Zealand almost 30 years ago, this popular retailer of clothing and equipment for travel and adventure has stores in Australia, New Zealand and the UK.
Patagonia - An American clothing company with great quality outdoor clothing and stores open outside of the States also.
MEC - With stores across Canada, MEC is a popular choice for Canadian travellers with everything from clothing to footwear, climbing to camping gear.
Columbia - Another reliable outdoor apparel brand sold in retail stores across North America, South Africa, the UK and Europe.