Belize Tours & Package Trips
From the forest to the coast, behold beautiful Belize with our range of Central America group tours!
Tucked between Mexico and Guatemala on the Caribbean coast is the tiny nation of Belize, renowned for its fabulously laid-back atmosphere. With idyllic offshore islands, beautiful beaches and the second largest barrier reef in the world, Belize is a mecca for sun worshipers, divers and snorkellers alike.
Belize is also far more reminiscent of the Caribbean than Central America and is heavily influenced by its Afro-Caribbean roots, with a love for rice and beans and a chilled attitude to life. It may be small but with diverse cultures, steamy jungles and genuine adventure activities, Belize packs a mighty punch.
Our tours to Belize combine the nation with neighboring Guatemala, as well as Nicaragua and El Salvador. Taking in the tropical jungles of the Cayo district near San Ignacio, they are a perfect introduction to the region.
Belize Group Tours
In Central America, we offer a selection of multi-country tours encompassing the entire region, from Mexico down to Panama. Our Belize tours combine this exciting country with its neighbors, including Guatemala, El Salvador and Nicaragua. Travelling in a small group of like-minded travelers, you will be escorted by a qualified tour leader throughout your trip, staying in well-located 3-4 star hotels and with all manner of included sightseeing and activities.
Explore more countries like Belize
Frequently asked questions about our tours in Belize
When is the best time to visit Belize?
Tiny Belize boasts a tropical climate all year round and there is very little difference in the climate throughout the year. The wettest months are June - November, with much less rainfall in the dry season from February - April. Temperatures are stable all year-round, dipping slightly from November - February. Overall, Belize is a fabulous year-round destination. Find out more in our guide about when to visit.
Will I be escorted by a tour guide in Belize?
On our Belize package tours, you will be escorted for the duration of your trip by a qualified local tour leader. They will be on hand for all of your sightseeing and to assist with any questions or problems you may have on tour.
How big are your tour groups in Belize and what is the age of your travellers?
Our Belize trips depart with a minimum of 4 passengers, and the maximum group size on these trips is 20. The average age of our travelers in Central America is around 50, but we also take people on tour in their 20s and 30s, right up to their 70s and beyond. If you have a reasonable level of fitness, a passion for travel and want to uncover the highlights of Central America, you've come to the right place!
What standard of accommodation do you use in Belize?
In Belize and the rest of Central America, we make use of well-located 3-4 star hotels with plenty of amenities. Some hotels offer swimming pools and all serve a delicious daily breakfast.
What sort of transport do you use in Belize?
Our Belize tours travel across Central America using private, air-conditioned vehicles. We make limited use of internal flights too, and a public bus ride in Panama is included on some tours.
What is the currency in Belize?
The currency of Belize is the Belize Dollar (BZ$). Check
OANDA
for current exchange rates.
Is Belize a safe destination for travellers from the LGBTQ+ community?
According to the
2023 LGBTQ+ Travel Safety Index
, Belize scores an F rating for LGBTQ+ traveler safety, ranking 136th out of 203 countries.
Although same sex marriage is not legal, there are some protections in place for people of all sexual orientations. 0 - 25% of consulted citizens consider Belize a good place to live for gay and lesbian people. There are no legal punishments for same sex relations and most trips for LGBTQ+ travelers to Belize are trouble-free.
The LGBTQ+ Travel Safety Index is designed to provide a good overall picture of attitudes towards the LGBTQ+ community in each country and may not reflect the experience of foreign travelers to the country.
Can I drink the tap water in Belize?
We do not recommend that you drink the tap water whilst travelling in Belize, as it may cause you to have an upset stomach. Stick to filtered and bottled water, which is readily available across Belize in shops, hotels and restaurants.
As a solo traveller will I have to pay more to travel to Belize?
On our Belize trips, we are able to match up solo travelers with another traveler of the same sex, so you don't need to pay a single supplement. If there is not a solo traveler of the same sex for you to share with, you will be given a single room to yourself at no extra cost. Please contact us if you would like to take up the room share option.

If you are a solo traveler who would prefer to guarantee the privacy of your own room then you can choose to pay the single supplement, the price of which is listed on each tour page.
What is the current travel advice for Belize?
As a UK-based company, we follow the latest up to date advice from the Foreign and Commonwealth Office (FCDO). You can see the latest travel advice for your Belize trip here.
Ruins & Reef - The Second Largest Barrier Reef in the World
What this enchanting country lacks in size, it certainly makes up for in attractions. Those in search of adventure can head to San Ignacio, where canoeing on the Macal River and exploring the vast caves and limestone terrain are highlights. And the spectacular range of rolling hills, peaks and gorges are fantastic for hiking. Belize's lush subtropical forests are home to ancient Mayan ruins and an array of wonderful flora and fauna as well.
The Best of Belize
From the tropical jungles and Mayan ruins of San Ignacio to the world's second largest barrier reef, blissful Caye Caulker island and the incredible Great Blue Hole, there are numerous unmissable attractions in Belize. Here are our picks of the best!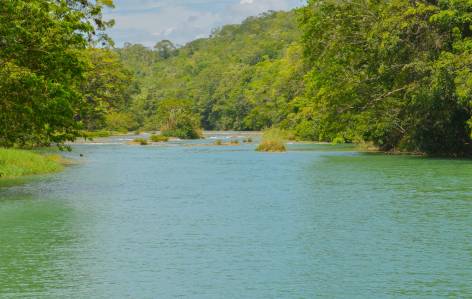 San Ignacio
A charming town nestled in the Cayo region of Belize, the drawcard for San Ignacio is less the town itself and more its surroundings. Ancient Mayan ruins and lush tropical jungle await, perfect for exploring at leisure with hiking trails, canoeing, horse-riding and bird-watching opportunities.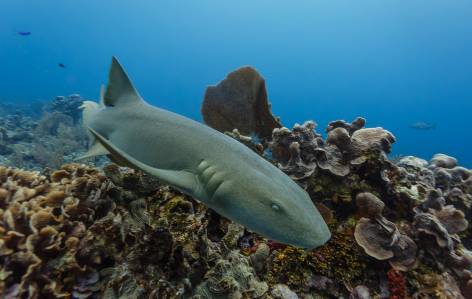 Belize Barrier Reef
Second in size only to Australia's Great Barrier Reef, this natural wonder is one of the main highlights in Belize, best explored by snorkel or scuba dive. More than 500 species of colorful fish, sharks, rays and even manatees call the environment home, and the site is so important that it has been granted protection by UNESCO.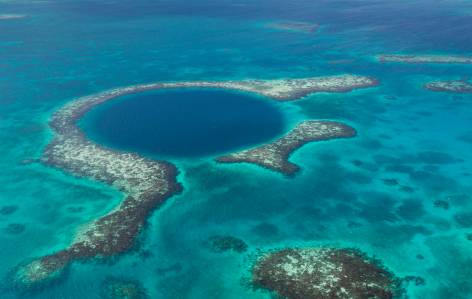 Great Blue Hole
Another ocean-based attraction for you to discover - Belize really is a diver's paradise! The Great Blue Hole is a spectacular underwater sinkhole off the coast. More than 300 meters in diameter and boring 125 meters into the ground, it is full or unusual marine life, caves and rock formations. It can be unnerving to swim across this vast nothingness, but it's a once in a lifetime experience.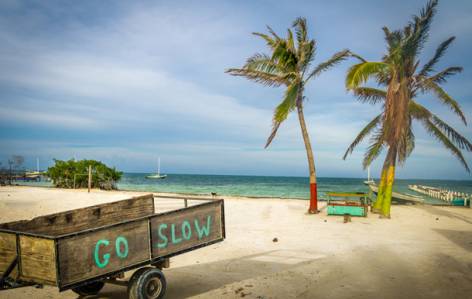 Caye Caulker
A tiny sliver of land off the coast of Belize and located next to the barrier reef, Caye Caulker is a true Caribbean paradise. The perfect place for some beachside R&R, it's also home to biodiverse mangrove forest teeming with life. The only settlement on the island is Caye Caulker Village, home to around 2,000 people and largely supported by tourism.