Guatemala Tours & Package Trips
From tropical forest to the Tikal ruins, uncover Guatemala with On The Go Tours
Get to know gorgeous Guatemala. Packed full picturesque highland lakes, lush jungle, smoking volcanoes and picturesque colonial towns. Refreshingly off the well-trodden tourist trail, Guatemala is a Central American gem. Home to the picturesque colonial town of Antigua, nestled among three volcanoes. Lake Atitlan, arguably one of the world's most beautiful lakes. And tremendous Tikal in the heart of the rainforest - regarded as the greatest city of the Mayan world.
Our Guatemala group tours take in all the main highlights from this incredible destination, as well as its Central American neighbors. From Nicaragua to Panama and Costa Rica, begin planning your Central America journey today! Discover the beauty of Guatemala on one of our tours!
Guatemala Group Tours
Our Guatemala group tours take in the highlights of the country, from Antigua to Tikal. And they explore many of Central America's other countries, including Nicaragua, Belize and Costa Rica. Escorted by a local tour leader and staying in well-located 3-4 star hotels, these well-balanced tours are the perfect way to explore the thriving region of Central America!
Explore more countries like Guatemala
Frequently asked questions about our Guatemala tours & trips
When is the best time to visit Guatemala?
Guatemala experiences a hot wet season and a cooler dry season, and can be visited during both parts of the year. Generally, the cooler, drier season from October - March is the more popular time to visit. There's more information in our guide on when to visit.
Will I be escorted by a tour guide in Guatemala?
On our Guatemala package tours, you will be escorted for the duration of your trip by a qualified local tour leader. They will be on hand for all of your sightseeing and to assist with any questions or problems you may have on tour.
How big are your tour groups in Guatemala and what is the age of your travellers?
Our tours in Guatemala depart with a minimum of 4 passengers, and the maximum group size on these trips is 20. The average age of our travelers in Central America is around 50, but we also take people on tour in their 20s and 30s, right up to their 70s and beyond. If you have a reasonable level of fitness, a passion for travel and want to uncover the highlights of Central America, you've come to the right place!
What standard of accommodation do you use in Guatemala?
In Guatemala and the rest of Central America, we make use of well-located 3-4 star hotels with plenty of amenities. Some hotels offer swimming pools and all serve a delicious daily breakfast.
What sort of transport do you use in Guatemala?
Our Guatemala tours travel across Central America using private, air-conditioned vehicles. We make limited use of public transport too, for example a bus ride in Panama is included on some tours.
What is the currency in Guatemala?
The currency of Guatemala is the Guatemalan Quetzal (GTQ). Check
OANDA
for current exchange rates.
Is Guatemala a safe destination for travellers from the LGBTQ+ community?
According to the
2023 LGBTQ+ Travel Safety Index
, Guatemala scores a D- rating for LGBTQ+ traveler safety, ranking 126th out of 203 countries.
Although same sex marriage is not legal, there are some protections in place for people of all sexual orientations. 26 - 50% of consulted citizens consider Guatemala a good place to live for gay and lesbian people. There are no legal punishments for same sex relations and most trips for LGBTQ+ travelers to Guatemala are trouble-free.
The LGBTQ+ Travel Safety Index is designed to provide a good overall picture of attitudes towards the LGBTQ+ community in each country and may not reflect the experience of foreign travelers to the country.
Can I drink the tap water in Guatemala?
The tap water in Guatemala is not safe to drink and may make you unwell. We recommend using bottled or filtered water for drinking and for activities including brushing your teeth. This is readily available in hotels, shops and restaurants across Guatemala.
As a solo traveller will I have to pay more to travel to Guatemala?
On our Guatemala trips, we are able to match up solo travelers with another traveler of the same sex, so you don't need to pay a single supplement. If there is not a solo traveler of the same sex for you to share with, you will be given a single room to yourself at no extra cost. Please contact us if you would like to take up the room share option.

If you are a solo traveler who would prefer to guarantee the privacy of your own room then you can choose to pay the single supplement, the price of which is listed on each tour page.
What is the current travel advice for Guatemala?
As a UK-based company, we follow the latest up to date advice from the Foreign and Commonwealth Office (FCDO). You can see the latest travel advice for your Guatemala trip here.
The Best of Guatemala
The Tikal ruins are probably Guatemala's most famous attraction, a Mayan city dating back many centuries. But the country is packed with highlights, from the cobbled streets of colonial Antigua to the shimmering waters of Lake Atitlan. Here are some of the best places to discover on our Guatemala tours and packages.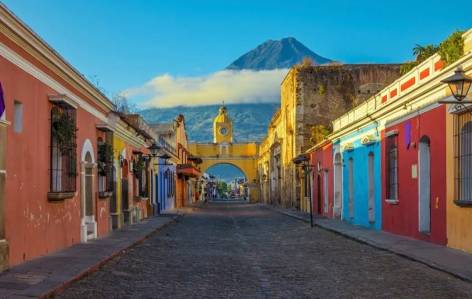 Antigua
The cobbled streets of colonial Antigua stretch out between colorful buildings which house chic boutiques, handicraft shops and sublime restaurants. From the town a number of volcanoes can be seen, including the legendary Pacaya and the enormous Acatenango, both of which can be conquered in a day. The town is also well known for its incredibly vast market which sells everything from food to hammocks to sandals.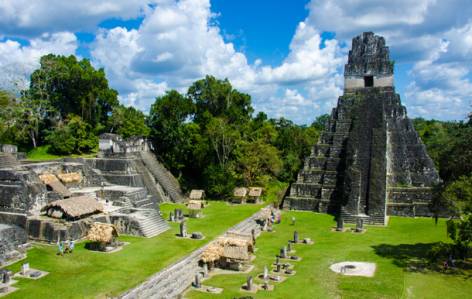 Tikal National Park
You could travel the world a hundred times over but you would be unlikely to find a more stunning set of ruins. Sunrise or sunset tours are the best way to make the most of a trip to this ancient site as the vista from the top of the tallest temple as the sun emerges or disappears behind the extensive jungle landscape is utterly breathtaking. Incidentally, part of Star Wars was also filmed at Tikal, contributing further to its worldwide fame.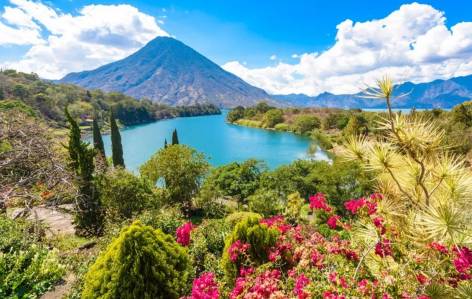 Lake Atitlan
Surrounded by stunning Mayan villages, each with their own distinct personality and filled with locals sporting traditional local garments, Lake Atitlan is a hub of beauty and culture and should be a stop on every Guatemalan itinerary. Exploring the lake by kayak is a popular activity here, as is taking a trip to the Atitlan Nature Reserve. This destination can be explored by walking along the series of hanging bridges.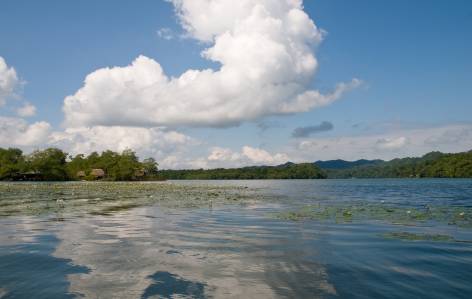 Rio Dulce
Charmingly translated as the 'Sweet River', Rio Dulce is a natural wonder that winds its way from Lake Izbal, through the vibrant Caribbean town of Livingston, all the way to the Caribbean Sea. It's a popular sailing destination, and for those who prefer their water on the warmer side, the hot springs make a great day trip.