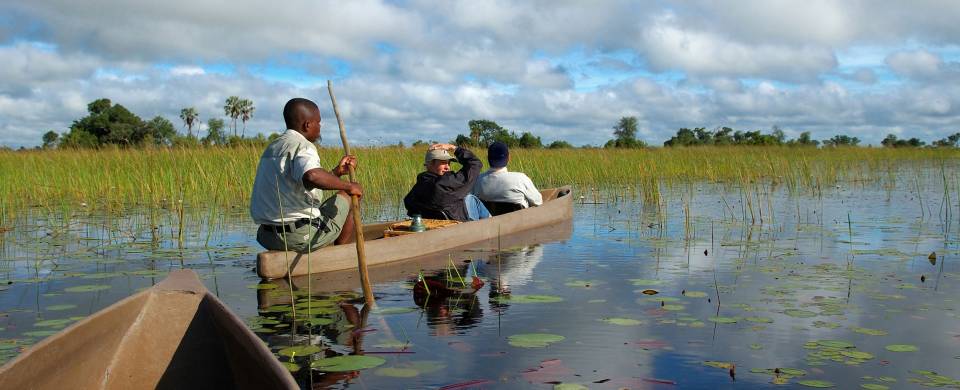 Trips and Tours to Okavango Delta
About Okavango Delta
Starting in Angola and never quite making its way to the ocean, the Okavango River snakes its way through the vast flat plains of Botswana, making the Okavango Delta an oasis of life. The landscape there is made up of thick swathes of vivid green foliage that flourish in the abundance of water that periodically overflows from the river on to the surrounding land. During the dry season, the area becomes a sanctuary for the indigenous creatures of the country as they migrate to the delta in search of water. All kinds of animals such as hippos, elephants, big cats and buffaloes seek solace in this vast watery haven.
Read More
For those interested in catching a glimpse of the incredibly rare and endangered black rhino or cheetah, the Okavanago Delta is a great place to begin your search. Visitors to the area might also get the chance to witness some of the thousands of rock paintings, which date back centuries. In fact it is estimated that the Okavango Delta has been inhabited for, at the very least, 100,000 years, although it is likely that it could be much more than this.
One of the best ways to see this wonderful region is to take a tour along the water in a mokoro, a narrow, wooden boat that is pushed by a long pole, similar to a Venetian gondola. The lack of motor means that it glides silently through the water, allowing passengers to get up close and personal with the wildlife that dwells near the water. Game drives are also available, particularly in remote and secluded areas, so travellers are sure to have a premier experience. Tours on horseback are another popular way of seeing the area and many nature-lovers also choose to participate in fishing excursions.