Peru Trips & Package Tours
The Andes Mountains to the Amazon. Machu Picchu to the Pacific coast. Lush greenery, sandy deserts, and cobbled city streets. Book a guided Peru package trip with On The Go Tours.
It's marvelling at the Lost City of Machu Picchu and watching the sunset over the Andes. It's exploring the Amazon Rainforest and taking a boat trip to meet the indigenous islanders of Lake Titicaca - the world's highest navigable lake. It's a day immersed in nature and an evening wandering the city.
Peru has it all. And it captures the hearts of all those who travel there. Our escorted trips to Peru take in all the main attractions and plenty of hidden gems. From the historic city of Cusco and the incredible Amazon Rainforest to the northern highlights of Trujillo and Mancora.
Our expert guides will introduce you to authentic Peru. They'll take you to the heart of its history, to captivating cultural sites, and to the spots with the best views. You can learn the secrets only a local expert could share. And you'll leave no stone unturned.
Peru Group Package Tours
Our Signature Peru trips are everything that makes us special. Fully escorted by a tour leader, great quality accommodation with daily breakfast, airport arrival and departure transfers, and included sightseeing at all the main attractions - Machu Picchu, the Amazon, Lake Titicaca, Cusco, Lima, and more.

With our longer Handpicked trips to Peru, you'll also be fully escorted and have plenty of guided sightseeing and airport transfers. Accommodation is of a good standard, and these tours also cover more of South America. So if you wanted to combine your trip to Peru with Brazil, Argentina, Chile, Bolivia, and elsewhere, then these could be the trips for you!
Peru Private Package Trips
We also offer a great range of private package trips in Peru, which follow the road less travelled as well as taking in all the main sites, just without the group! Delve into the surviving archaeological sites of the Inca Empire, including Machu Picchu. Admire Colca, one of the world's deepest canyons. There are also some unique experiences on offer, including a trip on the famous Andean Explorer train, and a luxury Amazon cruise from the jungle city of Iquitos. These trips are a great option for couples, your family or groups who want to travel privately in Peru. These trips can be booked as they are off the shelf, or you can contact us to design a tailor-made holiday.
Explore more countries like Peru
Frequently asked questions about our Peru trips
Will I visit Machu Picchu on your Peru trips?
No trip to Peru would be complete without a visit to the Lost City of Machu Picchu, enduring symbol of the Inca Empire. This incredible hilltop citadel is the country's most famous attraction, and all of our Peru adventures include a guided tour of the site.

On the majority of tours we take the train to Aguas Calientes (also known as Machu Picchu village) and ride the bus to visit Machu Picchu, though there are trekking opportunities available on some tours - reach out to our Reservations team for more information.
Where will I stay in the Amazon Rainforest?
We use comfortable jungle eco-lodges near Puerto Maldonado on our tours, with a great range of amenities including ensuites, buffet meals, and bars in which to enjoy a drink. On our Signature tours, you'll be able to enjoy a number of activities at the lodge, including native fishing, and can enjoy boat trips on the Amazon and its tributaries.

You'll be staying within the wild Amazon jungle itself on your Peru tour. So expect to see plenty of native wildlife as you immerse yourself in one of the world's last great wildernesses.
How big are your tour groups in Peru?
We offer small group tours in Peru, with a maximum group size of 16 on our Signature tours, though groups are normally smaller than this, at between 6 - 10.

With our Handpicked tours, the maximum group size is 20 passengers.
What is the standard of accommodation on your Peru tours?
In Peru, we use a range of centrally located 3 - 4 star hotels which make it easy to get out and explore. For example, in Lima, we stay in the upmarket Miraflores district, and in Cusco, we stay within walking distance of the Plaza de Armas main square.

We also like to use traditional accommodation where we can, to make your trip more authentic and fun. In the Sacred Valley, we stay in an old monastery, and in the Amazon, it's comfortable eco-lodges.
When is the best time to visit Peru?
The dry season from May - October is generally considered the best time to visit Peru, as there is little rainfall and fewer mosquitos in the Amazon. These conditions are also better for trekking.

You can find more information with our handy online guide.
As a solo traveller will I have to pay more for my Peru package?
Travelling solo doesn't have to cost more, and solo travellers who are happy to share a room can do so on our Handpicked tours to Peru, subject to there being another solo traveller of the same sex for you to share with. If there is not a solo traveller of the same sex for you to share with, you will be given a single room to yourself at no extra cost. Please contact us if your preference is to room share. If you did want to guarantee the privacy of a single room, then you are also welcome to pay the single room price listed on our website.

On our Signature tours, we offer a reasonably priced single room option, giving solo travellers the comfort and privacy of their own room. The price of the single supplement for each tour is listed on the relevant web page.
Will I get altitude sickness?
Much of Peru is more than 3,000 metres above sea level, including Cusco and the surrounding area. And many of the country's trekking trails take you more than 4,000 metres above sea level where altitude sickness is a real possibility even for those used to these altitudes.

If you have a history of altitude sickness, then we recommend speaking to your doctor before you travel on your Peru tour. Make sure you take things easy when arriving in Cusco, to allow your body to acclimate.
Is Peru a safe destination for travellers from the LGBTQ+ community?
According to the 2022 LGBTQ+ Travel Safety Index, Peru scores a C+ rating for LGBTQ+ traveller safety, ranking 39th out of 203 countries.

Although same sex marriage is not legal, there are broad constitutional and worker protections in place for people of all sexual orientations. Hate crimes against members of the LGBTQ+ community are criminalized and 26 - 50% of consulted citizens consider Peru a good place to live for gay and lesbian people. There are no legal punishments for same sex relations and most trips for LGBTQ+ travellers to Peru are trouble-free.

The LGBTQ+ Travel Safety Index is designed to provide a good overall picture of attitudes towards the LGBTQ+ community in each country and may not reflect the experience of foreign travellers to the country.
Can I drink the tap water?
The tap water in Peru is not safe to drink and can cause stomach upsets and other illnesses. Stick to filtered and bottled water, avoid ice cubes, and only eat fresh, washed items such as salads in establishments you can trust, like your hotel.
Are there any "must-bring" items on your Peru trips?
The main things that our travellers sometimes forget to bring with them are insect repellent and sunscreen. Although mountainous and often cool, exposure to direct sun in Peru can cause sunburn. And insect repellent will come in handy, particularly in the Amazon and at Titicaca. Also for the Amazon, a good pair of binoculars can enhance your experience, helping you to see more of the region's abundant fauna.

We also recommend carrying your own toilet roll, as although Peru is developing fast, toilet facilities in some of the more off-the-beaten-path areas (and trekking routes) can leave something to be desired!
FROM THE AMAZON TO THE ANDES ON OUR PERU TRIPS
Our trips to Peru unite people through a thirst for adventure. You'll experience Peru with like-minded travellers. You'll uncover new sights together. You'll explore new cultures together. And you'll make life-long memories together.

Talk to us about the Peru you want to see. We'll plan your trip for you. We'll fill in the paperwork. And we'll deal with the logistics. It means we can take the stress from you. It means you can focus on what really matters: making every minute count.

From your first booking to landing back home, you receive the exceptional service we're proud to offer. And you can book with us in total confidence - our trips are ABTA and ATOL protected.
The Best of our Peru Trips
A tour of Peru could lead you anywhere: Machu Picchu, the Amazon Rainforest, the Sacred Valley, the legendary Inca Trail. In a country so diverse, it can be hard to find the highlights. So we've pulled out the unmissable destinations you could visit with a Peru package trip.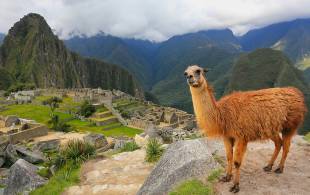 Machu Picchu
Machu Picchu is one of the New Seven Wonders of the World and Peru's unmissable attraction. Built by the Inca Empire, it was never found by the Spanish conquistadors and was lost for hundreds of years until its rediscovery in 1911. The mountain-top citadel will take your breath away. All our tours include a guided walking tour and time to wander around independently to take it in.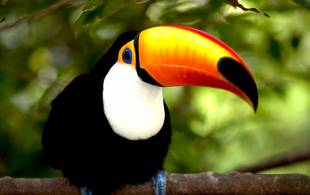 The Amazon
Stay in an eco-lodge under towering treetops. Wake to the calls of macaws and monkeys. Fish and canoe in the forest's rivers. Listen for the unmistakable coughing roar of the mighty jaguar, king of the rainforest. The Peruvian Amazon is a dream for almost any adventurer and a place unlike any other.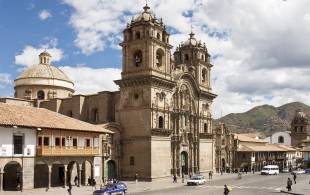 Cusco
The historic former capital of the Incan Empire, Cusco is a city with a rich past of conquest and change. The result? An enchanting mix of cobbled streets, European-style architecture, and strong Peruvian spirit. The gateway to the Sacred Valley, it's a city of famous ruins, flourishing markets and stunning architecture.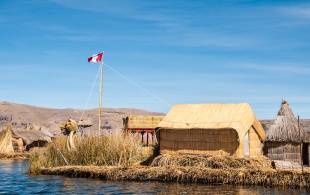 Lake Titicaca
The world's highest navigable lake, Titicaca is a picturesque idyll, home to the fascinating island communities of the Uros people, who live on floating reed islands, reachable only with a boat trip. Located on the border between Peru and Bolivia, Titicaca boasts ancient ruins, highland cultures, and astounding views.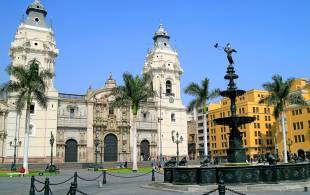 Lima
Known as the City of Kings, the Peruvian capital is a mix of the new and the old. Found on the Pacific coast, there are reminders of Spanish colonialism everywhere, but this is a modern city leading its own future now. Watch the changing of the guard at the Presidential Palace and explore Miraflores, a trendy part of the city near the coast.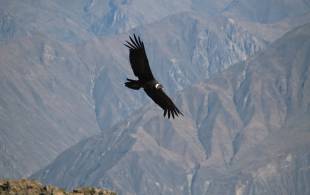 Colca Canyon
The main attraction of the Colca Canyon is the gigantic Andrean Condor, which soars effortlessly above this scar through the landscape. Follow ancient footpaths through the Peruvian Andes Mountains and take in the incredible views of the Latin American Grand Canyon, which is the second-deepest canyon in the world.