Lithuania Group Tours & Trips
Lithuania is best explored alongside the other beautiful Baltic states of Latvia and Estonia, and that's exactly what you will experience on our tours. From the captivating capital of Vilnius to the holy Hill of Crosses in Siauliai and the beautiful Curonian Spit, you'll see all the main sights when you visit Lithuania with us, as well as its Baltic neighbours. We have festive tours in Lithuania too, including a short city break to take in Vilnius' famous Christmas markets!

Our Lithuania tours make use of excellent quality 3 - 4 star hotels with plenty of amenities and are escorted by a qualified tour leader. Sightseeing is done by coach and on foot, with free time to explore at your own pace or join optional activities, too. Airport transfers are also included, for a hassle-free arrival and departure. All in all, if you want a comprehensive tour of Eastern Europe, these trips are perfect for you! Contact our team today if you'd like to start planning your trip!
From the medieval Old Town of Vilnius to the beauty of Curonian Spit National Park, our Lithuania package tours are sure to enchant you.
All of our Lithuania tours include a visit to its beautiful capital city - Vilnius. Boasting one of the largest medieval old towns in Europe, Vilnius offers incredible Baroque architecture, historic cobblestone streets, and a thriving café culture. But that's not Lithuania's only drawcard, its other attractions range from the mysterious Hill of Crosses to the charming port town of Klaipeda and the Curonian Spit, a national park and UNESCO World Heritage Site.
Discover all of this and more on one of our escorted Lithuania trips. Taking in the highlights of this fascinating country and the neighbouring Baltic states, you'll travel in comfortable private transportation and stay in centrally located 3-4 star hotels.
Explore more countries like Lithuania
Frequently asked questions about our Lithuania package tours
Will I have enough time to explore Vilnius on your Lithuania tours?
Lithuania's charming capital city of Vilnius is sure to be a highlight of your trip to the Baltics, and we make sure you have time to explore the city on all of our Lithuania tours.

The majority of our Lithuania tours start in Vilnius, and absolutely all of them include a guided private tour of the main highlights for the group. For tours starting in Vilnius, it is also possible to book pre-tour accommodation, if you would like to spend a few days extra in the city before your tour. Speak to our Reservations team for further details.

As well as Vilnius, we visit other towns and cities in the country, including Nida, Siauliai and Kaunas. Then it's onwards to explore Latvia and Estonia. From the capitals of Riga and Tallinn to the beautiful Rundale Palace and the beach resort of Parnu. The majority of sightseeing is conducted as a private tour with your group.
How big are the groups on your Lithuania package tours?
Our Lithuania trips run with a minimum of two passengers, and the maximum group size is between 16 and 31, depending on the tour. You can see the group size information for each individual tour on the relevant web page.
What is the standard of accommodation on your Lithuania trips?
In Lithuania and the rest of the Baltic states, we stay in good quality, well-located 4-star hotels. You can find information about the hotels we typically use on each tour page, though we do reserve the right to use different hotels of a similar standard if the need arises.
When is the best time of year to visit Lithuania?
Lithuania has four distinct seasons, each with its own pros and cons. The end of spring and summer from May - August offer the best weather for sightseeing and relaxing on the beach. But Lithuania's winter months from November - February are characterized by beautiful winter snow and Christmas markets in Vilnius, which can also be a great time to explore the region. There's more information in our guide on when to visit Lithuania.
Will I be escorted by a tour guide in Lithuania?
Yes you will. All of our trips in the Baltic states are fully escorted by a bi-lingual tour leader, and will enjoy the services of English-speaking tour guides for all included sightseeing. Your tour leader will be on hand throughout your trip to ensure you have a great tour!
Is Lithuania a safe destination for travellers from the LGBTQ+ community?
According to the 2022 LGBTQ+ Travel Safety Index, Lithuania scores a C rating for LGBTQ+ traveller safety, ranking 54th out of 203 countries.

Same sex marriage isn't legal but there are constitutional and worker protections in place for people of all sexual orientations. Hate crimes against members of the LGBTQ+ community are criminalized and 26 - 50% of consulted citizens consider Lithuania a good place to live for gay and lesbian people. Activities or publications against "established family values" are penalized by law, though homosexuality itself has been decriminalized. Most tours and trips for LGBTQ+ travellers to Lithuania are trouble-free.

The LGBTQ+ Travel Safety Index is designed to provide a good overall picture of attitudes towards the LGBTQ+ community in each country and may not reflect the experience of foreign travellers to the country.
Can I drink the tap water in Lithuania?
The tap water in Lithuania is safe to drink, as in the rest of the Baltic states. We would recommend bringing a reusable water bottle on your tour. This will mean you can avoid drinking bottled water, good for the environment and your wallet!
How will I travel around Lithuania?
On our Lithuania trips you will travel in a private coach or minibus, depending on the size of the group. You will stop regularly for sightseeing, and guiding may be in another language as well as English.
What is the currency in Lithuania?
Lithuania adopted the Euro in 2015, and this is also the currency for the rest of the Baltic states. Check OANDA for the latest exchange rates.
What is the current travel advice for Lithuania?
As a UK-based tour operator, we follow the travel advice of the Foreign and Commonwealth Office (FCDO). You can see the most up to date advice for Lithuania travel here.
Book our Poland and Baltic Discovery tour package!
Our longest tour of the beautiful Baltic states also takes in the highlights of Poland, before moving on to visit Lithuania, Latvia, and Estonia. Travelling from Krakow to Tallinn (via Vilnius and Riga), you'll also explore the Polish capital of Warsaw on a guided tour and take in the famous Black Madonna painting at Czestochowa.

Find out more about Poland & Baltic Discovery →
The Best of our Lithuania Trips
From the captivating city of Vilnius to the Hill of Crosses in Siauliai town and the stunning Curonian Spit on the Baltic Sea coast, these are the unmissable highlights of our Lithuania tours.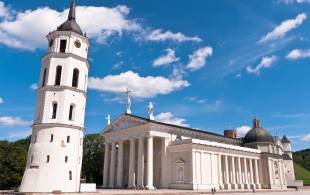 Vilnius
Boasting the largest medieval Old Town in Eastern Europe, as well as a fairy tale castle, Lithuania's capital is a beautiful city, by far the country's main attraction. Vilnius is home to a plethora of quaint streets, historic squares, hip bars and lush parks. Climbing the hill in Kalnai Park is recommended for panoramic views over the city, as is a visit to the ancient Gediminas Tower.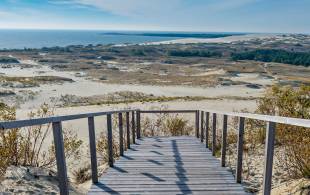 Curonian Spit
The jewel in Lithuania's long Baltic coastline, the Curonian Spit is a 98km long stretch of sand between the Baltic Sea and the Curonian Lagoon that is just 4km wide at its widest point. Shared with Russia, this UNESCO World Heritage Site is dominated by pine forest and sand dunes, home to elk, deer, and wild boar.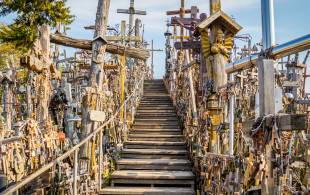 Siauliai
The main attraction in Siauliai is the Hill of Crosses, which is exactly as described. More than 100,000 crosses sit atop an earthen mound, but no one knows for sure how the tradition of placing crosses here came about. It is an important Christian pilgrimage site and the number of crosses is growing all the time.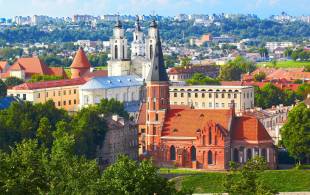 Kaunas
Former capital of Lithuania, Kaunas was the European Capital of Culture in 2022. And it's easy to see why, with its beautiful Old Town, rich history, and diverse culture. Nearby Kaunas Lagoon is worth exploring. And the Ninth Fort is worth a visit for those interested in Lithuanian history - it was a labour camp during both the Nazi and Soviet occupations of Lithuania during WWII.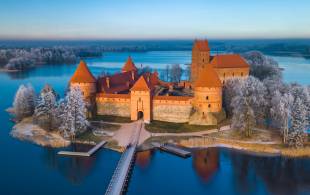 Trakai
Lithuania's former medieval capital, Trakai is scenically located on the shore of Lake Galvė. It's located just 28 kilometres from Vilnius, so can easily be combined with a city break in the capital. The main attraction in the city is Trakai Castle, which sits on an island in the middle of the lake, and dates back to the 1400s.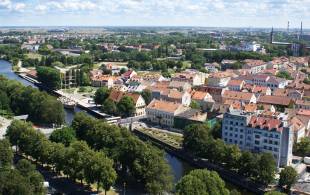 Klaipeda
As Lithuania's westernmost city on the Baltic sea coast, Klaipeda and its surroundings are popular with both domestic and international travellers. It is also home to the country's only major seaport, crucial for the Lithuanian economy. The beautiful beaches of the Curonian Spit are also close by.