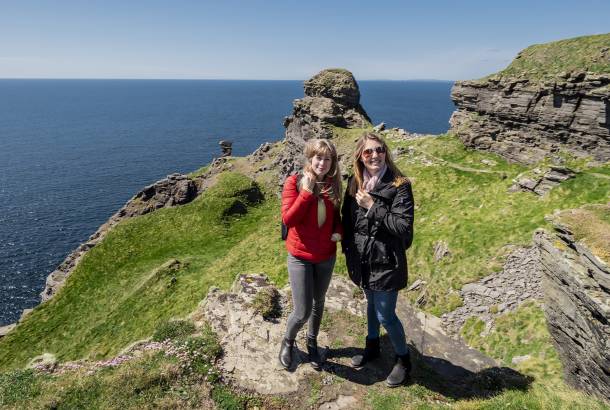 What vaccinations do I need for Ireland?
You should seek medical advice from your local health practitioner before travelling to Ireland and ensure that you receive all of the appropriate vaccinations. Just make sure you're up to date for recommended vaccinations for your home country, including measles, mumps and polio. Other vaccines to consider are the seasonal flu vaccine and Tetanus. Visit the NHS Fit to Travel page or the CDC Traveler's Health page for more information.
Is it safe to drink the tap water in Ireland?
The tap water in both the Republic of Ireland and Northern Ireland is totally safe to drink. Save money and reduce your environmental footprint by avoiding single use bottled water and bring a re-usable bottle on tour with you!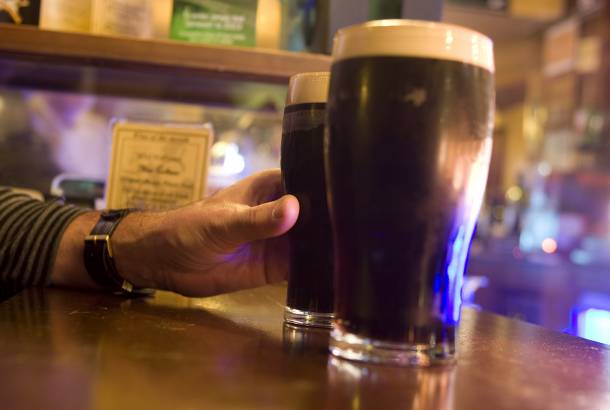 What's the food & drink like in Ireland?
The food in Ireland is characterized by fresh, locally sourced ingredients, and a strong connection to its cultural roots. Potatoes, in particular, have played a significant role in Irish cuisine, becoming a staple in many dishes due to their historical importance during the potato famine in the 19th century.

Classic Irish dishes often make use of ingredients such as beef, lamb, seafood, and dairy products. Stews and hearty soups are popular, with "Irish Stew" being a renowned example made with lamb, potatoes, carrots, onions, and herbs. Another beloved dish is "Colcannon," a combination of mashed potatoes and cabbage or kale, often served with butter.

For seafood lovers, "Fish and Chips" is a quintessential Irish meal, consisting of battered and deep-fried fish fillets served with thick-cut fries. Ireland's coastal location also contributes to the popularity of seafood dishes like "Dublin Bay Prawns" and "Smoked Irish Salmon."

Ireland is also known for its indulgent desserts like "Irish Soda Bread," a traditional bread made with simple ingredients like flour, buttermilk, and baking soda. "Barmbrack" is a delicious fruitcake-like bread, often enjoyed during holidays like Halloween and Christmas.

And then there is Guinness! One of the most iconic and internationally recognized Irish beverages, this dark and creamy stout beer originated in Dublin. It has become synonymous with Irish culture and is enjoyed by people all over the world. Many visitors to Ireland make it a point to experience the authentic taste of Guinness in one of Dublin's historic pubs, or the famous Guinness Storehouse.
Safe eating while travelling in Ireland
Food hygiene standards in Ireland are relatively high so travellers are unlikely to fall ill from food poisoning during their trip. As with anywhere in the world, it is important to be wary of any meat or fish that has not been cooked thoroughly. If food looks old, unclean or poorly prepared, it is best to avoid it.
Is it standard to tip in Ireland?
In Ireland, tipping is generally appreciated but not mandatory. Unlike some countries where tipping is expected, Ireland has a more relaxed tipping culture. The service industry workers in Ireland receive a regular wage, so tipping is considered a gesture of gratitude for excellent service rather than a necessary obligation.

If you receive good service at a restaurant, café, or pub, leaving a tip is a kind way to show your appreciation. A standard tip in these establishments is around 10% of the total bill. In some establishments, an optional service charge may be added to your bill - so make sure you don't tip twice!

For other services like taxis, rounding up the fare or leaving a small tip is common but not required. In hotels, it is customary to tip bellhops or porters if they assist with your luggage.
What is good to shop for in Ireland?
When visiting Ireland, there are several enticing items to shop for that will serve as wonderful mementos of your trip. Ireland is renowned for its exceptional spirits, particularly Irish whiskey and Irish cream liqueur. Bring back a bottle or two that you can savour or share with friends back home.

Aran sweaters are another popular souvenir. These garments, adorned with intricate cable-knit patterns, not only make for stylish additions to your wardrobe but also offer warmth and comfort during colder months. Embrace the Irish heritage and bring home an authentic Aran sweater as a cherished reminder of your time in the Emerald Isle.

Pottery and ceramics are also important in Irish society and culture. From beautifully designed mugs and plates to delicate vases, Irish pottery embodies the country's rich artistic traditions.
Is bargaining acceptable in Ireland?
Bargaining is not a common practice in Ireland, especially in retail stores and established businesses. The culture in Ireland generally follows fixed prices, and attempting to haggle or negotiate the price of goods in standard retail settings is not considered customary. Prices are typically marked, and customers are expected to pay the listed price. However, there might be some exceptions in specific situations, such as in open-air markets, small craft fairs, or with independent artisans and vendors.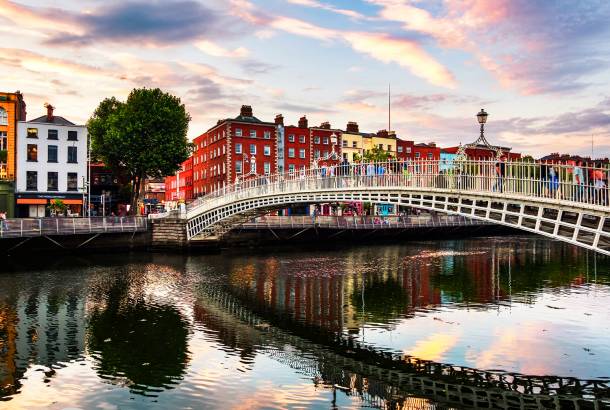 Is it safe for solo female travellers in Ireland?
Ireland is a safe destination for solo female travellers. The country has a low crime rate, and violent crimes are rare, making it one of the safest places to visit in Europe. Irish people are known for their friendliness and hospitality, and visitors, including solo female travellers, are typically welcomed warmly. As always, it is important for all travellers but particularly solo females, to keep their wits about them, especially if wandering larger cities at night. Travellers are advised to stick to main streets and well lit areas, stay in groups where possible and take taxis over walking late at night.
What is the duty free allowance for Ireland?
The Republic of Ireland is in the European Union. If you are travelling from the UK, including from Belfast, you are entitled to buy fragrance, skincare, cosmetics, Champagne, wine, selected spirits, fashion accessories, gifts and souvenirs - all at tax-free equivalent prices.
If you are travelling from within the EU, there is no limit on the amount or value of goods you may import, providing your goods are for personal consumption. Goods imported for commercial purposes are subject to duty and the following guideline amounts are in place to determine whether this is the case:
800 cigarettes or 400 cigarillos or 200 cigars or 1kg of tobacco
10L of spirits over 22% volume, 20L of alcoholic beverages less than 22% volume, 90L of wine (no more than 60L of sparkling wine) and 110L of beer
If you are arriving from a non-EU country, the following goods may be imported into Ireland by travellers over 18 years of age without incurring customs duty:
200 cigarettes or 100 cigarillos or 50 cigars or 250g of tobacco
4L of wine (excluding sparkling wine) and 16L of beer and 1L of spirits over 22% volume or 2L of alcoholic beverages less than 22% volume
Other goods up to the value of €430 for air and sea travellers and €300 for other travellers
It's not permitted to import meat or dairy products into Ireland from outside the EU. Also prohibited are unauthorised firearms and ammunition.
What is the currency for Ireland?
The Republic of Ireland is an EU member state and has adopted the Euro as its currency. Check OANDA for latest exchange rates.

Northern Ireland is a part of the United Kingdom and uses Pound Sterling. Check OANDA for latest exchange rates.

If travelling between the Republic and Northern Ireland, ensure you are able to access both currencies!
What sort of plugs do I need for Ireland and what is the voltage?
In both the Republic of Ireland and Northern Ireland, the standard plug type used is the Type G plug, also known as the "BS 1363" or "UK plug." It has three rectangular prongs in a triangular pattern. The plug has a built-in fuse for additional safety.

If your electronic devices use a different plug type, you will need a plug adapter to convert the plug to Type G when traveling to Ireland. These adapters are widely available at airports, travel stores, or online, and they allow you to plug your devices into the Irish electrical outlets easily. Make sure to check the voltage of your devices as well, as Ireland uses a voltage of 230V, and you might need a voltage converter if your device is not compatible with this voltage.
Is Wi-Fi widely available in Ireland?
As modern European destinations, you won't be surprised to hear that Wi-Fi is easy to find across the Republic of Ireland and Northern Ireland. Most restaurants, bars, cafes and hotels are likely to have Wi-Fi, especially in the big cities. As with anywhere, connection may be a bit patchier in the countryside. If you're travelling to Northern Ireland or the Republic from mainland UK, your data package should work as normal!
What time zone is Ireland on?
Ireland is in the Greenwich Mean Time (GMT) zone during the winter months, which is UTC+0 (Coordinated Universal Time) and does not observe Daylight Saving Time.

However, during the summer months (usually from the last Sunday in March to the last Sunday in October), Ireland switches to Irish Standard Time (IST), which is UTC+1, to make use of longer daylight hours. So, during the summer, Ireland is one hour ahead of GMT.