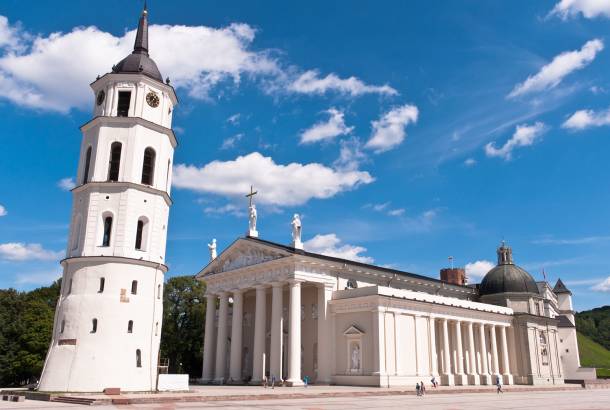 If you're planning a visit to Lithuania and its medieval capital Vilnius, there's a few things you'll need to know before you go. Answering all your questions on food, currency, time zones and more, our top travel tips will help make sure your holiday runs smoothly.
What vaccinations do I need for Lithuania?
You should seek advice about vaccinations from your local health practitioner around four to six weeks before you travel. As a guide, Measles-Mumps-Rubella (MMR), Tetanus, Diphtheria, Polio and Hepatitis A are all recommended.
Is it safe to drink tap water in Lithuania?
As a modern European nation, Lithuania generally has safe drinking water. To minimise your plastic waste footprint, why not consider taking a reusable drinking bottle with you, which can be filled up at your hotel. This will save you money as well as waste!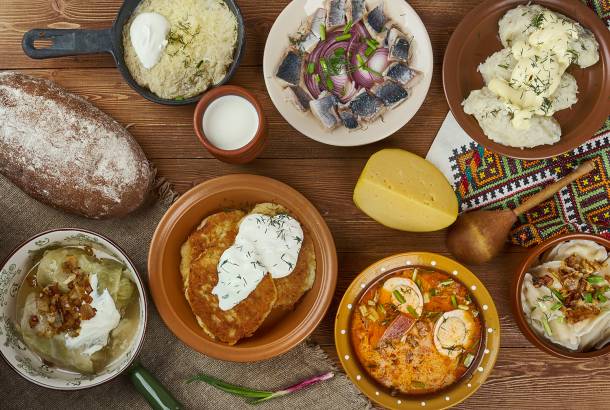 What's the food like in Lithuania?
Lithuanian cuisine is typically simple, but consists of a variety of hot and hearty dishes meant to keep you warm during the cold Eastern European winters. You'll find rye bread and potatoes to be staples, with various meats, root vegetables such as beetroot, mushrooms, berries and dairy products all common ingredients.
Bread, or duona¸ has been the centre of Lithuanian cuisine for centuries and played a role in many agrarian rituals. Dark rye bread can be served for breakfast, lunch and dinner and kepta duona is a form of fried rye bread, which is seasoned with garlic and salt.
Popular starters include beetroot soup, which is served cold in the summer, and salted herring. Lithuania's national dish is known as cepelinai, and consists of stuffed potato dumplings filled with meat, mushrooms or cheese and doused in a cream and bacon sauce. Potato pancakes are also very popular, as are fried curd cakes and grybukai, a type of mushroom-shaped cookie.
Mead, Lithuania's former nobleman's drink, and beer are the most popular alcoholic beverages, with local beer brands including Švyturus, Utenos and Kalnapilis. Gira is a traditional soda drink made from fermented bread.
Safe eating while travelling in Lithuania
Food hygiene standards are generally high in Lithuania, so travellers are unlikely to fall ill during their trip. However, as with any destination, it's still important to follow basic food safety precautions. Check that meat and fish has been cooked thoroughly, fruits and vegetables are washed and avoid anything that looks old, unclean or poorly prepared.
Is it standard to tip in Lithuania?
Tipping was only introduced to Lithuania in the 1990s and therefore outside of cities and resorts isn't a common practice. Most Lithuanians won't expect any tip, however, if you would like to reward good service in a restaurant, 10% is seen as a fair amount.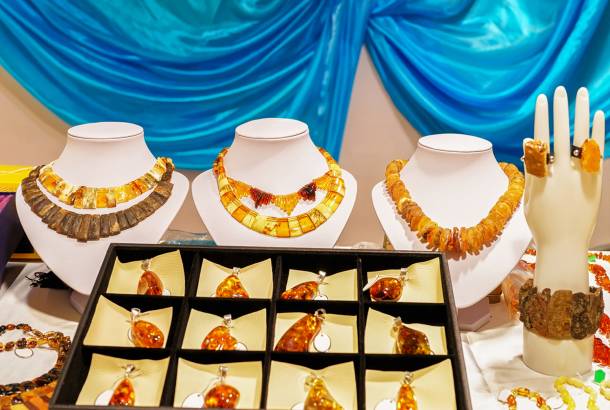 What souvenirs are good to shop for in Lithuania?
Amber products are extremely popular in Lithuania, with artists creating an endless array of designs from small stud earrings to beautiful necklaces. Although amber can be purchased elsewhere, Baltic amber is believed to have the highest quality and is a point of national pride in Lithuania. You'll find amber products throughout the country, in both street markets and luxurious boutiques.
Traditionally, linen was a relatively cheap and accessible material in Lithuania and has been used across the country for centuries. Therefore when travelling, you'll discover plenty of shops selling linen products such as clothes, towels and tablecloths.
Lithuania has also long been known for its tradition of making mead, an alcoholic drink which stretches back to the Middle Ages. It is not widely consumed in the modern world, but could make a quirky gift for friends and family back home. Wooden folk-art traditions are also still strong in Lithuania and you'll be able to find a variety of carved wooden boxes, statuettes, bowls and spoons for sale.
Is bargaining acceptable in Lithuania?
Generally, bargaining is not acceptable in Lithuania and it is only possible to negotiate prices at marketplaces, bazaars and street stalls. Prices can be lowered by 10-30%, although don't count on it and be aware that tourists may be charged higher prices.
Is it safe for a single woman to travel in Lithuania?
Lithuania has a low crime rate and is considered a safe destination for solo females. That said, it is still recommended to follow basic precautions such as keeping your valuables concealed and bags attended at all times. When walking around at night, it's best to be in a group and stick to main roads and well-lit areas. And if you are checking out the capital's nightlife, avoid accepting drinks from strangers and keep your drink within sight.
What is the duty free allowance for Lithuania?
Lithuania is within the European Union. If you are travelling from within the EU, there is no limit on the amount or value of goods you may import, providing your goods are for personal consumption. Goods imported for commercial purposes are subject to duty and the following guideline amounts are in place to determine whether this is the case:
800 cigarettes or 400 cigarillos or 200 cigars or 1kg of tobacco
10L of spirits over 22% volume, 20L of alcoholic beverages less than 22% volume, 90L of wine (no more than 60L of sparkling wine) and 110L of beer
If you are arriving in Lithuania from a non-EU country, the following goods may be imported by travellers over 17 years of age without incurring customs duty:
200 cigarettes or 100 cigarillos or 50 cigars or 250g of tobacco (if arriving by air)
40 cigarettes or 20 cigarillos or 10 cigars or 50g of tobacco (if arriving by other means)
4L of wine and 16L of beer and 1L of spirits over 22% volume or 2L of alcoholic beverages less than 22% volume
Other goods up to the value of €430 for air and sea travellers and €300 for other travellers (reduced to €150 for children under 15)
It's not permitted to import meat and dairy products from outside the EU, narcotics, unlicensed firearms and ammunition. There are restrictions on the import of plants and plant products. Also prohibited is the export of drugs, unlicensed firearms and ammunition. You need to obtain a permit to export cultural artefacts and antiques.
What is the currency in Lithuania?
Lithuania's official currency is the Euro, which the country adopted in 2015. Check OANDA for the latest exchange rates.
It is possible to exchange US Dollars and British Pounds, as well as the currencies of neighbouring countries such as Polish Zloty, in local banks. We don't recommend exchanging currency in airports, as the rates offered here are generally uncompetitive.

Although credit and debit cards are widely accepted, they aren't universally accepted in Lithuania. They're less popular in smaller towns and never used in traditional markets, however, ATMs are readily available – especially near large supermarkets. Visa and MasterCard are commonly accepted, with American Express more limited. Traveller's cheques are not accepted by retailers and can only be exchanged at a few outlets.
What do things cost in Lithuania?
Lithuania, like much of Eastern Europe, isn't known for being particularly expensive. You'll be able to find a hostel or budget hotel for between $20 - $50 per night, however, you'll be looking at much more for top-end accommodation. Food and drink will set you back very little, with a beer costing around $2 and the country's national dish cepelinai around $8. Although street food is even cheaper and just as delicious.
When it comes to public transport, local buses are the way to go and a one-way trip costs little over $1. However, in cities such as the charming Vilnius, you'll find centres to be relatively small and compact, so you'll most likely want to explore on foot.
What sort of plugs do I need for Lithuania and what is the voltage?
In Lithuania the standard voltage is 220 V and the standard frequency is 50 Hz. European-style two pin plugs are used and we recommend that you pack a universal travel adaptor.
Is WiFi widely available in Lithuania?
Yes, Lithuania actually has one of the fastest and most reliable public Wi-Fi networks in the world. You'll be able to get online in most public spaces, including restaurants, cafes, bars and shopping malls, as well as hotels.
What time zone is Lithuania on?
Lithuania is 2 hours ahead of Greenwich Meantime (GMT). From the last Sunday in March to the last Sunday in October, Lithuania observes Daylight Saving and is 3 hours ahead of GMT.
See Also
Check out these handy travel guide resources for more information about visiting Lithuania.
Best Time to Visit – the climate and seasons in Lithuania
Best Places to Visit – our pick of Lithuania's top destinations