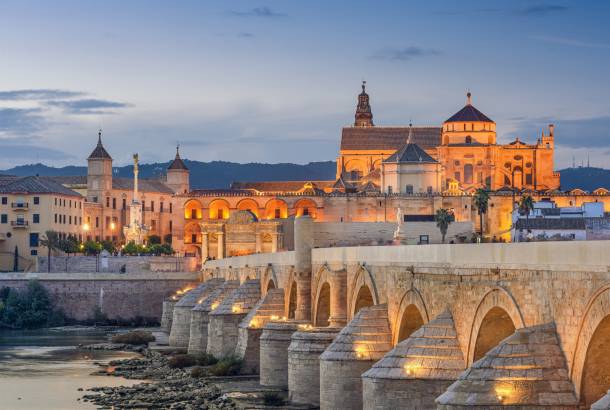 Ensure your trip to Spain runs smoothly and arm yourself with this essential pre-travel knowledge. Here you'll find everything from what health precautions you should take to what currency you'll need and whether WiFi is readily available.
What vaccinations do I need for Spain?
You should seek medical advice from your local health practitioner before travelling to Spain and ensure that you receive all of the appropriate vaccinations. Just make sure you're up to date for recommended vaccinations for your home country. Other vaccines to consider are Tetanus. Visit the NHS Fit to Travel page or the CDC Traveler's Health page for more information.
Is it safe to drink the tap water in Spain?
Tap water is safe to drink in the major cities in Spain, although it should be avoided in rural areas where the sanitation quality isn't as good. It's best to play it safe with bottled water in these areas.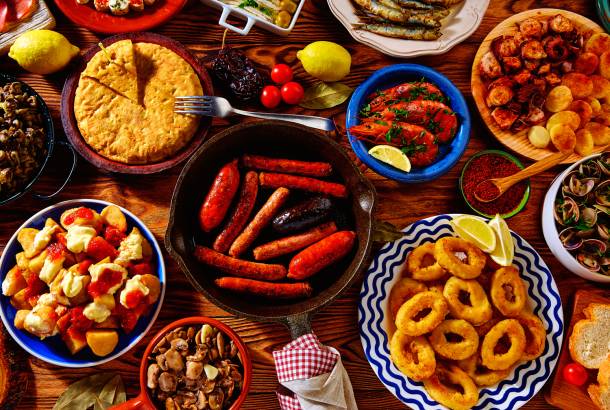 What's the food like in Spain?
For many of us, Spanish food needs no introduction. Tapas is loved the world over and, of course, it's best when it's authentic. Tapas are basically appetizers and snacks, served hot or cold. Patatas bravas and croquetas are popular ones. Although tapas aren't the only type of food that Spain features.
Spanish cuisine differs regionally and is heavily influenced by the history of that area. As an example, gazpacho is a typical Andalucían dish. It's a type of soup that includes tomato, cucumber, onion, bell pepper, garlic, olive oil, water, wine vinegar, salt and stale bread. In La Rioja the locals enjoy Rioja potatoes, which are basically potatoes with chorizo, garlic, olive oil, salt and the spice pimento, a Spanish sweet paprika.
It's in Valencia that paella hails from. It's a delicious dish that combines white rice, chicken and rabbit, white beans, green beans, snails, rosemary and saffron. Seafood paella (replacing seafood with meat) and mixed paella (combining the two) are two popular varities, although there are many more across Spain.
Safe eating while travelling in Spain
Food hygiene standards in Spain are generally very high so travellers are unlikely to fall ill from food posioning during their trip. As with anywhere in the world, it is important to be wary of any meat or fish that has not been cooked thoroughly. If food looks old, unclean or poorly prepared, it is best to avoid it.
Is it standard to tip in Spain?
In Spain there isn't one simple rule for tipping. If you are happy with the service in restaurants then a 10% cash tip is common. However, you aren't likely to cause offence if you don't leave a tip. Hotel staff don't usually expect a tip but leaving 1-2 Euro if someone carries your bags or delivers food to your room is a nice gesture. With taxis, tips aren't expected but rounding up the total bill or leaving loose change is appreciated.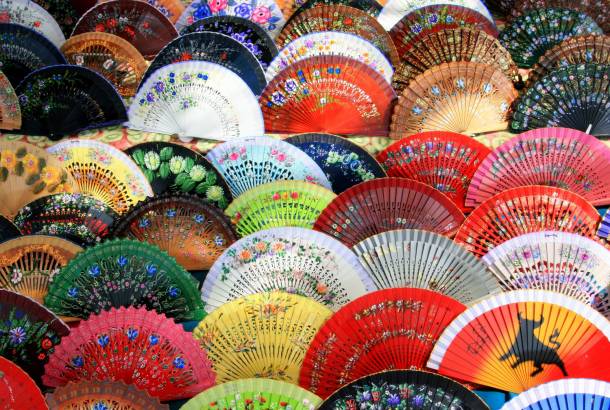 What to shop for in Spain?
Spain is a great place to shop with a wide choice of souvenirs to bring home from your visit. Cities like Seville, Madrid and Barcelona have high streets bursting with designer and boutique stores that are some of the best in Europe.
For something a little different, the flea markets in Spain are great for a bargain. The Calle Ribera de Curtidores in Madrid takes place every Sunday and has a great vibe. You could even stroll down Barcelona's Las Ramblas and find some interesting bargains.
If you're after something distinctly Spanish, consider a colourful fan. Folding hand fans may have originated in ancient Egypt but Spain has well and truly made them their own, making them a prominent feature in flamenco dancing and offering a stunning selection of colours, patterns and textures.
The food markets in Spain are particularly good. Olive and olive oil go for dirt cheap yet it's also some of the best quality in the world. Wine is another thing to stock up on should it be your tipple as you can get a seriously good bottle for less than 5 Euro.
Is bargaining acceptable in Spain?
Bargaining is not generally accepted in Spain, although in the flea markets and with street vendors a bit of bargaining is appropriate in Spanish culture.
Is it safe for a single woman to travel in Spain?
Spain is a very safe destination for solo female travellers, especially within popular tourist destinations such as Barcelona, Madrid, San Sebastian and Seville. Although violent crime against tourists is extremely uncommon, petty theft is more frequent. All travellers, regardless of gender, should stay alert for pickpockets. It's relatively safe to walk about at night but, as with anywhere in the world, it's advised that people stick to the main and well lit roads and try to stay in a group. If in doubt, take a taxi.
What is the duty free allowance for Spain?
Spain is within the European Union. If you are travelling from the UK you are entitled to buy fragrance, skincare, cosmetics, Champagne, wine, selected spirits, fashion accessories, gifts and souvenirs all at tax-free equivalent prices.
If you are travelling from within the EU, there is no limit on the amount or value of goods you may import, providing your goods are for personal consumption. Goods imported for commercial purposes are subject to duty and the following guideline amounts are in place to determine whether this is the case:
800 cigarettes or 400 cigarillos or 200 cigars or 1kg of tobacco
10L of spirits over 22% volume, 20L of alcoholic beverages less than 22% volume, 90L of wine (no more than 60L of sparkling wine) and 110L of beer
If you are arriving from a non-EU country, the following goods may be imported into Spain by travellers over 18 years of age without incurring customs duty:
200 cigarettes or 100 cigarillos or 50 cigars or 250g of tobacco
4L of wine (excluding sparkling wine) and 16L of beer and 1L of spirits over 22% volume or 2L of alcoholic beverages less than 22% volume
Other goods up to the value of €430 for air and sea travellers and €300 for other travellers
It's not permitted to import meat or dairy products into Spain from outside the EU. Also prohibited are unauthorised firearms and ammunition.
What is the currency in Spain?
The official currency in Spain is the Euro. Check OANDA for latest exchange rates.
British Pounds, US Dollars and other major currencies can be easily exchanged locally in banks or bureau de change or prior to departure. Credit cards such as Visa and Mastercard are widely accepted in most of the major hotels, restaurants and shops. Use of American Express is not as common.
Traveller's Cheques are not recommended as they're often difficult to exchange and incur high fees.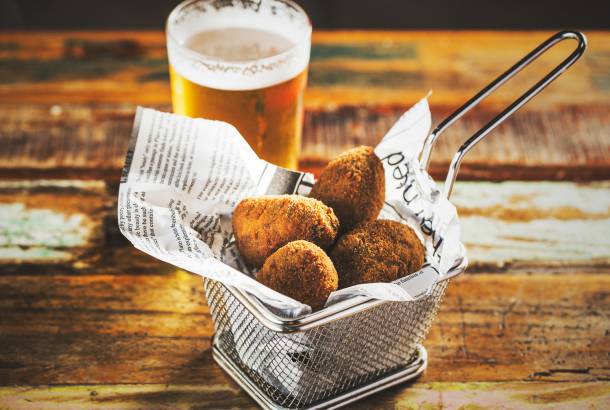 What do things cost in Spain?
Spain is a relatively affordable destination as far as Europe is concerned. A meal at an inexpensive restaurant costs around USD$9 - $14 and it will usually be of a very high quality. A dorm bed in a hostel will cost from USD$23 – 34 and a mid-range hotel will range from USD$74 - $160. A pint of domestic beer will cost around USD$2.30. If you are making use of public transport, a one-way train ticket will set you back about USD$1.65.
What sort of plugs do I need for Spain and what is the voltage?
Standard voltage is 220 volts, AC 50Hz. Primary sockets generally require European plugs of the two round-pin variety. We recommend that you pack a universal travel adaptor. You will need a voltage converter and plug adaptor in order to use U.S. appliances.
Is Wi-Fi widely available in Spain?
Yes, WiFi can be found in the majority of restaurants, bars, cafes and hotels throughout Spain and is likely to be both fast and reliable.
What time zone is Spain on?
Spain in the Central European Time Zone (CET), which is 1 hour ahead of Greenwich Mean Time (GMT+1).
In Summer, Daylight Saving Time is observed in Spain. During this period time is shifted forward by 1 hour to make Spain 2 hours ahead of Greenwich Mean Time (GMT+2 ). After the summer months the time in Spain is shifted back by 1 hour to Central European Time. Daylight savings runs between 26th March and 29th October.