From the remarkably relaxed capital of Vientiane, to enchanting, beautifully preserved former capital of Luang Prabang. Discover the spellbinding magic of Laos. Timeless temples, saffron clad monks and spectacular scenery abound!
Trip Highlights
Vientiane – Explore Laos' capital on a guided city tour including the iconic golden Pha That Luang and the Patuaxi Monument
Thalat – Browse the stalls at the colourful market where various hill tribes come to trade goods
Luang Prabang – Ride on a tuk-tuk around the old town and visit the striking Wat Xiengthong Monastery
Khouangsi Waterfall – Swim in the turquoise pools, enjoy stunning scenery and meet ethnic minority villagers en route
Vang Vieng – Visit the blue lagoon and hike the forested hill to the Tham Pou Kham cave.
Living The Land Farm Experience – Plough a rice paddy with a water buffalo and enjoy a delicious lunch of local cuisine
Included
Breakfast daily, 1 lunch and 2 dinners
Airport arrival transfer day 1 and departure transfer day 7
Excursion to Khouangsi Waterfall and ethnic minority villages
Escorted by English speaking Laotian tour guide
6 nights 4 star and special class hotels
Guided sightseeing - Vientiane, Vang Xang, Vang Vieng, Tham Jang Caves and Luang Prabang
Half day living land farm experience
All relevant transfers and transportation in private air-conditioned vehicles
Not Included
International flights and visa
Entrance Fees: USD$20-30pp, paid in USD
Tip for your tour guide. We recommend you allow USD$3-6 per day, per traveller. Tipping your guide is an entirely personal gesture
Tipping Kitty: USD$20-30pp, paid in USD

Vientiane
Sunday. Welcome to Laos! Enjoy an airport arrival transfer and hotel check in. Spend the afternoon and evening at leisure.
Overnight: Vientiane
Vientiane city tour
After breakfast we explore the charming and laid-back capital of Laos with a city tour. We visit the oldest Buddhist monastery temple in the country - Wat Si Saket - and the former royal temple of Haw Pha Kaeo, built to house the famed Emerald Buddha. Today it serves as the national museum of religious art. Learn about Laos' tragic past and present suffering at the COPE Centre, an organization that works with victims of unexploded bombs and mines. Next visit Pha That Luang, the most important monument in Laos and a symbol of both Buddhist religion and Lao sovereignty.

We also stop to view the imposing Patuxay monument - Vientiane's own Arc de Triomphe. Later in the afternoon enjoy time exploring the hundreds of Hindu and Buddhist sculptures scattered throughout Buddha Park. End the day with a sunset dinner besides the Mekong River.
Overnight: Vientiane | Breakfast, Dinner
Vang Vieng
Vientiane – Vang Vieng. We leave the capital early and journey north through lush countryside to Vang Vieng, peaceful village of Vang Vieng, situated on a curve of the Nam Song River. In the afternoon, we cross the Nam Song River and venture to the other side, traversing a picturesque, unpaved route that winds through the Vang Vieng countryside, passing small villages and rice fields. This journey leads us to the blue lagoon and the Tham Pou Kham cave. The striking landscape, with its towering karst rock formations between Vang Vieng and the blue lagoon, is a sight to behold and makes the trip truly worthwhile. Inside the cave, we find a maze of chambers, galleries, and crevices adorned with stalagmites and stalactites, and the air inside is cool and damp. Following our exploration of the cave, we descend to the Blue Lagoon, where you can relax, swim, or simply unwind in the refreshing waters.
Overnight: Vang Vieng | Breakfast, Dinner
Tham Jang Caves
Vang Vieng – Luang Prabang. This morning we explore the famous caves of Tham Jang once used by the local people as a hideout during Chinese invasions. We observe the lifestyles of the local people at Ban Huai Ngai village before making our way further north to the UNESCO World Heritage listed city of Luang Prabang.
Overnight: Luang Prabang | Breakfast
Consider rising early this morning to view the daily ritual of saffron-clad monks and their procession down the streets of Luang Prabang collecting alms from the residents. After breakfast this morning we hop on a vintage tuk-tuk and explore the old town of Luang Prabang. Our first stop is the bustling morning market where we learn about some of the local products on offer. We will then visit the magnificent Wat Xiengthong with its low sweeping roof, representing traditional Laotian architecture. We end our morning at the impressive former Royal Palace which is now a national museum filled with ornate reception rooms and spectacular artifacts.

This afternoon we make our way to Khouangsi Waterfall, stopping en route at local villages to discover the different ethnic groups in this region. At the falls we can take in a dip in the turquoise pools, enjoy the scenery or explore the forest on one the walking trails.
Overnight: Luang Prabang | Breakfast
Living Land Farm Experience
This morning we head into the countryside to visit the Living Land Farm for a fun and hands on half day farming experience. Learn how rice is planted and cultivated in the rice paddy, experience the life of a rice farmer and plow the rice paddy with a water buffalo. Then we enjoy a tasty lunch of traditional Lao dishes at the farm's Rice House, while soaking up the spectacular views of rice terraces and mountains beyond.

The afternoon is free for you to independently explore more of Luang Prabang. Consider visiting the sobering UXO Centre to learn more about the Second Indochina War, take in more of the city's beautiful temples or head to the Ock Pop Tock weaving center set in beautiful tropical gardens.
Overnight: Luang Prabang | Breakfast, Lunch
Farewell Laos
Saturday. Spend the morning further exploring this delightful city before hotel check out and an included departure transfer to the airport.
Breakfast
The hotels listed below are ones which we frequently use on this tour. We reserve the right to substitute these hotels to ones of a similar standard.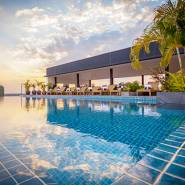 Lao Poet Hotel, Vientiane
The stylish Lao Poet hotel provides a relaxing retreat in the heart of Vientiane. The beautifully appointed guest rooms feature polished concrete floors and warmly coloured walls. En suite bathrooms are equipped with a spacious rainfall shower and complimentary bottled water is provided each day. Up on the rooftop guests can enjoy a Signature Cocktail whilst the sun is setting and a swim in the hotel's infinity pool. The restaurant serves famous Lao dishes and tasty Western fare, while the Poet Spa offers wide selection of beauty and health treatments. Conveniently located within walking distance of the National Museum, ​major temples, the Patuxay Monument and the Mekong River, this popular hotel is also surrounded by a variety of restaurants, bustling street food stands and the popular Vientiane night market.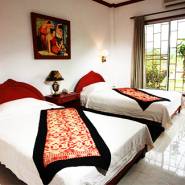 Vansana Vang Vieng Hotel, Vang Vieng
Nestled on the banks of the Nam Song River, the Vasana Vang Vieng Hotel is conveniently located close to the centre of town and offers spectacular views of the surrounding mountains. Guest rooms are clean and comfortable with complimentary wifi and modern amenities, with a taste of Laos cultural design. Why not sit back and relax in the pool overlooking the river after a day of sightseeing.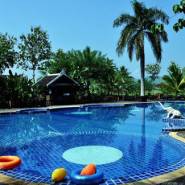 Santi Resort and Spa, Luang Prabang
Set just outside the main town of Luang Prabang, the Santi Resort and Spa is a modern property set in manicured gardens. Guest rooms are set on two levels and are spacious with excellent amenities. Meals are served in the main restaurant and the outdoor pool is perfect for a cooling afternoon dip. If you need to get into town then take advantage of the free shuttle service that runs nearly every hour. Located on the outskirts of Luang Prabang.
Reviews
Travellers have rated this tour as 4.33 out of 5 based on 3 recent reviews
"
Pom was excellent. Very informative. His English was not the best but overall his other qualities made up for that.
A free day in Luang Prabang would have been better than the trip to the waterfall.
Not sure about the road trip to Vientiane. A plane ride would have been better allowing us to spend more time in that city. There are a number of tourist spots in Vientiane that we missed.
The excursions in Luang Prabang including the Elephant ride were excellent."
David Niven
• Submitted 11 Dec 2016
Tour





Guide





Country





"
What an amazing experience. Laos has been high on my list for many years and this tour did not disappoint. I just happened to arrive during the end of Buddhist Lent which I feel quite honoured to have been able to observe the local people in the temples as they were all still open to the public. The atmosphere was so festive in Vientiane! Vang Vieng was beautiful, would have loved the opportunity to go hot-air ballooning. An early morning spent on the Nam Song river was so peaceful. Luang Prabang was a wonderful way to end the tour. Exploring on foot, and enjoying all that nature has to offer.
Our guide Xang, for our tiny tour of 2 people, was very personable and not only enjoyed sharing his knowledge of the country and culture, but it was a joy to watch him seeing new things in his own country. His passion for his home was very evident."
Jessica Cassidy
• Submitted 02 Nov 2016
Tour





Guide





Country





"
Thoroughly enjoyed our tour of Laos. Our guide Lee was very knowledgeable and controlled his 6 senior travelers very well. Laos is a beautiful country and the people are very friendly. The only criticism I would have is the description of this being a 8 day tour, we thought it was really more of a 6 day tour but had a lovely time anyway. Thank you."
Jayne Whiting
• Submitted 22 Feb 2016
Tour





Guide





Country





"
Morning Charlie,
OTG have outdone themselves yet again with yet another fabulous tour. Pom was an excellent guide and was super helpful and informative throughout the trip, even to the point of offering me options when part of our activities included something I have a great fear of, but his manner put me at ease and helped me embrace my phobia. I left my completed questionnaire with him on my departure date.
I've voted for OtG with the British Awards (putting my London office's postcode in that required field).
Many thanks for all your valuable assistance "
Trina
• Submitted 17 Sep 2013
"
This was my first trip with On The Go Tours, and if all of OTGT's trips are this well-organized and the guides are as knowledgeable and friendly as Vanh, then I hope I can participate on more trips. Vanh is an exceptional guide. I learned quite a lot about Laos and its people during the trip thanks to Vanh's explanations and answering all of our questions. Both Vanh and Mr Keo took very good care of us throughout the entire week. I was very impressed by Mr Keo's driving skills, especially in the difficult mountain passes. I was also very impressed with Vanh's command of the English language...
Thank you very much! "
Kate Alessi
• Submitted 25 Feb 2013
At a Glance
Range
Trip Type
Starts
Vientiane
Ends
Luang Prabang
Departs
Sundays
Group Size
Min 2 / Max 24
Hotel Rating
4 star
Tour Guide
Yes - escorted by a tour guide
Meals
Breakfast: 6, Lunch: 1, Dinner: 2
Countries
Minimum Age
15 yrs, accompanied by an adult
Arr. Transfer
Yes
Dep. Transfer
Yes
"
Pom was excellent. Very informative. His English was not the best but overall his other qualities made up for that.
A free day in Luang Prabang would have been better than the trip to the waterfall.
Not sure about the road trip to Vientiane. A plane ride would have been better allowing us to spend more time in that city. There are a number of tourist spots in Vientiane that we missed.
The excursions in Luang Prabang including the Elephant ride were excellent."
David Niven
OTG001832
Highlights of Laos - 7 days
Southeast Asia
Signature
Southeast Asia
false
10
Laos
https://www.onthegotours.com/Laos/Highlights-of-Laos-7--Days
https://www.onthegotours.com/repository/VientianetoVietnamitinerary4Monks-in-Laos-152411319126392_crop_flip_300_300_f2f2f2_center-center.jpg
Group_Tours