The Northern Lights have arrived
Top of the morning to you from Ireland!
Escorted Group Tours and Private Trips
On The Go Tours are an award-winning provider of unforgettable tours and private holidays. From Egypt to Ecuador, India to Iceland, we love helping you see the world your way, unlocking the finest sights and experiences the world has to offer. Whether you're after culture, adventure, or just want to kick back and relax, our outstanding local guides get you to the heart of your destination and deliver truly authentic experiences.
What's new from On The Go Tours
Brand new tours!
Time for Thailand
Launching a new range of Thailand group and private tours, departing in 2023 and 2024! Take in the best of Bangkok, the temples of Chiang Rai, the beaches of Phuket and the historic River Kwai by 5-star cruiser. Book today!
Read More >
Our Tours of the Week
It's always good to have a holiday booked that you can look forward to. Below we've featured some of our favorite trips for this week! Our newest destination is New Zealand, and our China tours are filling fast for 2024! Whichever tour you are interested in, book online or reach out to our team today for more information!
Frequently asked questions about On The Go Tours
Who are On The Go Tours?
We are an award-winning provider of group tours and private holidays to more than 55 destinations around the world. Led by expert local guides, our tours get you to the heart of adventure travel destinations, from Egypt and India to China, Japan, Peru and Morocco. In Africa, spot the Big Five on safari in countries including South Africa, Tanzania, Kenya, Botswana and Namibia.

Our guided tours in Europe are a great way to explore countries comprehensively. In Italy, Spain, Portugal, Ireland, the Baltics, Greece and elsewhere we will visit many destinations each day – we handle the logistics of this, so you don't have to! In Croatia you can set sail on an island-hopping adventure, and in Iceland you can take in the very best natural wonders of this spectacular destination. In Turkey we uncover all the highlights, from Istanbul to Cappadocia, and plenty of hidden gems too!
Who is welcome on your group tours?
We have trips catering for everybody. Solo travelers, couples and groups of friends can all join our tours. If you have a large group, such as a sports club or extended family, then we can also operate many of our group tours on a private basis for you. The average age of travelers on our tours is 48, but we take travelers in their 20s all the way up to those in their 80s and beyond. As long as you have a thirst for adventure, you're welcome to join us on tour. The beauty of group touring is that you meet people from all different walks of life! We take travelers from English-speaking countries around the world, including the USA, Australia, UK, South Africa, Canada, and New Zealand.

We have a selection of dedicated family tours for families with children aged 5 or over, and some designed for families with teenagers too. There is no upper age limit on our tours, though if you are aged 70 or over (65 for trips to Africa) we will ask you to complete a tour suitability form to ensure you are fit enough to safely join the tour.
I don't fancy a group tour, can you offer me a private trip?
If group touring isn't for you, then you will be glad to know that we also offer a selection of private tours in the majority of our destinations. These include all the same benefits as our group tours: expert guides, great accommodation, guided sightseeing, transportation and transfers, and lots more beside! But you can travel privately, with just your partner, friends, or family.
I'm a solo traveller, which tours can I go on?
All of them! Group tours are an excellent choice for solo travelers, allowing you to meet like-minded people and share incredible life-affirming experiences. Many solo travelers on our tours make friends for life, and on their next booking they are no longer travelling solo!

On the majority of our tours, a small single supplement applies to solo travelers for the privacy of their own room. We keep this as low as possible to ensure we can always welcome solo travelers. In some destinations, such as on our Africa camping safaris and some of our Iceland, Morocco and South America tours, it is possible for you to room share with another solo traveler of the same sex, avoiding the need for a single supplement.
Do you have a range of tours for seniors?
We're not called 'On The Go' for nothing! Many of our trips are active, with plenty of walking needed to explore local sites and attractions. And other activities, such as canyoning in Jordan or trekking in Morocco do require decent fitness.

However, as long as you are relatively fit and able, you will be perfectly capable of joining the majority of our tours. Age is no barrier to travel, and although you will do plenty of walking, there is always free time for you to relax and you'll have a chance to sit down over lunch or as we drive between destinations.

Some of our tours are more active than others, so if you are a bit less agile than you used to be, why not check out the tours we recommend for the over 50s? Please note that if aged 70 or over (65 if travelling to Africa) we will ask you to complete a tour suitability form to ensure you are physically able to complete the tour. This is for your safety, as well as the safety of our crew and your fellow travelers, and to ensure the trip is not slowed down.
Are all of your destinations safe for LGBTQ+ travellers?
We travel to some countries where attitudes and laws surrounding LGBTQ+ issues are not as liberal as in other destinations. Travelling in a group offers additional safety and security for LGBTQ+ travelers in places that they may not feel comfortable travelling alone. Nobody should miss out on bucket list travel because of who they are! If you have specific questions about travelling to one of our destinations as an LGBTQ+ traveler then please don't hesitate to contact us. If you would feel more secure travelling somewhere with relaxed attitudes to the LGBTQ+ community then we recommend the LGBTQ+ Travel Safety Index, which can be a good starting point for deciding where to travel!
How do I work out which are the best tours for me?
We offer more than 500 trips, so it can be tricky to pinpoint the one for you! The best thing to do is to contact our Reservations team, who are on hand 24/7 to answer your questions and help you with your booking. But we also have lots of great trip ideas and themes for you to explore. Are you looking to book a big trip in order to celebrate your 50th birthday? Are you planning a festive trip this Christmas? Or perhaps you're an avid hiker, and would like to plan a big trekking holiday? We've collated the best trips for all of these situations and many more.
Do you offer all-inclusive package trips?
Sort of! When you book a group tour with us, we guarantee all of your accommodation and transportation (airport transfers are sometimes included). Sightseeing with a local tour guide and many meals are also included on our itineraries. If there are any internal flights on your tour then these are usually included too.

We do not include international flights in our packages. The reason for this is to give you greater flexibility when booking our tours. If you're booking a group tour to India and you have never been before, you may wish to spend extra time in Delhi before your trip, or perhaps you want to explore Bangladesh first and then fly to India for your tour afterwards? By not including international flights, you can book the trip that best suits your plans and budget. Our team can always offer you advice on booking flights, however!
Do you only offer guided tours?
We do yes, though the level of guiding can vary by trip and destination. The majority of our tours are fully escorted, which means that your guide will be with you at all times, staying in the same hotel and accompanying you on the minibus or coach throughout your trip.

We also have some semi-independent trips in destinations including Greece. Here you will be fully escorted for your mainland touring, but will then travel independently by ferry to island destinations such as Santorini and Mykonos.

And with our Essentials tours in Japan and China (and some other trips) you will travel unescorted between cities, but will enjoy the services of local guides for included sightseeing.
About our tours
Get to know On The Go Tours and the varied types of holidays and experiences we offer travelers. We are best known for our Signature group tours to iconic sites and destinations around the world. But our range of holidays also includes African safaris, relaxing cruises and incredible trekking holidays, plus so much more!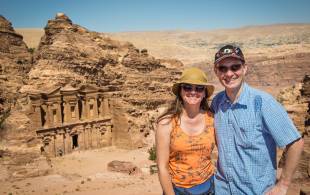 Find out more about On The Go Tours, including why group tours are a great travel style. Find out the best tour type for you and browse all of our destinations with the On The Go Tours Travel Guide!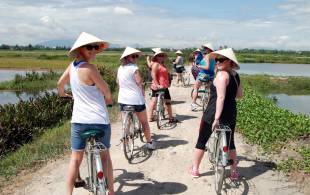 Whether you dream of an overland expedition or a relaxing sailing holiday, we offer trips to cover a range of themes. All you need to do is pick the perfect tour!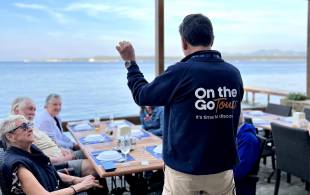 Big Trips For a Big Occasion
What is it that you're celebrating in 2023? A milestone birthday, a big wedding anniversary, or perhaps you've just retired? Possibly, after the last couple of years, you simply want to plan a bucket list trip now that borders have reopened and life is pretty much back to normal. Check out these incredible trips, which we think are a great way to celebrate!
Popular Europe destinations
Our escorted group tours in Europe help you uncover this diverse land. From the food, history and culture of Spain and Italy, to the windswept countryside of Ireland, the frosty natural wonders of Iceland and the cosmopolitan cities of Turkey. We offer a wide range of group trips and private tours in Europe, ranging in length from two days up to several weeks! Here are some of our popular European destinations.
Popular Africa destinations
In Africa, we offer a range of escorted tours and safaris to see some of the continent's incredible wildlife. From the plains of the Serengeti and Masai Mara in Tanzania and Kenya, to Botswana's Okavango Delta and South Africa's Kruger National Park, you can see it all with our range of camping and lodge safaris. In Egypt and Morocco, discover the best of North Africa's culture and history, from the Pyramids of Giza to Ait Benhaddou.
Popular Southeast Asia destinations
The interlocked Southeast Asian destinations of Vietnam, Thailand, Cambodia and Laos make the perfect adventure travel destination. Our range of escorted group tours and package trips take in one, two, three or even all four of these incredible countries, with the services of an expert guide and many inclusions!
Popular Far East & Middle East destinations
Our Far East group tours take in the best of Japan and South Korea, with China now also firmly back on the travel agenda. Heading eastwards, our Middle East portfolio comprises Jordan and Israel, two incredible destinations, perfect for a group or private adventure to the Dead Sea, Petra and the religious sites of Jerusalem.
Popular Indian Subcontinent destinations
India dominates this sprawling region, home to the Taj Mahal, tigers and temple-strewn cities. Our escorted group and private tours take in all of these attractions and plenty more. To the south is the Tear Drop Isle of Sri Lanka, and to the north are the landlocked Himalayan nations of Nepal and Bhutan. Where are you going on your next trip?
Popular Americas destinations
In South America, we offer a range of guided group and private trips in Peru, Brazil, Chile and elsewhere. Cruise the iconic Galapagos Islands or set sail to Antarctica. In Central America, see Chichen Itza in Mexico or combine the nations of Panama, Guatemala, Nicaragua, Costa Rica, Belize and more for a mammoth adventure!
How are you looking to travel?