South Africa Package Trips & Safari Tours
Where vast plains of wilderness meet vibrant cities and rich cultures. Experience authentic South Africa on an award-winning package tour or safari. Book today!
South Africa. A lively nation of diverse people, thrilling wildlife, and distinct landscapes. A captivating destination for any adventurer. Game reserves to vineyards. Cosmopolitan cities to coastal roads. Table top mountains to bays of the Indian Ocean.
Our South Africa trips and safaris are led by expert guides. And they know South Africa. The best spots for elephant sightings. The tastiest food in Cape Town. The most idyllic beaches.
South Africa is the ultimate adventure destination. Along the Garden Route, you'll find picturesque towns, golden beaches, dramatic cave systems, inland lagoons, ancient forests, and a wide selection of outdoor pursuits. In the Eastern Cape, there's the world-famous Kruger ecozystem, where game drives reveal an unparalleled variety and density of Africa's most famous animals including the Big Five. South Africa's award-winning wines can be enjoyed in and around the extremely photogenic city of Cape Town, backed by the dramatic flat peak of Table Mountain, facing Cape Point and the undulating ocean.
We'll show you the way to authentic South Africa, leaving no stone unturned. It's why we win British Travel Awards. And it's why you can be confident you'll return home with life-long memories.
South Africa Overland Camping & Accommodated Safaris
Our selection of overland safaris are a great way to take in the wildlife and beautiful landscapes of South Africa. Ranging in length from 4 days to 2 months, you can explore the country alongside many of its neighbors, from Namibia and Botswana all the way up to Kenya and Tanzania. On our camping safaris you will sleep on a roll mat in two-man tents, helping to set up camp, cook and clean up. Travelling in a fully equipped overland truck with the services of an experienced two-person crew. These escorted tours are stacked with game drives - perfect for those looking for the best wildlife encounters. On the majority of tours we also offer an accommodated upgrade. On these tours you'll still travel with those on the camping safari and help with camp chores, but you'll stay in budget accommodation at the campsites, rather than in tents.

Check out our selection of camping safaris in South Africa below, and get in touch with our team today to discuss your South Africa holiday.
South Africa Comfort Camping Safaris
Our comfort camping safaris are ideal for the over 40s and also welcome families with children aged 10 and above. On these overland safaris you can sit back and relax as your experienced three-person crew sets up camp, prepares your meals and cleans up, so you don't need to lift a finger. In addition, you'll enjoy the comfort of sleeping on a camp bed rather than a roll mat and benefit from at least three nights in a hotel, including the first and last night of the tour. These are small group safaris (maximum size of 16), escorted by a licensed African guide.
South Africa Lodge Safaris
If camping isn't for you and you would prefer to see South Africa in style, then our lodge safaris are just the ticket. Staying in the best lodges the country has to offer, these escorted tours immerse you in the country's finest scenery and wildlife. Whether you're heading along the coastal Garden Route, riding to the top of Table Mountain, or searching for exotic wildlife on a bucket list safari experience, you'll do so knowing you have a comfortable bed and plenty of amenities to look forward to at the end of the day.
South Africa Private Safaris & Tours
Our private safaris and tours are a great option if you'd prefer to travel just with your family and friends. Our Cape Town & Kruger safari includes an internal flight between two of the country's main destinations and with our self-drive tour, you can get behind the wheel of a rental car to explore the gorgeous Garden Route.
Explore more countries like South Africa
Frequently asked questions about our package trips in South Africa
Will I see the Big Five on my South Africa safari?
Seeing the iconic Big Five in the wild is the main aim for the majority of travelers to South Africa. The Big Five are the lion, leopard, elephant, rhino and buffalo.

Most of our South Africa tours and safaris visit the Kruger ecozystem, which is South Africa's premier wildlife destination, home to all of the Big Five. Other reserves to explore include Addo Elephant National Park, Hluhluwe Imfolozi Park and Manyeleti Game Reserve. Our trips include numerous game drives and you'll be accompanied by a qualified safari guide who will help to point out the creatures you see.

Of course, wildlife is unpredictable and no sightings can be guaranteed on tour, but our safaris give you the best chance possible to spot the Big Five and other wildlife.
What is the Garden Route?
The Garden Route is a famous 200km stretch of South Africa's coastline from Cape Town to Port Elizabeth. It is widely regarded as being home to some of the most spectacular scenery in the world, with beaches, cliffs, lagoons, and charming towns such as Knysna and Hermanus. Many of our tours and safaris travel along some or all of the Garden Route.
When is the best time to go to South Africa?
South Africa is a year-round destination, but for wildlife viewing, the drier, cooler winter months of May - September are optimal. For exploring the Garden Route and hitting the beach in Cape Town, the summer months of November - April are considered the best time to visit.

There is more information in our handy guide to visiting the country.
What do I need to bring on my camping safari package?
If travelling on one of our camping safaris, we recommend you read our guide to overland camping safaris. You can also see a detailed packing list in the Trip Notes for each tour.

Some of the important items to remember are: sleeping bag, travel pillow, towel, Mosquito spray (with active DEET ingredient), your own personal first aid kit, torch, antibacterial wipes, a photocopy of your passport data, and your Yellow Fever Vaccination Certificate.

Please note that on our comfort camping safaris, camp bed, mattress, sleeping bag and pillow are provided.
What is the local payment for on your camping safaris?
The local payment is a cost per person that needs to be paid in US Dollars cash only. It is this payment that in part covers the park fees and other inclusions such as meals as detailed on each tour page. The local payment also covers your arrival transfer and 1st night's accommodation.

Our comfort camping safaris also have a small local payment, to be paid in South African rand or USD (check each tour for details) at the start of your trip.

Please note that due to exchange rate fluctuations in the US dollar, the local payment amount may be subject to changes. This payment will be collected by your tour leader at the Welcome Meeting on day 1 of your escorted tour. Our Reservations team can give you more information about the local payment, the cost of which can be found on each tour page.
How big are your tour groups in South Africa?
On our cultural South Africa tours and overland camping safaris, the maximum group size is 30, and these tours depart with a minimum of 4 passengers. Our comfort camping safaris have smaller groups, with a maximum size of 16.

On our Handpicked lodge safaris, the group sizes vary from very small, e.g. 6/7 up to 16. The maximum group size for each individual tour can be found on the tour page.
Will I be escorted by a tour guide on my South Africa trip?
On our overland camping safaris, you will be escorted by a qualified tour leader who will act as your guide, as well as a driver and cook. On our comfort camping tours you will be escorted by a three-person team including a qualified African guide.

On our lodge accommodated safaris, you will enjoy the services of local qualified tour guides and safari guides for included sightseeing - as detailed on the tour pages for each trip.
Is South Africa a safe destination for travellers from the LGBTQ+ community?
According to the 2022 LGBTQ+ Travel Safety Index, South Africa scores a B rating for LGBTQ+ traveler safety, ranking 21st out of 203 countries.

Same sex marriage is legal, and there are constitutional and worker protections in place for people of all sexual orientations. 51 – 75% of consulted citizens consider South Africa a good place to live for gay and lesbian people. There are no legal punishments for same sex relations and most trips for LGBTQ+ travelers to South Africa are trouble-free.

The LGBTQ+ Travel Safety Index is designed to provide a good overall picture of attitudes towards the LGBTQ+ community in each country and may not reflect the experience of foreign travelers to the country.
Can I drink the tap water?
In the main cities such as Cape Town and Johannesburg, the tap water is generally safe to drink. However, in rural areas, we don't recommend consuming the tap water as it can lead to stomach upsets. Stick to filtered and bottled water instead.
As a solo traveller will I have to pay more to travel to South Africa?
On our overland camping safaris (excluding comfort camping), solo travelers will be matched up with another solo traveler of the same sex, with whom they will share a tent. If there is no other solo traveler of the same sex on the tour, you will have a tent to yourself at no extra cost.

On our Handpicked lodge safaris, a single supplement applies for solo travelers. The cost of this can be seen on the tour page for each trip.
Is South Africa safe?
It is true that South Africa has a high crime rate when compared to many countries. However, the risk to travelers remains very low. This is particularly true on our group tours and safaris, where you will be accompanied by a professional guide or a larger crew.

Generally, the most crime occurs in townships on the edge of cities, which we do not visit on our tours and would recommend avoiding if exploring independently. Cities including Cape Town are no more dangerous than other modern cities.

More detailed information on staying safe during your holiday can be found here.
What is the current travel advice for South Africa?
As a UK-based company, we follow the latest up to date advice from the Foreign and Commonwealth Office (FCDO). You can see the latest travel advice and local laws here.
Recent South Africa blogs
Spotting The Big Five on safari in South Africa
Here's everything you need to know about the Big Five in South Africa, including population information and the best national parks to spot each species on your South Africa tour.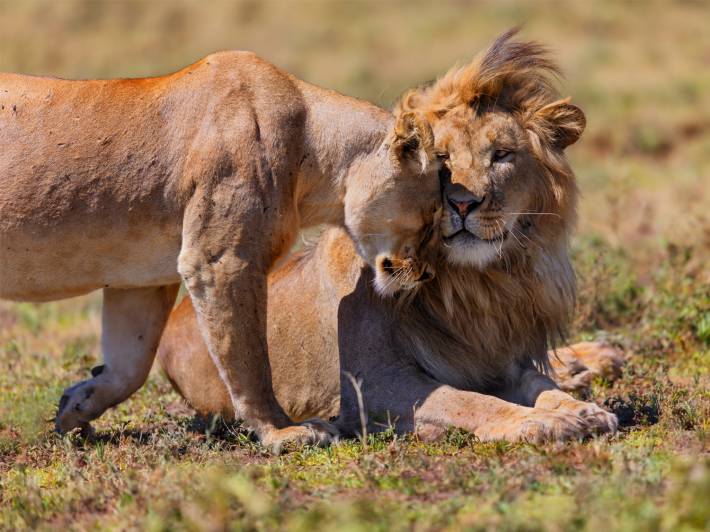 Lion
Population: 2,300
Where to see them: Kruger National Park, Sabi Sands Game Reserve, Gondwana Game Reserve

South Africa is one of just a handful of African countries with a stable population of lions, though the wild population is still significantly smaller than the captive lion population. You will only see truly wild and free lions on tour with us.
---
Elephant
Population: 10,000
Where to see them: Addo Elephant National Park, Kruger National Park

Despite many threats, elephant populations in South Africa have recovered from a historic low of just a few hundred to around 10,000.
---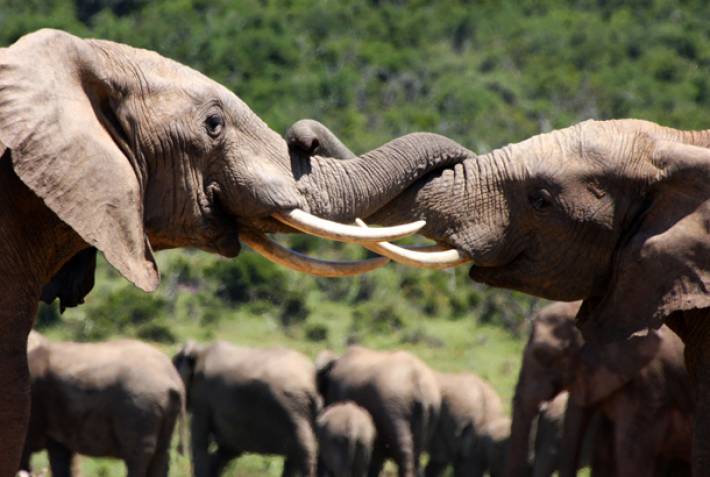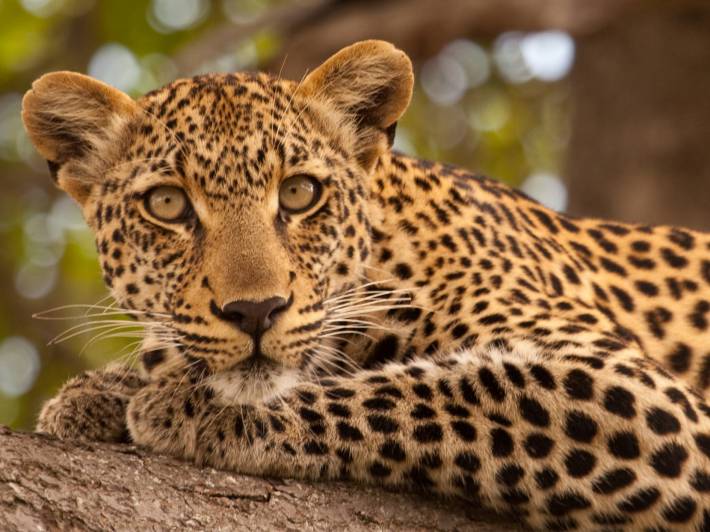 Leopard
Population: 3,000 - 11,000
Where to see them: Sabi Sands Game Reserve, Madikwe Game Reserve, Addo Elephant National Park

Leopards are elusive so populations are hard to estimate. Numbers are thought to be declining but there are stable populations in many protected areas. Leopards are very versatile and there is scope for recovery if habitat is preserved and restored.
---
Rhino
White rhino population: 15,000 - 18,000
Black rhino population: 2,000
Where to see white rhinos: Kruger National Park, Shamwari Game Reserve
Where to see black rhinos: Kruger National Park, Hluhluwe Imfolozi Park

Although South Africa is home to more rhinos than many countries, numbers in Kruger have declined dramatically in recent years due to poaching. Wildlife officials are working hard to combat poaching, and the resumption of tourism should help.
---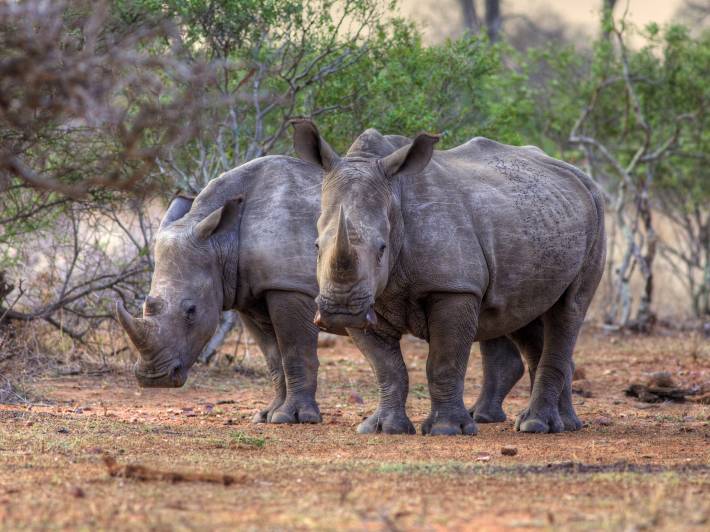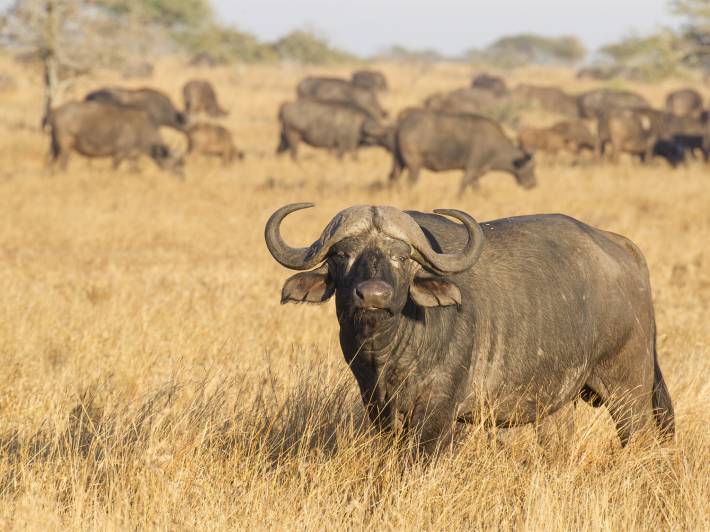 Buffalo
Population: Unknown, but it is a common species
Where to see them: Kruger National Park, Addo Elephant National Park, Hluhluwe Imfolozi Park

The most common of the Big Five, buffalo are also regarded as the most dangerous animal in Africa! Buffalo are notoriously aggressive and unpredictable, roaming the plains in large herds - they will probably be the first member of the Big Five you will spot on safari.
---
We Offer What Money Can't Buy
Our safaris and group tours bring like-minded people together. To travel together. And to make memories together. In cosmopolitan Cape Town and beyond.

Your time is precious. You need to make every second count. That's why we do the planning. And we deal with the logistics. It means we can lift the stress from your shoulders. It means we can craft your ideal adventure.

You can book with us in confidence - our trips are ABTA and ATOL protected. And you can expect the exceptional service we're proud to offer.
The Best of our South Africa Trips
South Africa, the Rainbow Nation, is an incredibly diverse country. Modern cities like Cape Town boast beautiful beaches and amazing culture. The Garden Route is as scenic as it gets anywhere in the world, and Greater Kruger National Park is home to some of the world's most iconic animals. There's more stunning scenery in the Drakensberg Mountains and the independent but surrounded mountain kingdoms of Lesotho and Eswatini. Plus, you'll definitely want to try wine tastings in the Cape Winelands. Here are some of our top destinations and the best hidden gems you can explore with a South Africa tour.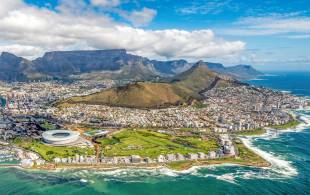 Cape Town
Highlight of the Western Cape, Cape Town has a laid-back beach vibe, incredible attractions such as Table Mountain, blissful beaches and a turbulent but fascinating history - best explored with a trip to Robben Island. The majority of our South Africa tours and safaris start or finish in Cape Town, and many include guided tours of the city and Cape Peninsula, or free time to explore at your own pace.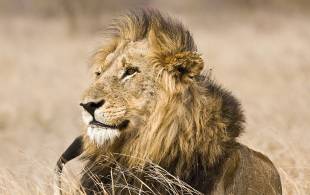 Kruger National Park
The best safari haunt in South Africa, Kruger National Park takes in much of the wide Kruger ecozystem and is home to all of the Big Five. There are many great lodges and campsites within the reserve itself, and wildlife here is protected by rangers so that it can thrive for generations to come.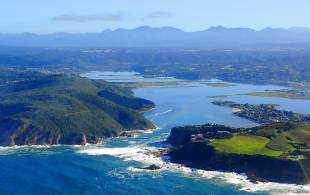 Knysna
Possibly the most picturesque location along the Garden Route, coastal Knysna is located next to shimmering Knysna Lagoon and is well-known for The Heads, two rugged sandstone formations that attract thousands of visitors. It's a great spot to unwind for a couple of days.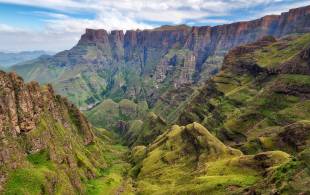 Drakensberg
A great location for hiking and breathing in lungfuls of clean mountain air, Drakensberg is another classic example of South African scenery. Sweeping through the country for hundreds of miles, it's a location you won't want to miss on your trip.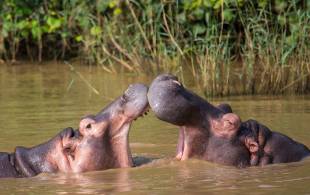 iSimangaliso Wetlands Park
Protected by UNESCO and another of the country's finest wildlife destinations, iSimangaliso Wetlands Park comprises a huge wetland area teeming with life, plus numerous other intact ecozystems including beach, bush, and forest. Whale watching is possible at the coast and birdlife is in abundance, with more than 500 species recorded here.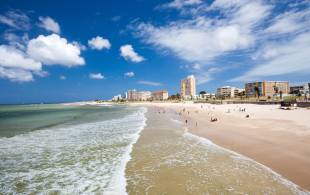 Port Elizabeth
At the other end of the Garden Route, Port Elizabeth is characterized by Blue Flag beaches and is well-known for having the majority of its attractions within 15 minutes of the airport! Addo Elephant National Park is nearby for wildlife and the cultural Route 67 art exhibition dedicated to Nelson Mandela is a must-see.