Led by an expert local guide, this exciting 9 day group tour is an excellent way to see the country through the eyes of someone who calls it home. From Marrakech, travel by private vehicles to Ait Benhaddou and Ouarzazate, before camel trekking across the Sahara. Take in the Imperial Cities of Fes, Rabat and Meknes and uncover many of Morocco's key sites through the expertise of specialist guides. By night bed down in comfortable locally-owned 4-star hotels and enjoy many included meals.
Trip Highlights
Marrakech – Uncover the UNESCO-listed medina, visit the Majorelle Gardens and explore Djemaa el Fna square
Rabat - Enjoy a guided tour of the lively capital city of Morocco and visit the Chellah necropolis
Volubilis - Take in the fascinating Roman ruins, some of the most complete in the whole of Morocco
Sahara Desert - Ride a camel into the Sahara and stay at our Berber camp amongst the Erg Chebbi sand dunes
Ait Benhaddou - Explore the UNESCO-listed ancient kasbah, which has starred in many famous movies
Casablanca - Explore Morocco's largest city and visit the famous Hassan II Mosque, which can hold 25,000 worshippers
Meknes - Discover this great imperial city, known by many as the 'Versailles of Morocco' for its amazing architecture
Fes - Stroll through the oldest medieval city in the world and visit its medina, dye pits and tanneries
Todra Gorge - Admire the towering red canyon, which is more than 1,000 feet high in places
Included
Breakfast daily, 3 lunches and 3 dinners inclusive of a traditional Berber meal at our Sahara camp
Guided sightseeing - Casablanca, Rabat, Volubilis, Fes, Merzouga, Todra Gorge, Ait Benhaddou and Marrakech
Escorted by a licensed English speaking Moroccan tour guide
Airport arrival and departure transfer on days 1 and 9
All road taxes and tolls
7 nights 4 star hotels and traditional riads, 1 night camping at a Berber desert camp in the Sahara Desert (hotel upgrade available)
Camel trek into the Sahara Desert
Specialist local guides at some sites
All transportation and transfers in private air-conditioned tourism vehicles
Not Included
International flights and visa
Entrance Fees: USD$70-90pp, paid in local currency
Tip for your tour guide and driver. We recommend you allow USD$2-3 per day, per traveller for your guide and USD$1-2 per day, per traveller for your driver. Tipping your guide and driver is an entirely personal gesture
Tipping Kitty: USD$40-50pp, paid in local currency

Saturday. Welcome to Morocco! Upon arrival at Marrakech airport you'll be met and transferred to our hotel. This evening meet your fellow travellers and enjoy free time to explore the delights of Djemaa el Fna.
Overnight: Marrakech
Welcome to Marrakech
After breakfast we head over to the beautiful Majorelle Gardens just a short drive from the hotel. These botanical gardens were designed by the French Artist Jacques Majorelle in the 1920s and 1930s. He used a distinctive shade of cobalt blue for the majority of the garden and although a lot of his other work has largely been forgotten – this garden is seen as his greatest master piece. The garden has been owned by Yves Saint Laurent since 1980 and his ashes were scattered here after his death in 2008. The garden contains an extensive collection of exotic plants and trees and is home to 15 species of bird. There is also a Berber Museum representing the various indigenous tribes of Morocco including over 600 artefacts. The newly opened Yves Saint Laurent museum nearby is also well worth a visit - this museum was opened in 2017 and is dedicated to the life and works of Yves Saint Laurent himself. Please note entrance into the YSL museum is not included.

This afternoon you will meet up with the rest of the group who are coming in from Casablanca before embarking on a guided tour of Marrakech. Inside the rose coloured medina walls is a tangle of winding streets and alleys that open onto verdant gardens and bustling souks. At the heart of the medina is Djemaa El Fna, the city's exuberant market place and towering over it, is the famous Koutoubia Mosque, the tallest building in the city.
Overnight: Marrakech | Breakfast, Dinner
Marrakech - Ait Benhaddou - Ouarzazate. Departing the city this morning we travel across the plains of haouz and reach the great High Atlas mountains. Climbing over the pass of Tizi n Tichka, we stop for lunch and then continue onwards with great views over the Mountains and valleys to Ait Benhaddou. This incredible ancient fortified Kasbah was built for defence purposes high on a hill and is a stunningly well preserved medieval city which has famously featured in many blockbuster movies, including Gladiator and Laurence of Arabia as its beauty is unequal to any other fortified kasbah in south Morocco. Carrying on we continue south to the Hollywood of North Africa – Ouarzazate (pronounced war-zazat). Ouarzazate is famous for being the filming location for many other Hollywood blockbusters and famous TV shows including James Bond – The Living Daylights, The Mummy and more recently Game of Thrones.
Overnight: Ouarzazate | Breakfast, Lunch, Dinner
Ait Benhaddou - UNESCO World Heritage Listed
Ouarzazate - Todra Gorge - Merzouga (Sahara). This morning we begin our journey into the Sahara with a medley of palm trees, rose fields and magnificent gorges. Travelling from Ouarzazate, there is a possibility of visiting the kasbah Amherdhil in Skoura before seeing the rose fields and reaching scenic Todra Gorge. Surrounded by towering vertical limestone cliffs reaching heights of 1000ft, it is known as Morocco's Grand Canyon. The charm of Todra lies in its changing colours as the sun slowly moves from east to west. After time to wander through Todra we hit the road again for Merzhouga – our base before we head into the Sahara. Depending on the time of year, spend the afternoon relaxing and swimming before climbing aboard our camels for an incredible trek into the Sahara Desert to watch a beautiful sunset and spend the night at our remote Berber Camp, nestled amongst the dunes of Erg Chebbi. We enjoy local food, music and an amazing night camping in the Sahara.

If you would prefer the comfort of a hotel with en-suite facilities this evening, opt for our Sahara hotel alternative at no additional cost. Please do let us know your preferred option at the time of booking.
Overnight: Berber Camp | Breakfast, Lunch, Dinner
Camel trek into the Sahara
Merzouga (Sahara) - Fes. Departing early, we climb back on our camels disembarking for a truly stunning sunrise. After freshening up and breakfast in Merzouga we're back on the road heading for Fes. It's a long drive today however there is a lot to see on the way. We'll pass through cedar forests full of Barbary Macaque monkeys on our way through the Moyen Atlas mountains. Just before Fes we stop at Ifrane – a beautiful town, often likened to a Swiss Alpine resort. Along the way we also start to see our first glimpse of Morocco's nomadic Berbers – travelling across the mountains and often staying in make shift tents as they head to their next destination. We arrive into Fes in the early evening.
Overnight: Fes | Breakfast, Lunch
Fes
Fes is the oldest and largest medieval city in the world and its medina is a cacophony of aromas, sights and sounds. This morning we enjoy a guided tour of Fes el Bali - the old walled city. This fascinating medina is a veritable rabbit warren of 9400 alleys that often finish with dead ends – so be sure to stay close to the group! We also visit the dye-pits and tanneries before lunch in the medina. The remainder of the day is at leisure – why not take part in an optional Tagine Making Class or a night of Moroccan entertainment and food at a restaurant in town (both payable locally).
Overnight: Fes | Breakfast
Fes - Volubilis - Meknes - Rabat. Departing Fes this morning we visit the fascinating UNESCO listed Roman ruins of Volubilis, which date back to AD40. Continuing on we stop at the Imperial City of Meknes, which became known as the Versailles of Morocco due to its impressive buildings and elaborate monuments. After lunch and some free time our final stop of the day is Rabat – Morocco's capital where we overnight.
Overnight: Rabat | Breakfast
Rabat - Casablanca - Marrakech. This morning we take a guided tour of Rabat and visit some of the capital's highlights, including the impressive Chellah - a necropolis and complex of ancient, medieval ruins, the Royal Palace and the Mausoleum of Mohammed V. After lunch we continue to Casablanca where we visit the Hassan II Mosque, which has the tallest minaret and is the third largest mosque in the world - it can hold 25,000 worshippers at any one time. After our visit to the mosque we say goodbye to our fellow passengers leaving us in Casablanca and continue on to Marrakech for the night.
Overnight: Marrakech | Breakfast
Sunday. Our amazing tour of Morocco ends today after hotel check out. An included onward departure transfer to the airport is provided.
Breakfast
Need to start your tour in Casablanca?
If you find that Casablanca is the better airport for you to fly to and from then why not check out our Road to Casablanca tour. The start dates and duration are the same and you'll also visit the same places that this tour does.
The hotels listed below are ones which we frequently use on this tour. We reserve the right to substitute these hotels to ones of a similar standard.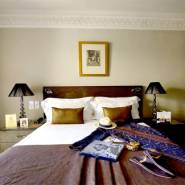 Adam Park Hotel & Spa, Marrakech
Guests can expect a very comfortable stay at the Adam Park Hotel & Spa. Each of the elegant rooms feature a patio or balcony with views of the surrounding area. Guests are spoilt for choice when it comes to dining. Several restaurants offer a variety of options including Italian specialities, Moroccan favourites and international cuisine. There are also plenty of ways to unwind after a day exploring Marrakech, with an outdoor pool, fitness centre and a spa offering rejuvenating massage treatments.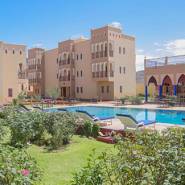 Ksar Ben Youssef, Ouarzazate
Ksar Ben Youssef is a newly built, traditional hotel located just 5kms from the centre of Ouarzazate. Offering 18 spacious air-conditioned rooms, with a variety of bedding configurations. Its large pool, overlooked by a rooftop terrace with shady nooks, is the perfect respite from the desert heat. Guests can enjoy a buffet style breakfast from the on-site restaurant or dine on one of the many terraces.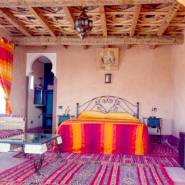 Dar Amoudou, Ouarzazate
Nestled in the heights of Ouarzazate's old district of Ait kdif, Dar Amoudou is a guest house with nine traditional styled rooms that offer all the modern comforts of a luxury hotel including; air conditioning, heating, free Wi-Fi, satellite channels and of course, en-suite facilities. Offering breathtaking views of Ouarzazate and the Atlas Mountains, the attractive terrace is the perfect place to relax and enjoy the magical surroundings, whilst also enjoying traditional Moroccan cuisine.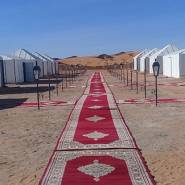 Camp Touareg, Merzouga
Set amongst the bright orange dunes of Erg Chebbi, Touareg Berber camp is designed with a traditional Moroccan theme. Tents are simply furnished with metal framed double, twin or triple beds. All bedding is provided including a pillow, sheets and a blanket (more blankets in winter). A Moroccan rug on the floor and solar generated electricity (after night fall). The camp has two toilet blocks and a large dining tent. Camping out in the desert is an incredible experience. Watch the sunset over the dunes, enjoy simple but tasty Moroccan cuisine and spend the evening by the camp fire, under a spectacular star filled sky.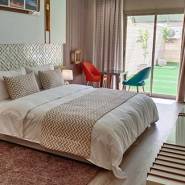 Hotel Atlas Saiss Fes, Fes
Hotel Atlas Saiss Fes is a popular 4 star hotel, conveniently located just a 15-minute walk from Nouvelle Ville. The hotel offers spacious and comfortable guest rooms, equipped with free WiFi, flat screen TVs, air conditioning and en suite bathrooms. Facilities include a restaurant, 24 hour room service and a sauna (at an additional cost). Start the day with a generous continental breakfast before heading out to explore the enchanting imperial city of Fes. After a busy day, relax on the hotel terrace, enjoy a tasty meal at the restaurant or rejuvenate in the sauna.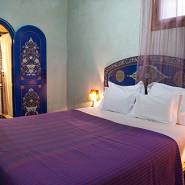 Riad Dar Alia, Rabat
Boasting a fantastic location, just a short walk from the entrance to the Kasbah of the Udayas, Riad Dar Alia is wonderful choice for a stay in the capital. It offers a number of uniquely decorated rooms in a traditional Moroccan style. Free WiFi is provided throughout the property and a restaurant serves a variety of Moroccan specialities.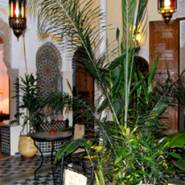 Riad Dar Zouhour, Rabat
Riad Zouhour has been recently and lovingly restored in a charming and traditional style. Located in the Medina District of Rabat, and just a two-minute walk to the UNESCO World Heritage Site of the Kasbah of the Udayas; the Hassan Tower Mosque and Royal Palace of Rabat are also within easy walking proximity to the riad. Its rooms are quiet and comfortable, and you can enjoy some R&R in the hamman after a busy day exploring, or just sit and relax on the sun terrace and patio.
"
This was a great tour through Morocco! There was quite a bit of time spent on the bus but the stops to see the sites and breaks were timed perfectly. It allowed us to see so much of Morocco in a short amount of time.
What really made this trip extra special was our tour guide Hicham! He was so friendly, professional, knowledgeable and had an infinite amount of patience. You could tell that he is very proud of his country - as he should be!
When I arrived, I mentioned that I was sad about missing Chefchaoen and he went out of his way to make sure we could add it to our itinerary (luckily the other 2 people on the trip also wanted to go). It was a highlight for me!
This was my second On The Go tour. The first tour was amazing (Pyramids, Petra and Promised Land) so the bar was set high but Hicham and Hussein made this trip just as memorable!"
Tina Ebrahim
• Submitted 30 Nov 2021
Tour





Guide





Country





"
What an incredible experience! Morocco is a magical destination where you can see diverse landscapes, and experience a unique blend of old and new where the Middle East meets Africa. We saw everything from the mountains to the sea. We ate authentic Moroccan cuisine, shopped in the exotique souks, and were welcomed by the warm hospitable people of Morocco. But it was our tour guide Hicham who made the tour a success. Without his calm, professional, and dynamic personality the tour would not have been the same. Hicham handled any issues that arose with ease and gave us a real education about the county and the culture. His willingness to share his life experiences as a Berber, gave us incredible insight into Morocco. The hotels varied from luxurious to very basic. There were large distances to cover in the tour bus to get from place to place, but if you want to see "all" of Morocco there is no other option. I highly recommend Morocco as a tour destination, especially if you're lucky enough to be shown around by Hicham!"
Petal Mashraki
• Submitted 23 Nov 2021
Tour





Guide





Country





"
Morocco - Hand over Heart - Hicham and Hussein made it SO special
After months of extremely patient planning with Lee S. and his local (Caroline / Rachna / Terri) AND overseas support Teams...I have returned from another outstanding and successful trip with On the Go to the beautiful Kingdom of Morocco. As a repeat traveler, I can emphatically say that On the Go's difference lies in their responsive customer service, value and excellent local guides - no wonder they are award winning!
What we have seen of Morocco has far exceeded our expectations - it is a very special destination that is ready to re-welcome the world. Getting to know the history of its land and peoples, marveling at the changing landscapes on our drive, feasting on the local foods and specialties and experiencing the achingly beautiful historical sites and marveling at the contrast of modernity in its capital were a balanced counter-point - all this is just the tip of the iceberg. The tour itinerary was interesting and highly varied plus we felt safe and secure from the moment we were met at the airport to the day we departed.
We appreciated our stays at both traditional riads and modern hotels; both types provided a valuable contrast.
Hicham is the kindest and hardest working guide I have had the pleasure of touring with - extremely hard working, super patient and attentive to the entire group's varied needs. Knowledgeable and proud of his people and country, Hicham's passion for guiding is evident. Paired with our very capable and skilled driver Hussein they are a fantastically dynamic duo.
Put your faith in Hicham and he will deliver with a SMILE- while making anything you ask of him seem possible. He will go out of his way to ensure you have a wonderful experience- even after the official tour has ended - we were able to see special glimpses of the "true" Morocco and are forever grateful!! We were SO fortunate to meet Hicham and now consider him a friend. Hicham is a wonderful, passionate ambassador for his country and for On the Go Tours...he is truly an asset to the the company - consider yourself blessed to be in his capable care. Visit Morocco - with On the Go - you will not be disappointed. Bessaha and Shukran to On the Go, Hussein and Hicham for absolutely everything."
M. Camerino
• Submitted 17 Oct 2021
Tour





Guide





Country





"
Just back from an absolutely fantastic week in Morocco. Everything from start to finish was brilliantly organised and extremely professional. Our guide, Hicham Tora, was just amazing and totally made the holiday for us. Every day he went above and beyond to cater to everyone's needs. He took some amazing photos for us when we were on the camel ride into the Sahara and worked tirelessly to ensure we all experienced what we had come to see and wanted to do. He made the holiday for us and I cannot recommend this trip highly enough."
Alison Whittaker
• Submitted 13 Oct 2021
Tour





Guide





Country





"
Excellent tour of Morocco with great guide and driver
I was a last minute booking for a Morocco tour with On The Go and from start to finish they could not have done a better job.The office contact in London (Jessica Zedron) answered all of my questions promptly; the tour guide Lhoucine was excellent as was the driver - also Lhoucine."
Judith Dye
• Submitted 29 Mar 2020
Tour





Guide





Country





"
Good tour that covers several places in Morocco -
Great tour that covers many parts of Morocco, although some of them at the end of the tour were in a rush and felt like drive-through. Having some extra days in Essaouira was a great choice, as it has a really nice medina that is bit less hectic than those in the bigger cities. Our guide Aziz was great, especially when we were affected by the corona virus outbreak at the end of our tour, and things were getting unpredictable with our flights. He stayed with the group and assisted us. Many thanks for that to Aziz. Also the driver did well, and the vehicle was also a good size for our 9 person group. Hotels were usually very good, although in cases the location was not optimal (i.e. far from the Medina), so it was not easy to go out on your own, if there was only little time in the location."
Mats Granskog
• Submitted 19 Mar 2020
Tour





Guide





Country





"
A very enjoyable tour from start to finish"
Liam Moloney
• Submitted 09 Mar 2020
Tour





Guide





Country





"
Abdulleh was a superb guide and both of us were very impressed. He was friendly, patient, knowledgeable and professional, with excellent English and a nice gentle sense of humour. Morocco was wonderful but Abdulleh made the holiday very special and we thank him for that.
Hussain was the driver and, although he spoke no English, he was also very professional and friendly, and an excellent driver. We felt very safe with him at the wheel, particularly when crossing the High Atlas with hairpin bends looking down onto terrifying drops . IRather him than me!
The guide in Fes (Imrah) was also excellent. He knew the place like the back of his hand, and obviously was well-known locally because lots of people said "Hi" to him as we walked through the Medina.
As for the tour, we would have preferred more free time during the day. The general feeling among the group seemed to be "We've seen enough today. I'm tired and I really don't want to troop around another tourist site." But we realize that On The Go want to give customers their money's-worth, and don't want to leave them feeling short-changed.
The hotels were generally good but the Riad Reada in Fes was dreadful. Very beautiful place, but everything was sub-standard. The room-heater didn't work (I walked down three times to Reception to complain and each time they said someone would come and fix it but they didn't). The shower spurted water from the hose, not from the shower-rose. Truly awful. Either Riad Reada needs a new owner or a new Manager. If I was "On the Go Tours" I'd use a different hotel or insist they get their act together.
Apart from that, it was a great holiday, and we'll certainly use On the Go again."
David Challice
• Submitted 31 Jan 2020
Tour





Guide





Country





"
From A to Z a great experience..."
Mats Roger Hesselstrand
• Submitted 19 Jan 2020
Tour





Guide





Country





"
Very good and well organized.
Fantastic once in a lifetime"
Vytas Misiulis
• Submitted 15 Aug 2019
Tour





Guide





Country





In Brief
Range
Trip Type
Starts
Marrakech
Ends
Marrakech
Departs
Saturdays
Group Size
Min 4 / Max 24
Hotel Rating
4 star hotels & traditional riads
Tour Guide
Yes - escorted by a tour guide
Meals
Breakfast: 8, Lunch: 3, Dinner: 3
Visiting
Marrakech, Ouarzazate, Fes, Rabat, Merzouga, Ait Benhaddou, Erg Chebbi
Countries
"
This was a great tour through Morocco! There was quite a bit of time spent on the bus but the stops to see the sites and breaks were timed perfectly. It allowed us to see so much of Morocco in a short amount of time.
What really made this trip extra special was our tour guide Hicham! He was so friendly, professional, knowledgeable and had an infinite amount of patience. You could tell that he is very proud of his country - as he should be!
When I arrived, I mentioned that I was sad about missing Chefchaoen and he went out of his way to make sure we could add it to our itinerary (luckily the other 2 people on the trip also wanted to go). It was a highlight for me!
This was my second On The Go tour. The first tour was amazing (Pyramids, Petra and Promised Land) so the bar was set high but Hicham and Hussein made this trip just as memorable!"
Tina Ebrahim
OTG000680
Totally Morocco - 9 days
Middle East & North Africa
Signature
Middle East & North Africa
false
10
Morocco
https://www.onthegotours.com/Morocco/Totally-Morocco-9-days
https://www.onthegotours.com/repository/BerberAndHisCamelMoroccotoursMorocco-222711383306543_crop_flip_300_300_f2f2f2_center-center.jpg
Group_Tours