Following the famed Aegean coastline, we discover Ottoman Istanbul, Gallipoli, Troy, ancient Ephesus and Pamukkale, finishing in coastal Marmaris - gateway to the Greek Islands. This 7 day holiday from Istanbul to the Mediterranean sea will give you an insight into the fascinating history, culture and landscapes of western Turkey.
Trip Highlights
Istanbul - The Old City, Blue Mosque, Hagia Sofia, Hippodrome, Underground Cistern and Topkapi Palace
Troy - Trojan horse, ancient ruins and Aegean Coast
Pamukkale - Thermal pools and Roman Hierapolis
Marmaris - On the beautiful Aegean Coast. Opt to extend with a beach stay or travel over to Greece!
Gallipoli Peninsular - ANZAC Cove, Lone Pine, Chunuk Bair, trenches and battlefields
Roman ruins of Pergamum and Ephesus
Carpet weaving demonstration and leather manufacturer
Included
Breakfast daily and 4 hotel dinners
Guided sightseeing - Istanbul, Gallipoli, Troy, Ruins of Ephesus, Pergamum, Pamukkale and Roman Hierapolis
Airport arrival transfer on day 1 from Istanbul Airport or Sabiha Gokcen Airport
6 nights 4-5 star hotels
Escorted by an English speaking, degree qualified Turkish tour guide
All relevant transfers and transportation in private modern air-conditioned vehicles
Not Included
International flights and visa
Entrance Fees: USD$75-85pp, paid in local currency
Tip for your tour guide and driver. We recommend you allow USD$5 - 7 per day, per traveller as a tip for your guide and USD$2 per day for your driver. Tipping your guide and driver is an entirely personal gesture
Tipping Kitty: USD$40pp, paid in local currency

Istanbul. This morning we'll head to explore the incredible Old City of Istanbul, from where the Byzantine and Ottoman Empires were ruled. We'll visit the stunning Blue Mosque famed for it's blue Iznik tiles, Hippodrome, Hagia Sofia - constructed as a Basilica in the 6th century by Emperor Justinian and Topkapi Palace.
Overnight: Istanbul | Breakfast
Istanbul – Gallipoli. Today we explore ANZAC Cove and the many memorials dotted across the WW1 battlefields. Our guided tour takes in sights such as ANZAC Cove, Lone Pine Memorial and cemetery, Chunuk Bair Memorial and cemetery, the Nek, Johnston's Jolly and the many fortified trenches still clearly visible amongst the scrub after all these years.
Overnight: Canakkale | Breakfast, Dinner
Gallipoli - Kusadasi. Step back in time as we visit the legendary Roman ruins of Troy and Pergamum. We enjoy a guided tour of the ancient city of Troy dating back to 3000BC! En route to Kusadasi, we explore the ruins of Pergamum with it's impressive temples,library and medical facilities, before visiting a local carpet emporium - Turkey produces some of the finest carpets in the world!
Overnight: Kusadasi | Breakfast, Dinner
Today we explore ancient Ephesus. Exemplifying the finesse of Roman urban life, Ephesus boasts incredible excavated ruins including a Great Theatre, Curetes Way, the Temple of Serapis and the Library of Celsus. Stop by the ancient public toilets and public brothel!

Carpet weaving has long traditions in Turkey and afterward we stop to watch a demonstration of how they are made before visiting the quaint Greek village of Sirince peached mountainside within a valley of vineyards and orchards.
Overnight: Kusadasi | Breakfast, Dinner
Kusadasi – Pammukale - Marmaris. Meandering through the sweeping plains and cotton farms we arrive at the ruins of Roman Hieropolis and the hot springs of Pamakkule. Admire this surreal landscape created by frequent earthquakes. Marvel at the crystalline marble, quartzites and stalagtites, which shimmer in the sunlight. There will be time to paddle our feet as we walk the terraces or opt for a dip in the Thermal Bath House before visiting a leather fashion house.
Overnight: Marmaris | Breakfast, Dinner
Friday. Marmaris. Our tour concludes after breakfast. Extend your holiday with our 3 night beach stay. Relax by the pool or beach or opt for a day trip to the Greek Island of Rhodes - only an hour catamaran ride away!
Breakfast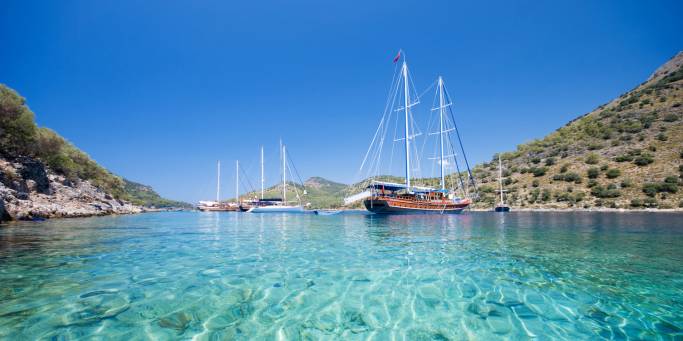 Extend with a 8 Day Gulet sailing trip
Extend your holiday with our 8 Day Cruise the Med gulet sailing tour departing Marmaris. Discover small islands, inlets and bays for sunning, swimming and relaxation as you sail through the varying shades of blue sea that make up the Mediterranean sea.

Cruise the Med includes 7 nights aboard a en-suite, air conditioned Gulet. Breakfast, lunch and dinner will be served on board each day as you gaze out across the ocean.
The hotels listed below are ones which we frequently use on this tour. We reserve the right to substitute these hotels to ones of a similar standard.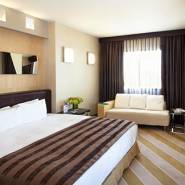 Point Hotel Taksim, Istanbul
Well-located just a short walk from the nearest Metro station, this modern hotel is a great base for exploring the sights of Istanbul. Light and spacious guestrooms offer air conditioning and free high speed WiFi. There's also a indoor pool, spa facilities and a fitness centre. Guests can enjoy a choice of eateries, including an authentic Japanese Restaurant and two café bars. However, this hotel's highlight is the top-floor View Point Restaurant, which boasts delicious Turkish and world cuisine alongside sweeping views of the Bosporus Strait.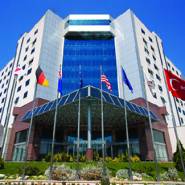 Kolin Hotel, Canakkale
Looking out across the Dardanelles, the modern and bright Kolin Hotel offers well appointed rooms with hard wood flooring and tasteful decor. The hotel also boasts a luxury spa, wellness centre and a number of mouth watering restaurants all set within perfectly manicured lawns. Sipping a sundowner on the roof bar, overlooking the beautiful strait, is the perfect way to end the day. The hotel is located on the water's edge a short drive from the town centre with beautiful views out to sea.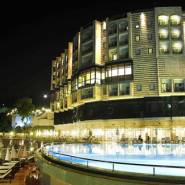 Charisma Hotel, Kusadasi
The Charisma is a modern and elegant hotel with spacious rooms. The rooms are equipped with jacuzzi, LCD screen television, split air conditioning, mini-bar, electronic safe box, hairdryer and free internet connection. Towering over the Aegean Sea's outstanding view, the Hotel is just 15 minutes by walk from Kuşadası's shopping and entertainment area.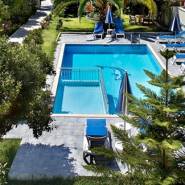 Orsmaris Boutique Hotel, Marmaris
Örsmaris Boutique hotel was completely renovated in 2006. The hotel offers a warm and inviting atmosphere with a professional approach and excellent service. The rooms are spacious, beautifully decorated and command spectacular views out over the sea. Diner have the option of sitting indoors or al fresco as they feast on sumptuous Turkish and international cuisine. Guests can also enjoy the two outdoor pools and surrounding flower garden. The Hotel is situated by the sea and 5 km away from Marmaris city center.
"
We couldn't imagine Turkey without Recep! His experience and education gave us a foundation for every site we visited and brought the history of Turkey alive with his stories. Each morning on the bus Recep would explain the history of the site we were visiting and general information about life in Turkey. He generously shared his own family stories, which personalized the information and the history of this beautiful country. His method allowed him to give more detail as we toured the site and answer our questions. He also ensured that we had free time in the evenings to explore and was always willing to suggest somewhere we could go for dinner or a walk. Recep was extremely courteous, professional and helpful. The information he provided during our tour made the rest of our time in Turkey more enjoyable and this trip wouldn't have been the same without him as our guide. Recep is also extremely well organized and prepared for every step of the journey. We were always on time and the first to arrive at each site. His polite and courteous manner was demonstrated by the positive relationships he had almost everywhere we stopped. Everyone seemed happy to see him arrive and looked as though they would have liked to tag along. From restaurants to short coffee/toilet breaks on the road, Recep knows the best place to stop. If we had known about him before I would have considered a private tour. Thank you for having such wonderful staff!!"
Jennifer
• Submitted 09 Sep 2015
Tour





Guide





Country





"
The tour was excellent and we enjoyed it very much. The tour guide was extremely knowledgeable and imparted interesting information and managed the group, tour timings and logistics very well. The hotels were very good, have nothing negative to comment on. All good."
Tamara Dawood
• Submitted 14 Jul 2015
Tour





Guide





Country





"
Morning Cherylyn
I have just returned from holidays overseas I would like to thank you for all that you did to make this a memorable experience.
The On The Go tour was beyond my imagination The guide was a wealth of knowledge (Fayhid) was a true supporter and true believer in his country Each day group (which was only 12 of us) kept thinking could the accommodation get any better, it was 5 star and above all expectations Marmaras was a great place to end the tour, the days were full of sunshine and water (cold as anything) Sunshine every day and 25 - 26 degrease Was a good time to travel as the tourist season had only just started so numbers were down as were the prices The whole atmosphere of the holiday was something that will never be forgotten We went from 2000 BC to modern day in a week long history lesson.
Once again I thank you and would recommend this tour to anybody. "
Kevin
• Submitted 22 May 2015
"
Burhan is a wonderful person & guide. His knowledge of the sites we visited & explanations were great. I really enjoyed my tour around Turkey. Thank you. "
Francesca Mascolo
• Submitted 17 Sep 2014
"
Our guide & driver were excellent. "
Gisele Kapterian
• Submitted 17 Sep 2014
"
Erkan is the best guide I have ever had on a tour, so informative + knowledgeable, passionate, so nice and caring. I couldn't fault him at all. Wish i could take him home with me! "
Alise Robinson
• Submitted 17 Sep 2014
"
Our tour guide was excellent. Brilliant interpersonal skills & knowledge of history. He made the holiday completely stress free. Bus very comfortable. "
Sarah-Jane Hook
• Submitted 17 Sep 2014
"
Erkan's knowledge is exceptional and he communicated this knowledge in an entertaining and informative way. Thank you Erkan. "
Kim Guthrie
• Submitted 17 Sep 2014
"
It was a well balanced tour. Tour Guide Esra was excellent. "
Ria Ver loren van themaat
• Submitted 17 Sep 2014
"
Esra was extremely knowledgeable about all the places she took us. She was extremely friendly and very patient. She is an excellent tour guide. "
Peta Murray
• Submitted 17 Sep 2014
In Brief
Range
Trip Type
Starts
Istanbul
Ends
Marmaris
Departs
Saturdays
Group Size
Min 4 / Max 24
Hotel Rating
4 - 5 star
Tour Guide
Yes - escorted by a tour guide
Meals
Breakfast: 6, Dinner: 4
Visiting
Istanbul, Canakkale, Kusadasi, Marmaris, Ephesus, Pamukkale
Countries
Tour Add-ons
Enhance your trip with these amazing added extras and add-ons
"
The tour was excellent and we enjoyed it very much. The tour guide was extremely knowledgeable and imparted interesting information and managed the group, tour timings and logistics very well. The hotels were very good, have nothing negative to comment on. All good."
Tamara Dawood
OTG000920
Istanbul to the Med - 7 days
Europe
Signature
Europe
false
0
Turkey
https://www.onthegotours.com/Turkey/Istanbul-to-the-Med-7-days
https://www.onthegotours.com/repository/Port-of-Marmaris--Turkey-Tours--On-The-Go-Tours-263281432040945_crop_flip_300_300_f2f2f2_center-center.jpg
Group_Tours