Sri Lanka Tours & Package Trips
Sri Lanka Group Tours
Our Signature group tour packages are what we are best known for and our trips to Sri Lanka get you to the beating heart of this special destination. You stay in a great mix of 4 - 5 star hotels and heritage properties and are fully escorted by one of our expert local tour guides. There are loads of included activities, including guided tours of Dambulla and Sigiriya, safaris in Udawalawe National Park and tuk-tuk rides around Kandy. And airport transfers are always included, ensuring a hassle-free arrival and departure for your trip.

If you'd like any further information about one of these trips then make sure to contact our Reservations team today!
Explore cave temples. Discover sacred cities. Encounter wildlife in incredible national parks. See the best of Sri Lanka with an On The Go Tours package.
Sri Lanka. Where elephants roam and waterfalls flow. Where beaches abound and tea plantations thrive. Take an unforgettable trip through this fascinating country with a group tour or private holiday.
Lying just off the southern tip of India is picturesque Sri Lanka. With over 2,000 years of history, Sri Lanka has a rich cultural heritage and a wealth of sacred sites, ancient cities and lush tea plantations. The country also boasts eight UNESCO World Heritage Sites, including the Sigiriya rock fortress and the cave temples of Dambulla, which form part of the country's famous Cultural triangle. There are also the sacred cities of Polonnaruwa, Kandy, and Anuradhapura.
Sri Lanka brims with endless palm-fringed beaches, colorful temples, striking architecture, ancient ruins and exotic jungles. Abundant wildlife can be spotted in Yala National Park and Udawalwe. The food is superb. And it's the perfect destination for a cultural adventure holiday with a bit of R&R by the beach.
After each day exploring on our Sri Lanka trips, you can unwind in 4-5 star comfort. Because at On The Go Tours, we take care of everything for you.
Sri Lanka Family Trips
Sri Lanka is a great destination for families, with wildlife-rich national parks, great food, and blissful beaches as well as numerous cultural sites to explore. Our family holidays in Sri Lanka come with all the same benefits as our Signature group tours, including the services of our expert guides, airport transfers, great accommodation, and loads of included sightseeing. There's also a bit more free time than on our group tours, for you to unwind beside the hotel swimming pool as a family.

Our family tours are suitable for children aged 5+, and we have a tour for teenagers which is suitable for those aged 10+. Get in touch today to find out more.
Sri Lanka Private Tours
We have a range of options in Sri Lanka for those who prefer the idea of travelling privately, with just their friends or family, instead of on a group tour. These trips can be booked off the shelf with a range of accommodation standards, are escorted by a guide, and include airport transfers. There is also plenty of guided sightseeing in Colombo, Kandy, Dambulla and Sigiriya, as well as in less well-known destinations in Sri Lanka's north, such as Jaffna and Trincomalee.

We also have a private Sri Lanka tour that combines the country with a blissful beach break in the Maldives, possibly the world's most serene tropical paradise - a great honeymoon option for adventurous couples!
Explore more countries like Sri Lanka
Frequently asked questions about our Sri Lanka package trips
How long/hard is the climb to the top of Sigiriya rock fortress?
Sigiriya is one of Sri Lanka's most important UNESCO World Heritage Sites. A total of 1,200 steps lead up to the rock fortress of Sigiriya, which sits at a height of 200 meters above the ground. It's not a particularly strenuous climb and most visitors find it relatively easy to accomplish. Allowing time to catch your breath and admire the views, the climb can be comfortably done in an hour. Those on a mission to the top and in moderate shape can scale the rock in 30 minutes but it's far more enjoyable when climbed at leisure.
Do you include a visit to the Pinnawala Elephant Orphanage on your Sri Lanka tours?
We no longer include a visit to the Pinnawala Elephant Orphanage in Sri Lanka. The reason we made this decision is that there were concerns over the welfare of the animals.

It's much better and more ethical to see these majestic creatures in the wild of Sri Lanka's national parks. For this reason, your Sri Lanka tour will include a jeep safari in Udawalawe National Park, home to some 400 elephants, as well as leopards, sloth bears and lots of other wildlife. On our wildlife-oriented tours, you will also enjoy safaris in Yala National Park, Wilpattu National Park and elsewhere.
I want to end my Sri Lanka tour with time on the beach - what options do you have?
As an island in the Indian Ocean, Sri Lanka has loads of beach options! If you would like to combine sightseeing with a bit of rest and relaxation on the coast, our 12 day Buddha and Beach tour is ideal. As well as covering all the main highlights, the tour also includes four nights in Bentota, one of Sri Lanka's most popular beach resorts.

There are many other beaches on the southwest coast so if you have a particular one in mind, our reservations team can organize a beach break to add to the end of any of our Sri Lanka holidays.

If you would prefer to visit the east coast or the nearby Maldives for your beach break then it would be better to consider a tailor-made holiday - our team will be happy to help!
Can I combine my Sri Lanka package with a tour of India?
Sri Lanka lies off the south coast of India, and many travelers to the region like to visit the larger neighbor at the same time as a trip to Sri Lanka.

Our Delhi to Colombo 15-day group tour starts in the Indian capital and takes in the highlights of the Golden Triangle, including Jaipur and the Taj Mahal in Agra. There's then a flight to Colombo (not included in the tour price) where you go on to explore the many highlights of Sri Lanka.
What are the road conditions and travel times like in Sri Lanka?
Road conditions are improving each year in Sri Lanka with a number of express highways planned for the popular southwest region. Outside of this region the roads are mostly single carriageways so it can be slow going. The longer journeys are those between Colombo and the Cultural Triangle, and Udawalawe to Galle, which on average take around 5 hours.
How big are your Sri Lanka tour groups and what is the age of your travellers?
Our Signature escorted tours in Sri Lanka have a maximum group size of 24 though the average is around 14 on our more popular itineraries.

If you're choosing a tour that visits more off-the-beaten-path spots, like our 12-day Sri Lanka Northeast Explorer tour, then the group size is often just 4-6 travelers. Our travelers are anywhere between the late 20s to late 60s in age, with an average age of around 48 - 50. And you'll find a real mix of ages on most departures. As long as you are relatively active and have a thirst for adventure, you'll get along just fine!
What is the standard of hotels on your trips?
We use a mix of modern 4 - 5 star hotels and heritage properties on our trips. Most boast an outdoor swimming pool, which is great for cooling off after a day of sightseeing. Others are popular for their colonial charm and antique features. You can find out which hotels we regularly use on our group tours on the relevant tour page for each of our trips.
What sort of transport do you use?
On our Signature tours you'll be travelling in comfortable A/C private vehicles, the size of which will depend on the size of the group on that departure.

We also include a scenic ride on the train between Kandy and Nuwara Eliya so you can sample the local transport and relax while the train slowly plies its route through verdant hills and tea plantations.

While in the Cultural Triangle, you'll also travel by jeep and canoe to reach the village of Kayanwala for an insight into Sri Lanka's rural way of life.
Is Sri Lanka a safe destination for travellers from the LGBTQ+ community?
According to the 2022 LGBTQ+ Travel Safety Index, Sri Lanka scores an F rating for LGBTQ+ traveler safety, ranking 171st out of 203 countries.

Same sex marriage is illegal and there are no constitutional or worker protections in place for the LGBTQ+ community. 0 - 25% of consulted citizens consider Sri Lanka a good place to live for gay and lesbian people. Laws prevent the discussion of pro-LGBTQ+ issues and homosexual intercourse results in 10 years in prison plus a fine. Gross indecency is punishable by up to 2 years in prison and a fine.

This does not mean members of the LGBTQ+ community shouldn't visit Sri Lanka, but precautions should be taken when travelling. As long as you use common sense, travelling in Sri Lanka shouldn't be a problem.

The LGBTQ+ Travel Safety Index is designed to provide a good overall picture of attitudes towards the LGBTQ+ community in each country and may not reflect the experience of foreign travelers to the country.
Can I drink the tap water?
The tap water in Sri Lanka is unsafe to drink, and may make you unwell. To avoid this, stick to bottled and filtered water, and avoid eating foods such as salads, which may have been washed using tap water.
When is the best time to visit Sri Lanka for general sightseeing?
Despite Sri Lanka being a relatively small country, the weather varies widely across the island from one month to the next. Generally speaking December to March is the ideal season for travelling around Sri Lanka as it's mostly dry, warm, and sunny across most of the country.

Visit our best time to visit page for more detailed information on the weather and when to plan your Sri Lanka trip.
Join us in Sri Lanka
When you book a group tour, you expect quality service - but we go above and beyond. With our award-winning know-how and expert local guides, we'll help you uncover a side of Sri Lanka that's truly authentic. From the elephant herds of Yala National Park to the Dambulla cave temple and the tea plantations of Nuwara Eliya.

And when you visit Sri Lanka with us, you can really relax. We'll take care of the details. We'll sort the nitty-gritty travel arrangements. Because we know your time is precious; with On The Go Tours, you can make the most of every second in Sri Lanka.
The Best of our Sri Lanka Trips
Ancient tradition meets modern-day. Lush greenery meets thriving city life. Asian culture meets European influence. In a country packed full of contrasts, we've handpicked our highlights, from the Lion Rock fortress of Sigiriya to the historic cave temples of Dambulla.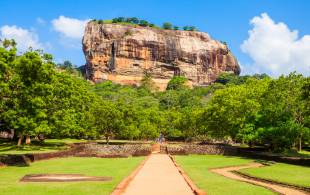 Sigiriya
Protruding from the treetops of Sri Lanka's verdant green jungle, the Sigiriya 'Lion Rock' fortress is one of the country's most iconic attractions. See the incredible carved paws at the foot of the site, and climb the 1,200 steps to the ruins at the summit, which boat the most spectacular views.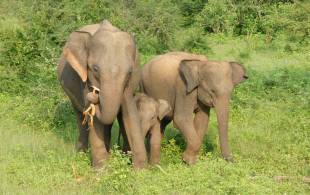 Udawalawe National Park
Sri Lanka is the best place outside of Africa for a wildlife safari, and Udawalawe is one of the safari highlights. Home to leopards, sloth bears, and huge herds of Asian elephants, it's a must-visit for any traveler to the Tear Drop Isle.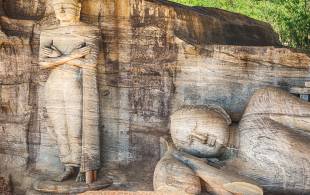 Polonnaruwa
One of Sri Lanka's most glorious ancient cities, cultural Polonnaruwa is probably best known for its giant Buddha sculptures and historic palace ruins. Your tour guide will be able top explain the sacred history of this famous place.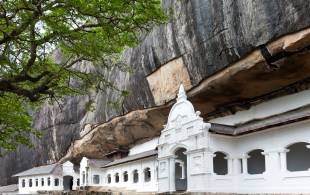 Dambulla
Ancient Buddhist temples located in cavernous caves, Dambulla is a unique attraction that we visit on all of our tours to the country. Boasting intricate carvings and Buddha statues dating back hundreds of years.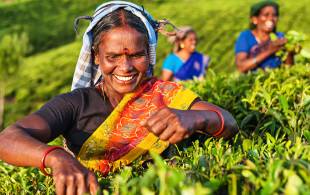 Nuwara Eliya
If you want to take in some of Sri Lanka's best countryside then the train ride to Nuwara Eliya is the way to do it. Glide through stunning views of waterfalls, tea plantations, and mountains to arrive at this cool colonial hill station.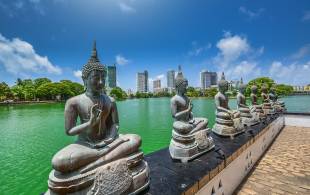 Colombo
Sri Lanka's modern capital is the starting point for all of our tours, and offers all the amenities one would expect in a world city. Great restaurants, shops, and bars, with cultural attractions including Galle Fort and the stunning Galle Face Green, a seaside promenade by the Indian Ocean, where you can watch the locals playing a game of cricket.