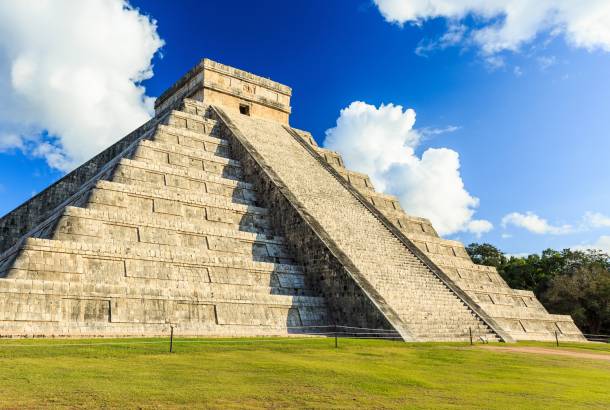 Seasons in Central America
Most countries in Central America have very distinct micro climates with temperatures and rainfall varying from coast to coast and also as the altitude rises in mountainous regions. Below is a general overview of the weather patterns in Central America. However for more in-depth information, please visit the relevant destination page on our website.
When is the dry season in Central America?
Typically lasting between December to April, the dry season is largely considered the best time to travel Central America with pleasant temperatures and mostly clear skies. This is also peak tourist season with a number of national holidays including Easter and Christmas. Although Easter sees a great number of tourists, it's a great time to visit as the whole region enjoys Semana Santa celebrations.
However, peak season means soaring prices and accommodation is often filled quickly, so book ahead to avoid disappointment. February to mid-April is also peak season for cruise ships, and this worth bearing in mind if you're visiting port cities in Mexico or Costa Rica.
When is the wet season in Central America?
The rainy season runs from April to December with hurricane season hitting the region in September and October, especially on the Caribbean coast. There's usually still plenty of sunshine during the wetter months and this period sees the landscape become vibrant and green. There'll also be fewer tourists, however be prepared for higher humidity and tropical storms..
The rainy season can also bring plenty more opportunities depending on your destination and interests. For example, scuba diving is popular in Costa Rica during this time as species such as whale sharks and manta rays come to the area.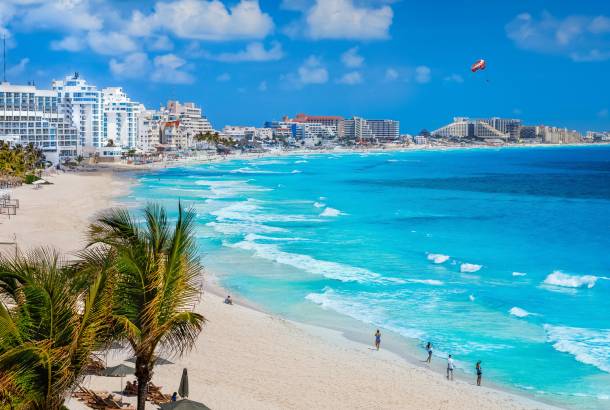 Best Time to Visit Central America's Beaches
If you're looking for a Central American beach break, it's generally best to look at the distinct weather patterns of the destination you're interested in. However, generally speaking, the best time to visit is during the dry season from December to April.
It's also worth considering that there are changes in weather between the Caribbean coast and Pacific coast. For example, the Caribbean coast of Costa Rica experiences rain throughout the year, whereas its Pacific Coast is more affected by the seasons – with heavier showers in the rainy season from May to December.
Likewise, Mexico experiences hurricane season from September to November on its Caribbean coast. This usually brings high winds and occasional storms, therefore its's best to visit Playa del Carmen and Cancun during the dry season from December to April.
Belize Climate | San Ignacio
| | Jan | Feb | Mar | Apr | May | Jun | Jul | Aug | Sep | Oct | Nov | Dec |
| --- | --- | --- | --- | --- | --- | --- | --- | --- | --- | --- | --- | --- |
| Temp Min °C | 20 | 21 | 22 | 24 | 25 | 26 | 25 | 25 | 25 | 24 | 22 | 21 |
| Temp Max °C | 28 | 29 | 30 | 31 | 32 | 32 | 32 | 32 | 32 | 31 | 30 | 29 |
| Rainfall (mm) | 138 | 80 | 38 | 81 | 124 | 198 | 156 | 202 | 197 | 285 | 233 | 134 |
Costa Rica Climate | San Jose
| | Jan | Feb | Mar | Apr | May | Jun | Jul | Aug | Sep | Oct | Nov | Dec |
| --- | --- | --- | --- | --- | --- | --- | --- | --- | --- | --- | --- | --- |
| Temp Min °C | 14 | 14 | 15 | 17 | 17 | 17 | 17 | 16 | 16 | 16 | 14 | 13 |
| Temp Max °C | 24 | 24 | 26 | 26 | 27 | 26 | 25 | 26 | 26 | 25 | 25 | 24 |
| Rainfall (mm) | 15 | 5 | 20 | 46 | 229 | 241 | 211 | 241 | 305 | 300 | 145 | 41 |
Guatemala Climate | Antigua
| | Jan | Feb | Mar | Apr | May | Jun | Jul | Aug | Sep | Oct | Nov | Dec |
| --- | --- | --- | --- | --- | --- | --- | --- | --- | --- | --- | --- | --- |
| Temp Min °C | 12 | 12 | 13 | 15 | 16 | 16 | 16 | 16 | 16 | 15 | 14 | 13 |
| Temp Max °C | 22 | 23 | 25 | 25 | 25 | 24 | 23 | 24 | 23 | 22 | 23 | 22 |
| Rainfall (mm) | 0 | 0 | 6 | 12 | 45 | 72 | 87 | 57 | 105 | 48 | 9 | 3 |
Mexico Climate | Cancun
| | Jan | Feb | Mar | Apr | May | Jun | Jul | Aug | Sep | Oct | Nov | Dec |
| --- | --- | --- | --- | --- | --- | --- | --- | --- | --- | --- | --- | --- |
| Temp Min °C | 19 | 20 | 22 | 23 | 25 | 26 | 26 | 25 | 24 | 23 | 22 | 21 |
| Temp Max °C | 27 | 28 | 29 | 29 | 31 | 32 | 32 | 32 | 32 | 31 | 29 | 28 |
| Rainfall (mm) | 89 | 56 | 41 | 41 | 117 | 178 | 109 | 150 | 229 | 218 | 97 | 109 |