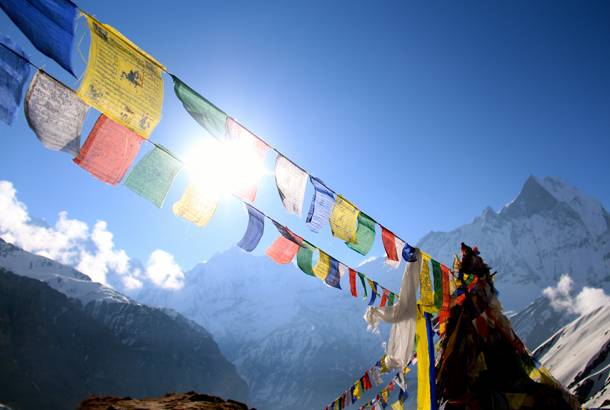 Nepal at a Glance: Best Time to Visit
Recommended time to visit: Nepal is generally considered a year round destination, but for the driest weather you'll want to visit between October - April. The skies tend to be clear during this time, meaning views of the Himalayas are at their most spectacular.

Less popular time to visit: December - February sees pleasant (if a little chilly) daytime weather, but bitterly cold nights. Crowds are at their thinnest so it can be a good time for sightseeing, just remember to pack warm clothing. The monsoon season lasts from June - August. Characterised by warm, humid weather and sudden downpours, it is perfectly ok to visit Nepal for sightseeing during this time, but be prepared to get suddenly soaked! Trekking is not advisable during this period.

Best time for trekking: For heading into the Himalayas, March - May and September - November offer the best weather and conditions. In spring from March - May, flowers will be in full bloom, whilst September - November sees beautiful clear skies and fresh air.

Best time for wildlife: If you're planning to visit Chitwan National Park then the period from September - May avoids the monsoon rains. Wildlife is most visible from April - May, when the park is dry and animals gather at the few remaining water sources, but it can be very hot during this period. January - March is a good compromise, wildlife is still visible as water sources dry up, but Nepal hasn't quite reached the heat of summer.
Want to know more about Nepal? Check out our latest blog posts
What is Winter like in Nepal?
The winter months from December to February tend to be mild in the daytime but can become very cold at night, especially in the mountains. January is the coldest month of the year and although Nepal's cities are chilly, as there is no snow it is easy to explore the sights.
What is Spring like in Nepal?
Spring appears from March to May with pleasantly warm temperatures and occasional showers. Flowers begin to bloom during this time and it's also a wonderful time of year to spot wildlife. The annual temperatures peak in May.
What is Summer like in Nepal?
June to September is considered the summertime, or monsoon season, and the daily forecast typically consists of extremely high temperatures and intermittent rainfall. Summer is a good time to explore the cities and by the end of the monsoon season the countryside can be seen lush and green.
What is Autumn like in Nepal?
From September the climate begins to change as the country welcomes autumn, which lasts from October to November. These months are much drier with pleasant temperatures in the day time and good visibility, leading to this being peak season for visitors.
Climate | Kathmandu
| | Jan | Feb | Mar | Apr | May | Jun | Jul | Aug | Sep | Oct | Nov | Dec |
| --- | --- | --- | --- | --- | --- | --- | --- | --- | --- | --- | --- | --- |
| Temp Min °C | 2 | 4 | 7 | 12 | 16 | 19 | 20 | 20 | 19 | 13 | 7 | 3 |
| Temp Max °C | 18 | 19 | 25 | 28 | 30 | 29 | 29 | 28 | 28 | 27 | 23 | 19 |
| Rainfall (mm) | 15 | 41 | 23 | 58 | 122 | 246 | 373 | 345 | 155 | 38 | 8 | 3 |
Climate | Lukla
| | Jan | Feb | Mar | Apr | May | Jun | Jul | Aug | Sep | Oct | Nov | Dec |
| --- | --- | --- | --- | --- | --- | --- | --- | --- | --- | --- | --- | --- |
| Temp Min °C | -3 | -2 | -2 | 0 | 3 | 4 | 4 | 4 | 3 | 1 | 0 | -1 |
| Temp Max °C | -1 | 1 | 2 | 3 | 4 | 6 | 7 | 7 | 4 | 5 | 3 | 2 |
| Rainfall (mm) | 0 | 0 | 0 | 0 | 3 | 39 | 15 | 15 | 0 | 6 | 0 | 3 |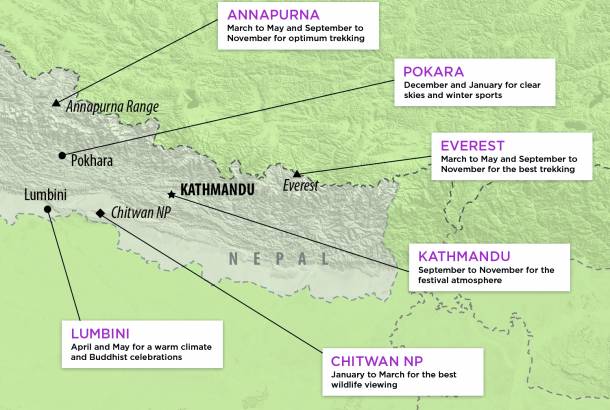 Best Time to Visit by Region
Whilst Nepal is considerably smaller than its neighbours, the climate can vary from region to region. This is due to the country's diverse landscapes and topography, ranging from the lowland region of Terai to the towering Himalayas. Here's more about the climate in four of Nepal's most popular spots.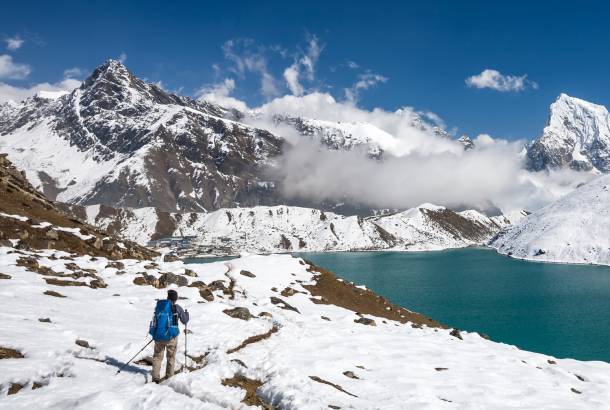 The best time for trekking in Nepal
Generally, autumn is considered the best time of year to go trekking in Nepal, with moderate temperatures, clear skies and tantalizing mountain views. However outside of this season, it is best to plan your trip according to whether you wish to trek in the Annapurna or Everest regions as their climates are markedly different.
When is the best time to trek the Everest region?
The effect of the summer monsoon season in the Everest region is very pronounced, with heavy rainfall effectively closing down the region. Trails can become extremely difficult, with slippery mud and rocks, and most lodges close. In addition, the trails can also see outbreaks of leaches, therefore trekking is not recommended during this season.
Spring and Autumn then see much drier and brighter days, making March to May and September to November great times to go trekking. Rainfall is still not an issue in winter, however you will have to face severe snowfall and some high passes become unsafe to cross. Winter also brings very cold temperatures, particularly at night, so although this season sees quiet trails you will need top-quality sleeping bags and clothing.
When is the best time to trek the Annapurna region?
This region is far less affected by Nepal's summer monsoon and therefore it's possible to trek here year-round. However, the summer season is not without its challenges. Hard rains can cause paths to become slippery leading to downfalls and leeches can be a problem. Summits can also be cloud-covered, obscuring the magnificent views.
As the Annapurna region offers a much bigger time window for trekking, this is the best option for those who are restricted on when they can visit Nepal. But if time is on your side, it's likewise recommended to visit from March to May and September to November.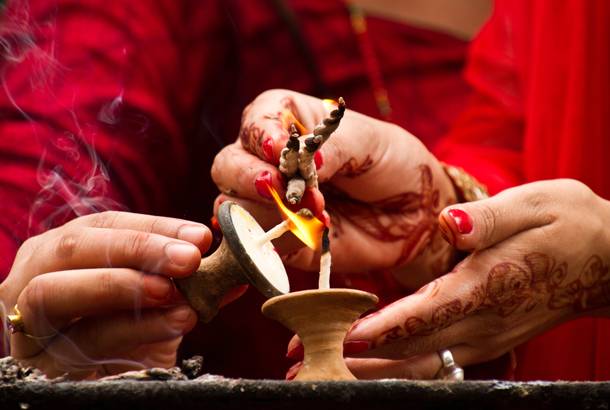 Festivals and Events
Sitting on the roof of the world, Nepal is the ultimate mountaineering destination and attracts adventurous hikers from all over the world hoping to make it to Everest's Base Camp and beyond. Combine this with the strong Buddhist beliefs that are entrenched in the Nepali way of life and you get one of the most mystical and fascinating countries in the world with festivals and events to match. Here are a few of our favourites.
What is Dashain?
Dashain is a 15 day festival celebrated by the Nepalese as well as many other Hindus and Buddhists around the world. The festival celebrates the forces of good overcoming evil and while the exact story changes according to which religion you follow, the gist is that the first nine days symbolise good's battle with evil and the tenth day is when victory was achieved. The first, seventh, eighth, ninth and tenth days are the most important of the festival.
What is Tihar?
Taking place over the course of five days, Tihar is a festival of great religious and cultural significance. Each day sees something different being worshipped starting with crows on day one, dogs on the second day and cows on the third. There is also a part during the celebrations when sisters worship their brothers and give thanks for the protection they provide. Siblings exchange gifts and tikas and strengthen their bond with one another.
What is Buddha Jayanti?
One of the most auspicious days in the Buddhist calendar, Buddha Jayanti celebrates the birth, enlightenment and passing away of Lord Gautam Buddha. The festivities that take place during this period are tranquil and gentle, in keeping with the practices of Buddhism. Vegetarian food is usually exclusively consumed and many people spend the day attending a slightly longer than usual sutra, which is a type of service.
Recommended tours
Signature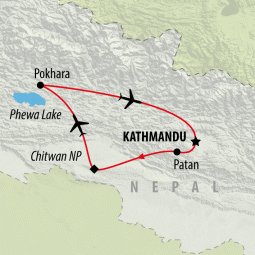 9 days FROM $2,345
Active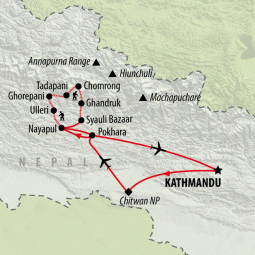 13 days FROM $3,485
Signature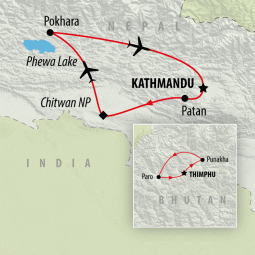 15 Days FROM $8,785
Nepal Trip Styles

Group Tours

Private Tours