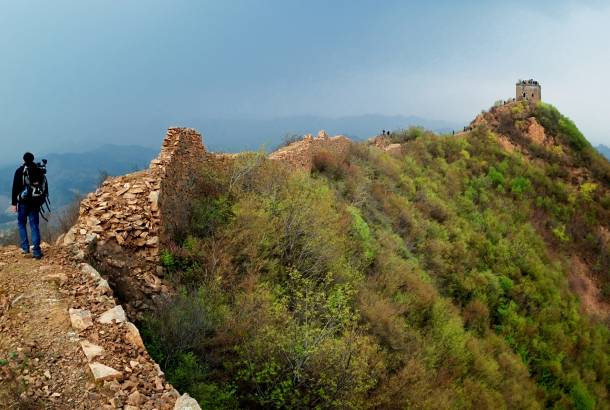 Planning a trip to China and want to cover all bases before you go? Want to know what vaccinations you need and whether you can bargain for goods? Look no further - here you'll find lots of handy information to help make your visit run as smoothly as possible.
What vaccinations do I need for China?
As a guide it is recommended that you be vaccinated for Tetanus and Polio if you haven't had a booster in the last ten years. Food and waterborne diseases are more common, so we recommend vaccinations for Typhoid (valid 3 years) and Hepatitis A (validity varies). You should seek medical advice from your local health practitioner before travelling to China and ensure that you receive all of the appropriate vaccinations.
Do I need anti-malaria tablets for China?
There is a risk of malaria in the southern province of Yunnan and the interior of the island of Hainan. There is no risk of malaria in cities and urban centres across much of China including the popular tourist destinations of Beijing, Xi'an and Shanghai. On Yangtze River cruises there is minimal risk of malaria. Anti-malaria medication may be recommended to those visiting risk areas off the beaten track down south but for those sticking to the cities, it's generally not required. Please consult your doctor or travel health professional for advice.
As with any destination where malaria is present, take precautions against mosquito bites by wearing light coloured clothes that cover your arms and legs and apply a DEET-based insect repellent. For more information on the malaria risk in China visit the NHS Fit to Travel page or the CDC Traveler's Health page.
Is it safe to drink tap water in China?
No, it is not safe to drink. Bottled mineral water is available everywhere you go in China so there's no need to resort to tap water. Bottled water is cheap and readily available from shops, hotels and restaurants across the country. Always check that the bottle cap is sealed before purchasing or drinking. Some travellers prefer to use bottled water when brushing their teeth but in good hotels using the tap water for this is fine - just don't swallow it.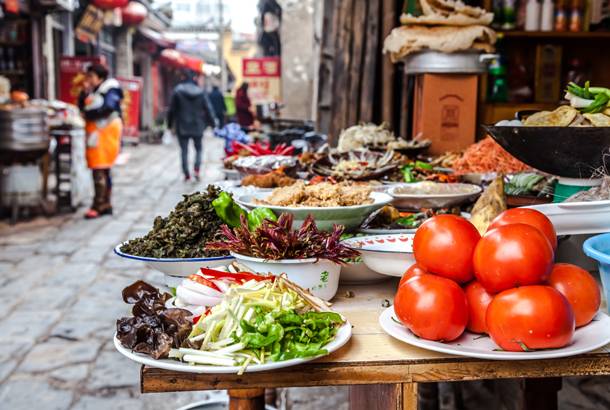 Safe eating while travelling in China
Chinese food is varied and delicious and it's tempting to try everything when you get there, comparing your favourite takeaway dishes with the real thing (or the version that spawned the copy you know and love). However, this can sometimes cause tummy upsets as your digestive system gets used to the sudden change in diet. To avoid getting ill when eating in China, follow these simple rules:
Firstly, start taking a probiotic a week or two before travelling and continue to take daily once in China. Secondly, ensure any food you order is piping hot when served and only buy food from street stalls where the food is cooked in front of you. Thirdly, avoid raw meat, salads and raw vegetables, which are washed in poor quality water, which runs the risk of contracting Hep A. If in doubt, follow the crowds - the more popular a dining establishment, the better the quality of food.
What's the food like in China?
Chinese cuisine falls into four major regional categories: Cantonese (Guandong) - this is the cuisine of worldwide fame and its most popular export is dimsum, Shandong - notable for the quick frying method of cooking, Szechuan (Sichuan) - known for its spiciness and use of pepper, and lastly Huaiyang, which liberally uses vinegar and leans toward sweeter flavours. To these four can be added four more culinary traditions: Hunan, Fujian, Anhui and Zhejiang. Sometimes, Beijing and Shanghai cuisine are also counted. The variety and style of cooking in China is amazing, as are the ingredients.
It's important to understand that Chinese cooking in China is different from Chinese food served in the West, and in most cases is far superior. What may come as something of a surprise to many first-time visitors is the tendency of Chinese cooks to use all of the animal. Fish is usually cooked whole after removing the guts and entrails. The head remains on, and if anything, takes on a decorative appearance on the dish. The cheek of the fish is considered a delicacy that meal participants will vie for. It's not uncommon to find the chicken's head, feet and sundry vitals floating in the soup tureen. Bones are often cut up into the food rather than removed.
In many restaurants, dishes of food are placed onto a glass rotating 'lazy Susan' for the table of diners to share and chopsticks are the utensils of choice though knives and forks can be requested in most restaurants. Steamed rice, if ordered, is usually served near the end of the meal, whilst fried rice is considered a main course.
The Chinese excel at noodle-based dishes. They appear in soups and can be boiled, crispy, short, long, fat or thin. Shaanxi Province is famous for its noodles and on most visits to Xi'an you'll get a chance to see the preparation of noodles by trained chefs and actually try them in delicious soups. Every conceivable type and cut of meat is used including offal, and seafood is highly recommended. Vegetables feature in all dishes and fruit usually forms the very last course of a banquet. Indeed, vegetarians are, for the most part, well catered for though sauces and broths tend to be cooked with fish sauce or stock made from meat so it's best to check before digging in to eat.
Did you know? Using chopsticks involves over 30 joints and 50 muscles in the fingers, wrist, arm, shoulder as well as thousands of nerves so do as the locals do and try eating all meals with a pair for a mini workout.
Is it standard to tip in China?
Tipping is not expected in China though it has become customary to tip tour guides, drivers and hotel staff (bellboys and cleaners) for good service. It is not customary to tip in restaurants either though many visitors will round up the bill, however, don't be surprised if the staff try and return the change to you.
OurTipping Made Easy policy takes the hassle out of tipping while on tour with a nominal pre-determined amount collected from all tour participants on the morning of day 2 in local currency. This tipping kitty is then divided among bellhops, luggage handlers, local guides and other support staff throughout the tour. The amounts collected for tips per person are noted on each tour page and in the detailed Trip Notes.
Please note that our Tipping Made Easy amount does not include a tip to your group tour leader, where we suggest an amount of approximately USD $3-$6 per day of your tour. Naturally, though, the amount is up to you. If travelling on a group tour with less than 6 participants or on a tailor-made holiday, in place of Tipping Made Easy we recommend the following amounts per person per day be allocated to cover tips paid directly by you to bellhops, luggage handlers, your driver and local guides:
USD $10 if the day includes a local guide and sightseeing
USD $5 if the day does not include a local guide and sightseeing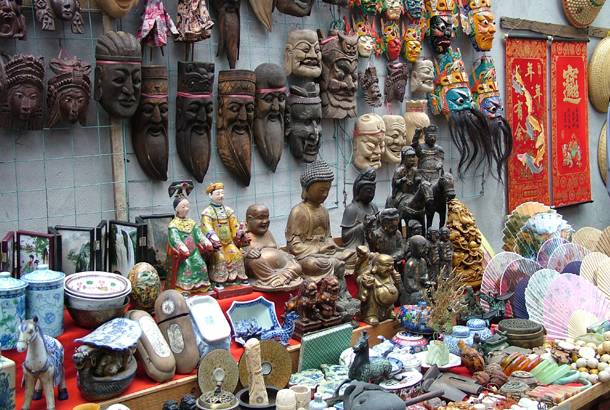 How to bargain in China
At markets in China, bargaining is expected and you may even get lucky when asking for discounts in stores and shopping malls where prices are displayed - it never hurts to ask. When visiting market stalls it's a good idea to shop around before purchasing an item as prices may vary and this then gives you an idea of how much you should be paying. When you're ready to discuss prices, go in low and work your way up to the amount you're willing to pay and don't forget to smile and be friendly - it will get you further.
What to shop for in China
China is a virtual Aladdin's Cave. Government-run Friendship Stores are found in almost all cities that attract foreigners and stock a range of fixed-price souvenirs and handicrafts and can offer a reasonable idea of what is acceptable in terms of quality and price. After a visit to the Friendship Store, visit private or provincial stores, craft shops and local department stores. However, the best shopping is often at public markets. If you see something you want, buy it when you see it - prices don't vary greatly, but selection can vary from location to location.
Top buys include silk products, embroidery, Chinese calligraphy and paintings, ceramics, jade and stone carvings, lacquer ware, Chinese tea, Cloisonne, Chinese medicine, Mao reproduction propaganda souvenirs such as the famous 'Red Book', caps and buttons, personalised ink seals and clothing of every kind. Markets in Beijing and Shanghai commonly sell top quality ski jackets and leisure attire by big name brands and are a good place to pick up outdoor clothing and equipment. Additionally, copied goods such as handbags, jewellery and shoes are available in plentiful supply in these markets. Ethnic crafts are a specialty in some regions including Xi'an and Kunming. If wishing to buy antiques, proceed with caution. It's highly likely that the antique will be a skilful reproduction. However, if it is the real deal, you'll need paperwork from the Chinese Administrative Department of Cultural Relics which must then accompany the article being exported.
Travelling in China as a solo woman
China is a perfectly safe travel destination for solo female travellers. It should go without saying you should be appropriately careful avoiding deserted streets at night and dressing accordingly. China's urban dwellers love fashion and will wear the latest trends so you don't have to worry too much about what you wear but to avoid unwanted attention keep skirts and shorts close to the knee and necklines high.
Although over 98 million people visited China last year, the vast majority of China's population rarely come into contact with foreign visitors so you are likely to receive attention from the locals, whether you're a woman or a man. Chinese that can speak basic English will attempt conversation and will want to know a bit about you and why you're travelling alone. If you have long blonde hair or brightly coloured dyed hair then you may even find you become the subject of many a photograph or even a bit of petting - as a largely homogeneous population anything other than black hair on a woman is just too exotic to resist. It may feel like an intrusion of personal space so be firm if you would rather be left alone but if you find the attention all a little silly and harmless then use it as an opportunity to chat with the locals.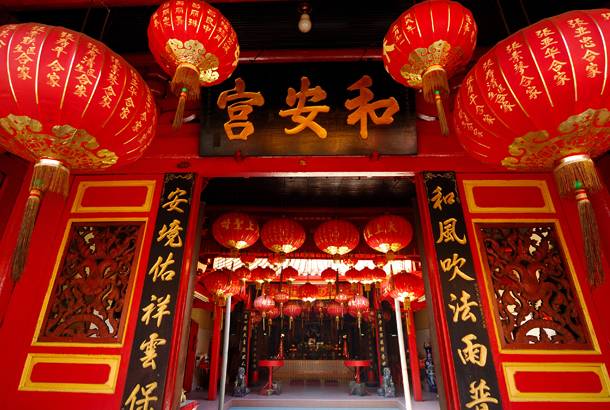 Temple Etiquette in China
China may officially be an atheist country but Buddhism and Taoism are still popular among the population with thousands of temples across the country. In order to avoid offence when visiting religious sites, it's important to take particular care and to dress and behave appropriately. Visitors should always wear long trousers, or skirts and shorts that reach below the knee, and shirts with sleeves. It's advisable that women travel with a simple shawl to cover their shoulders if needed. Your feet can get you into all sorts of trouble in Buddhist temples so remember to remove your shoes when entering a temple and do not point at images of Buddha, or any other sacred relics, with your feet. Symbolically the feet are the lowest point and so using them in this manner is considered disrespectful. On the opposite end of this is the head, considered the highest symbolic point, so you should not touch people on the head and you should also remove any headwear when addressing monks. It's polite to bow the head when greeting a monk as a sign of respect.
Photography is generally allowed in temples across China though flash photography is not permitted. 'No photography' signs will be clearly displayed if applicable. When taking pictures of Buddha statues or images, ensure your head stays below that of the Buddha's. Temples are places of worship and therefore it's polite to keep noise to a minimum when walking around the grounds. Donations are expected so leave a small token of appreciation on your way out.
Is China a suitable family holiday destination?
Absolutely - it's bound to be educational and will introduce children to a completely different culture and when the historical sites get a little tiresome then there's plenty of activities to keep them entertained. Once you've absorbed the views and history of the Great Wall of China, head back down on a scenic toboggan ride, combine a visit to the Forbidden City with a thrilling rickshaw ride through the ancient hutongs of Beijing or cycle on Xi'an's city walls - there's loads of family fun to be found in China.
On our group tours we welcome young adults 16 years or older accompanied by a parent/guardian, if under the age of 18. We also offer our China Family Adventure tour where we welcome all children above 5 years of age and our China Discovery for Teenagers tour allowing travellers 12 years or older accompanied by a parent/guardian. Our private journeys and tailor-made holidays cater for travellers of any age.
What is the duty free allowance for China?
You are permitted to bring the following into China:
400 cigarettes, 100 cigars and 500 grams of tobacco
1,500ml of alcoholic beverages exceeding 12% alcohol by volume
Changing money in China
The currency of China is the Chinese Yuan.
Pound Sterling, US Dollars, Euro and other major currencies can be exchanged in China. Exchange facilities are available at various bureau de changes and banks, which are easy to find in urban centres as are ATMs where you can easily withdraw money. The Yuan is no longer a closed currency so it is possible to get some changed up before you leave home. As it's the only currency accepted in mainland China ensure you have enough to last your trip. Check OANDA for the latest exchange rates.
It's advisable to request bank notes in smaller denominations, as it can sometimes be hard to get change from large notes and smaller notes are handy for smaller purchases and gratuities. Traveller's Cheques are not recommended as they're often difficult to exchange and incur high fees.
What do things cost in China?
Travel in China is affordable when compared to countries in the Western world but it is no longer the bargain destination it once was. Prices for transport are generally reasonable and food is cheap. A three-course meal at a mid-range restaurant will set you back around USD $15-20 per person while on the opposite end of the scale you can get away with a budget of around USD $3-6 per person for cheap eats. On average a beer will cost USD $2 while a bottle of water is closer to 20 cents.
When travelling on a group tour, which includes your accommodation, sightseeing, breakfast and transportation, we recommend budgeting between USD $25-40 per person per day to cover additional meals, snacks, drinks, souvenir and odd purchases.
What sort of plugs do I need for China and what is the voltage?
Standard voltage is 220 volts, 50 Hz AC. Chinese plugs come in at least 4 designs: 3-pronged angle pins as used in Australia; 3-pronged round pins as used in Hong Kong; 2-pronged flat pins as used in the USA; or 2 round narrow pins as used in Europe. To cover all bases, pack a travel adaptor. You will need a voltage converter and plug adaptor in order to use U.S. appliances.
Is WiFi widely available in China?
China has the world's largest internet network following and as such internet access is readily available across the country. China Telecom, China Unicom and China Mobile are the main providers and it's becoming easier and easier to join free WiFi networks in public places from restaurants to shopping malls, train stations to airports. The majority of hotels in China offer WiFi, usually free, or at the very least have a business centre where you can get online via computer.
What time zone is China on?
China is 8 hours ahead of Greenwich Meantime (GMT). China operates in one time zone, so clocks are set according to Beijing time, meaning that given the size of the country, sunset and sunrise can occur at peculiar times.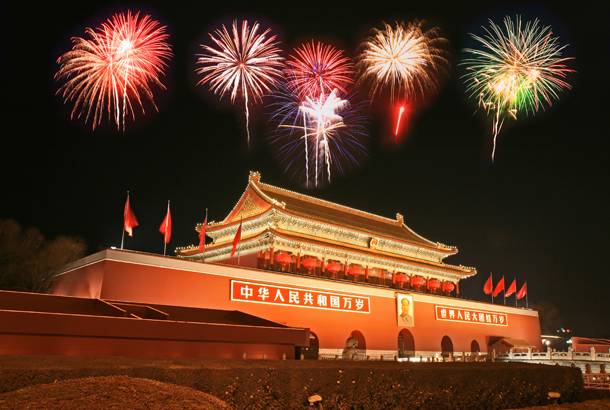 Travelling during public holidays
China has seven legal holidays in a year with two of these holidays garnering the population three days off work. The first is Chinese New Year which takes place on the first day of the first lunar month and therefore changes each year, and the second is National Day, held on the 1st of October each year. The three days of holiday usually connect with weekends which means for a whole week availability for services (hotel rooms, train tickets and flights) is a struggle, prices are at a premium and many businesses (shops and restaurants) close for the duration of the holiday.
These holidays can be a great time to visit China with spirits high and the streets coloured with celebrations though the strain on services does mean you'll need to book in advance to secure availability. Also bear in mind that popular tourist sites will be extremely busy as domestic tourists take the opportunity to see more of their own country.
What is train travel in China like?
Vast and efficient, China's first rail lines were laid in the 19th century and today the government continues to invest heavily in this crucial mode of transport which connects many parts of the country. When travelling during the day, 'soft' seats, that is to say upholstered seats, are provided. For overnight travel on our group tours, clients are accommodated in 'soft class' sleeper cabins. Aboard each wagon are nine compartments that comprise four bunks per compartment. Four people of mixed sex share one compartment. On occasion, dependent upon group size, you may get the opportunity to share with local people on the overnight journey, though sometimes dependent upon how the Chinese Railways Booking Office configure the bookings, the cabin may be filled with four of our clients.
A dining wagon serves reasonably priced Chinese food of the noodles and rice variety along with snacks and drinks. On the Beijing - Xi'an service, there is an attendant with a trolley serving drinks and snacks including alcohol. Each wagon offers a WC and hand-basin facility. At one end is a Chinese squat-style WC, whilst at the other end is a Western-style WC. Bed linen is provided on the train.
In China most often porterage is not available at railway stations and you will be required to carry your own luggage. We recommend you pack as light as possible as there can be several flights of stairs and a lengthy walk to our awaiting transportation.