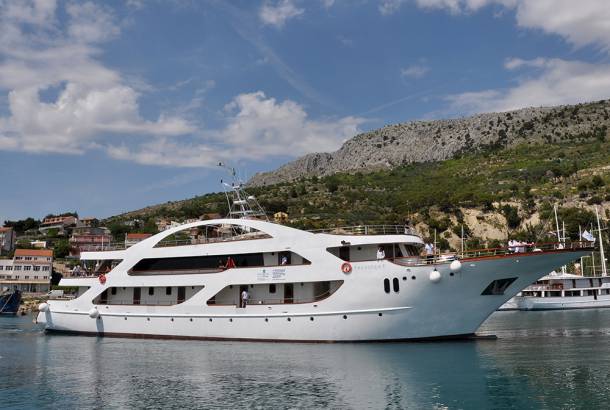 What to expect on our Croatia sailing holidays
We use motor sailer vessels for our Croatia Sailing Holidays as the motor enables the cruiser to navigate between the islands and keep to the itinerary without being reliant upon the wind, although the sails may go up on occasion. The ships have a dining area and plenty of deck space to relax and enjoy the spectacular views and sea breeze.
Relax as you let the captain and his support crew take care of all the logistics. An onboard cook prepares breakfast and lunch each day, whilst in the evening, we offer you the chance to explore dining options at our numerous ports of call. Dalmatian food is very good indeed!
Individual ship design varies slightly from craft to craft, but all cruisers offer a range of cabin types (top deck/on deck and below deck), which comfortably accommodate two people. Below deck have a small porthole, while the advantage of upgrading to a top deck/on deck cabin is that there is direct access to the deck and they have opening windows or portholes for fresh air, sunlight and sea views.
Life on board our ships is a relatively casual affair. Each cruise itinerary offers a mix of sailing, swim breaks and plenty of free time. Arriving into a different port of call each afternoon or evening, the ship docks for the night and you can go off and independently sightsee, shop, dine or enjoy drinks with your fellow passengers.
Our local captains and crew chart the ship, freshly prepare and serve your meals and help keep the ship clean and tidy. You'll be served a continental breakfast in the morning and lunch will typically consist of soup or pasta, a main course of chicken or fish with a side salad and a dessert. Dessert is usually seasonal fruits, ice cream or perhaps pancakes.
Ship Categories Available
Find the level of comfort that suits you with our range of vessels.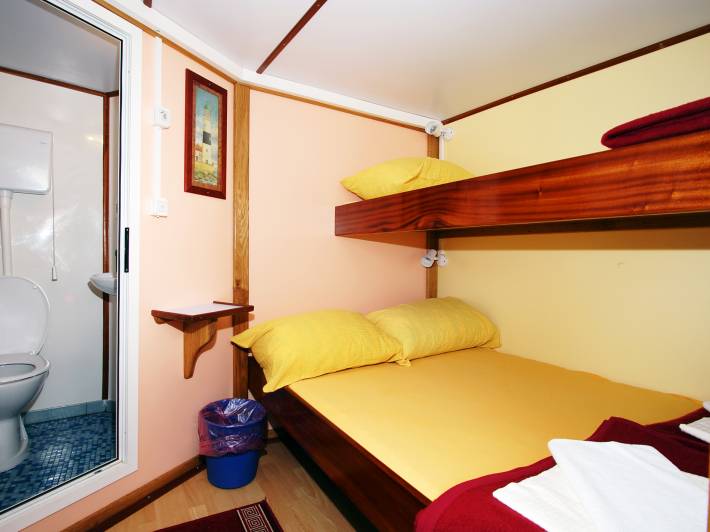 Traditional and Traditional En suite Ships
Traditional ships are offered on our Croatia Sailing Adventure itinerary and these offer mostly twin bunk cabin accommodation with a washbasin. Dependent upon the craft, double-bedded cabins are sometimes available. Traditional ships are wooden vessels with shared bathrooms
Traditional En suite ships are offered on our Sailing Split itinerary and as an upgrade on our Croatia Sailing Adventure. The difference between Traditional and Traditional En suite is that all cabins on the Traditional En Suite ships have private bathroom facilities and air conditioning. Both the Traditional and Traditional En suite ships provide towels and plenty of hot water, with board games and ample shaded and sun deck space to lounge about.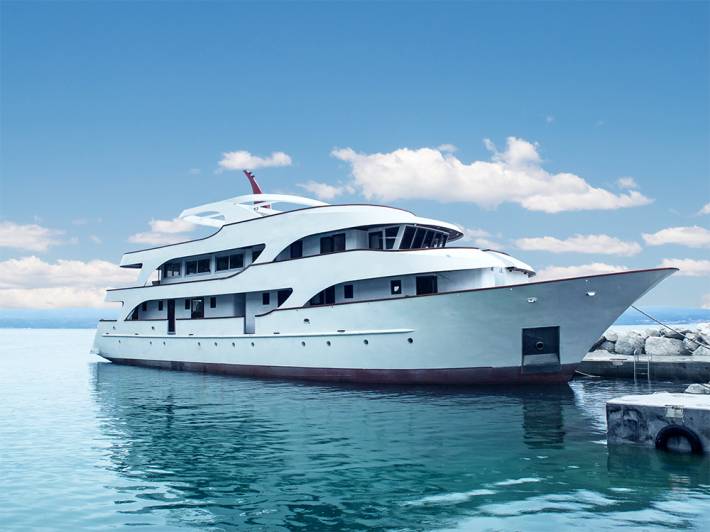 Premium and Premium Plus Ships
Premium ships are a class above our Traditional ships and are on offer each and every week on our Sailing Split and Adriatic Explorer holidays. Premium boats are also offered on most other trips most weeks of the season.
Premium ships offer a more spacious cabin with en-suite bathroom on newly built or fully renovated cruisers. Accommodation is mostly twin or double-bedded cabins, though bunk bed cabins are sometimes all that is available. Exclusive features of Premium ships include: air-conditioning in all cabins and in most of the common areas whilst sailing (no A/C is available when the boat is stationary), a guided sightseeing tour of Dubrovnik with an English speaking tour guide and a delicious Captain's Feast.
Additionally, Premium ships offer plenty of hot water, towels, some linen, a TV and sound system in the reception area, board games and extensive sun and shaded deck space to lounge about.
If you fancy that little bit more from your trip to Croatia then our Premium Plus ships are might be just the ticket. These recently built mini deluxe vessels with all the features of our Premium ships but they are larger in size offering ample deck space. Premium Plus cruisers are used as an upgrade (from Premium) on our Adriatic Explorer and Sailing Split cruises and include all of the above plus you will also get two more guided tours on the islands.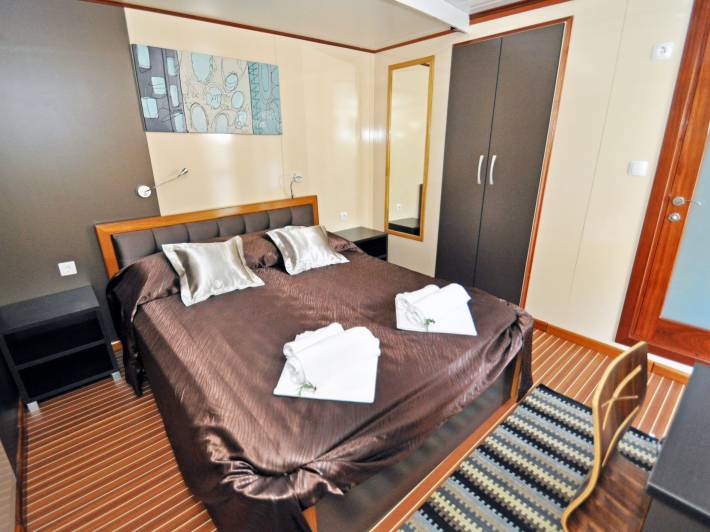 Deluxe Ships
Deluxe ships are a class above our Premium ships and are the vessel of choice on our Creme de la Croatia, Jewels of the Adriatic and Dalmatian Elegance cruises. Deluxe boats are spacious newly built boats with well-appointed cabins featuring twin or double beds. All cabins have their own bathrooms, LCD TV and are air-conditioned. Deluxe boats also offer air-conditioning in most of the common areas whilst sailing (no a/c when boat is stationary), free Wi-Fi when in port, and have a spacious deck with sun loungers. Additionally, some Deluxe ships feature gym facilities and a plunge pool.
Exclusive features of our deluxe category include airport arrival and departure transfers from Split airport, an onboard English speaking tour leader to answer any questions you may have and provide commentary on the locations and sights you will see. There are also a guided sightseeing tours of Dubrovnik - including a dinner cruise and journey on a cable car, Hvar, Split and Korcula - including a wine tasting tour and a village feast. Plus, at the end of a wonderful week sailing all our deluxe cruises come to a close with a delicious Captain's farewell dinner.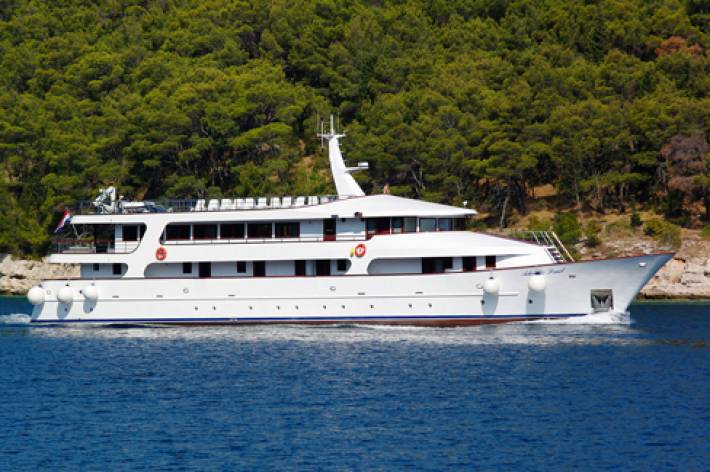 Select Ships
Our Select small ships are named vessels that operate a particular route week in week out. The individual features and facilities on board vary from ship to ship though typically these cruisers are of a luxury standard or higher and always include en suite facilities, air-conditioned cabins with a mix of twin or double beds. The cruiser will have an air-conditioned restaurant and bar, sometimes a lounge and the sun deck will often have a W/C and shower for use during swim stops. Our Select ships are motor cruisers.
Further information about the specific features and facilities of this vessel, including layout, cabin dimensions and maximum cruise speed can be found on the tour page.
On Deck or Below Deck?
On all of our Croatia sailing holidays, you have the choice of an on deck or below deck cabin. Below deck cabins are the cheaper option. These cabins are located below the main deck or in the hull of the ships. They do have windows or port holes that allow in natural light but these do not open.
On deck cabins are either on the main deck or top floor of the boat. These all have opening windows that allow in the breeze. There is a supplement for upgrading to on deck cabins.