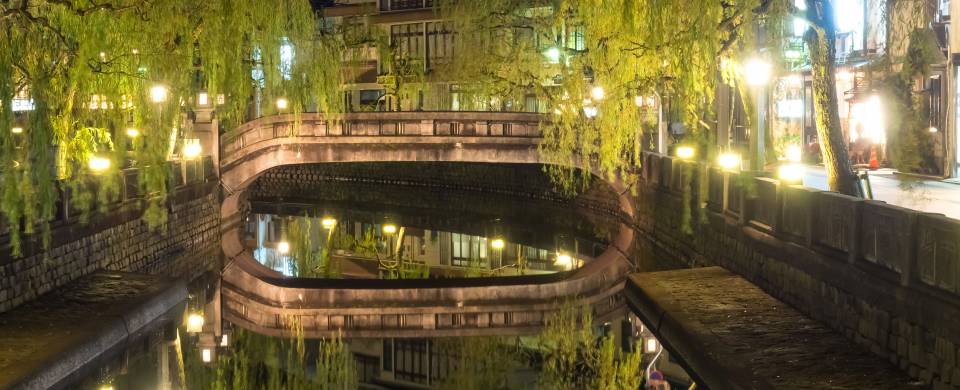 Trips and Tours to Kinosaki Onsen
About Kinosaki Onsen
Famed for its invigorating hot springs, Kinosaki is one of the best places in Japan to sample the classic Japanese onsen experience. Revered around the world as one of the world's best hot spring towns, the numerous pockets of thermal water here were discovered in the 8th century and since then the charmingly old-fashioned town of Kinosaki has prospered. Built along a willow lined river it's the perfect place for leisurely strolls with many traditional buildings home to quaint shops and restaurants. Dishes such as fresh crab (best between November and March) and Tajima steak are a must-try when staying in Kinosaki.
Read More
Many visitors like to immerse themselves fully in the Japanese experience whilst in Kinosaki Onsen and dress in traditional yakutas (cotton kimonos) and geta (wooden sandals) and stroll along the river as well as visiting some of the seven traditional hot spring bath houses.
The Onsenji Temple is also well worth a visit. Supposedly erected by Dochi-shonin in 738, it was built to commemorate the founding of the onsen. The temple houses an impressive two metre tall statue of the eleven-headed Kannon Buddha, which is only on full public display once every 33 years for a period of three years. The next opportunity for visitors to see the statue is between 23rd April 2018 and 24th April 2021. There are two ways to get to the temple - by Kinosaki Ropeway (cable car) or walking up. Once at the top you'll be met with stunning views of the surrounding countryside. Beside the temple is an art museum with a small yet interesting display of historic artifacts and treasures collected from the temple.