Denmark Tours & Package Trips
From Copenhagen to the North Sea coast. Discover Denmark alongside Norway and Sweden with our range of Scandinavia group tours!
Classy Copenhagen is one of Europe's rising stars, increasing in popularity as a city break location. A thousand year old settlement, the city is enriched with history but has also well and truly emerged into the 21st Century. Restaurants, shops and bars abound, the 17th Century port of Nyhavn is well worth a visit, and Amalienborg Palace is home to the Danish Royal Family.
To the west and the north of Copenhagen lies the rest of the country, jutting into the North Sea. Dramatic scenery awaits, and other highlights include the second city of Aarhus and the northern outpost of Hirtshals.
Our Denmark tours combine the country with its Scandinavian neighbours, Norway and Sweden. From Oslo to Stockholm and Bergen, you won't miss a thing on these escorted group trips. For a truly wild adventure, you can also explore the Danish territory of Greenland on a bucket list expedition cruise!
Denmark Group Tours
Our Denmark small group escorted tours take in the best of the country, including Copenhagen. These tours vary in style, some with semi-independent arrangements and some are escorted by an English-speaking tour leader, staying in well-located, modern 3-4 star hotels. And with guaranteed departures, you can book your tour in confidence! As well as Denmark, these tours take in the best of Norway and Sweden - a perfect Scandinavian soiree!
Denmark Short Stays
Our Copenhagen City Stay is perfect if you're looking to explore the Danish capital on a long weekend, or as part of a longer trip to Europe. Staying in a 4-star hotel, you'll enjoy a guided city tour and plenty of free time to discover the city at leisure.
Greenland Expedition Cruises
For a far flung adventure, set sail in Greenland! This vast island, the world's largest, is a district of Denmark, despite being more than 50 times the size of the mainland country! Staying aboard a purpose-built expedition ship, these tours take you to all the main highlights, from Nuuk and Ilulissat to the majestic icebergs and marine wildlife to be spotted out at sea. When not relaxing in their cabin, travellers can look out for whales on the viewing deck, or relax in the onboard swimming pool and jacuzzi on the expedition ship. There is also a spa, bar, and two onboard restaurants to enjoy.
Explore more countries like Denmark
Frequently asked questions about our Denmark tours
Will I explore Copenhagen on your Denmark tours?
On our Denmark group tours, your trip begins in Copenhagen, and you will enjoy a guided panoramic sightseeing tour of the city, as well as free time to explore at leisure.
What can I expect from your Greenland expedition cruises?
How big are the groups on these Denmark group tours?
Our group tours in Denmark have a maximum group size of 30 passengers, though this can fluctuate and groups tend to be smaller outside of the peak season.
What is the best time of year to visit Denmark?
Copenhagen is modern European city and can be visited all year round, especially for a long weekend or other short break. As a northern country, Denmark has a cool climate and the winter months from October - February can get very cold, but you'll be fine if you wrap up warm! Peak season for visiting Denmark is summer, from May - August. It's warmer, brighter, with longer days - perfect for sightseeing.
What standard of accommodation is included in your Denmark packages?
On our Denmark package trips, we stay in a mixture of modern, well-located 3-4 star hotels with plenty of amenities. On some Scandinavia trips, you will also experience overnight ferries, for example from Stockholm to Helsinki. These are included in the price of your tour, and are clearly marked on our itineraries, so you know whether or not your trip will include an overnight ferry crossing.
Will I be escorted by a tour guide?
Yes! We offer escorted group tours in Denmark, so a local tour leader will accompany you throughout your trip. For included sightseeing, you will also enjoy the services of professional local English-speaking guides, who will be able to share the history and stories of each attraction with you.
Is Denmark a safe destination for travellers from the LGBTQ+ community?
According to the 2023 LGBTQ+ Travel Safety Index, Denmark scores an A- rating for LGBTQ+ traveller safety, ranking 8th out of 203 countries.

Same sex marriage is legal, and there are broad worker and constitutional protections for all citizens based on their sexual orientation. Hate crime is criminalized and 76 – 100% of consulted citizens consider Denmark a good place to live for gay and lesbian people. There are no legal punishments for same sex relations and most trips for LGBTQ+ travellers to Denmark are trouble-free.

The LGBTQ+ Travel Safety Index is designed to provide a good overall picture of attitudes towards the LGBTQ+ community in each country and may not reflect the experience of foreign travellers to the country.
Can I drink the tap water in Denmark?
The tap water in Denmark is safe to drink throughout the country. Why not bring a re-usable water bottle on tour with you? This will save you money on bottled water, and will help you to reduce your plastic footprint.
What is the currency in Denmark?
The currency in Denmark is the Danish Krone (DKK). Check OANDA for the latest exchange rates.
What is the current travel advice for Denmark?
As a UK-based tour operator, we follow the travel advice of the Foreign and Commonwealth Office (FCDO). You can see the most up to date advice for Denmark travel here.
The Best of our Denmark Trips
Copenhagen is the start point for our Denmark group tours and a delightful European city to explore. Greenland is at the other end of the spectrum, a vastly wild and remote territory to the country's extreme north-west. These are the best places to visit in Denmark on our trips.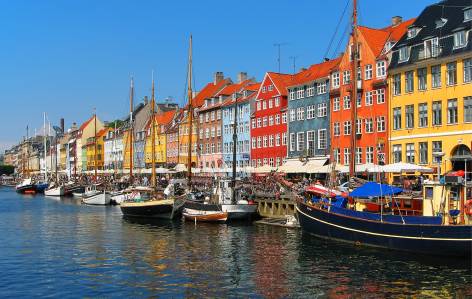 Copenhagen
Copenhagen offers a dynamic mix of culture, history, and modernity. Start your exploration at Nyhavn, the iconic waterfront district, where you can enjoy colourful buildings, waterfront cafes, and boat tours. Nearby, visit the famous Little Mermaid statue and the historic Amalienborg Palace for the changing of the guard. Copenhagen's biking culture is famous, so rent a bicycle to explore the city's many bike lanes and parks. Discover the trendy district of Norrebro for hip cafes, boutiques, and street art.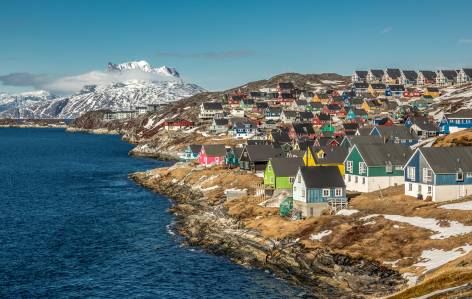 Greenland
The world's largest island is a vast, untouched wilderness, home to ice-filled fjords, and unique cultural heritage. Start your journey in the capital, Nuuk, where you can explore the National Museum to learn about the island's history and indigenous cultures. Ilulissat, a UNESCO World Heritage site, is home to the stunning Sermeq Kujalleq glacier, offering a chance to witness icebergs calving into the sea. The island's wildlife is also a major attraction, and you can spot humpback whales and seals along the coast.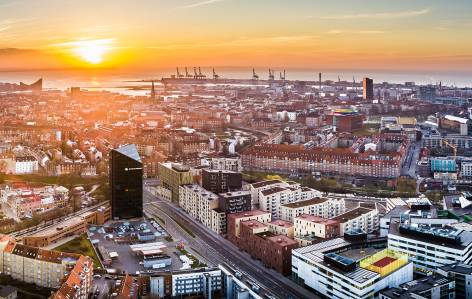 Aarhus
Lesser-known Aarhus is Denmark's second city, known for its cobbled streets and cultural scene. The city's Latin Quarter houses charming boutiques, cafes, and historical buildings. Aarhus is steeped in history, and the Old Town (Den Gamle By) is an open-air museum recreating Danish life from centuries past. For a seaside escape, head to the Aarhus waterfront and relax by the harbour, or visit the Moesgaard Museum to delve into Denmark's prehistoric past.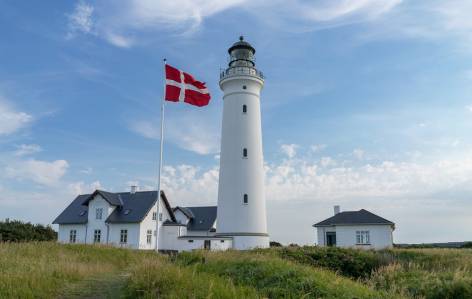 Hirtshals
The northern town of Hirtshals is where our tours depart Denmark, bound for Norway by overnight cruise. This delightful destination is known for its natural beauty and maritime heritage. Start your visit at the Hirtshals Lighthouse, offering breathtaking panoramic views of the North Sea and the town. Hirtshals' sandy beaches and rugged coastal landscapes are perfect for nature enthusiasts. Take a hike along the coast, enjoy windsurfing or kitesurfing, or simply relax by the sea.