If you're planning a safari adventure to Kenya, there's a few things you'll want to know before you get there, like what type of plug you'll need, whether you need to get any vaccinations and when you need to tip. We're here to help with our Top Travel Tips that provide all the information you'll need for your holiday.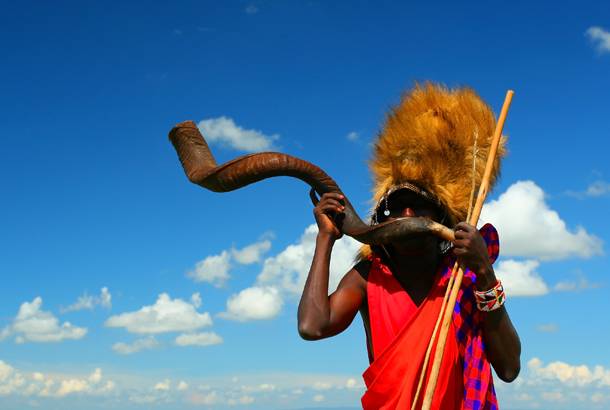 What vaccinations do I need for Kenya?
You should seek medical advice from your local health practitioner before travelling to Kenya and ensure that you receive all of the appropriate vaccinations. As a guide Polio, Diphtheria, Hepatitis A and B, and Tetanus is strongly recommended. Rabies and Meningitis are also recommended.

A Yellow Fever Vaccination Certificate is required for travel to Kenya and if travelling from an infected area it must be presented upon arrival in order to be granted entry. Please also note that if you are travelling onward to Uganda, Rwanda and Tanzania you will need a Yellow Fever Certificate to produce on arrival in order to be granted entry.

Some African countries still require you to show proof of either COVID-19 vaccination or a negative COVID-19 PCR test conducted no more than 72 hours before departure. Entry and exit requirements may be announced and altered at short notice so it is essential you check these requirements before you travel.
Do I need anti-malaria tablets for Kenya?
There is a risk of malaria in Kenya so it is very important to check with your doctor before you go, to see whether malarial medication is required for the areas you are visiting. Generally, it is good practice to avoid mosquito bites by wearing long sleeved, light coloured clothes and wearing a mosquito repellent that contains at least 50% DEET. For more information on the malaria risk in Kenya visit the
NHS Fit to Travel
page or the
CDC Traveler's Health
page.
What is the plastic bag ban?
Plastic bags were banned in Kenya as of 28th August 2017. Travellers arriving at any airport in Kenya can face heavy fines for bringing plastic bags into the country. This includes plastic bags in both your checked luggage and carry-on luggage, as well as duty free plastic bags.
We recommend avoiding packing any plastic bags in your luggage before flying to Kenya. You should also remove any items purchased at departure airports from their bags before boarding. Double check your luggage before disembarking in Kenya and leave any plastic bags on the plane.
Is it safe to drink tap water in Kenya?
It has been claimed that tap water in Nairobi and Mombasa is drinkable but it is usually a good idea for tourists to stick to bottled water in order to avoid contact with any foreign bacteria that could make them ill. Outside these two cities tap water should be avoided entirely in favour of bottled mineral water.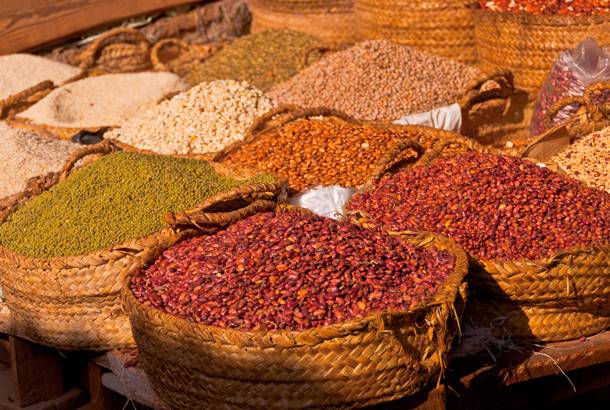 What's the food like in Kenya?
Kenya might not be a big name on the global culinary map but it certainly has its fair share of dishes worth trying. The main staple in the Kenyan diet is ugali, a grainy paste made from cornmeal that is eaten with stews and other sauce-based meals. Beans and corn also make regular appearances in Kenyan cooking. The most popular dish in the country is probably irio - green peas and potatoes that have been mashed together with corn added in for texture.
Meat often features in Kenyan meals and is usually cooked in a sauce made with tomatoes, onions, garlic, chillies and vegetables. Goat and beef are the most popular choices but fish and chicken are also widely eaten, this particularly applies with nyama choma, which is chunks of roasted meat served with irio or rice.
Safe eating while travelling in Kenya
Be wary when eating outside of high-end lodges as sometimes the quality of the meat and the way in which it has been prepared might not be suitable for a sensitive western stomach. Also be aware that food hygiene in Kenya is much more basic than you will be used to so if something looks unclean, old or badly cooked, it is best to avoid it altogether. It is also a good idea to avoid ice in your drink and eating salad as these might have come into contact with unhygienic water.
Is it standard to tip in Kenya?
There are no hard and fast rules for tipping in Kenya but be aware that most people in the service industry earn very little and depend on gratuities to make up their income. Safari guides should be tipped the equivalent of about USD $10-15 per person per day and a few dollars should go to the driver, cook and porters. If you eat in a restaurant then 10% on top of the bill is a suitable amount to leave. When it comes to taxis, rounding up the fare is a nice way to show your appreciation, especially if they have successfully navigated the chaotic streets of Nairobi or Mombasa for you.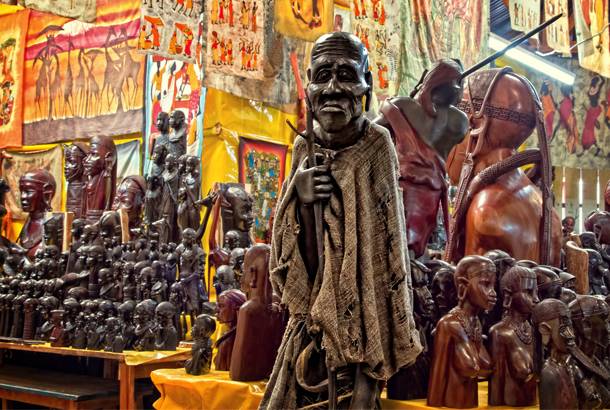 What is good to shop for in Kenya?
The number one thing to buy in Kenya is a traditional African handicraft. You can quite often buy these straight from the creator, ensuring that they receive 100% of the profit for their work. Wooden African masks and soapstone sculptures are popular choices for travellers. Another cultural gift to take away is a Maasai shuka, a brightly coloured strip of fabric that can be used as a scarf, tablecloth or picnic blanket.
If you're looking to spice up your wardrobe a bit, Kenya is renowned for its brightly coloured jewellery, guaranteed to make a statement back home. A kiondo, a handwoven tote bag, is also a great fashion accessory and can be found in markets throughout the country. If you're more into interior design then pick up a piece of batik art for your wall or some Kitengela glass to adorn your light fixtures.
Of course, no trip to Kenya would be complete without coming home laden with one of their most popular exports – coffee. It is recommended to buy it as whole beans rather than ground as it will keep its freshness for longer this way.
Is bargaining acceptable in Kenya?
The vast majority of market vendors in Kenya will expect you to haggle and, as a consequence, will often quote an outrageously high price at the outset. Don't be put off by inflated prices as this is all part of the process of bargaining. It is important to remain polite throughout the transaction and to understand when it's not worth haggling anymore and to just accept the price – negotiating over a matter of pennies doesn't look good and they could do with the extra money more than you. It is equally important to know when to walk away if a seller won't budge on a price that is clearly too much.
Is it safe for a single woman to travel in Kenya?
Most people visit Kenya as part of a safari tour and in this context, visiting Kenya is very safe for solo women as they will be under the protection of their guide and lodge at all times. However, those who visit Kenya independently might not have such an easy time. Harassment from local men is common but is usually just an annoyance rather than a threat. Nevertheless, you will want to avoid this by dressing conservatively, wearing sunglasses to avoid eye contact and carrying a photo of a man in your purse who you can say is your husband. You should also try to limit your night time travel as much as possible.
What is the duty free allowance for Kenya?
Travellers over the age of 18 are permitted to bring the following into the country:
250g of tobacco products
1L of spirits or 2L of wine
500ml of perfume and eau de toilette, of which not more than a quarter may be perfume
Prohibited items include counterfeit money and goods, pornography, matches made using white phosphorus, narcotics, soaps and cosmetics containing mercury, and used tyres. Restricted items include animal traps, unwrought precious metals and stones, arms and ammunition, ivory, hippopotamus teeth, rhinoceros horn, tortoise shell, whalebone, antlers, coral, endangered species, and historic artefacts.
What is the currency in Kenya?
The official currency in Kenya is the Kenya Shilling. Check OANDA for the latest exchange rates.
Euro, British Pounds, US Dollars, South African Rand and other major currencies can be exchanged locally or in advance of departure. Additionally, exchange facilities are available at various bureau de changes and banks in major towns have ATMs. It's advisable to request bank notes in smaller denominations, as it can sometimes be hard to get change from large notes and smaller notes are handy for smaller purchases and gratuities.
Traveller's Cheques are not recommended as they're often difficult to exchange and incur high fees.
What do things cost in Kenya?
Most people who visit Kenya will do so with a tour, in which case the majority of your expenses will be included in the total price. However, for those travelling independently the following should be taken into account: a mid-range hotel room will usually cost between USD $50-70 per night while dorms are around USD $20-30. Street food is incredibly cheap, costing less than a dollar in some cases, and sit-down meals can be found for between USD $10- 20 for a feast of African or Indian food.
When it comes to going out, a pint of beer won't cost more than USD $3 in a bar and will be even cheaper in a supermarket. Transport isn't usually too expensive with matatu (mini bus) rides often costing around 50 cents or less. Private taxis are more expensive and can set you back up to USD $10-20.
What sort of plugs do I need for Kenya and what is the voltage?
Standard voltage is 230 - 240 volts. Primary sockets generally require the 3 square-pin variety, similar to the United Kingdom sockets. We recommend that you pack a universal travel adaptor. You will need a voltage converter and plug adaptor in order to use U.S. appliances.
Is WiFi widely available in Kenya?
WiFi is available in Kenya but many of the safari camps choose not to provide a connection in order to allow guests to fully immerse themselves in their natural surroundings. It is easier to find WiFi in the big cities but be aware that the connection might be less reliable and slower than you are used to.
What time zone is Kenya on?
Kenya is 3 hours ahead of GMT and does not observe daylight savings.
Travelling with Children
In Africa selected departures of our overland safaris are classified as 'Family Friendly' and these are noted under 'Prices and Dates' on the relevant tours. Family Friendly departures welcome children aged 6 – 17 years travelling with their parents on tour. Please note children will be occupying a seat on the overland truck, therefore they pay full price. Parents must be aware that travellers aged 18 years and older still frequent the trip and the tour is a participation overland tour.
Children aged eight and above travelling with a parent or guardian are also welcome on Lodge Safaris on a request basis and subject to the agreement of the other passengers. Please note that children aged 12+ pay adult price. We can tailor-make private safaris for families and those travelling with younger children.
The Migration
The endless plains of East Africa are the setting for the world's greatest wildlife spectacle – the pounding of more than 6 million hooves. From the vast Serengeti plains in Tanzania to the champagne coloured hills of Kenya's Masai Mara over 1 million wildebeest, 300,000 Thomson's gazelles and some 200,000 zebras, relentlessly tracked by Africa's great predators, migrate in a clockwise fashion over 1,800 miles each year in search of rain ripened grass.
The precise timing of this incredible event is hard to predict, as the path of the wildebeest migration is dependent on rain. The animals follow the path of the rain in order to feed off the new grass whilst also being close to a good water supply. Why not have a read of our general guide to the migration.