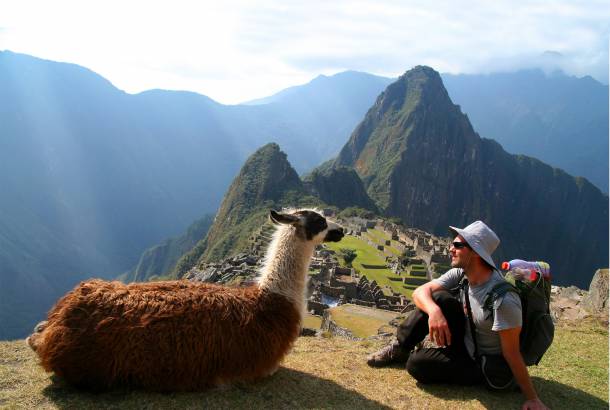 Planning a trip to Peru and want to know what to expect? Curious to know a bit about the cuisine and what wonderful souvenirs you can buy loved ones back home? Look no further than our handy travel tips covering everything from health advice to WiFi and a whole lot more.
What vaccinations do I need for Peru?
You should seek medical advice from your local health practitioner before travelling to Peru and ensure that you receive all of the appropriate vaccinations. As a guide tetanus, diphtheria, polio, typhoid and hepatitis A are recommended.
Do I need anti-malaria tablets for Peru?
There is the risk of malaria in certain areas of Peru, most notably the Amazon jungle. Therefore it is very important to check with your health practitioner before you go to check whether malarial medication is required for the areas you are visiting. As a guide, there is a high risk of malaria around Iquitos and a variable risk around Puerto Maldonado. As with any destination where malaria is present, take precautions against mosquito bites by wearing light coloured clothes that cover your arms and legs and apply a DEET-based insect repellent. For more information on the malaria risk in Peru visit the NHS Fit to Travel page or the CDC Traveler's Health page. A Yellow Fever vaccination may also be required, especially if visiting the jungle.
Is there a risk of Zika virus in Peru?
There have been cases of Zika virus registered in Peru. We recommend that travellers take rigorous anti-mosquito bite measures during the daytime. Pregnant travellers should seek counselling from a travel medicine specialist and carefully consider the risks associated with travel to this country.
Altitude sickness in Peru
Altitude sickness can affect anyone at moderate to high altitude (generally anything over 3,000 metres). Altitude sickness is caused by the lack of oxygen which can be up to a third less than at sea level. No one understands why some people are affected and others are not; and age, level of fitness and strength is no indication of how well you will fare. With altitudes of up to 4,200 metres on the Inca Trail and 4,600 metres on the Lares Trek, we recommend that you speak with your doctor prior to departure as medications are available to combat the effects of altitude sickness and may be recommended. Whether you decide to take altitude sickness medication or not, make sure you allow a few days of acclimatisation before the trek with minimal physical activity and plenty of fluids to stay hydrated. Be aware that you may experience altitude sickness in Cusco, which sits at an elevation of 3,399 metres.
Is it safe to drink tap water in Peru?
The tap water in Peru is not safe to drink and can cause stomach upsets. Only drink filtered or bottled water. It's wise to avoid ice cubes in drinks too. Make sure bottles are sealed before purchasing and avoid buying from street vendors as often the bottles sit in the sun or are refilled with tap water.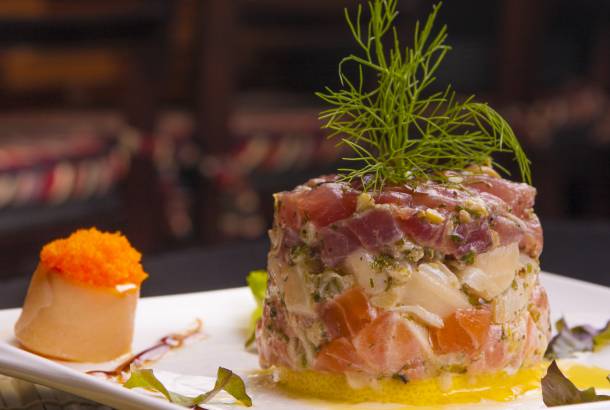 What's the food like in Peru?
Peruvian cuisine combines indigenous traditions with influences brought over by immigrant populations, which results in a huge variety. Staples include corn, potatoes (there are over 2,000 varieties in Peru!), legumes and quinoa. The Spanish brought with them rice, wheat, beef, pork and chicken, which today make up an integral part of Peruvian cuisine.
Popular Peruvian meets include alpaca and guinea pig, typically roasted and served whole. The seafood in Peru is superb thanks to over 2,400 kilometres of coastline, with ceviche proudly standing as one of Peru's most famous foods and culinary exports. Raw fish is cured with lime juice and marinated with onions, chillies and coriander to form a tangy and delicate textured dish that sushi-lovers are bound to enjoy.
Meat generally accompanies the main meal in Peru so meat-free options may be limited in traditional Peruvian eateries, though restaurants catering to tourists usually have a vegetarian section that will include local classics such as papas a la Huancaina - cold potatoes served with a cheese sauce spiced with chillies - and palta rellena - avocados stuffed with onion, tomato and mayonnaise alongside quinoa vegetable soup and international dishes without meat. Vegetarians will find plenty of options in Cusco especially.
There's a good selection of beverages in Peru with delicious native drinks including chicha morada, made from purple maize spiced with clove, cinnamon, sugar and pineapple, and the cultural icon that is Inca Kola, a lemongrass-flavoured soda luminous yellow in colour and with more sales than Coca Cola. Those looking for something stronger need look no further than the ubiquitous Pisco sour, an alcoholic cocktail made from the country's national liquor along with egg whites, syrup, bitters and ice. Beer is also popular in Peru with Cuzqueña one of the most popular local brands.
Safe eating while in Peru
The main cities in Peru have an excellent reputation as culinary hot spots so you'll find plenty of options when it comes to dining out with hygiene standards high. In the countryside standards will be lower so make sure any cooked food is piping hot and if the place looks dirty then find somewhere else to eat. Street food can be a health hazard so it's best to stick to restaurants though if you can't resist the appeal of a quick roadside bite, make sure the food looks fresh, especially seafood. Food markets are a cheap place to eat with long-serving vendors offering up all sorts of dishes and these shouldn't cause you any issues if you stick to the most popular where turnover is high.
Is it standard to tip in Peru?
Tipping has become a standard part of the service industry in Peru. In budget or mid-range restaurants it's customary to leave a 10% tip while in more upmarket establishments found in the larger cities a service charge of at least this may be automatically applied to the bill.
Local guides do expect a tip though it's not obligatory and should only be given for a job well done. The standard amount is 20 soles per person for a full day tour and 10 soles for a half day tour. For drivers a tip of 5-10 soles is reasonable. Tips for the guide, porters and cook on the Inca Trail and Lares Trek are not included in the tour price and you should budget for at least 100 soles per person to be divided between the team with usually 50% of that amount given to the guide, and the other 50% shared between the cook and porters as you deem fit.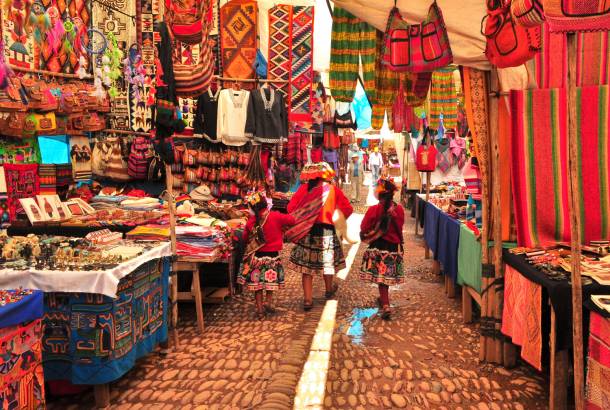 What's good to shop for in Peru?
Peru is a shopper's paradise with plenty of options for quality souvenirs. Top of the list is alpaca wool, which you can buy in the form of jumpers, scarves, gloves, hats (including the popular chullo Andean hat with the distinctive ear flaps) and blankets. Quality does vary with baby alpaca (the softest and most expensive wool), and sometimes you may end up inadvertently buying a mix of alpaca, wool and acrylic at some of the markets; so if you want to be assured of the quality, try the boutique stores that are prevalent in Cusco. Alpaca goods are sold across Peru with the markets in the Sacred Valley have the most choice when it comes to patterns and colour.
The weavers of Taquile Island and their long-held traditions have been proclaimed "Masterpieces of the Oral and Intangible Heritage of Humanity" by UNESCO and consequently Peru is an excellent place to shop for textiles ranging from scarves to belts, tapestries to bags designed with traditional emblems and patterns.
As one of the world's largest producers of silver, Peru offers an interesting selection of jewellery. Traditional Andean elements feature in designs and offer something different to what you'd find back home. Again, quality does vary and prices therefore vary accordingly and you should stick to the official-looking stores in Cusco and Lima for the best quality pieces.
Is bargaining acceptable in Peru?
Bargaining is expected in markets and it's advisable to go in with a figure around half of what you're first quoted, especially in the popular tourist spots where prices are usually inflated. Bargaining over prices should be a polite, friendly exchange until you reach an agreeable figure that you're happy to pay and the vendor is happy to accept. You'll also need to negotiate taxi fares as you'll rarely find meters in the vehicles.
Is it safe for a single woman to travel in Peru?
Travelling in Peru as a solo female does not pose any more difficulty than what you'd expect when travelling elsewhere. As with anywhere in the world, avoid walking in unlit, quiet backstreets at night in the cities and travel with a Quechua-speaking guide when visiting remote Andean villages where strangers are looked upon with distrust.
As a predominantly Roman Catholic nation, Peruvians do not reveal much flesh with large, ankle-length skirts and long-sleeve tops favoured by the women of the Andes. In the cities, western dress is common and you'll see women dressed much as you would at home with skirts and t-shirts being common. However, to avoid causing offence or inviting any unwanted attention, try to keep your shoulders and chest covered.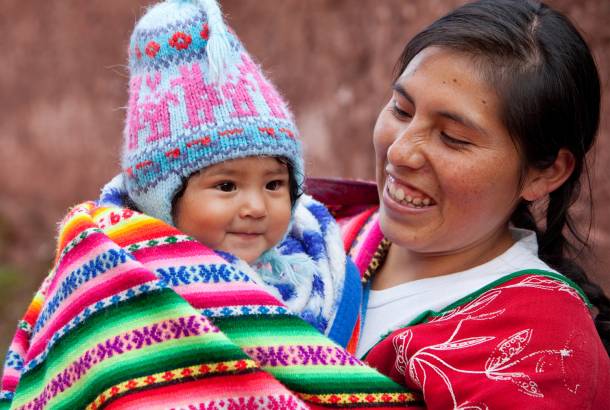 Is Peru a suitable family holiday destination?
Peru offers a highly adventurous choice of destination for a family holiday with plenty to keep the entire clan occupied, from the fascinating history of the Inca ruins to the colourful living traditions of the indigenous population. There's also no end to the outdoor activities available whether it's going on nature walks in the Amazon Rainforest or taking a 4x4 to the Huacachina oasis. It's a destination that's possibly best suited for kids aged seven and upwards who are old enough to understand tales of kings and foreign invaders, appreciate the talent of local artisans and enjoy a physical challenge.
Children will likely enjoy the food in Peru with many dishes bearing some resemblance to what they'll find back home with meat, rice and fries a typical feature on the menu. It's important to consult your doctor before travelling to Peru with children, especially if visiting the Amazon and high altitudes where medication may be required.
Our group tours to Peru are open to children aged 16 years and older though we can organise customised tours for those families travelling with children of a younger age. Contact our tailor-made team for more information.
What is the duty free allowance for Peru?
You are permitted to bring the following into Peru:
20 packs of cigarettes or 50 cigars or 250g of tobacco
3L of alcoholic beverages
Gifts or new articles for personal use up to a value of US$500
What is the currency in Peru?
The currency in Peru is the Nuevo Sol, which comes in denominations of 200, 100, 50, 20 and 10 Sol banknotes. US Dollars are also often accepted in tourist areas. Check OANDA for the latest exchange rates.
ATMs can be found in all towns and cities in Peru. Most major credit cards are accepted, although it's not usually possible to use credit or debit cards for purchases outside of tourist areas so it's always best to hold a combination of cash and cards. Please be aware that ATMs in Peru do not always automatically release your card with your cash and sometimes you have to push a button for your card to be returned.
Although all major currencies can be exchanged locally, US Dollars are best. It's advisable to request bank notes in smaller denominations, as it can sometimes be hard to get change from larger notes. Traveller's Cheques are not recommended as they're often difficult to exchange and incur high fees.
What do things cost in Peru?
Peru is not one of the cheapest destinations in the world but your money will still get you quite far. A meal at a mid-range restaurant with a soft drink will set you back around USD $8-10 per person while the prices at fancier restaurants will be somewhere closer to USD $30-40 per person. A bottle of water should be little more than a dollar while local beer is around $2 a bottle.
When travelling on a group tour, which includes your accommodation, sightseeing, breakfast and transportation, we recommend budgeting between USD $25-40 per person per day to cover additional meals, snacks, drinks, souvenir and odd purchases.
What sort of plugs do I need for Peru and what is the voltage?
The voltage in Peru is 220V and sockets are a mixture of the European, two-pronged round variety and US flat-pin. We recommend that you pack a universal travel adaptor that will allow you to use a hairdryer, electric shaver, charge a mobile phone or other electrical items. You will also need a voltage converter if you're using appliances from the US.
Is WiFi widely available in Peru?
You'll be able to get online in Peru fairly regularly though the connection speeds and strength of signal can be an issue. In general more upmarket restaurants and cafes catering to travellers will offer free WiFi though you'll need a password, and most hotels have WiFi in the common areas at least - the better the standard of hotel, the more likely you'll be able to get WiFi in your guestroom.
What time zone is Peru on?
Peru is 5 hours behind GMT and does not observe Daylight Saving.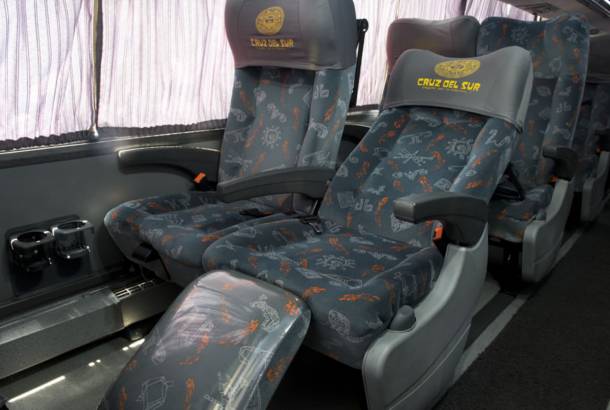 What is bus travel like in Peru?
Travelling by bus is one of the cheapest modes of transport in Peru and with a comfortable vehicles covering an extensive network, it's also a favourite form of transportation for travellers. Numerous companies operate tourist buses with large, reclining seats that have proper footrests and plenty of space. There's usually the added bonus of drink holders and blankets are generally provided for overnight journeys. These tourist buses also have air-conditioning and heating and even onboard toilets designed for urinary use only. Depending on the company and the route, snacks or a small meal may also be included in the cost of the ticket.