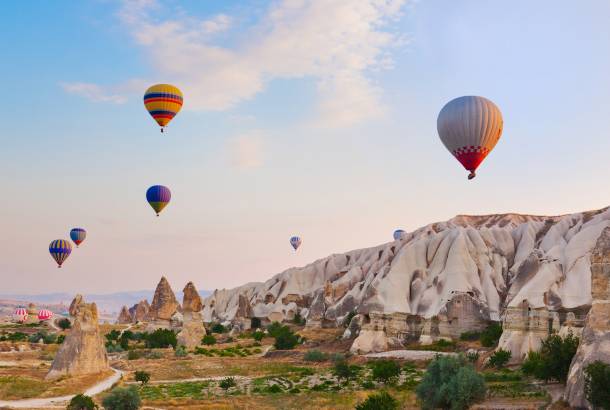 Are you planning a visit to Turkey and have a few questions? You've come to the right place. Read on to find out more about the food, drinking water, mosque etiquette, and how to bargain at the bazaar!
What vaccinations do I need for Turkey?
You should seek medical advice before travelling to Turkey from your local health practitioner and ensure that you receive all of the appropriate vaccinations. As a guide Diphtheria, Hepatitis A and Tetanus are strongly recommended. For more health information for Turkey please visit the NHS Fit to Travel page or the CDC Traveler's Health page.
Is it safe to drink tap water in Turkey?
The tap water in Turkey is generally considered safe to drink, but as a precaution against stomach upsets you may want to drink bottled mineral water, which is readily available from most shops, hotels and restaurants.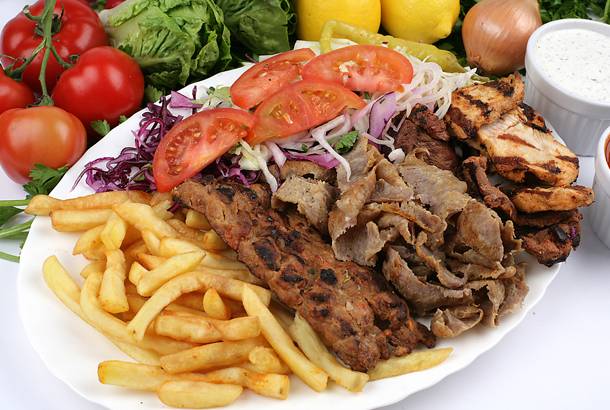 What's the food like in Turkey?
Turkish food is famous throughout the world. Look forward to meze comprising houmous and other dips, dolma (stuffed vine leaves), cheese cigars, the ubiquitous doner kebab and pide - a kind of pizza. Exotic freshly squeezed juices, nuts and fruit are available everywhere. If you feel like a java jolt, try Turkish coffee - rich, dark and often laced with cardamom.
Breakfast in Turkey usually consists of a range of different cheeses along with olives, bread, different jams and honey and, occasionally, a special kind of spicy sausage called sucuk, which is eaten with eggs. Menemen is also a popular morning dish and is made up of scrambled eggs cooked up with sautéed vegetables.
For those with a more carnivorous inclination, you're in luck. Turkish food caters perfectly for meat lovers with dishes like kofte (Turkish meatballs) and kuzu tandir (slow cooked lamb with rice) making regular appearances. Lahmacun, flatbread topped with minced meat, lemon and yoghurt, is a popular snack and can be found at street food stalls throughout the country. For dessert, sink your teeth into the sticky, nutty, syrupy delight that is baklava or feast on a cube or two of Turkish delight.
Safe eating while travelling in Turkey
Travellers to Turkey rarely have any issues with food. Street food is not a big part of culture here so visitors need not worry about food being left out in the sun for too long. Tap water is also not an issue in Turkey so ice in drinks and food that has been washed should not cause any problems. As with anywhere in the world, if a restaurant looks run down or your food (especially meat and fish) looks a little undercooked then it is best to avoid it.
Is it standard to tip in Turkey?
Tipping is expected in Turkey and leaving a 10-15% tip on your bill in a restaurant is generally an acceptable amount. When it comes to other areas of the service industry, such as taxis and hairdressers, rounding up the fare is a nice gesture but not obligatory. In upmarket hotels it is also recommended that you leave the equivalent of a couple of dollars per day for housekeeping and concierge staff. Tour guides should also be tipped the equivalent of around USD $10-15 per person per day.
Our Tipping Made Easy policy takes the hassle out of tipping while on tour with a nominal pre-determined amount collected from all tour participants on the morning of day 2 in local currency. This tipping kitty is then divided among bellhops, luggage handlers, local guides and other support staff throughout the tour. The amounts collected for tips per person can be seen on the relevant tour page. This is done to minimize the hassle of you trying to work out how much to tip different people!
Please note that our Tipping Made Easy amount does not include a tip to your group tour leader, where we suggest an amount of approximately USD $3-$6 per day of your tour. Naturally, though, the amount is up to you. If travelling on a group tour with less than 6 participants or on a Tailor-made holiday, in place of Tipping Made Easy we recommend the following amounts per person per day be allocated to cover tips paid directly by you to bellhops, luggage handlers, your driver and local guides: USD $10 if the day includes a local guide & sightseeing; and USD $5 if the day does not include a local guide and sightseeing.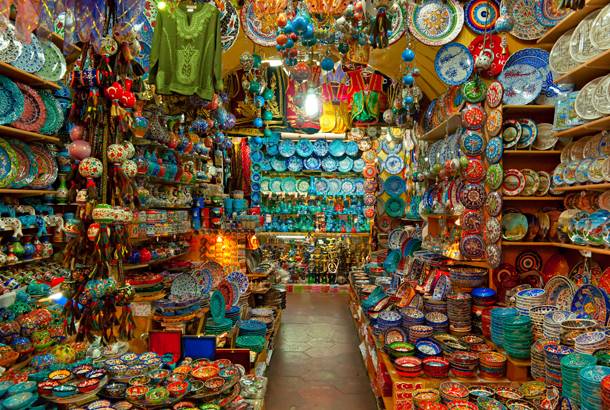 What is good to shop for in Turkey?
Turkey is a virtual Aladdin's Cave. Known locally as Kapali Çarsi – the Grand Bazaar in Istanbul's Old City is a massive conglomeration of over 4000 shops divided into areas specialising in gold, carpets, leather, souvenirs and clothing. Turkish handicrafts include a rich variety of textiles and embroideries, articles of copper, onyx and tile, mother-of-pearl, inlaid articles, leather and suede products. Jewellery, carpets and kilims represent top buys at the bazaar.
The Egyptian Spice Bazaar at Eminonu near Istanbul is an easy continuance from the Grand Bazaar or good start point before heading there. Here, you can buy an array of spices at a fraction of the cost you'd expect to pay back home. Pine kernels, peppercorns, real Iranian saffron and other precious commodities are hawkered here at knockdown prices! Real Turkish delight is available by the tonne as well. Why not try the milk-based Turkish delight studded with pistachios!
Markets and bazaars abound in other towns, too. During your stay in Turkey, you may visit a leather manufacturer and emporium. Although the quality of some of the jackets and clothing at these places is outstanding, the initially quoted prices can also be rather outstanding. If you do fancy a particular item, it does pay to haggle, even if you are in the confines of what looks to be a smart emporium/showroom.
Is bargaining acceptable in Turkey?
In Turkey bargaining is just as much a social practice as it is a business one and almost everything in a marketplace can be haggled down. The best way to get a good price in one of Turkey's many bazaars is by maintaining a smile throughout the entire transaction, remaining polite and not letting on how much you want the item. If the vendor believes you are not really bothered about whether you buy the item or not, he or she will bring the price down to tempt you. If you find that you are haggling over a matter of pennies, best practice is just to accept the marginally more expensive price and leave with your item in tow, keeping everyone happy.
Is it safe for a single woman to travel in Turkey?
Despite fears that the country's location in the Middle East makes it unsafe for female travellers, Turkey is remarkably progressive and cosmopolitan and much easier for women than it appears from the outside. The country is predominantly Muslim and therefore women generally dress conservatively but in the big cities and main tourist areas and beach resorts, foreign women showing a little skin won't attract too much attention. However, if stares and the occasional catcall make you uncomfortable, covering your arms and legs should nip this in the bud. Of course, women should take care not to end up on their own at night, keep an eye on their drinks and be wary of seeming too forward with any men who might misinterpret your friendliness.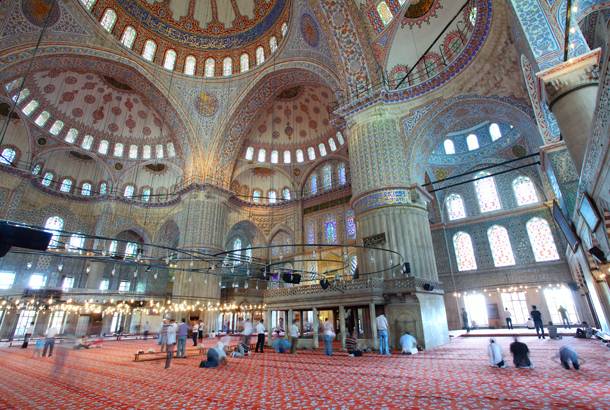 How should I behave when visiting mosques in Turkey?
Turkey's mosques, including the stunning Blue Mosque in Istanbul, are open to all visitors, Muslim and non-Muslim, but it is important to abide by the rules and cultural etiquette standards that are in place. Usually entry is free but donations to the upkeep of the mosque can and should be made. First of all, it is best to visit mosques when you are least likely to disturb and distract worship and prayer groups. Upon arrival, all guests are required to remove their shoes in order to keep the interior of the mosque clean.
Once inside the mosque, visitors should move slowly and be as quiet as possible, passing behind worshippers as passing in front is considered impolite. Conservative clothing should be worn and both men and women should expose as little skin as possible. At the Blue Mosque and other popular mosques, attendants will provide you with robes whilst inside if your outfit is deemed too revealing. Women must wear a headscarf in order to enter the mosque.
What is the duty free allowance for Turkey?
Travellers are permitted to bring the following into the country:
600 cigarettes, 100 cigarillos, 50 cigars and 250g of tobacco
1L of alcohol over 22% volume or 2L of alcohol under 22% volume
5 bottles (maximum 120ml each) of perfume and eau de toilette
1kg each of tea, coffee, chocolate or confectionery
Gifts to the value of USD $480 (reduced to USD $165 for children under 15)
The following are banned from being imported into Turkey: narcotics, and sharp implements (including camping knives) and weapons require a special permit.
What is the currency in Turkey?
The official currency in Turkey is the Turkish Lira. Check OANDA for the latest exchange rates.
Euro, British Pounds, US Dollars and other major currencies can be exchanged locally or in advance of departure. Istanbul Ataturk Airport offers speedy currency exchange facilities adjacent to the baggage hall. Additionally, exchange facilities are available at various bureau de changes and banks in major towns have ATMs. It's advisable to request bank notes in smaller denominations, as it can sometimes be hard to get change from large notes and smaller notes are handy for smaller purchases and gratuities.
Traveller's Cheques are not recommended as they're often difficult to exchange and incur high fees.
What do things cost in Turkey?
Although Turkey is an incredibly popular tourist destination, cities like Istanbul have remained pretty cheap for the average traveller. Snacks from street vendors can normally be purchased for just a few dollars while a meal in a restaurant with a drink won't amount to much more than USD $10. Mid-range accommodation will usually cost around USD $50 per night. Public transport within cities is very reasonable and won't come to more than a few dollars per journey. Taxis tend to have a base fare of USD $1 and then cost one extra dollar per kilometre.
What sort of plugs do I need for Turkey and what is the voltage?
Standard voltage is 230 - 240 volts. Primary sockets generally require plug types C and F, similar to most European countries. We recommend that you pack a universal travel adaptor. You will need a voltage converter and plug adaptor in order to use U.S. appliances.
Is WiFi widely available in Turkey?
In the main cities, such as Istanbul, WiFi is widely available in hotels, restaurants, cafes, bars, and many public places. There is also an abundance of internet cafes. In more rural areas, internet connection can be a bit patchy, but you should still be able to get online.
What time zone is Turkey on?
Turkey is 2 hours ahead of Greenwich Meantime (GMT). From the last Sunday in March to the last Sunday in October, Turkey observes Daylight Saving and is 3 hours ahead of GMT.