Despite being one of the smallest states in India, Goa certainly isn't short of attractions, especially when it comes to its coastline. Stretching for just over 100 kilometers, Goa's coast is home to a virtually uninterrupted string of gorgeous golden-sand beaches. Combined with a tropical climate and temperate waters, it's little wonder this is one of India's top beach destinations.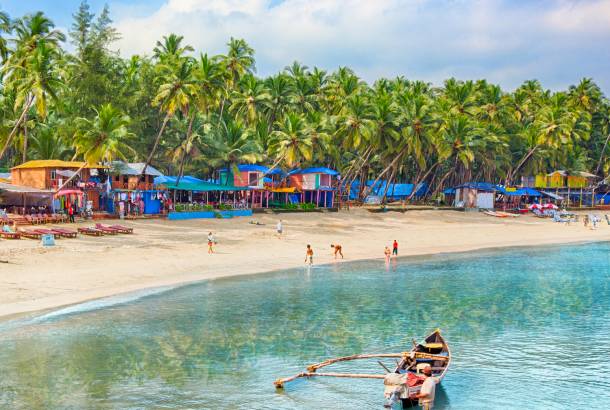 Top 10 Beaches in Goa
Far from being the hippy destination of the sixties, Goa's beaches have each developed their own characters and reputations. With such variety to choose from, there's a beach to suit every kind of holiday style, whether you're after relaxation and luxury or partying and watersports. No doubt you'll find one that's just right for you.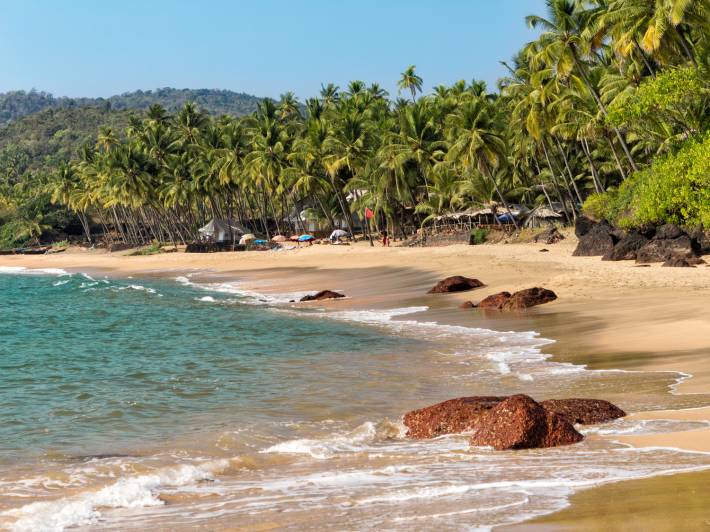 Best for: Escaping the crowds
Cola
Located on a private bay, Cola Beach is an undeveloped paradise in the south of Goa. Offering its visitors a sense of peace and serenity, Cola is cut-off from the rest of the coast and has its own lagoon of calm blue waters. Its soft golden sands boast a backdrop of pretty coconut groves that provide shade from the midday sun. There are very few accommodation options and the beach is best reached by boat, making it the perfect place to retreat and get that headspace you deserve.
Recommended Accommodation:
Dwarka Eco Beach Resort – rustic thatched cottages with stunning views over the sea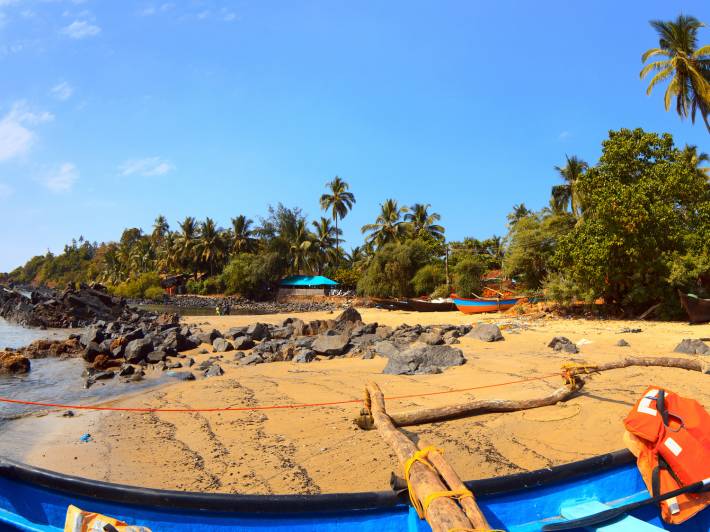 Best for: Yoga retreats
Patnem
Just a 10-minute walk from the busier Palolem Beach, Patnem's isolated position between two cliffs gives the beach a calm and relaxed vibe - with its peaceful atmosphere making Patnem a great spot for yogis. There are several retreats to choose from, offering classes to suit a range of abilities. There's also plenty of chilled-out beach shacks plus stalls selling Kashmiri jewelry and trinkets. This really is the best of both worlds: a wonderful place to relax and situated only a stone's throw away from the lively Palolem nightlife scene.
Recommended Accommodation:
Bamboo Yoga Retreat - voted one of the top ten yoga retreats in India by Conde Nast Traveller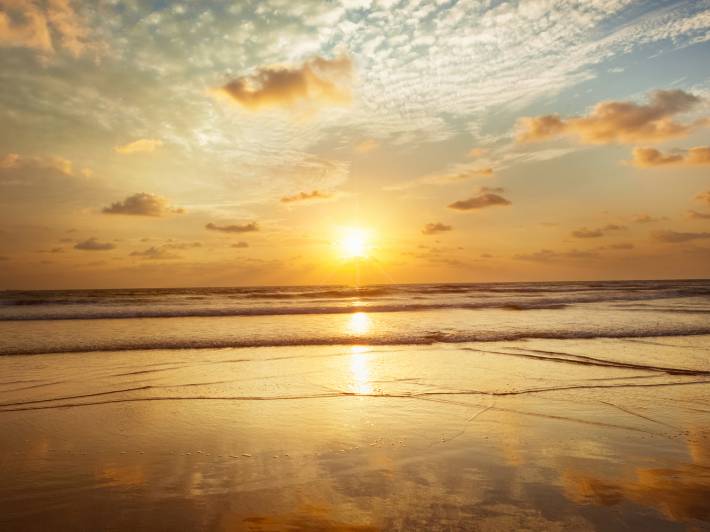 Best for: Buzzing nightlife
Baga
Once a quaint fishing village, Baga now boasts some of the most vibrant nightlife on Goa's coastline. By day, it has a thriving beach scene and a variety of watersports, but after the sun goes down the entertainment really begins. You'll find the main strip of clubs running behind the beach, playing everything from psychedelic trance to Bollywood beats. And if you head back down to the sands, the beach shacks are serving drinks all night.
Recommended Accommodation:
The Beach Box Hotel Baga – unique accommodation made from upcycled materials and shipping containers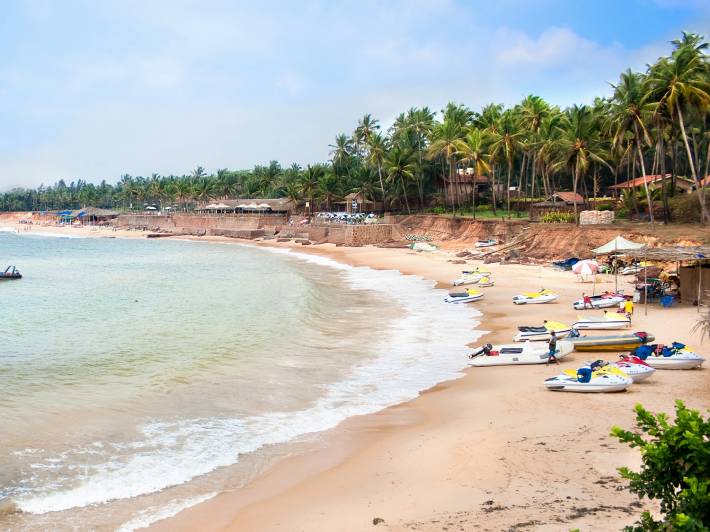 Best for: Luxury Resorts
Sinquerim
Home to some of the best hotels in the north of Goa, Sinquerim is the place to go if you're looking for a little luxury. Its endless golden sands are studded with bamboo beach shacks, hiring out sun loungers and offering delicious seafood. Close by you'll also find Fort Aquada, a 16th century fort with stunning views along the coast. But despite its obvious attractions, Sinqueirim has retained a quiet and peaceful feel. And as beach vendors aren't allowed, you can truly enjoy some rest and relaxation.
Recommended Accommodation:
Taj Fort Aguada Resort & Spa: 5-star accommodation with manicured gardens sweeping down to the sea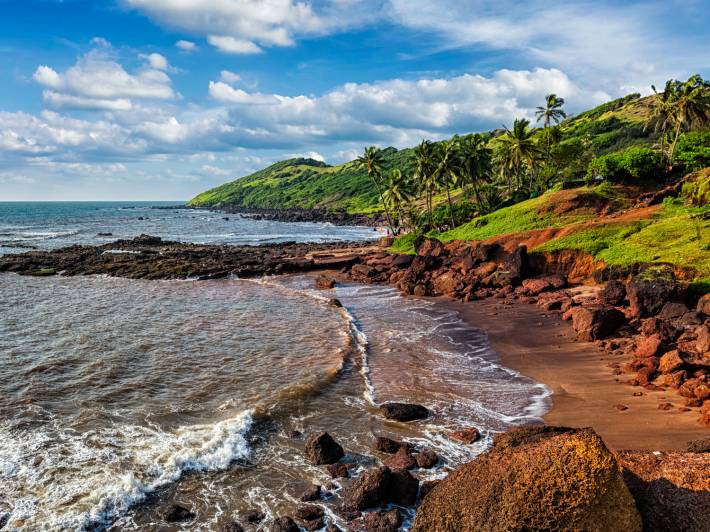 Best for: Budget Travellers
Anjuna
Formerly a hippy hangout famous in the 60's for its moonlight rave parties, today Anjuna exudes a slightly different vibe but its hippy legacy still lingers in its heady beach party scene and the Anjuna Beach Flea Market. Held every Wednesday, the market is ideal for souvenir shopping and sells everything from fruit to clothing. The beach itself is also renowned for its natural beauty, with white sands, red laterite rocks and swaying coconut trees. Numerous funky hostels have opened in recent years, making this a great beach destination for budget travellers and backpackers.
Recommended Accommodation:
Radha Guest House – located just footsteps from Anjuna Beach and Anjuna Flea Market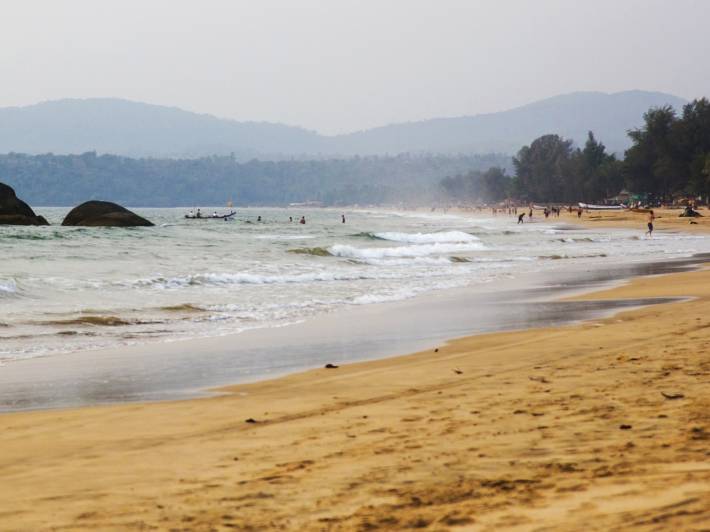 Best for: Family Holidays
Agonda
Agonda is a quiet beach offering simple accommodation and a golden arc of powder soft sands. A handful of restaurants serve kid-friendly dishes such as omlettes and pancakes and, being set right on the beach, you can enjoy a drink or two whilst your children play in the sands. There's also the option of going dolphin watching or hiring a bodyboard or surf board. So there's more than enough activities to keep the whole family entertained.
Recommended Accommodation:
Seastar Resort - comfortable beach huts and a seafood restaurant close to Agonda Beach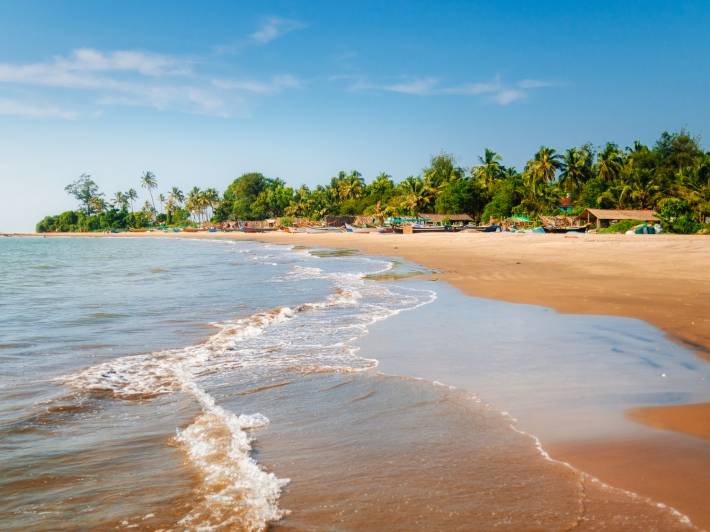 Best for: Spotting turtles
Morjim
Also known as 'Turtle Beach', it's no surprise Morjim is most famous for its turtles. As the nesting ground of the endangered Olive Ridley Turtle, the smallest sea turtle species, this beach is the setting for several local conservation efforts. You may be lucky enough to see a mother coming ashore to lay her eggs or even tiny hatchlings as they shuffle down to the water's edge. There are playful dolphins and a number of seabird species to be spotted as well.
Recommended Accommodation:
Papa Jolly's Eco-Resort - features a swimming pool and multi-cuisine restaurant within a short walk of Morjim Beach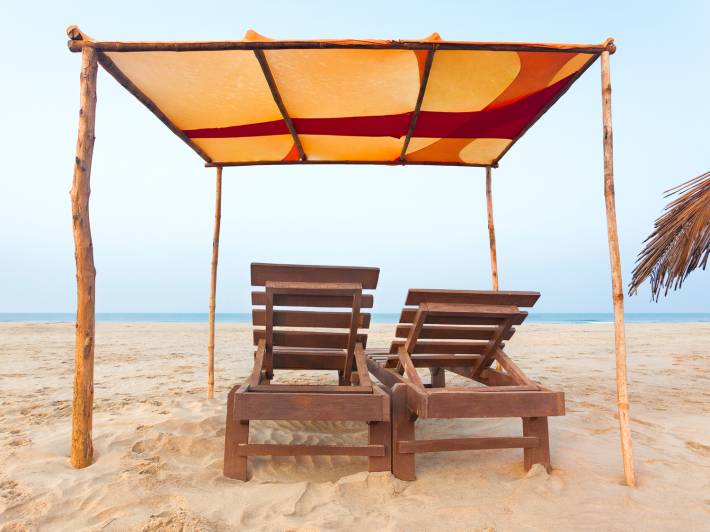 Best for: Fresh Seafood
Arossim
Nestled in a landscape of coconut palms and rice paddies, Arossim Beach offers picture-perfect white sands and a low-key vibe. But aside from its natural beauty, one of its main highlights is its culinary offerings. A scattering of colourful beach shacks and eateries serve deliciously fresh seafood to hungry beach-goers. What's more, after you've eaten your fill of fresh lobster or Goan shrimp curry, nothing beats kicking back with a cold beer and watching one of Arossim's stunning sunsets.
Recommended Accommodation:
Treehouse Nova - set in an elegant Portuguese colonial–style villa surrounded by palm groves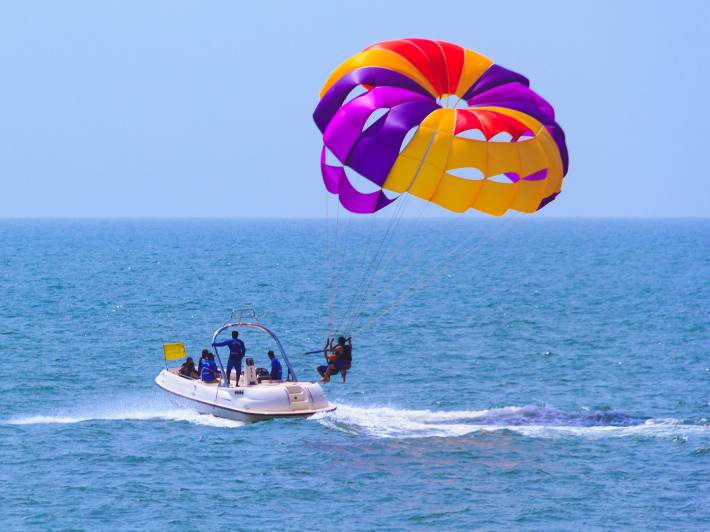 Best for: Watersports and activities
Calangute
As one of Goa's most famous and developed beaches, Calangute is well-known for the variety of watersports it offers. From kayaking, banana boating and jet-skiing above the waves, to snorkeling beneath them, you'll be spending more time in the water than on the beach itself. There's also plenty of shopping to be had, with Calangute Market Square offering traditional handicrafts, souvenirs and jewelry. And for a truly exhilarating experience, why not try parasailing? Alongside the adrenaline rush, you'll enjoy beautiful views of the coast as you soar through the sky.
Recommended Accommodation:
Happy Inch - Waves, Calangute - comfortable apartments set around a pretty outdoor pool and garden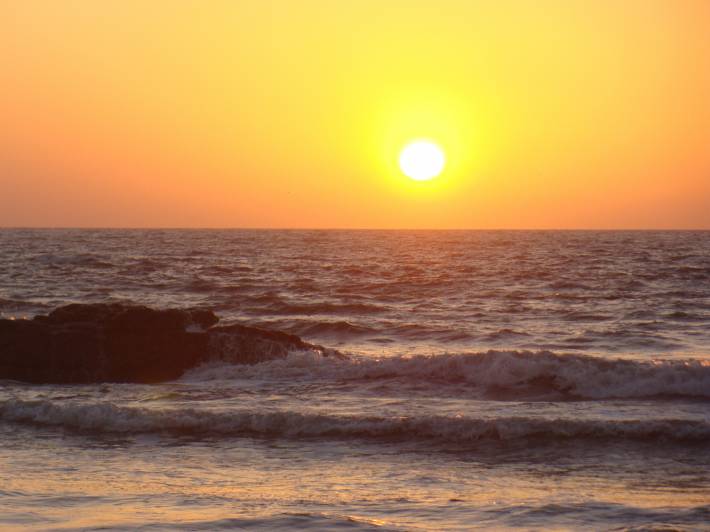 Best for: Watching the sunset
Vagator
One of Goa's most beautiful beaches, Vagator offers extensive golden sands, dramatic rocky cliffs, and a 17th-century fort. Following the release of Bollywood blockbuster movie Dil Chahta Hai, Chapora Fort shot to fame and is now renowned for its incredible sunset views. Simply sit on one of its walls or climb the nearby rocks for the best vantage point. Then soak up the views as the sun sinks below the sea, leaving behind a dappled sky of pink and orange hues.
Recommended Accommodation:
Aria Beach Resort - boutique resort featuring wooden chalets and panoramic ocean views
Best time to visit Goa for a beach holiday
Located between the Equator and the Tropic of Cancer, Goa enjoys a hot, tropical climate with two distinct seasons. The monsoon season runs from June to September. This is the low season, bringing high humidity and rainfall. However, perks to visiting at this time include quieter beaches, cheaper hotels, and a lush, green landscape to explore.
Goa experiences its dry season from October to May. This is by far the best time to visit for a beach holiday because of the clear skies, warm weather, and lower humidity typical of the season. And when you're not soaking up the sun, this season also offers some of Goa's most popular festivals. December sees extensive Christmas and New Years' celebrations, as well as Sunburn – one of the world's biggest music festivals. October to January is also Goa's peak tourist season, so be sure to book accommodation in advance.
Recommend tours for beach time in Goa
To help you plan your beach holiday, take a look at our recommended tours that include spending time on Goa's coastline. Alternatively, if you already know where you want to go or prefer the idea of a private tour, contact our tailor-made team who will be delighted to put together your dream trip for you.
Signature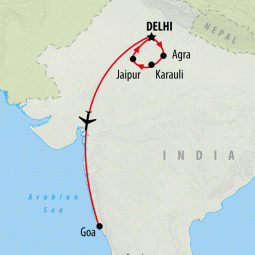 13 Days FROM $2,765
Private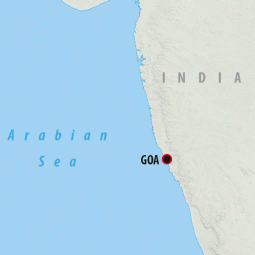 5 days FROM $1,175
Private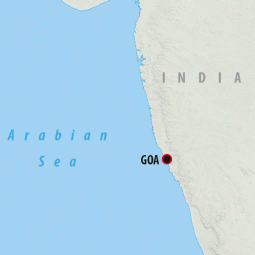 8 days FROM $3,439