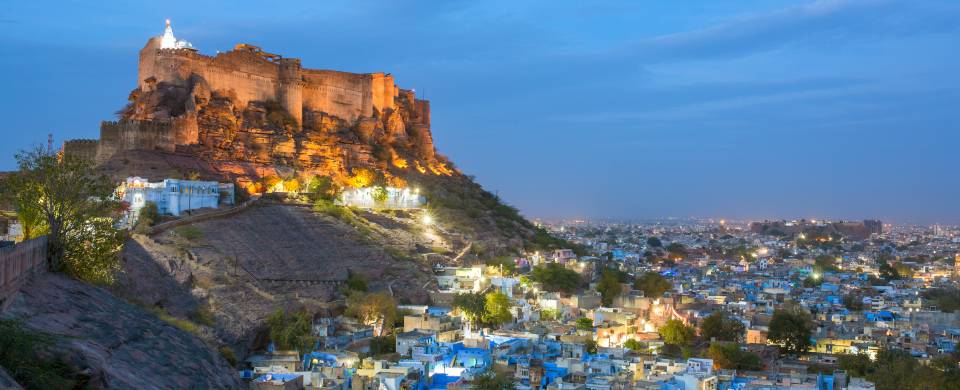 Trips and Tours to Jodhpur
About Jodhpur
Located at the eastern edge of the Thar Desert, Jodhpur is the second largest city in the state of Rajasthan and home to one of India's most impressive citadels. The massive Meherangarh Fort dominates the city's skyline from its perch on a sheer rocky ridge with 10 km of thick stone walls that enclose the old city. Entry to the old city and its several palaces noted for their fine carvings and large courtyards is through seven different gates, one of which is scarred by cannon ball hits from battles that took place centuries ago. There's also an interesting museum within the Fort that houses an amazing collection of the trappings of Indian royalty.
Read More
Another popular landmark of the old city is the clock tower, located close to the vibrant Sandar market with a brilliant selection of goods on sale. Here you can wander through the many alleys selling spices, Indian sweets, silver, fabrics and handicrafts. Towards the south-east of the city is the awesome Umaid Bhawan Palace and Museum, one of the world's largest private residences. A wing of the palace is now being run as a hotel. Another site worth seeking out is the milky-white marble memorial of Jaswant Thada, which enjoys a peaceful spot overlooking a small lake.
Like many of Rajasthan's cities, Jodhpur also has a nickname - the Blue City, and when you head to the lofty heights of the Meherangarh Fort it's easy to see why as a sea of bright blue houses stretches out before you. The colour blue has been used by India's Brahmins to identify themselves as the purest of the caste system but a competing theory suggests that the indigo dye was used to ward off rampant termites that would have destroyed the city's dwellings.