COACH TOUR: Join us on a Biblical adventure through Israel's most holy sites - explore Jerusalem, Bethlehem and Nazareth before heading to the gorgeous region of Galilee. End with fun and sun in the lively city of Tel Aviv.
Trip Highlights
Haifa - Bahai Shrine, Persian Garden and Mount Carmel
Ein Karem - Birthplace of John the Baptist
Beit Shean - Excavations of the old Roman city
Nazareth - Church of the Annunciation and Mary's Well
Caesarea - One of the great cities of antiquity! Roman theatre and Crusader fortress
Jerusalem (West Bank) - Old City - Jewish Quarter, bazaars, Western Wall. Via Dolorosa, Church of the Holy Sepulchre, Mt. Zion, Last Supper Room and King David's Tomb. Israel Museum and the Dead Sea Scrolls and Yad Vashem - World Holocaust Centre
Bethlehem (West Bank) - Church of the Nativity and Shepherd's Field
Safed - City of Kabala
Picturesque Sea of Galilee and the Miracle Sites
Tel Aviv - Dynamic city on the Mediterranean coast
Included
Breakfast daily and 6 dinners
Touring - Jerusalem, Bethlehem, Beit Shean, Nazareth, Galilee, Acre, Haifa and Caesarea
Services of local guides for scheduled sightseeing
All transfers and transportation in modern air-conditioned vehicles
7 nights 4 star hotels
Entrance fees for all included sightseeing
Ben Gurion Airport arrival and departure transfer on days 1 and 8
This coach tour is operated in conjunction with other tourist groups, not solely On The Go. You will join travellers from a number of different operators, some staying in different hotels for sightseeing each day
Not Included
International flights and visa
Tip for your tour guide and driver. We recommend you allow USD$5-7 per day, per traveller for your guide and USD$2 per day, per traveller for your driver. Tipping your guide and driver is an entirely personal gesture
Jerusalem (West Bank). Begin the day with a trip to the Mount of Olives for impressive views of Jerusalem. See some of the world's oldest olives trees at the Garden of Gethsemane and discover the glistening mosaics of the nearby Church of Agony.

Continue to the Israel Museum's, Shrine of the Book to see the famous Dead Sea Scrolls and the beautifully renovated Model of the Herodian City of Jerusalem, dating back to the time of the Second Temple (515 BCE – 70 CE). Scattered over 45 acres of the Mount of Remembrance is Yad Vashem, a vast, landscaped complex with a fascinating museum and a dozen memorials built to honour the six million Jews who died during the Holocaust. We pay our respects and learn more about how this tragedy shaped the modern State of Israel. Later, we visit the picturesque village of Ein Karem, the birthplace of John the Baptist.
Overnight: Jerusalem | Breakfast, Dinner
Jerusalem - Bethlehem - Jerusalem (West Bank). After breakfast today we head to the spectacular Old City through one of the fabled gates. Within its mighty walls we explore the renewed Jewish Quarter, the 2,000 year old Western Wall, Via Dolorosa – the route that Jesus is believed to have taken as he carried his cross to Calvary, and the Stations of the Cross ending at the Church of the Holy Sepulchre, the holiest Christian site in the Old City. We'll also have time to wander the colourful bazaars and pick up some souvenirs.

Later, we make our way to Mount Zion to visit the tomb of King David, the Room of the Last Supper and Dormition Abbey. This afternoon we visit Mahane Yehuda, this bustling market showcases incredible flavours, aromas and colours and is fantastically noisy and exciting place to explore.
Overnight: Jerusalem | Breakfast, Dinner
Jerusalem - Nazareth - Galilee. Leaving Jerusalem, we drive north via Jericho, the oldest city in the world. Continuing via the Jordan Valley we reach Beit Shean and explore the excavations of this beautiful Roman city. Afterwards we proceed to Nazareth and the Church of the Annunciation that dominates the city's skyline. It's the largest church in the Middle East and one of the Christian world's most holy shrines. We'll also visit Mary's Well and then continue to Safed, the city of the Kabala in the northern district of Galilee, for a walk through the mystic alleys and the artists' colony.
Overnight: Galilee | Breakfast, Dinner
Galilee. This morning we drive to the Golan Heights, where we see the former fortifications and the Druze villages. The Golan Heights is a disputed territory, and our guides will be politically neutral for the duration of our touring in this part of Israel. Afterwards, we visit an Israeli vineyard for wine tasting. Surrounded by beautiful countryside, we'll learn about wine production and sample a collection of fine wines.

We continue past Banias, the source of the Jordan River, to the shores of the Sea of Galilee. Here, we'll see Peter's House and the ruins of the ancient synagogue in Capernaum, Mount Beatitudes, and Tabgha where the miracle of the Fish & Bread took place. After learning a little about the importance of Israel's diamond industry at a famed emporium, our day continues with a short tour of Tiberias, an ancient centre of Jewish learning. This afternoon an optional sailing trip across the Sea of Galilee is offered (book & pay locally).
Overnight: Galilee | Breakfast, Dinner
Acre & Haifa
Galilee - Tel Aviv. Driving west, we explore the medieval fortifications of Acre, a famous Crusader stronghold. In Haifa we'll enjoy a tour of the Bahai Shrine, Persian Gardens and Mount Carmel for panoramic views of the city. Heading southwards to Caesarea we visit the Roman Theatre and Crusader Fortress before arriving in Tel Aviv, Israel's dynamic party centre on the Mediterranean Coast.
Overnight: Tel Aviv | Breakfast, Dinner
Tel Aviv. Today offers free time for you to enjoy Tel Aviv your way. Alternatively, you could opt to take a day trip to the Dead Sea to swim in the buoyant waters (book and pay locally).
Overnight: Tel Aviv | Dinner
Monday. Our tour concludes today after breakfast. Included departure transfer to Ben Gurion Airport. If you would like to stay on and further explore, we can arrange post accommodation, please enquire.

For information about visas, top travel tips and much more, take a look through our travel guide.

The hotels listed below are ones which we frequently use on this tour. We reserve the right to substitute these hotels to ones of a similar standard.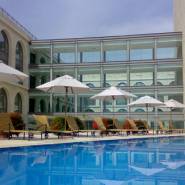 Hotel Grand Court , Jerusalem
Centrally located. the Hotel Grand Court is a very modern hotel and an excellent base for exploring the holy city. Guest rooms are bright and well furnished with free Wi-Fi throughout. The Garden Court is the perfect spot to enjoy breakfast al-fresco. There is also a refreshing outdoor pool to relax in or by (open April - September). Perfectly located just a short walk from the Old City.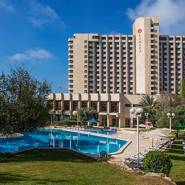 Ramada by Wyndham Jerusalem, Jerusalem
Conveniently located near the entrance to the city with plenty of museums and shopping close by and the Old City just a short 15-minute taxi drive away. This comfortable hotel offers spacious and bright guest rooms and has a wide range of amenities including free WIFI and a hearty Israeli buffet breakfast. During your spare time unwind in the saunas or go for a swim in the indoor or seasonal outdoor pools.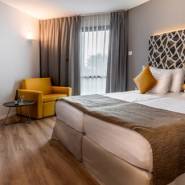 Hagoshrim Hotel & Nature, Galilee
A unique hotel in the northern Galilee region of Israel, Hagoshrim Hotel & Nature was built on the ruins of the splendid winter palace of Ottoman ruler Amir Fahur. Surrounded by picturesque water springs and greenery, the hotel offers spacious guestrooms with balconies overlooking the Koren river. Guests can indulge in treatments at the Fiorina Spa or enjoy the facilities of the health and fitness centre, which include a gym, two swimming pools and a sauna. An Israeli breakfast buffet is also available daily, with dinner served in the onsite restaurant.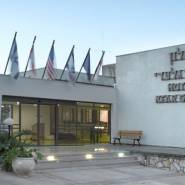 Kibbutz Kfar Giladi, Galilee
Founded in 1916, the Kibbutz Kfar Giladi is a recently renovated hotel in a former Kibbutz. All of the guest rooms are well furnished and include breathtaking views across the dramatic Golan Heights. Internet access is available and the hotel also offers a sauna and massage service for guests who fancy a bit of pampering. Delicious kosher food is served for breakfast; and lunch and dinner can be ordered upon request. The accommodation is located in Upper Galilee offering stunning views of the Hula Valley and Mount Hermon.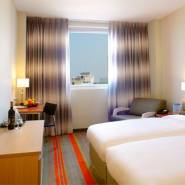 Grand Beach Hotel, Tel Aviv
Located just a few minutes walk from Tel Aviv's golden beaches, the Hotel Grand Beach offers a comfortable and luxurious atmosphere. Guest rooms are modernly furnished and include free Wi-Fi. With a number of excellent eating options including a lavish buffet in the 'Jerusalem' dining room. The roof top pool is another highlight affording stunning views of the seafront and the city and is a great place to cool off! Perfectly located close to the sea front and the bustling city centre with lots of restaurants and cafes nearby.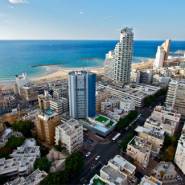 Hotel Metropolitan, Tel Aviv
Within easy walking distance from major city attractions, Hotel Metropolitan is a modern hotel with excellent amenities. Guest rooms are designed in a contemporary style with soft furnishings and stylish en suite bathrooms. The hotel also has an onsite bar and cafe serving food throughout the day. In the summer head to the outdoor pool with sundecks - the perfect way to start the day! Perfectly located in the centre and very heart of Tel Aviv.
Reviews
Travellers have rated this tour as 5 out of 5 based on 4 recent reviews
Temitope Duckworth-Essilfie
• Submitted 04 Aug 2016
Tour





Guide





Country





"
Fantastic ! Well organised and arranged. Topics of interest met all my needs. Great group of people. Areas for improvement. I arrived two days too early because I was on my own was stuck in a hotel for two days because I wasn't sure of dress code etc to venture out. I had to get my own transport from Tel Aviv to Jerusalem. I could have started the tour on the day which meant I had to visit the Dead Sea separately and pay an extra fee for it. Overall great experience! "
Rita Elliott
• Submitted 15 Sep 2015
Tour





Guide





Country





"
Fantastic guide. Fantastic tour - tough to make it better "
David Hammond
• Submitted 03 Jul 2015
Tour





Guide





Country





"
Brilliant tour . Hotels first class. Best tour guide ever. Pauly's love of his country shone through. He explained everything in detail. He's a very knowledgable man. Entertained us & looked after us like we were good friends. Felt like we saw ever part of Israel & can't thank Pauly enough for the excellent tour."
Alan Fensome
• Submitted 11 Mar 2015
Tour





Guide





Country





"
The tour guides Paul and Ezra were extremely knowledgeable and made the tour very interesting.
The knowledge they imparted have made a huge impact on our lives. I will highly recommend this tour to our friends and family and will advise an extra free day in the Old City to see the sites at leisure. Paul made it even more meaningful by having the sculptures read aloud by fellow tour members at various sites. I will never forget this experience. Thank you Paul & Ezra & on the go tours!  "
Bradley & Joy Knight
• Submitted 22 Jun 2012
In Brief
Range
Trip Type
Starts
Jerusalem
Ends
Tel Aviv
Departs
Mondays
Group Size
Min 2 / Max 45
Hotel Rating
4 star
Tour Guide
Yes - escorted by a tour guide
Meals
Breakfast: 7, Dinner: 6
Visiting
Jerusalem, Galilee, Tel Aviv, Bethlehem, Nazareth
Countries
Temitope Duckworth-Essilfie
OTG001014
Biblical Lands - 8 days
Middle East & North Africa
Handpicked
Middle East & North Africa
false
10
Israel
https://www.onthegotours.com/uk/Israel/Biblical-Lands-8-days
https://www.onthegotours.com/repository/BiblicalLandIsraelTourmainimage-172191332247018_crop_flip_300_300_f2f2f2_center-center.jpg
Group_Tours