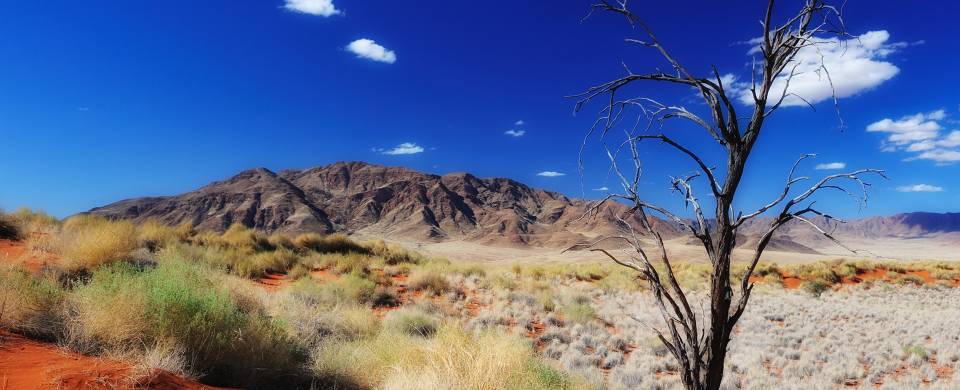 Trips and Tours to Namib Naukluft National Park
About Namib Naukluft National Park
Coming in at over 19,000 square miles, the Namib Naukluft National Park is one of the largest conservation areas in the world. It is divided in to four main sections: the Sesriem and Sossusvlei area, Sandwich Harbour, Namib and Naukluft and has an impressively varied landscape. Gigantic orange dunes ripple and roll away into the distance while the rocky, craggy Naukluft mountains rise up to staggering heights. Due to millions of years of rain, ravines or "kloofs" cut through the sides of the cliffs, many of which contain small, winding waterways and an array of different plants.
Read More
Despite the inhospitable appearance of this region, there is a surprising amount of flora and fauna that call the park home. Some of the animals that visitors are likely to come across at the Namib Naukluft National Park include Hartmann's mountain zebra, oryx, chacma baboons, warthogs and springboks as well as hundreds of species of birds. In terms of vegetation, different types grow according to the area of the park. Where there are permanent sources of water sycamore figs, camelthorn and wild olive trees are all prevalent.
Throughout the park run a number of subterranean waterways, which supply water to an array of plant life, despite looking dry on the surface. Of course, the most notable source of water that touches the Namib Naukluft National Park is the Atlantic Ocean which laps at the sandy shores of the Sandwich Harbour. Completely pristine and without any visible signs of human interference, this coastal segment of the park is the ultimate destination for anyone wishing to feel like the only person on earth. Be sure to take a 4X4 if exploring this area is on the cards and beware of getting stuck in the sand.